Substitute For Banana Peppers – Tips To Pick The Right One
Are you in need of fresh banana peppers, but can't find any at the store? Or perhaps your grocer is out of them, and you're now struggling to look for a substitute for banana peppers that your recipe calls for?
You will discover up to four excellent options that are readily available on supermarket shelves to substitute for banana peppers.
About Banana Peppers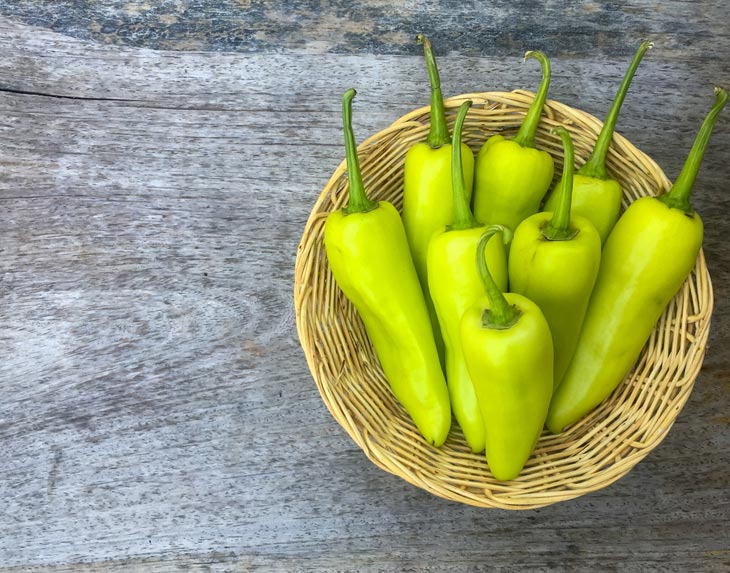 What Is A Banana Pepper?
So, what is it, and what do banana peppers look like anyway?
Belonging to the Capsicum Annuum family of chili peppers, the Banana Pepper Scoville has a thick skin and develops to be two to three inches long, making it simpler to incorporate into any meal.
You must have guessed some clues from its name; banana pepper has the look of ripe bananas.
What color are banana peppers? It starts appearing as bright yellow to green color, but as it grows older, it turns orange or even darker as red.
Now, is banana pepper a vegetable? The quick answer is that they are both fruits and vegetables.
Are banana peppers spicy? Are red banana peppers hot?
With a heat ranging from 0 to 500, according to the pepper's Scoville units chart, this pepper is actually not any hotter or even less spicy than pepperoncini.
You can find it works wonders with pizza, tacos, stuffed peppers, sandwiches, and other spicy food by adding to them a tangy crunch, somewhat sweet flavor, and also a moderately spicy kick.
What Do Banana Peppers Taste Like?
Note that what you can find in a supermarket or a restaurant is nothing else but the pickled banana peppers or canned chilies (sounds not so great, but there are ways to make it better) that you'll find.
Are banana peppers sweet peppers? In short, these banana peppers have a sweet, tangy, spicy, and salty flavor profile.
Unless you deliberately choose hot banana peppers, they aren't too spicy when purchased in a jar.
You can likely imagine its flavor as resembling to that of pickled pepper. This fact is actually not that surprising, since a banana pepper is still a pickled pepper after all.
We know for those who are not a big fan of pickle serving, hearing that may disappoint you at any chance.
The good news is: Even after being pickled, they retain a crisp feel comparable to that of fresh peppers. They're ideal for adding texture and flavor to salads and sandwiches because of this.
To sum up, banana peppers are somewhat sweet, spicy, and tangy and may be cooked in the same way as bell peppers.
Yet, don't rush to bet on all of them since there are sweet and spicy variations, with the spicy ones being the most potent.
The Best Substitute For Banana Peppers
1. Pepperoncini Pepper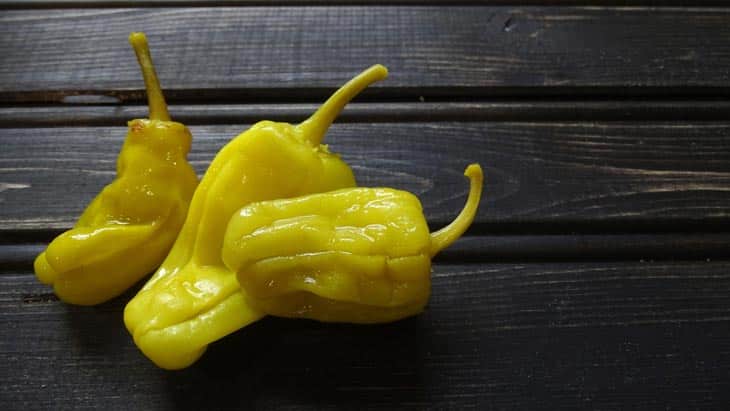 There are indeed few pairings of peppers that are akin to each other as much as the banana pepper and the pepperoncini.
Not only do their looks resemble each other, but they also share a similar sweetness and flavor.
That way, in terms of appearance, they have a similar hue and seem just like bananas.
The only difference is that the banana pepper can go from zero to 500 Scoville Heat Units. Meanwhile, the Italian pepperoncini surpasses this level than a spicy pepper by Scoville rating, which is about 100-500 SHU.
Better yet, pepperoncini and banana pepper are both easily found on supermarket shelves; both are manufactured as picked and displayed in the refrigerated vegetable sections of specialized stores or select well-stocked grocers.
Provided those logical premises above, nothing else other than pepperoncini that you could figure out as a flawless replacement for banana pepper!
2. Anaheim Pepper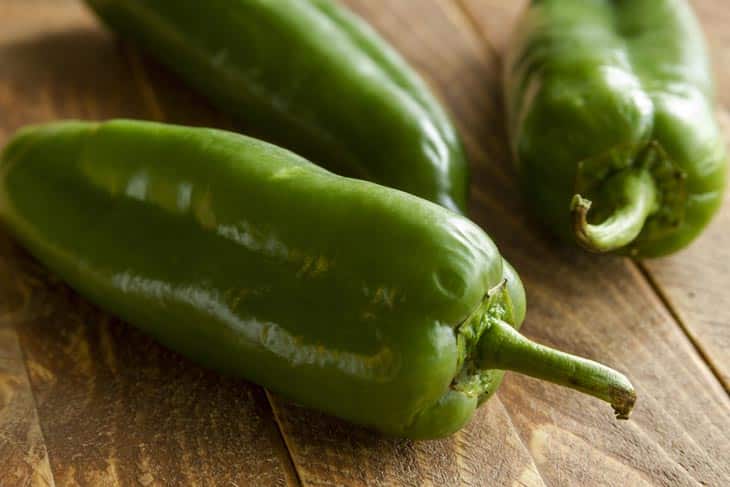 This pepper isn't the finest banana hot pepper alternative, in our opinion. Nonetheless, in case you run out of everything else, there is a high likelihood that Anaheim can be your last-minute-saver.
The Anaheim pepper is a mild chili pepper that runs the gamut from 500 to 2500 on the Scoville Heat Unit Scale.
You can see, despite the fact that it's labeled as having a smoky flavor, that this pepper actually has the same tangy and sweet flavor profile as hot banana peppers, Scoville.
It is hard to tell it all in terms of savoriness, but if you're going to use it in place of banana peppers, I highly advise you to use less of the amount in your dishes.
3. Cubanelle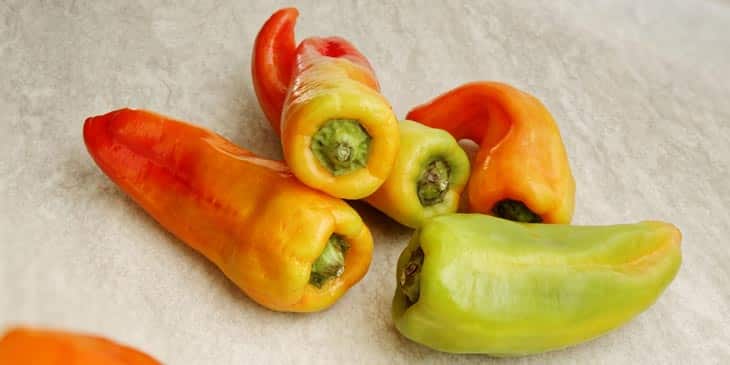 Another replacement for banana chilis to come is Cubanelles, so-called Cuban peppers.
Similar to the needed one for your recipe, once Cubanelles have reached their ripeness, their color also changes from yellow to green to orange and finally to red.
The thin skin of this pepper, equally to its sweet and moderate bite, is, in fact, what has built up its reputation.
Now moving to the spiciness, the Cubanelle draws up from 100 to 1000 SHU, making it twofold hotter than banana pepper.
So, if Cubanelle is your choice of substitution for the day's recipe with banana peppers, like it or not, lessening the amount of it is a must you should follow through.
4. Hungarian Wax Pepper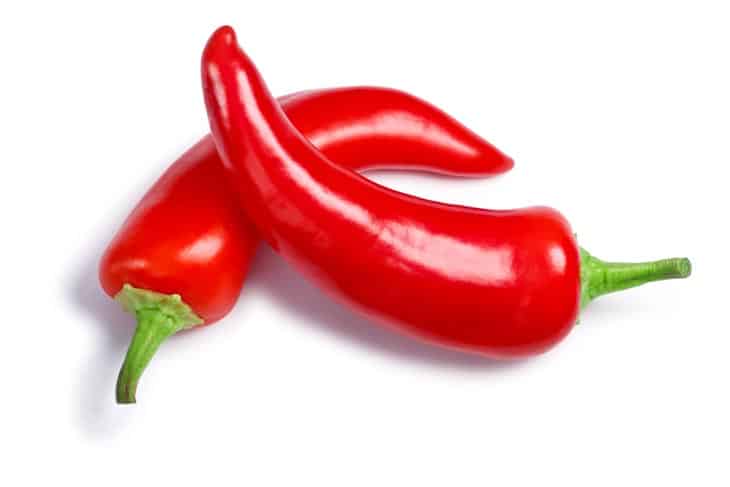 Imagine that if pepperoncini and banana pepper are fraternal twins, then the Hungarian wax is properly their plainly linked younger brother.
Hungarian wax peppers are somewhat bigger than banana peppers, but they also have the same banana-like look. You can as well experience a tangy-sweet taste just like that of banana peppers.
However, there is one significant difference: these spices are not at all gentle to savor slightly.
Hungarian wax peppers have a heat rating of 5,000 to 10,000 SHU, making them comparable to and occasionally much hotter than jalapeno peppers.
Feel free to consider it as the banana peppers substitute if you wish to, but first, make sure that you are ready to broaden your spicy-endurance Scoville scale banana pepper.
For your information, Hungarian wax peppers are widely available in supermarkets. Regardless of fresh chilies or spicy pickled pepper rings, you can both stumble on them effortlessly.
Frequently Asked Questions
Are Banana Peppers The Same As Pepperoncini?
Are banana peppers pepperoncini? No, they are not. In many respects, pepperoncini's and banana peppers are similar.
Pepperoncinis are the one pepper that looks like banana pepper, and they all have a lot in common. It is pretty understandable for such an optical illusion.
They have a similar mild-tangy flavor and heat, which further adds to the misunderstanding.
Plus, they are both members of the capsicum annuum chili pepper family. Even the most sophisticated person has to wow at those similarities.
However, once you look closer, you will realize they are not that identical. Especially when it comes to the taste, pepperoncini has a much stronger spicy flavor than the banana pepper.
Things go the same with the comparison between banana peppers vs green peppers and banana peppers vs yellow peppers.
How Long Do Fresh Banana Peppers Last?
All peppers expire, and banana peppers are no exception. If kept correctly, a fresh pepper harvested from the garden will last up to 2 to 3 weeks.
But what is proper storage anyway? Here is simply what you should do:
Step 1: Place them in a plastic bag or container. Glass jars can also work well in this circumstance.
Step 2: Store them in the vegetable drawer of your refrigerator.
Step 3: Make sure the temperature is right between 40 and 45 degrees Fahrenheit.
A little bonus on the side is that before keeping your spicy banana peppers, there is no need to wash them. Water can speed up the decaying process, so it will be better if they are dry.
This method can also work wonders with other kinds of peppers, including both spicy and sweet ones.
How Spicy Are Banana Peppers?
So, are banana peppers hot? If yes, then how hot are banana peppers?
As a matter of fact, banana peppers are not considered spicy peppers since they have either no heat or, if yes, it is only a moderate kick at 500 SHU.
To claim the answer to "Is banana pepper spicy?" again, it is definitely not.
When adjacent to a Jalapeño pepper, which ranges in heat from 2500 to 8000 SHU, the hottest of it is actually five times spicier than banana peppers.
Other peppers in this range include the Cubanelle Pepper, which has a Scoville Heat Unit range of 0 to 1000, the Anaheim Pepper, which has a Scoville Heat Unit range of 500 to 1000, and the pepperoncini, which has a Scoville Heat Unit range of 100 to 500, and the Cascabella Pepper, which has a Scoville Heat Unit range of 1500 to 6,000.
That's why most of them can be an ideal banana pepper substitute.
In A Nutshell
That is all details you need to know about picking the best substitute for banana peppers.