Traditional brie is a soft cows-milk cheese that is grayish and encased in a rind of white mold. The name Brie is from the French region of where it originated. It is a soft-ripened cheese that easily spreads like cream cheese.
There are other, more regional-specific French brie varieties like Brie de Meaux and Brie de Melun. Even more types of brie are created in other countries like the UK, US, Brazil, Ireland, and New Zealand. In these countries, the milk does not necessarily need to come from a cow.
Traditional French brie is made from unpasteurized raw milk, however in the US, you'll commonly find it made with pasteurized milk due to strict FDA regulations.
Brie is also barely aged, which lends it its soft, runny, and creamy texture. It becomes less runny as time goes on. Over ripened brie will have a glue consistency.
What Does Brie Taste Like?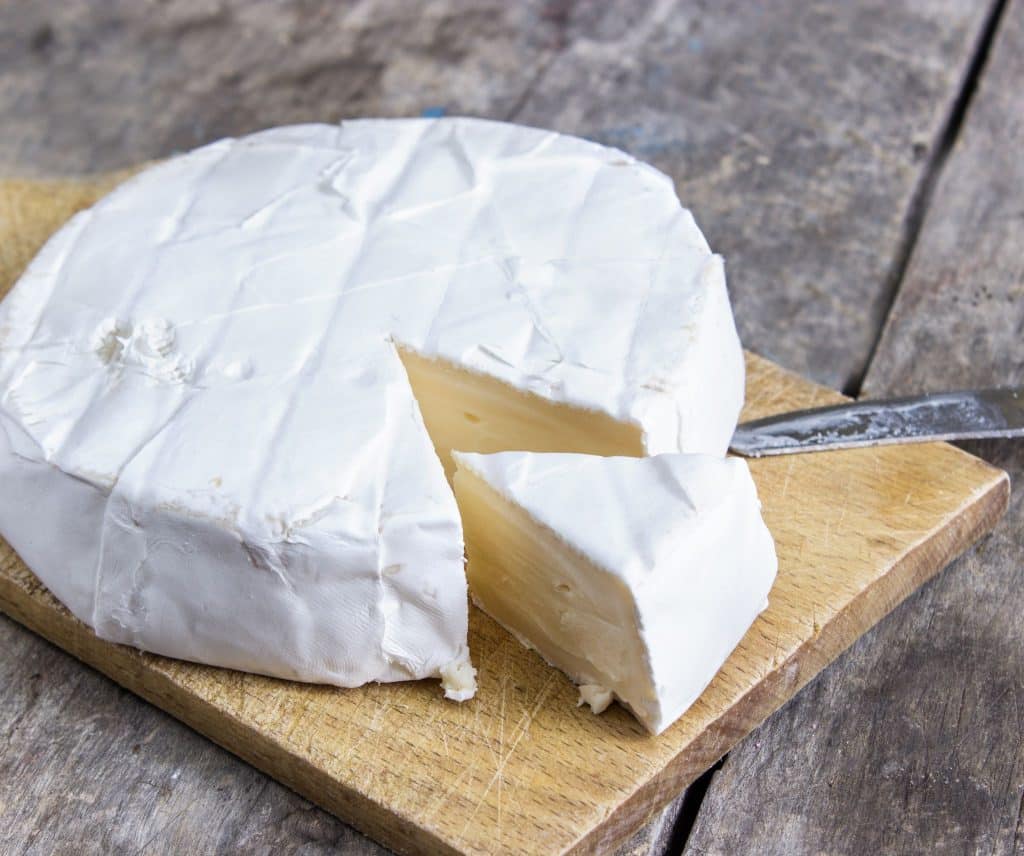 How brie cheese tastes depends on the environment in which it was produced. However, the most pronounced flavor of brie is its rich and buttery notes, which are primarily due to its high milk fat content. The strong earthy and fruit notes get stronger as brie ages.
There are double and triple cream brie cheeses, and they get richer as the amount of cream increases. These are not the most common varieties of brie, though.
While the rind is made of mold, it is typically eaten.
Brie is best to be served at room temperature to keep it at the perfect consistency. You will want to take the cheese out of the fridge about an hour before using it.
How to Serve Brie
Brie cheese is usually paired with fruits like apples, pears, grapes or use it for sweet dishes like cheesecake. You'll also find it on charcuterie boards as a spread on top of crackers or meats.
Brie is baked or grilled while still wrapped in its rind. Baked brie becomes extremely smooth and has a texture unlike anything you've probably had before. It is seriously good!
8 Best Substitutes For Brie Cheese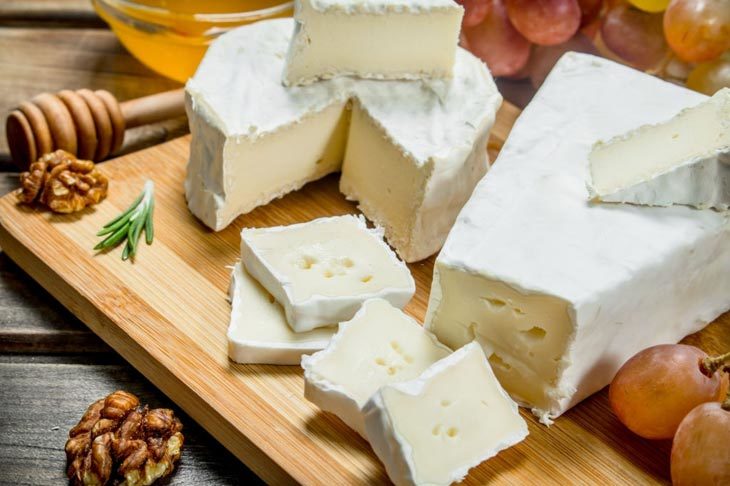 Brie cheese is super tasty once you know how to use it, but it is not always available in grocery stores. If it is inside your local store, you'll most likely find it under brands like President, or Eiffel Tower. Each of these brands have a few different varieties like herbed brie, or ones with different milk fat content.
1. Camembert
The first on the list is one of France's most popular cheeses: Camembert. It is a perfect substitution for Brie cheese because of its similar production.
Camembert is a soft cow's milk cheese with a white, creamy texture similar to Brie. Brie is a little creamier than Camembert because more milk fat is used to create it.
Although their flavors are similar too, Camembert has a deeper mushroom and funk aroma when compared to the mild taste of Brie.
2. Coulommiers
Coulommiers is also a creamy cheese made of either pasteurized or raw milk. The flavor of ripening coulommiers can be described as rich and nutty, which is similar enough to Brie cheese. In fact, it is a cousin of Brie, both of which originated in France.
Coulommiers has a thicker crust that can be slightly different from Brie.
3. Reblochon
Reblochon cheese is another French cheese with a yellow to orange rind outside. When it is matured, Roblochon has an intense earthy and fruit aroma and flavor, which is similar to Brie.
The texture is similar to brie as well, but this is not a likely substitution for anyone in the US. It hasn't been sold in the US since 2004 due to import restrictions on raw milk cheeses.
4. Paglietta
Another soft cheese like Brie is the Italian Paglietta.
This cheese has three versions that you can find in a local store: cremino, semi-fat, and full fat. Paglietta has a level of flavor of fruity and nutty tone, which is similar to Brie.
The texture of Paglietta cheese can be soft and runny when it is matured, just like Brie. It is also served as a table cheese with fruits and crackers like Brie.
5. Goats Milk Cheese
Goats milk cheese may be your best bet as a Brie replacement because of all the cheeses thus far, it is the most commonly sold in US supermarkets.
Since it is made with goats milk instead of raw cows milk, the flavor is a bit different. However, it still has the creaminess that we all associate with Brie.
6. Cream Cheese
The only comparison with cream cheese and Brie is that they are both creamy. The flavors are really not even close, as the cream cheese is mostly flavorless when compared to the earthy brie.
However, they both are creamy, and are regularly used in the same desserts, so swapping one out for the other isn't out of line.
7. Fresh Mozzarella Cheese
To use mozzarella cheese as a replacement for Brie, you need to get the fresh stuff. Aged mozzarella is too hard to be even remotely comparable.
Fresh mozzarella won't be exactly creamy, but it will be soft enough that it can work as a last-minute substitute. Brie has more earthy notes than mozzarella, but they both are incredibly tasty eaten on their own.
8. Fontina Cheese
Lastly, Fontina is a common cheese that you can find in local cheese stores that can substitute Brie cheese in dessert recipes.
Originating in the Aosta Valley of France, this unpasteurized cow's milk cheese has a rich, pungent flavor with an intense buttery and nutty undertone.
However, the texture here isn't terribly close. It is semi-hard, which is different from the creamy Brie cheese. Fontina cheese will do better as a brie substitute when melted beforehand.
FAQs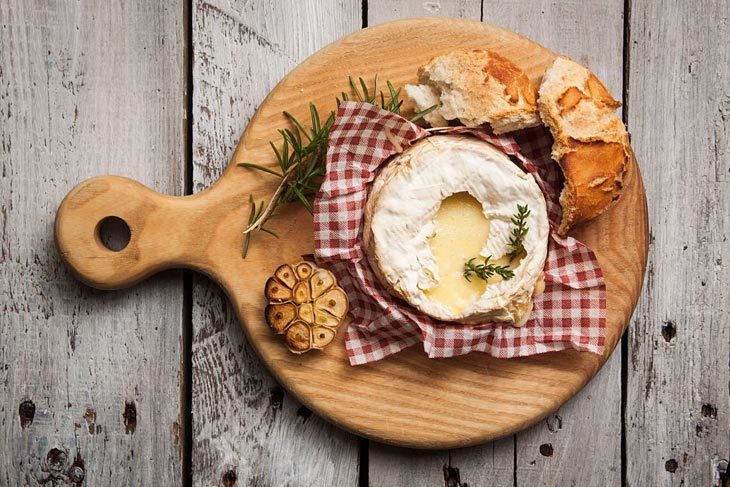 What Is The Best Substitute For Camembert Cheese?
Camembert cheese is known to be almost exactly the same as brie cheese, so they can be used interchangeably.
How To Store Brie Cheese?
Keep brie refrigerated and in its original packaging until you are ready to use it. You will want to take the cheese out of the fridge about an hour before using it. The cheese is best when served at room temperature.
Once opened, brie cheese should be wrapped loosely with wax paper or locked in an airtight container to protect it from changing flavor. Then, you can store it in the fridge for a few days to keep it fresh.
Remember, a tenant of Brie cheese is that it is not aged very long, so the longer you keep it, the worse it will become over time.