Brisket is known as the signature dish in Texas because of its succulent and juicy taste in a barbeque feast.
However, it is quite an expensive cut if you want to work on it at home. So, what can you substitute for Brisket?
Let's find out on my list below!
9 Best Meat You Can Use As A Substitute For Brisket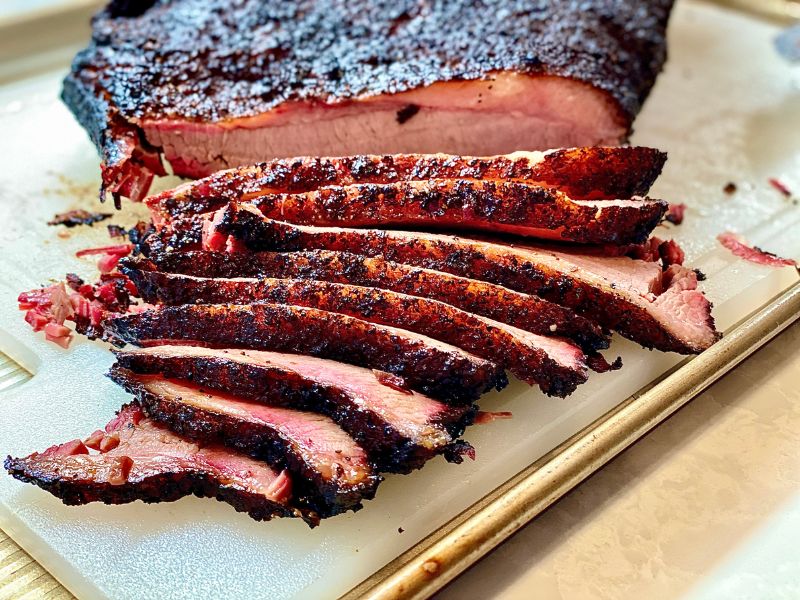 Brisket is a great cut with a good balance of meat and fat for your favorite recipe. In this list below, I will be covering the best substitute for beef brisket with similar features.
1. Beef Clods
If you couldn't find brisket cut at the butcher shop, beef clods can be a great alternative to beef brisket. The best piece to cook them slowly as a result will be tender and juicy taste which is similar to Brisket.
The beef clods consist of the shoulder, the heart, and the top blade of the cow. These parts have tough muscles with the marbling layer of fat that will give you that amazing juiciness. That's why it's best to slow cook to loosen the toughness with the perfect marinade for any beef brisket recipe.
2. Chuck Roast
The second cut that you can use as an alternative to Brisket is the chuck roast. This is such a slice of family meat as you can find it at any family dinner.
The chuck roast is the shoulder and neck of the cow. When making a beef brisket vs chuck roast comparison, you will find chuck roast has a more reasonable price than the Brisket. When you roast it well, the meat will produce a rich and tender texture similar to the brisket roast. Because of their great flavor similarities, you can also use brisket to substitute for beef chuck roast.
So, how to chuck roast in the right way?
1. Firstly, you need to take out a pot and fry the roast on all sides.
2. Then, for steak seasoning, you can use a bowl and add tomato paste, apple cider vinegar, red wine, garlic, flour, some lemon juice, maple syrup, pepper, and salt, etc. and mix them all. Once it is blended, pour all of them into the pot.
3. Then, put the heat at 350 degrees Fahrenheit. The cooking time is around 2-3 hours or until the meat is all soft and tender. Once finished, you will have a great marbled beef for your excellent meal.
3. London Broil
If you want to find a tasty cut at a fair price in the grocery stores, London broil will be a great choice for a beef brisket substitute. This inexpensive cut will give you a delicious flavor impression for your family dinner with a fancy name. Let's find out this brisket vs London broil comparison!
Some people argue that London broil is a name of marinating technique, which is using beef stock, brown sugar, and steak seasoning to marinate overnight to 2 days for an intense flavor.
Some prefer to London broil as the lean beef cut of top round, skirt, or flank steak. Whichever meaning you prefer it to, there is no denying that London broil is an amazing piece for a humble budget. So, brisket vs flank steak: do they have similar taste?
When cooked properly, the meat will taste no different from Brisket or any other expensive cuts. To consume London broil, you can choose to broil it classically.
It only takes you a little time to produce a restaurant-standard dish. Leave the tough meat to loosen and soften for 8 – 10 minutes with the right temperature to avoid chewy results; you will have juicy and rich meat with soft and tender slices.
4. Flank Steak
Flank steak and brisket are similar in flavor and texture, making them a potential brisket substitute. Flank steak is the underside cut of the cow that is close to the belly. It has little fat with cartilage and ligament, which is the same as brisket.
Regarding the flavor, flank steak has a beefy and rich taste that can replicate the iconic taste of brisket. An additional bonus is the similarity of texture and thickness of both flank steak and brisket. They are all tough meat that can withstand a long cooking time with strong marinades.
5. Pot Roast
There are many ways to prepare briskets that you can also apply to our versatile brisket substitute: pot roast. Pot roast is an adaptation of the classic beef à la mode which is slow-cooked for a few hours to achieve a specific flavor profile.
In addition, the meat is browned to break down the sugars and amino acids in the American style to give a fall-apart effect and a savory gravy taste. If you make a brisket vs pot roast comparison, pot roast can be cooked in as many ways as brisket can. You can choose to braise the pot roast or smoke it like you usually do with Brisket, and they will still give you a tasty dish.
6. Short Ribs
Another good brisket alternative I have to mention is short ribs. It is an underrated choice that can offer you a juicy and tender piece of meat.
Unlike prime ribs, the short ribs have one of the most tender meats in the cow, making it a great cut to prepare in the pan. To make the best out of short ribs, you need to fry them all on a pan first. Then add your favorite seasoning, like peppers, cayenne, garlic cloves, oil, etc., to the cast iron pot.
Then put them all together and oven it to 350 degrees Fahrenheit. After around 3 hours, you will have yourself an amazing dish that reminisces the taste of season Brisket.
7. Lamb Roast
Lamb may not be the first on the list to substitute beef, but their flavor and texture at some parts might be a great replacement for Brisket. You can use whichever cut, but you should note that some cuts might have a higher price than the others.
Before roasting lamb, you need to clean the outer membrane thoroughly so the roasting will have a genuine rich flavor and tender texture. I recommend you roast the lamb's leg as it has super flavorful and lean meat that can be served for up to 5 people.
8. Pork Roast
Maybe lamb is not the type of meat you would enjoy often. Don't worry; you can also use pork roast as one of the best substitutes for brisket. Pork is one of the common types of cooked meat for a great barbeque party as its cuts of meat can serve a large crowd.
To replace briskets, you need to find pork chops that have lean and fatty combinations. The best beef brisket substitute cut can be the rib roast, tenderloin, sirloin, Boston butt, or blade roast.
9. Beef Shank
Last on the list is the beef shanks which are the leg part of the cow. Their meat is quite dry and tough, which is preferable in soup and stew recipes. However, if you know how to cook them right, the result might be a possible substitute for Brisket.
They are normally presented as pre-cut slices. If you smoke or broil them, they might turn out to be chewy and tough meat. With slow cooking, you can give the beef shanks a longer period of time to cook thoroughly and loosen their muscles.
What Cut Is Beef Brisket?
The Brisket is known to be the famous meat of Texas barbeque style. The juicy and tender brisket cuts of beef are full in your mouth once you take a bite on the sandwiches, tacos, or burritos in restaurants in Dallas and Austin. So, what cut of beef is Brisket made from, or what cut of meat is used for beef brisket?
The reason why the meat has a soft and tender effect is the cut choice. Normally, fresh Brisket is the breast cut off the cow, making it a great boneless cut for braised, smoked, and roasted dishes.
The beef cut for Brisket consists of a Xat surface with lean and wide connective tissue and the tapers at the end with a thick fat content that gives you the iconic juicy impression. Both of these different cuts of beef brisket combine into 10 – 15 pounds of tasty brisket.
FAQs
1. What Is A Brisket Roast?
The brisket roast is basically taking out the cow's breast cut and braising it with an abundance of onions. The result will be soft and falling apart tender meat.
2. What is another Name For Brisket?
The Brisket is a popular term for the lower chest or the breast of an animal. When the fresh brisket is first invented, the word was actually "brusket," coming from the Old Norse word for cartilage, "brjork." When brisket combines with salt water, this cooked brisket is called corned beef brisket.
Conclusion
Brisket is the tasty cut that is famous for its juicy and tender meat in Texas-style recipes. As it is an expensive meat, like veal, not many people can afford to recreate the dish at home.
That's why this tasty substitute for brisket list will help you find a suitable beef cut to your budget and still be able to enjoy the flavorful brisket dish.