Brown mustard is a popular condiment known for its sharp and tangy flavor. However, there may be times when you need a substitute for brown mustard. Whether you've run out of it or simply want to try something different, there are alternatives that can provide a similar taste.
In this article, we will explore some easy and effective substitutions for brown mustard that can enhance your recipes. Get ready to discover exciting options that can add a kick to your dishes without compromising on flavor!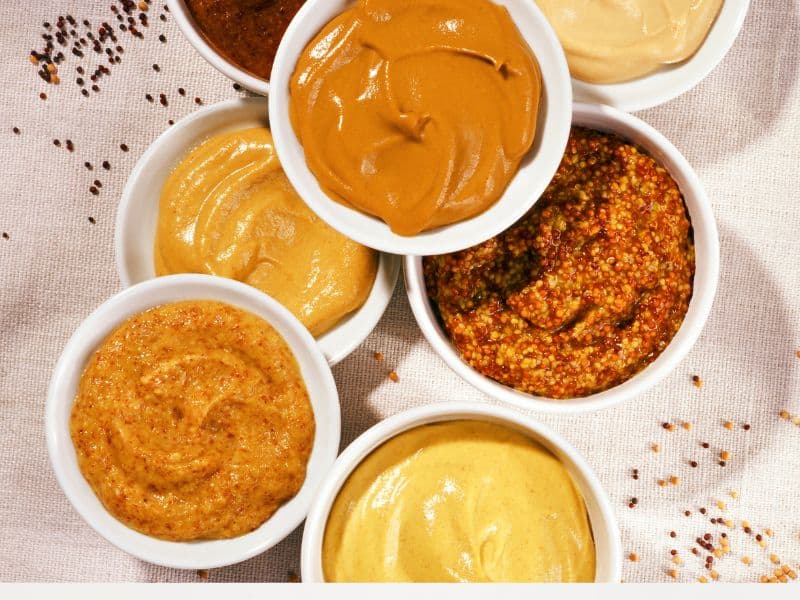 The Best Substitute For Brown Mustard
1. Whole Grain Mustard
A regular mustard to replace the spicy brown mustard, the whole grain mustard (or stone-ground mustard) would be an award-winning option. 
To make the typical whole grain mustard recipe, start with grinding down your favorable types of mustard seeds (such as yellow and black mustard seeds) with a stone mill and add white wine to the mixture.
Due to the unique grainy texture and strong flavor, whole grain mustard is a widely-used condiment to bring fantastic mouthfeel and flavor enhancement for various dishes, including sandwiches, hearty dark breads.
2. Yellow Mustard And Cayenne
You want a type of mustard that comes with a mild taste? Then, yellow mustard would be the perfect spicy brown mustard substitute to drizzle on many different food types, such as hot dogs, burgers, French fries, and salads.
The main ingredients of this brown mustard replacement are yellow mustard seeds (also known as white mustard seeds), vinegar, and turmeric – the secret factor that brings it a distinctive bright yellow appearance.
What's about the mustard flavor?
The traditional version of this mustard brings a milder flavor compared to other types. So, if you want to kick start your taste buds, this mustard type is a solid starting point.
However, if you prefer spicier mustard, you can experiment with something else. For instance, some manufacturers add cayenne or chili peppers to this substitute to increase the spice level and thereby give your food a tangier taste.
3. Dijon Mustard
Dijon mustard is usually known as the best substitute for brown mustard; some people even mistake them to be the same since they both provide such distinctive pungent flavor.
However, they are very different except for the main spicy brown mustard ingredients – brown mustard seeds.
So, how does Dijon mustard differ from brown mustard?
Well, the first and most essential difference is the liquid used in each mustard production.
For brown mustard, it is vinegar, but for Dijon mustard, the secret liquid is verjuice – the acidic juice of unripe grapes.
However, today, most Dijon-style mustards use white wine rather than the traditional grape juice as white wine is much easier to find while bringing a similar flavor.
Additionally, while Dijon mustard comes with a smooth texture, the brown mustard is a little bit coarser because of its whole and partially ground grains.
Besides, people might use turmeric, cinnamon, or ginger, to boost Dijon mustard substitutes' flavor and heat. However, rarely does anyone do that to Dijon.
4. Horseradish
If you are looking for a hot mustard similar to spicy brown mustard sauce, then horseradish sauce will be the best replacement because of its nice burn. Just one taste, and you will feel the pungent heat go straight to your nasal passages.
The horseradish sauce goes well with various vegetables, including potatoes, beets, peas, broccoli, and leeks. However, the traditional way to use this substitute is to spice up roast beef. Try it out, and its level of heat will blow your mind away!
In case you prefer to diversify the spice flavor, you can go for sumac – a spice with an intense tart and citrusy flavor.
This sweet and sour taste, followed by the intense pungency, will elevate your dish into a fancy and make you yearn for more.
5. Honey Mustard
If you have a sweet tooth, why don't you go for sweet mustards? They are all fantastic mixtures of sweet and tangy.
Among various kinds of sweet mustards, honey mustard is the most common one. Its recipe collection is as diverse as that of a spicy brown mustard recipe.
Anyone can quickly make this mustard mixture from scratch using simple-to-find ingredients like honey, mustard seeds (usually yellow mustard seeds), vinegar, and so on.
And the best part is that this incredibly sweet, tangy, and creamy mustard can be used in countless ways, savoring the roast pork, turning into a dipping sauce and salad dressing, to name a few.