Running out of celery seed from your spice rack can be frustrating, especially when it's a favorite seasoning. But don't worry! There are fantastic alternatives that can easily replace celery seed and bring a burst of flavor to your recipes.
In this blog post, we'll explore the best substitutes for celery seed, offering you a range of options to keep your dishes delicious and vibrant. Whether you want to enhance the taste of soups, sauces, or marinades, we've got you covered. Get ready to discover mouthwatering ingredients that will add a unique twist to your meals. Let's dive into the world of celery seed substitutes and ensure your culinary creations never lack flavor.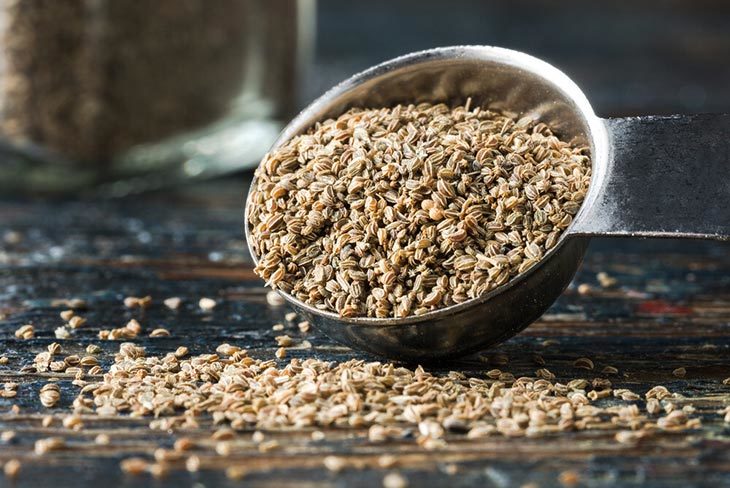 What is Celery Seed?
Celery seed refers to the small, dried seeds obtained from the celery plant (Apium graveolens). It is a spice commonly used in cooking and has a distinctive flavor profile. While celery seed comes from the same plant as celery stalks, it possesses a more concentrated and intense taste.
The flavor of celery seed is often described as earthy, slightly bitter, and reminiscent of celery, with hints of parsley and citrus. It is widely used as a seasoning in various dishes, including soups, stews, salads, pickles, and spice blends. Celery seed adds depth and complexity to recipes and serves as a natural flavor enhancer.
What is the Origin of Celery Seed and Available Varieties
The origin of celery seed can be traced back to the Mediterranean region, where the wild ancestor of cultivated celery, known as "smallage," grew. Ancient Greeks and Romans cultivated smallage for its medicinal properties and used its seeds as a spice.
Celery seed has been used in culinary traditions throughout history, with its usage documented in ancient texts and recipes. Today, celery seed is produced and harvested in various parts of the world, including Europe, Asia, and North America.
Where Can You Buy Celery Seeds?
Celery seeds come in different forms, ranging from fresh to dried and powdered form. A lot of herbal food and grocery stores offer this kind of product, as well as places like Amazon online.
You can also find it in the form of capsule or tablet containing its oil extract, or juice at local specialty health shops or on some websites.
Celery Seed Vs. Celery Salt
Celery seed and celery salt are two distinct seasonings with different properties and uses.
Celery seed refers to the dried seeds of the celery plant and is commonly used as a spice. It has a strong, aromatic flavor that is reminiscent of celery but more concentrated. Celery seed is often used in soups, stews, pickles, and spice blends to add a distinct earthy and slightly bitter taste.
On the other hand, celery salt is a blend of ground celery seed and salt. It combines the flavor of celery seed with the saltiness of table salt. Celery salt is primarily used as a seasoning and flavor enhancer, providing a savory and slightly tangy taste to various dishes. It is commonly used in cocktails like Bloody Marys, as well as in salads, dressings, and seasoning blends.
While both celery seed and celery salt offer a hint of celery flavor, celery seed provides a more pronounced and versatile taste, while celery salt combines the flavor of celery with the added salinity of salt.
List 12 Best Spices to Use As Substitutes For Celery Seeds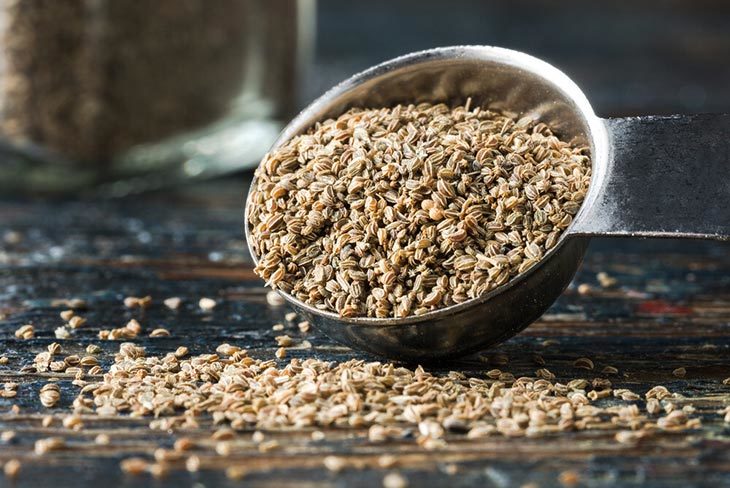 Note: for each alternative, we will give the equivalents amounts to 1 tsp celery seed.
1. Celery Stalks and Leaves
Equivalents Amounts: 3 tsp Celery Stalks and Leaves
As we all know, celery seeds come from wild celery, as known as lovage plant. They are commonly used for pickling solutions, or for enhancing the flavors of certain salads and stews.
Since celery seed's flavor is strong, sparing use of this seed is highly recommended.
You can find that many celery seeds come from India. The aroma and flavor of celery leaves and stalks are similar to those of the seeds.
However, as the flavor concentrates more in celery seeds than in the other two parts, you need to add a greater portion when you go for leaves and stalks as substitutes for celery seeds.
One more thing to note, differences also exist when it comes to texture and bulk. The stalks and leaves of celery plant contain numerous fibers. For that reason, you'll find it hard to hide them in sauces or soups.
Celery stalks and leaves do not taste as strong as seeds. Therefore, in a cooking recipe, for one tablespoon of the seeds, you need to replace it with a 6-fold portion of chopped stalks and leaves: six tablespoons.
To make the substitutes less easy to notice, you'd better chop them very finely, say experts. When the celery leaves, full of flavor, are finely chopped, they are ready to serve as fresh dressings and sauce additives.
For those dishes that require celery seed, you can use its oil extract as an essential substitution.
2. Celery Salt – Best Celery Seed Substitute
Equivalents Amounts: 1 tsp Celery Salt
You can see celery salt sitting proudly on many spice racks. Celery salt is nothing but a combination of celery seeds mixed with salt.
So, to compensate for the amount of seed you run out of, you can add a little bit greater portion of celery salt. But, remember to accordingly lower the salt portion required in your recipe, which means the amount of pure salt eliminated should equal that of celery salt added.
3. Dill Weed – Similar Flavor
Equivalents Amounts: 1 tsp Dill Weed
Dill Weed herb was known as dill leaves which famous planted both in Europe and Asian country. The primary season for Dill leaves is from spring to the end of early summer.
Beyond similar flavor with celery seed taste, Dill has a slightly grassy and citrus-like taste they are widely used in some dishes as pickles or soup.
Moreover, it can go well with cabbage or peas, so It is not a bad choice in a salad.
4. Celery Flakes – Also A Good Choice
Equivalents Amounts: 1/2 tsp Celery Flakes
Stalks and leaves from the celery plant are dried to make celery flakes. The drying process consists of harvesting, cleaning, then putting the plant in a dry and warm area.
Once the plants are dried, they are crumbled into flakes, or small pieces. If there are no fresh celery seeds left, dried flakes can also do.
However, one thing to note is that dried vegetable has an intensified flavor, so just a small portion of celery flakes is enough to replace fresh celery.
For example, one tablespoon of celery flakes adds the same degree of flavor as two tablespoons of fresh celery.
5. Exotic Spices
Equivalents Amounts: Customize depend on dish
If there are some of these in your fridge, you don't need to go out to buy some celery seeds. The exotic spices capable of replacing the flavor of celery seed are caraway, nigella, and lovage seeds.
You can resort to some spices as a great alternative, since their flavors are quite similar to what you're looking for.
6. Dill Seeds
Equivalents Amounts: 1 tsp Dill Seed
Although dill seed and celery seed differ in appearance, they bear a great resemblance to each other regarding their flavor characteristics.
Dill seed is flat and wide, whereas celery seed is smaller, dark brown and oblong-shaped.
Dill seed is a wonderful spice use as celery seed substitutes in many dishes calling for celery, including pickles. When choosing dill seed to compensate for it, you just need to add the same amount.
7. Celery Powder
Equivalents Amounts: 1 tsp Celery Powder
Of course, celery powder can use substitution for celery seed because both are made from celery. Moreover, it is similar amount when using as well.
Making celery powder is effortless, and you can do it by yourself. The only thing required is celery seed, a chopper, or grinder, and a dehydrator.
8. Parsley
Equivalents Amounts: 3 tsp Parsley
Parsley was known as garden parsley, which was almost planted in European countries in the past in spring. But nowadays, it was used widely over the world as indispensable ingredients for every home cook.
Even it has similar taste when combining with other ingredients in dishes such as sauces or salad. Although from my perspective, it is a little bitter and oily.
Therefore, It is used for coloring the dishes and supply herbal flavor, which is unmistakable with other spices.
9. Star Anise
Equivalents Amounts: 1/2 tsp Star Anise
Star anise was first detected and used in Vietnam at Sea East Asia; they have many names such as Star Anise, Star Anise seed, Star Aniseed. It is easy to plant and adapt to the climates, so it is available year-round.
Star anise taste is more pungent, licorice-like, but a little sweet. That is the reason it is called one of five Chinese spice.
They are often used in savory dishes. Just take note that it is a strong spice, so please take care of the amount when adding it to recipes.
10. Fennel Seeds
Equivalents Amounts: 1 tsp Fennel Seeds
Fennel seeds are the spice that is harvested from a plant called fennel, in the carrot family. You can typically find it year-round, but the primary season of fennel seeds in summer. In summer, fennel is harvested with the best quality.
Fennel seeds have a similar taste, to compare with Star Anise's slightly sweet licorice-like taste. Still, equivalents amounts using is similar to celery, so you can use fennel seeds to substitute for celery seeds in every savory dish or some salad dishes or pickle.
11. Caraway seeds
Equivalents Amounts: 1 tsp Caraway seeds
Caraway seed is a plant that belongs to the family Apiaceae which has grown in Asia, Europe, and some areas of Africa.
Caraway seeds are also a fantastic option to substitute celery seeds in your recipe. Caraway seed has a nutty, bitter taste nearly the same as celery seeds, making your dish a potent punch of flavor for salad or similar dishes.
12. Nigella sativa
Equivalents Amounts: 1 tsp Nigella Stavia seeds
Another effective spice for replacement is Nigella Sativa, also known as black cumin or kaloji, a typical flavor enhancer for Indian dishes.
However, except for Indian grocery stores, they're hardly any stores offering this spice.
Nigella Sativa has a sweet and caraway-like taste, so you can use similar equivalents amounts without changing the dish taste much.
Health Benefits Information
Nowadays, people know Celery Seed as a cooking ingredient, but they didn't realize that Celery Seed was widely used in medical usage years to treat flu or skincare. Below are 8 awesome health benefits that can make you surprised:
Celery seed helps enhance energy production as well as boost antioxidant defense.
Better your nighttime sleep
Help with forming red blood cells
Enhance cognitive functioning
Maintain your blood pressure at a healthy level
Strengthen your immune system to fight infections
Help with joint improvement
Sum Up About Celery Seed Substitutes
Since celery seeds give the strong flavor of celery without affecting the texture of the dish, they are an indispensable flavor enhancer in sauces or soups.
The flavor of the seeds are likened to that of leaves and stalks but much more intensified. So, you should only use a small amount of it in any recipe.
Despite being a common additive in several soups, dressings, and bread, celery seed is not as widely used as celery plant or other spices or herbs.
If you're cooking a dish that calls for celery seed in the recipe, and you've run out of it, you can use the list of above celery seeds substitute.