Many people rely on psyllium husk or psyllium husk powder to help them live a healthy lifestyle. However, some people may have difficulty finding psyllium husk powder in their local grocery store. (Note: It is easily available on Amazon) If you're looking for a substitute for psyllium husk that can be used in gluten-free recipes, check out this article to see what options are available.
Psyllium husk and powder are both forms of the plant-based fiber psyllium, derived from the seeds of the Plantago ovata plant. Psyllium husk is the dried outer covering of the psyllium seed, while psyllium powder is made from grinding the husks into a fine powder. 
Psyllium is gaining popularity as an alternative gluten ingredient in gluten-free baking. It can mimic gluten in baked goods, providing a texture similar to that which you might have experienced with wheat flour. For those with celiac disease or gluten sensitivity, psyllium can help them get enough fiber in their diets.
However, psyllium husk can sometimes be hard to find in certain areas. Other people may not like the taste of psyllium husk at all. If you're looking for a psyllium husk powder substitute, here are several alternatives to consider.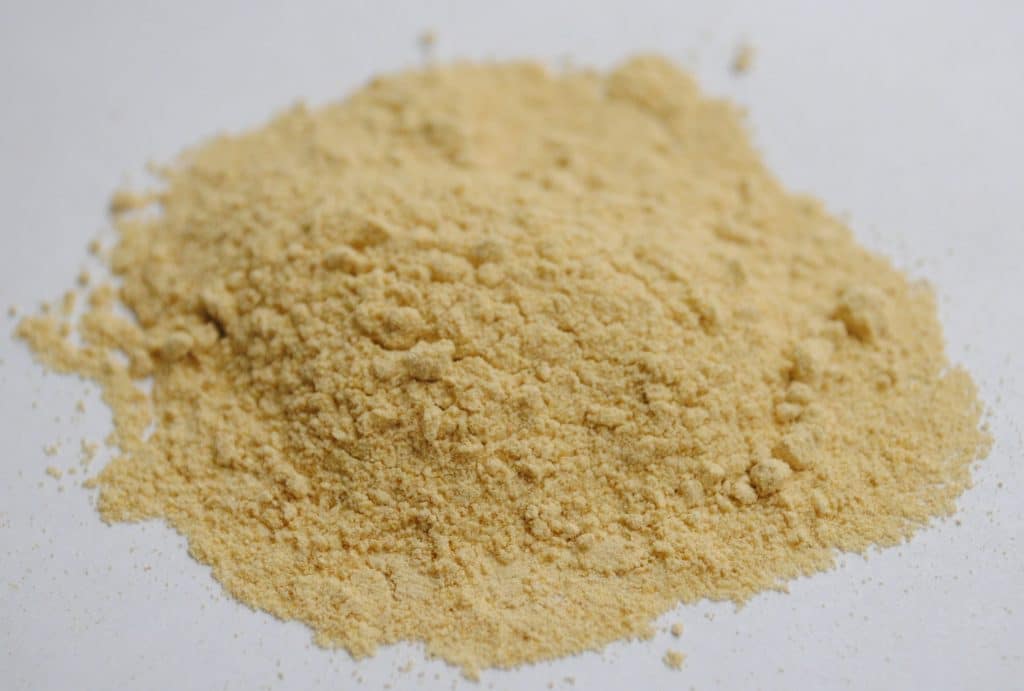 Psyllium Husk Dietary Supplement Substitutes
Psyllium husk and powder are used as a dietary supplement to help control constipation, improve digestion, and aid in weight loss. Because psyllium is a natural source of soluble fiber, it makes a healthy addition to low-carb or gluten-free recipes.
Soluble fiber can also help maintain healthy blood sugar levels by slowing the absorption of nutrients into the bloodstream. This helps to regulate digestion and support heart health.
For those with allergies to psyllium, or for those who cannot tolerate the taste or texture of the supplements, try a psyllium husk replacement instead.
Flaxseeds
Flaxseeds, or linseeds, are the closest substitute for psyllium husk as they have similar nutritional benefits. They contain essential antioxidants, nutrients and minerals like phosphorus, magnesium, vitamin B, fiber, healthy fats and omega-3. 
Flaxseeds have a high fiber content, so they can be used as a natural psyllium husk powder substitute. You can enjoy the same benefits by grinding whole flaxseeds or adding them to smoothies and salads.
Chia Seeds
Chia seeds are a great source of omega-3 fatty acids, fiber, protein, calcium, iron, and magnesium, among others. They are also very low in calories and make a great addition to your diet if you want to lose weight or maintain a healthy weight. 
If you choose to use chia seeds as a psyllium husk powder substitute, you can add them whole to your recipes or blend them into a powder and use them as thickeners.
Oat Bran
Oat bran is a nutritious food that many people have never tried. It is derived from the outer layer of the oat groat, which is the kernel that is removed from the hull.
Oat bran is known to lower cholesterol and blood sugar levels; it also contains more fiber than oatmeal. To use oat bran as a psyllium husk alternative, substitute fourteen tablespoons for every tablespoon of psyllium to gain the same amount of fiber content.
Psyllium Husk Powder Keto Substitutes
Psyllium husk is a common ingredient in both keto and gluten-free bread recipes because it helps to bind the ingredients together. It also increases the volume of baked goods, and softness and stability, and creates a loaf that doesn't crumble.
If you are unable to find psyllium husk or don't want to use it, another option is chia seeds. These add a bit of crunch to the bread and also help to bind the ingredients together.
Aside from chia, there are a few other ingredients you can try as a psyllium husk replacement for your recipe:
Xanthan Gum: This thickening agent has no nutritional value, but since it's flavorless, it's easy to add to recipes such as baked goods. It can help create bulk for low-carb diets, but if you want the health benefits of psyllium husk, skip the xanthan gum.
When using xanthan gum as a psyllium husk alternative, use only one-third or half the amount called for in your recipe.
Almond Flour: This may alter the taste of your final product, as it has a slight nutty flavor. But, it is a good choice for those trying to lose weight, since it is low in calories but high in protein, fiber and other nutrients.
When making baked goods, you can use almond flour as psyllium husk powder substitute. Almond flour absorbs liquids quickly, so add more liquid if needed.
Coconut Flour: Another keto-friendly substitute for psyllium husk, coconut flour can be beneficial in promoting healthy digestion because of its high fiber content.
Coconut flour is a unique ingredient with a distinct flavor. It's also drier than almond flour, so you may need to add more liquid if you use it when baking. Use equal parts of coconut flour as a substitute for psyllium husk when baking keto bread. 
Alternative Psyllium Thickeners
Psyllium is a popular dietary fiber supplement that is often used as a thickener in foods and beverages. It has a hydrophilic nature, which means it can absorb water and form a gel when dissolved in liquid.
However, there are other alternatives that can be used in place of psyllium. These include cornstarch, tapioca starch, guar gum, arrowroot powder, and carrageenan. Each of these thickeners has different characteristics, so it is important to choose the one that will best meet the needs of your recipe.
Cornstarch
A powdery substance that comes from corn, it has a neutral taste and is commonly used to thicken gravies and puddings. It is not a good thickener for cold drinks, but it works well in hot liquids such as soups and sauces. Substitute the same amount of cornstarch as is listed for psyllium husk in your recipe. To thicken cooked dishes, create a cornstarch slurry by mixing equal amounts of cornstarch and water before adding it to the dish.
Tapioca Starch
Derived from the cassava root, this powder is ideal for thickening sauces because it does not break down at high temperatures. You can use it as a psyllium husk powder substitute using a 1:1 ratio.
Guar Gum
Another powdery substance, guar gum is made from ground endosperm of guar beans and has a neutral taste. It works well as a thickener in both hot and cold liquids. It is very similar to xanthan gum in its ability to thicken sauces and other liquids. Use equal parts guar gum as a substitute for psyllium husk.
Arrowroot Powder
This is a good psyllium husk alternative if you don't want to use corn-based products. Arrowroot is naturally gluten-free and has a fine, powdery consistency that is easily mixed into baked goods and other recipes. When substituting arrowroot powder for psyllium husk, use equal amounts.
Carrageenan
A natural ingredient that comes from red seaweed, carrageenan is often used to thicken and preserve food products including nut milks, meat, and yogurt. Different types of carrageenan result in different textures, so be sure to check your recipe and pick the type that works best for it.
Agar-agar
A vegetable gelatin made from seaweed, agar-agar can be used in vegetarian and vegan recipes because it is made from plants. To use, whisk some agar-agar powder into cold water and wait for it to dissolve. Once dissolved, you can add it to any recipe as you would regular gelatin.
FAQs about substitutes for psyllium husk
If you don't see your question answered below, don't be afraid to let us know in the comments!
What does psyllium husk do in baking?
Psyllium husks are frequently used in baking to provide texture and bind ingredients together. It absorbs liquid and adds substance to baked goods, helping them retain their shape. Psyllium husk is also a healthy alternative to flour, and it can also be used to increase the fiber content of a recipe.
Moreover, psyllium husk is an absorbent powder that's often used in gluten-free baking in place of gluten. It adds softness, stability, and volume to your recipes without changing their flavor.
Can I use cornstarch instead of psyllium husk powder?
Yes, you can use cornstarch as a thickening agent for your recipes instead of psyllium husk. Cornstarch has a neutral taste and won't alter the taste of your dish. Use 1 cup cornstarch to replace each cup of psyllium husk powder.
Can I use chia seeds instead of psyllium husk?
If you don't like psyllium husk fiber powder or are unable to find it, try replacing it with chia seeds. Substitute an equal amount of ground chia seeds psyllium husk fiber powder in any recipe.