6 Excellent Substitute For Thyme Will Make You Surprised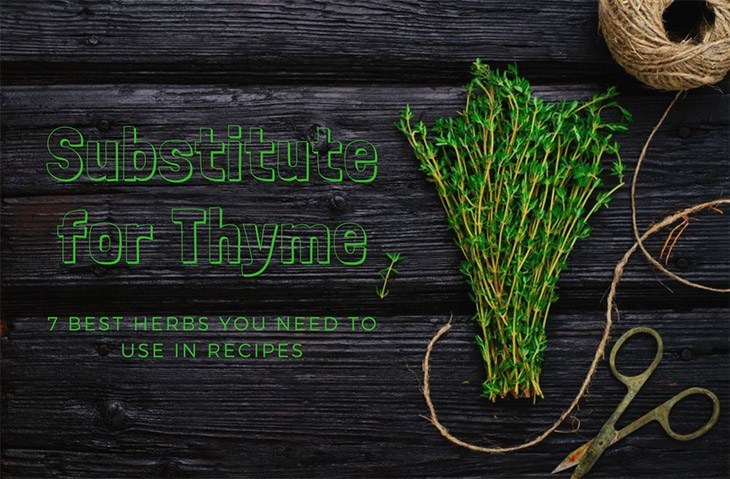 It's true that herbs can blend naturally into your kitchen to deliver the creative inspiration for your daily cooking.
However, now I'm in trouble finding a great substitute for thyme in my side favorite recipe – it's a standard baking tray packed with tomatoes, feta slabs, onions and obviously thyme.
Before drizzling all of the ingredients together with olive oil, I desperately do not want to ruin the whole dish just by not adding thyme to this fantastic dish!
My little kids are the huge fan of it, so I want to keep its nice taste and wonderful texture sensation as much as possible! After a long hour doing research, I've just found out some excellent substitutes for thyme to use through.
What is Thyme?
Known as a famous and highly aromatic herb mostly grown in European, Thyme is often used to flavor pork, lamb, pasta sauces and French cuisine in general.
Basically, the herb serves a vital role in seasoning during our food preparation and complementing varieties of dishes, from meat, fish, veggies…well just to name a few of them.
And greater than that, thyme is also well-blended with other sorts of herbs to beautify different recipes.
Besides, some people who own a large amount of thyme, so drying them out is the necessary thing to do.
They will need a grinder to grind them finely in their spice chopper. (If you only have some sprig of thyme, it is also well to do it)
But before that, the fresh thyme's stem needs to be removed and spread evenly as well as dry overnight in the oven at the temperature of 100 degrees. They will be stored in a canning jar with a plastic lid.
Alright, now explore your best options if thyme is not available at the moment:
List 6 Best Ingredients That Use As Thyme Substitutes
1. BASIL AND OREGANO
Basil and Oregano is popularly used in Mediterranean
The quantity of thyme: 1 teaspoon.
To be substituted with: ¾ teaspoon of basil/oregano
They're both the popular herbs and ideally used for the Mediterranean foods. People tend to use these key ingredients to flavor spaghetti sauces and a wide range of tomato & cheese-based dishes.
Having a little stronger flavor than that of the thyme, basil and oregano are able to deliver a nice taste to any food recipe that thyme is mostly used: pasta, meatloaf, meatballs, etc.
Use basil as a substitute for thyme in chicken salads and other tomato-based dishes: Avocado pesto spaghetti and lasagna. If it's your chicken and potato recipe, don't miss using oregano together with rosemary in the same amounts.
2. ROSEMARY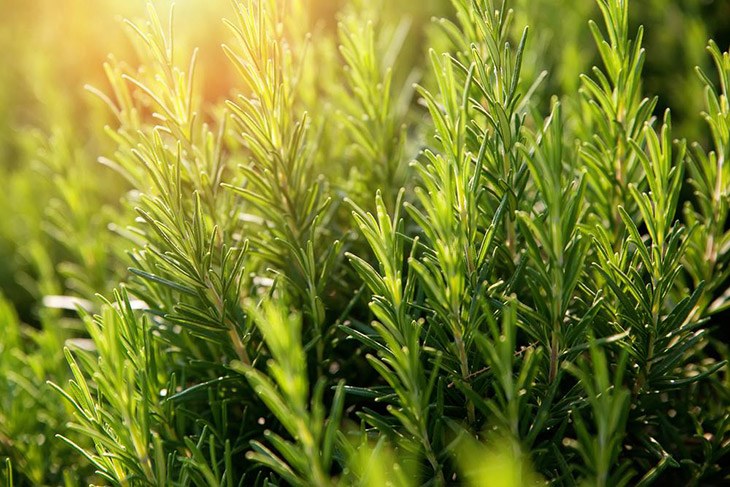 Rosemary is good herb with a slight bitterness
The quantity of thyme: 1 teaspoon.
To be substituted with: ¾ teaspoon of rosemary
Rosemary owns a highly dominating flavor, so it needs to be added sparingly for a more balanced taste of the food. While thyme and rosemary are both famous in the spice rack, we still notice some slight differences between their tastes.
As for the thyme, it owns a gentler flavor that can mix beautifully with merely about anything. In case you concern, find out more about the most excellent rosemary substitutes to improve your dishes.
However, the only one factor that both of them do have in common is the coziness and peppery undertones. Meanwhile, the rosemary itself is a powerful herb with a slight bitterness.
Be careful since it can be paired up with the wrong flavors if you overuse it. Use it as a great replacement for thyme for Italian cuisine, stews, soups, and chili. When their leaves are so much like the sharp needles, you need a grinder to pulverize the dried rosemary into powder.
3. DILL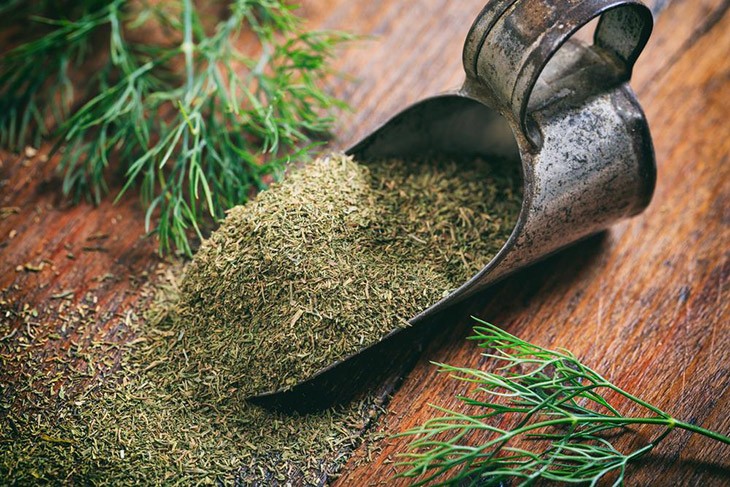 Dill is a popular ingredient in Asian foods
The quantity of thyme: 1 teaspoon.
To be substituted with: ¾ teaspoon of dill
Unlike basil and oregano, dill has a special flavor that is nothing like thyme at all.
However, we can't deny how interesting it really is, especially as it can deliver such a lovely taste to the dish. This herb does not own an aromatic flavor but the most delicate and feathery leaves, which is properly because it's a member of the parsley family.
Slightly different from thyme, it easily loses the flavor, especially when we use the dried dill. Thus, use the fresh dill will be often the best option. The seed of dill can be used as a spice to flavor most of the Asian and Middle Eastern dishes.
Some common foods using dill as a good choice are potato, soups, shrimp salads, pork, etc.
4. TARRAGON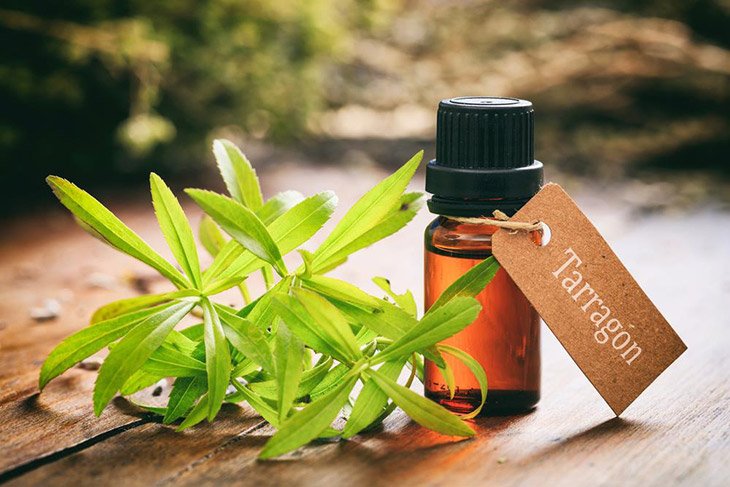 Tarragon can substitute or combine with thyme well
The quantity of thyme: 1 teaspoon.
To be substituted with: 1 teaspoon of tarragon
Everyone loves the bitter but sweet flavor of tarragon, which is mostly used to complement the subtle flavors of fish and poultry. But when we combine tarragon and thyme together, they just go perfectly well, especially with the roasted root veggies (potato and beets). Take a look at the best substitutes for tarragon that you need to know.
As you know, tarragon own a highly distinctive flavor while thyme is depicted as a generic herb in a perfect way. However, tarragon can be the mildest substitute for thyme amongst others, from poultry to soups.
If you like to rub your roast beef with it, then go ahead. Don't waste it as this is a good venture worth a try for both chicken and fish fans.
5. BASIL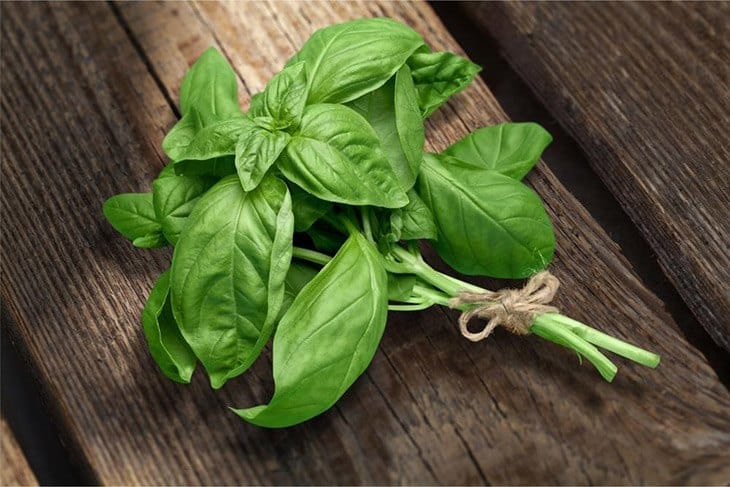 Basil used to use on lasagna or sauces
Such an alternate might not taste exactly like the thyme ingredient you're using, but with a bit of test on the "The quantity of thyme": 1 teaspoon to be substituted with: ¾ teaspoon of basil
Having a little more intense flavor as compared to thyme, so basil will be one of the most suitable substitutes for it! Basil can work well for thyme recipes if they're tomato-based and the only reason for this is because tomatoes can really withhold their distinctive aromas.
Unlike the basil, thyme owns a cozier and earthier taste, but basil can still be a viable substitute for thyme in most recipes, such as lasagna, sauces, spaghetti and shrimp salads. This ensures you to produce a good-tasting dish.
6. SAGE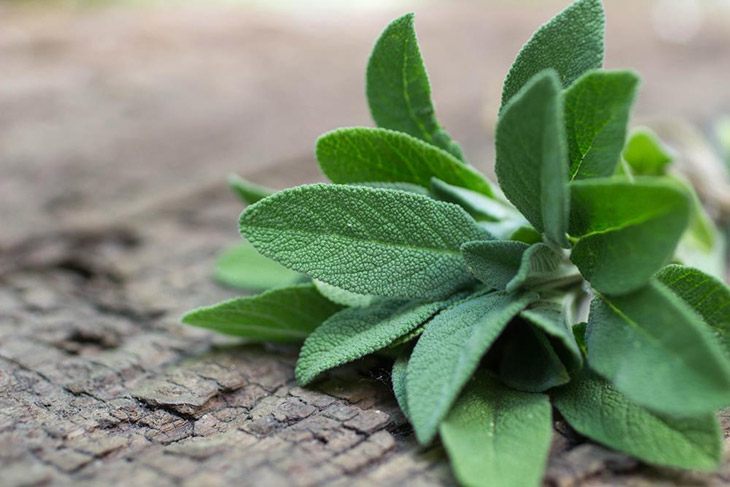 Sage is easy to find in a grocery
The quantity of thyme: 1 teaspoon.
To be substituted with: 1/2 teaspoon of sage
Sage is able to flavor every meal with its slightly bitter and mint taste. Due to the strong flavor, this herb is recommended to be added sparingly! Also, it's not hard to find sage since we can see it sold in the grocery store, so be ready to pick it up when thyme is not available in your kitchen.
This great alternative for thyme can be used in bean dishes, sausages, stuffings, pork, meat, lemon chicken with stuffing, creamy sauces, and soups. Greater than that, sage can work really well with turkey due to its rich flavor – one of the badass complements for your fatty dishes.
Feel free to use sage in the similar amounts that you've always used as you avail thyme.
How To Pick Herbs And Store Them?
Fresh herbs tend to add bold flavor and taste to every recipe, so in order to use them for cooking, just grow the herbs in your garden or basically get them from the grocery store.
Try to pick up those having fresh-looking green leaves without any dark brown spot. These fresh herbs can't last long, so just choose whatever you truly need.
Keeping the herbs as fresh as possible by storing them in the refrigerator. But before that, cut ½ inch off their stems and then cover their leaves with a little resealable plastic bag. Do not apply this method to preserve the basil.
Conclusion
Imagine when you're out of thyme but there are only a few herbs that will be added instead of thyme, what will you do to fix it?
Sure enough, these herb substitutes won't be able to offer the dish the same flavor, but they did add their own lovely and unique flavor to make your food strangely delicious.
In my personal opinion, if your dish like lemon thyme rice for example where thyme is the main character, no substitute for thyme works well.
However, if that recipe only needs thyme in small amounts, together with other herbs and spices, feel free to skip thyme. And remember that, the needed amount of substitution also bases on your taste preference, so again it's only the matter of personal option!