Did you know that most of the vegetables you use every day have a substitution? From cremini mushrooms to spinach, you can replace any ingredient in cooking if you run out of it.
Below, find out how to substitute frozen spinach for fresh!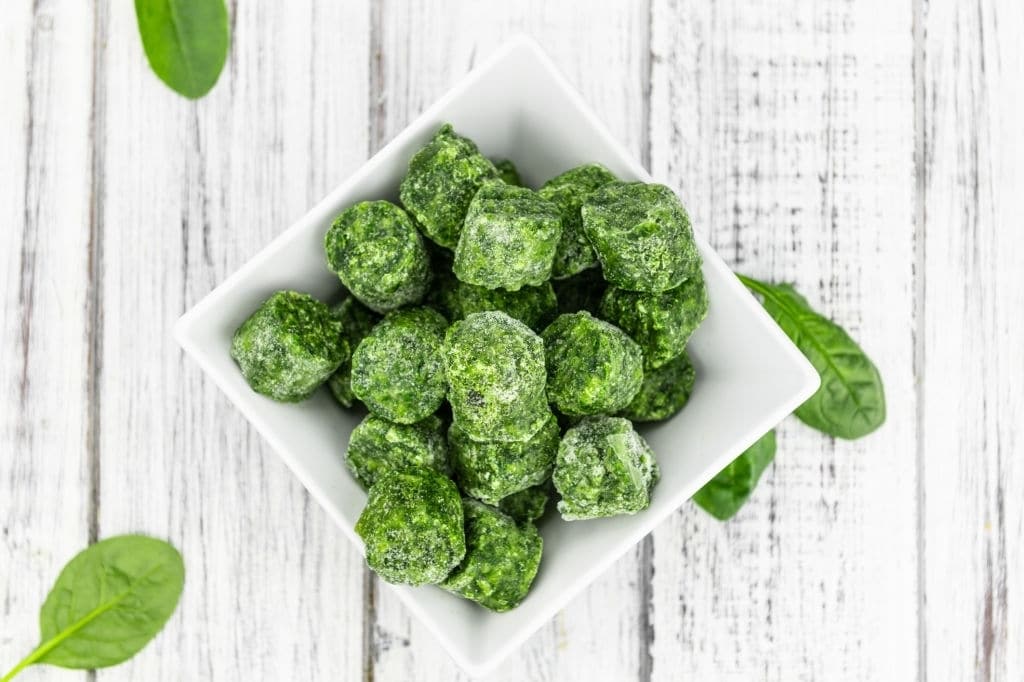 How To Substitute Frozen Spinach For Fresh?
To substitute frozen spinach for fresh, there are three main steps to follow:
Calculate How Much Frozen Spinach Is Equal To Fresh Spinach
No one can deny that fresh spinach is a healthy vegetable, a great veggie option in dishes. However, you have to spend quite an amount of time preparing it before cooking. So, why don't we use frozen spinach instead of fresh spinach to save time for us to contribute to the garnish while the flavor is still maintaining?
You can frequently see spinach sold in packages. It would have been chopped, boiled, blanched, and frozen for long-term storage. The best food that frozen spinach results best are soups, spinach appetizers, egg food, etc.
So, how much frozen spinach is needed to be approximately equal to your fresh spinach? Most local stores offer 10 oz packages of frozen spinach but don't misunderstand; it is the real weight of the spinach.
Frozen spinach should be thawed beforehand since it holds water inside, so one 10 oz frozen spinach equals 1 pound of fresh spinach. Depending on how much spinach your recipe requires, you can calculate the amount of frozen spinach vs fresh spinach.
Thaw Frozen Spinach
After you have purchased the correct amount of frozen spinach, it's time to thaw it to begin using it later on. While removing it from the freezer, you might notice that the spinach has gained more water than usual, but that is fine.
By following the steps below, we can ensure that your spinach is thawed and drained to perfection.
Step 1: Remove the frozen spinach out from the airtight container/plastic wrap and put it in a microwave-safe bowl. If there is too much spinach, you can divide them into two bowls and repeat the process when you finish.
Step 2: Let the spinach run in the microwave for 2-3 minutes. When the time is over, take it out to see if the spinach has become water-free, soft, and mushy yet. If there is still a frozen part, mix them all up and microwave again in 1 minute.
Step 3: Use a colander and put 1-2 sheets of paper towel on it. Take a colander and line it with a couple of sheets of paper towel.
Step 4: Put the spinach on the paper towel, wrap it around and try to squeeze water out of the watery spinach. The colander is there to support you if there is too much water. If the paper towels tear up, layer up more and continue until all the spinach is water-free.
Thawing and draining frozen spinach beforehand will prevent excess moisture in a dish, especially in dough-solid dishes like spinach pie or spinach used as a pizza topping. Now you have finished preparing frozen spinach, let's move on to the last step, where we substitute frozen spinach for fresh.
Cook To Adjust The Flavor And Texture Of Frozen Spinach
Suppose your recipe requires whole-leaf fresh spinach. In that case, you can achieve the same thing with frozen spinach because it is usually packed in the shape of leaves. Or else, if you need chopped spinach, feel free to execute frozen spinach as well. So, the problem is not about the texture but the flavor.
Unfortunately, when thawing frozen spinach, we have accidentally created a loss in vitamin C and healthy nutrition in the vegetable, resulting in flavor reduction. Therefore, frozen spinach tastes less delicious than a fresh one.
However, you can still upgrade the flavor back with appropriate seasonings, such as using salt, sugar, lemon, etc., any spice that can highlight the spinach's flavor in your dish.
Let us show you an example. Meyer lemon is a special kind of lemon that tends to be sweeter than another lemon. So, to substitute Meyer lemon with ordinary lemon, we put more sugar and honey until the juice becomes sweet. The same rule applies to substituting frozen spinach for fresh. Using your cooking sense and ability to detect what spice does frozen spinach needs.
On the other hand, in dishes where frozen spinach's excess water is not an issue, you can cook frozen spinach directly without thawing. This cooking method will help frozen spinach keep all of this healthy nutrition and flavor, making it the perfect replacement for fresh spinach.
Frequently Asked Questions
Is Frozen Spinach As Good As Fresh Spinach?
As we have stated before, frozen spinach cannot taste as good as fresh spinach once thawed. However, you can still upgrade the flavor of frozen spinach in your dish by using the right seasoning technique.
Since spinach is a water-absorbing vegetable, it can take in spices easily. On the other hand, if you want frozen spinach to taste as good as fresh spinach, cook the frozen directly without thawing.
Can Fresh Spinach Be Frozen?
Any cold vegetable like celery, zucchini, cabbage can be frozen for long-term storage, and spinach is not an exception. The easiest way to freeze spinach is to boil it, blanch it, and put it in an airtight container. Or, if the volume of spinach you have is not significant, you can store it as spinach ice cubes.
Does Freezing Fresh Spinach Lose Nutrients?
Freezing fresh spinach does not make it lose nutrients but also keeps the nutrients and water in more securely. It is the best way to lock the moisture and healthy ingredients of spinach before using it for your food.