6 Top Choices For Sweet Rice Flour Substitute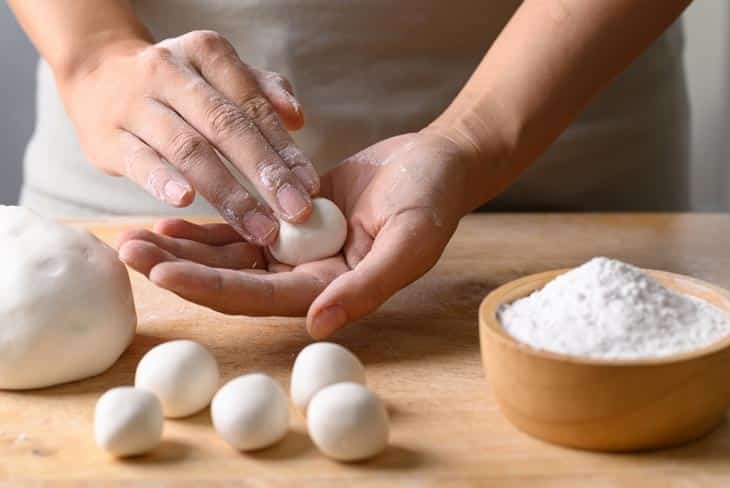 Glutinous rice flour is a common ingredient in Asian cuisine these days. Maybe people are more concerned about their well-being. So gluten-free recipes are attracting them more than ever.
That's why glutinous flour has become more dominant. But do you know of any other interesting replacements if you suddenly run out of this flour?
There are many bright choices for sweet rice flour substitute. More importantly, how can you interchange with an appropriate amount?
Luckily, you are in the right place to fully understand all these substituting things. Let's jump right in!
About Sweet Rice Flour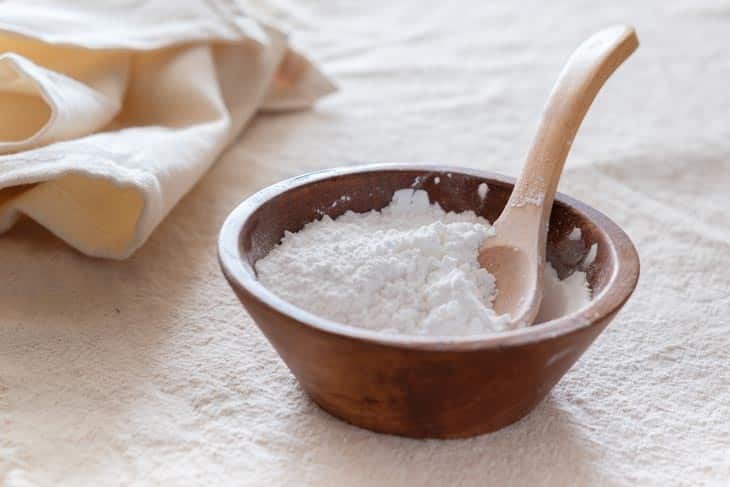 What Is Sweet Rice Flour?
Have you ever tried the Japanese rice cake – mochi or Chinese tang yuan before? If yes, you may have a clue through the chewy texture of the crust.
Sweet rice flour is the white rice flour, the main ingredient creating all those sticky traits. It is the finished product processed from short-grain white rice that delivers a significant amount of calories.
Besides, it can be a great substitute for wheat flour in baking.
Another common name is glutinous rice flour, and glutinous refers to the natural gluey consistency.
This signature Asian ingredient gives a sense of subtle sweetness. Although the sweet taste seems not very notable, it feels better than any other flour.
Diversified Usage In Cooking
Due to the gluten-free tendency, sweet rice flour is a fantastic alternative to enhance stickiness. It is not harmful to our health and is also easy to buy.
Plus, sweet rice goes well with various types of other gluten-free flour, thereby creating many delicious dishes.
Most gluten-based recipes need sweet rice flour to create a soft and sticky texture, especially in desserts. It contributes to the key component and decides the final flavor of the dish.
Aside from that, some baked goods also contain sweet rice to be more moist and sticky. By that, we mean savory dishes or the scones.
In addition, it is the primary element for this one wonderful traditional plate – noodles. The taste and sticky consistency of noodles depend on how good the sweet rice is.
Sweet Rice Flour Substitute – Top 6
What is sweet rice flour substitute? Here are the top six substitutes you can try:
1. Tapioca Flour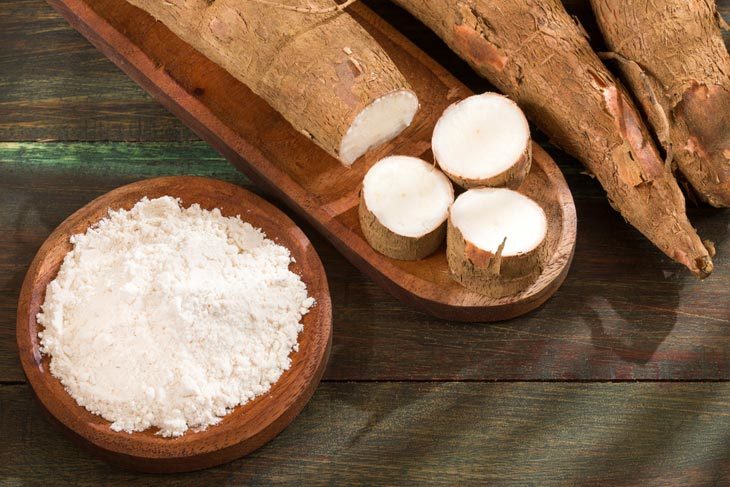 Tapioca flour is an excellent substitute for sweet rice flour as its contents are almost the same. Typically, this white rice flour originates from cassava or yuca.
So it has the starch content and gelatinous consistency but a neutral flavor, not as sweet as its substitute. Nevertheless, a little bit of sugar added will ease the issue.
In general, the water consumption and chewy level are in common between those two types of rice flour. Moreover, you can apply the equal replacement rate of 1:1; that is easy to note, right?
2. Potato Starch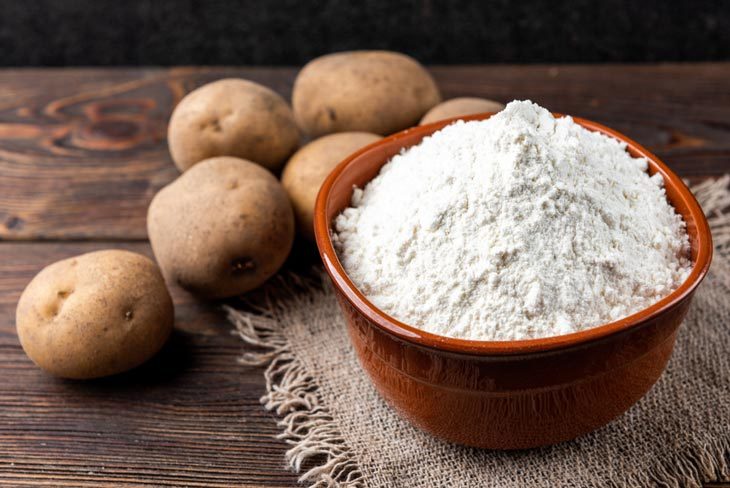 The next suitable sweet rice flour replacement must be potato starch. It is a type of fine powder made from potato starch.
Like Tapioca, these types of flour can serve as a thickening agent to food and have no taste. You may scoop a little extra sugar into an add-in for a sweeter touch than the original sweet rice.
Feel free to do the easy 1:1 substitution ratio with potato starch, and you could have almost the same sweet rice flour recipe.
3. Almond Flour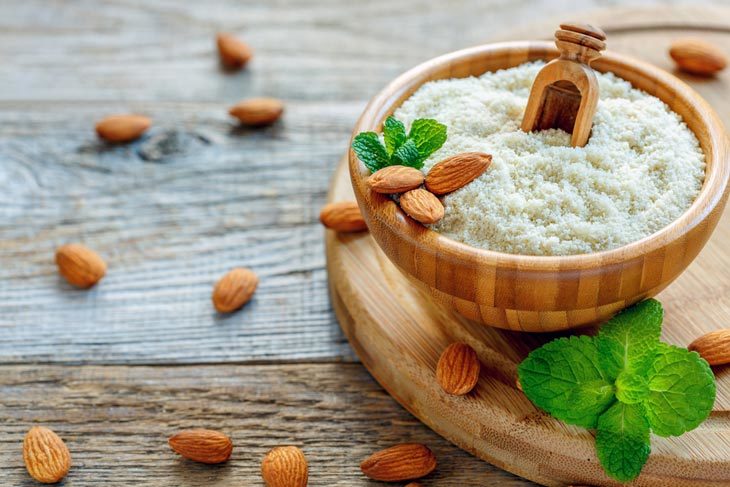 Almond flour is the healthy choice to alter glutinous flour. However, it offers some differences in content and flavor.
In particular, almond flour contains more beneficial vitamins and minerals than sweet rice.
Plus, it is gluten-free but not at the same sticky level. So you need to compensate for the binding quality using some extra sticker.
Regarding the flavor, almond flour displays a stronger taste than sweet rice. As such, consider adjusting the flavor with some added sugar.
One more thing to notice is the replacement ratio. With every cup of sweet rice flour, you can alter exactly 1.5 cups of almond flour.
4. Sorghum Flour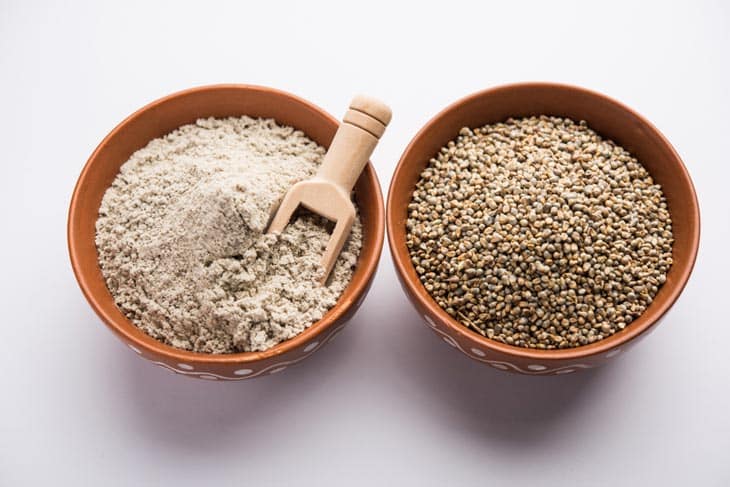 Coming up is another gluten-free alternative to glutinous rice flour: sorghum flour – a rich nutritious white rice flour.
Like sweet rice, it has a subtle sweetness but is slightly lighter. On the other hand, sweet rice is stickier than its alternative. So you may utilize some extra binding agent to reach your preferred gluey consistency.
To replace glutinous rice flour, you can use an equal quantity and add a little sugar for a nutty flavor.
In some aspects, the recipe may vary remarkably. Then, you may gradually add another tablespoon or two to balance the desired stickiness.
5. Coconut Flour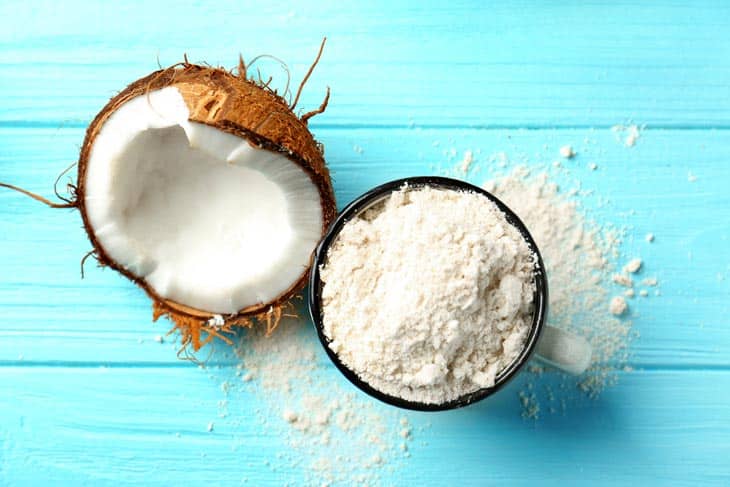 Similar to glutinous rice, coconut flour is inherently a fine powder. More interestingly, it offers a bit more distinguished flavor.
You can detect the coconutty savor, though just at a moderate rate. Plus, you will sense a sweeter taste than glutinous rice.
Coconut flour is not as sticky as its peers away from that trait, similar to almond or sorghum flour. You can also apply the same solution by adding a thickening agent.
In most recipes, let's follow the 1:1.5 ratio for the greatest substitution of coconut flour.
6. Cornstarch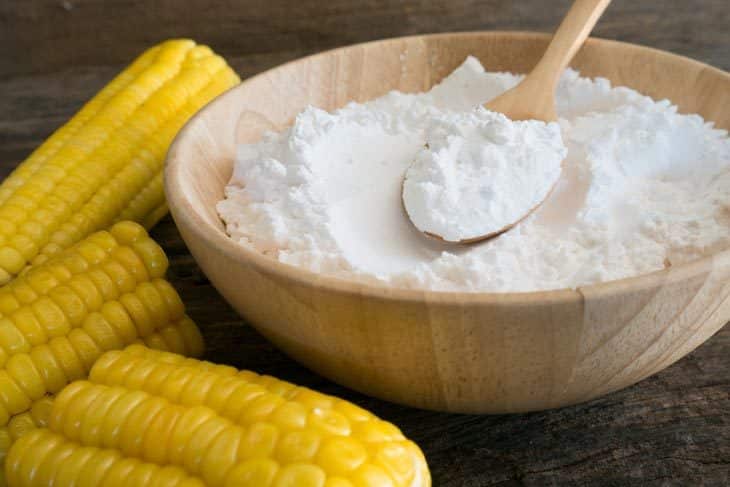 The last glutinous rice flour substitute we introduce today is cornstarch. We usually use cornstarch to thicken the batter or liquid due to its high thickness.
As a rule of thumb, two teaspoons of cornstarch will thicken a cup of liquid.
But remember to stir it finely in cold liquid before pouring slowly into the heated saucepan as the cornstarch will become thick right after it heats.
On the other hand, sweet rice flour thickens the liquid regardless of the heat. So you can substitute the same amount of cornstarch first, then add more or less as needed.
Several Recipes Using Sweet Rice Flour
Due to its glutinous characteristics, sweet rice flour has become an essential ingredient in a specialized cake feast.
No genre can lack this component, ranging from savory dishes, pastry, scones, and desserts. Here are some example model dishes:
Tang Yuan: a popular dessert served in Asian family gatherings or on special occasions. The wonderful chewy spheres come from the sweet rice filled with green bean or black sesame paste. The final balls submerged in hot sweet syrup will blow out your mind at the very first bite.
Fresh Strawberry Cake: chilly cake highly recommended in the summer weather. A blowing taste when mixing fresh strawberries into the gluten-free batter. The added sweet rice enhances the stickier texture of the cake. Best flavor when spreading a medium-thick layer of smooth strawberry cream on top.
Gluten-Free Pumpkin Pie: an outstanding pastry of all time. The highlight flavor lies mainly in the filling. A harmonious mixture of pumpkin, sweet rice, brown butter, and condensed milk creates the best-whipped stuffing. Scoop some buttery maple cream on the top, then enjoy the delightful pie right away.
Mochi donut: a new version of normal doughnuts. Simple in ingredients but mind-blowing when you take a bite. The chewy texture formed by sweet flour combines perfectly with the crisp fried crust. Some matcha or chocolate glaze spread on one side will make you mouth-watering.
FAQs
How Does Sweet Rice Flour Differ From Rice Flour?
They only have gluten-free features in common. Regarding other traits, they differ entirely and cannot be interchangeable.
Origin: sweet rice flour stems from the short-grain glutinous rice; white rice flour is the product of medium to long grain rice.
Texture: sweet rice contains much more starch, which is stickier than rice flour. Thus, we often call it "sticky rice flour" instead.
Culinary usage: Both are useful in cooking. We usually mix rice flour with others in baking. On the other hand, sweet flour has more benefits due to its high starch content. Aside from baking, the sticky trait will help thicken the watery dish like stew or soup perfectly.
Can You Use Expired Sweet Rice Flour?
The answer may be unexpecting, but yes, you totally can.
The "best by" date written on the label has gone already, but feel assured to continue eating. It is still edible for a further two years.
Because sweet rice flour is a dried grain, there is no harmful effect on one's well-being. The taste, however, may turn out not as delicious as when the flour stays in the shelf life.
In some rare cases, the flour is out of use completely if too much mold and pests appear. Then, the sour odor annoys you so bad that you will throw the jar away.
Does Glutinous Rice Flour Go Bad?
That bad result may happen, but in some rare cases. Imagine what would happen when the opened jar of glutinous rice had been lying in someplace moist and high-temperature.
Or the pests may attack and threaten the quality if you leave the flour jar unsealed thoroughly.
It depends on how well you store this type of flour in your pantry. Here are some tips for long-haul preservation:
Within six months: pour the dried grain into any airtight container and keep it in the cupboard or the fridge.
Longer time: store flour in sealed freezer bags and place it in the freezing compartment.
In Short
Now you could pick the right sweet rice flour substitute if you have already used up the leftover.
Although you can buy some at grocery stores instead, available other substitutes will greatly save your time and money.
While there is a little difference in taste, the final dish still turns out well and acceptably.
You may impress others by knowing all these replacement tricks by that time. More interestingly, they may see you as a professional cook.
Let's diversify your recipes with various alternatives you have never tried before.