If you have been wondering about how feta cheese tastes, you are not alone. Feta cheese is considered by many the best cheese worldwide. Truthfully, it's one of my favorites!
At the same time, the taste of feta cheese will differ from one country to another; other factors like the technique and the ingredients used to make it result in its varying tastes.
What Does Feta Cheese Taste Like?
As already mentioned, Feta cheese can taste different depending on what has been used to make it and the country it is made in. Below are a few elements that affect the taste of cheese.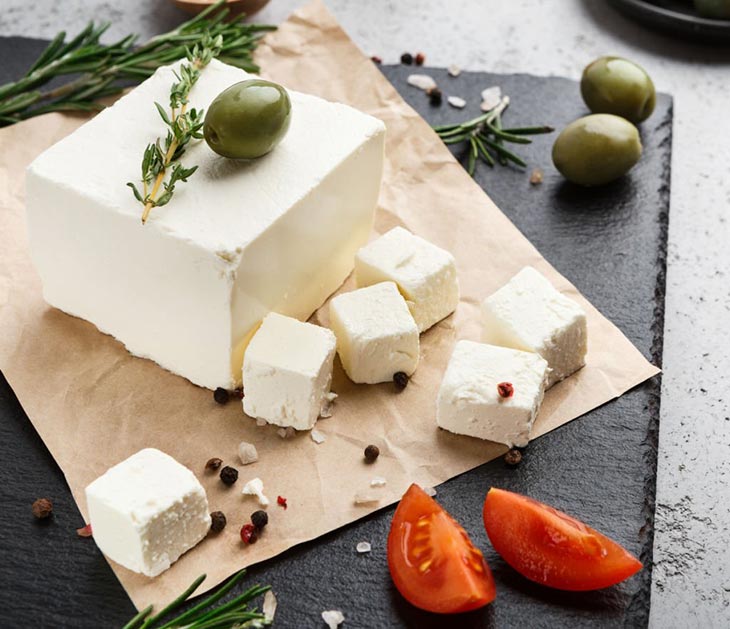 Factors That Affect The Taste of Feta Cheese
#1. Milk from Animals
Most cheese products you see aligned in the shops are made from different animal products, the main one being milk.
You can make feta cheese from cow, goat, or sheep milk. You can also make your feta from buffalo's milk in some instances. Of these types of milk, cow milk is by far the most used to make feta cheese.
Cow's milk is used to make different cheese types and not just the feta. Some of the best cheeses globally are made from either goat or sheep milk.
These two other animals with milk taste different. As a result, the milk used from either of these animals will give a different taste to the feta cheese.
#2. Milk from Non-animal Sources
Some milk does not necessarily come from an animal source and is still used to make feta cheese. You will come across cheeses made from soymilk and rice milk, which are increasing in popularity.
With the rise in several people being extremely cautious about their health, there is also the manufacture of cheese that is less fatty.
#3. Soymilk
Soymilk is non-dairy-produced milk that is made from soybeans. It goes through a thickening process so that it looks like ordinary milk. You can favor it with honey or vanilla.
Soymilk is cholesterol-free and low in Sodium. Always test the soymilk brand to determine if it is suitable for your feta cheese.
#4. Rice Milk
Rice milk comes from cooking and blending white or brown rice. It can also result from rice flour. You can also make your feta from a lactose intolerant product, and rice milk is a good alternative.
Rice milk is another factor affecting the taste of your feta cheese, as it is not a dairy product but is somewhat produced differently.
#5. Animal Feed
The flavor of your cheese will also be significantly affected by the animal producing the milk. You will notice a difference not only in the taste but also in the aroma and texture.
It is all dependent on the milk's content from that specific animal. Animals are fed different diets resulting in additional milk production, which will also affect your feta cheese in the long run.
#6. Geology
You may wonder how does feta cheese tastes and how this is affected by the geology factor. Your feta cheese milk characteristics will continue to differ depending on the region and the soil found in these specific regions.
A good example is the soils produced from the volcanic areas. Such soils will grow different plant breeds fed to other milk-producing animals. As a result, the taste of the feta cheese will be felt.
#7. Storage Condition
Your feta cheese has a period for which you must store it, and how it also must be wrapped during storage.
For instance, you cannot eat your feta cheese after keeping it in your refrigerator for more than two months and expect it to have the same taste. The longer you store it, the more it changes in text and texture.
Additionally, you must adequately wrap your feta cheese. If this proves difficult for you, try cutting your cheese into huge chunks and placing it in a container with a tight lid. This will prevent air from getting into the cheese container and tampering with your feta cheese's life, taste, and texture.
How long does feta last is entirely dependent on storage. Proper storage will increase the feta cheese's life, regardless of the already given expiry dates.
Make a habit of cutting the feta into huge chunks while you store, and remember to keep the storage container adequately wrapped.
No air will get in, meaning that your cheese will remain intact in taste and texture for as long as possible.
#8. Foods It is Used In
You will notice that your feta cheese will taste different in different foods. While it may maintain its salty flavor in some meals, it will absorb the salty flavor in others.
While some foods may have a milky feel, others will completely absorb this milky feel. The type of meals also varies and makes your cheese go in taste.