How To Tell If Pork Is Done Without A Thermometer – Full Answer Here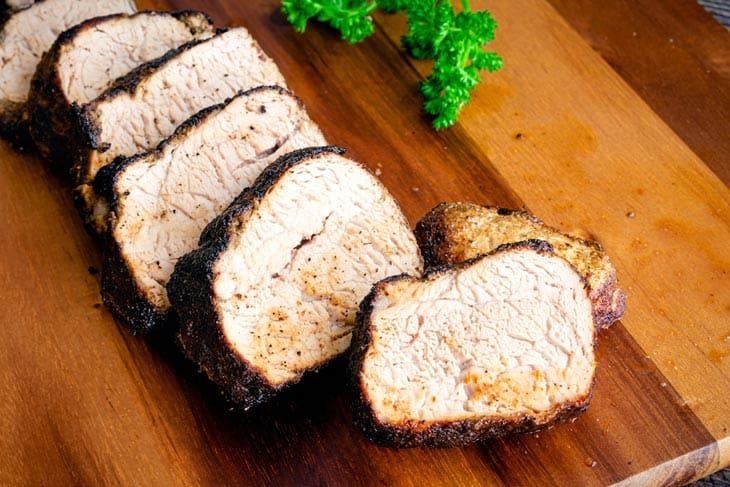 Having a delicious meal with pork is quite a feat. The temperature stage has an intense effect on the pork cooking process.
It greatly affects the doneness and flavor of pork. What if you don't have a thermometer on hand? How to tell if pork is done without a thermometer?
If you seek an alternative pork readiness identifier method instead of a thermometer, this article is for you.
What Is A Thermometer?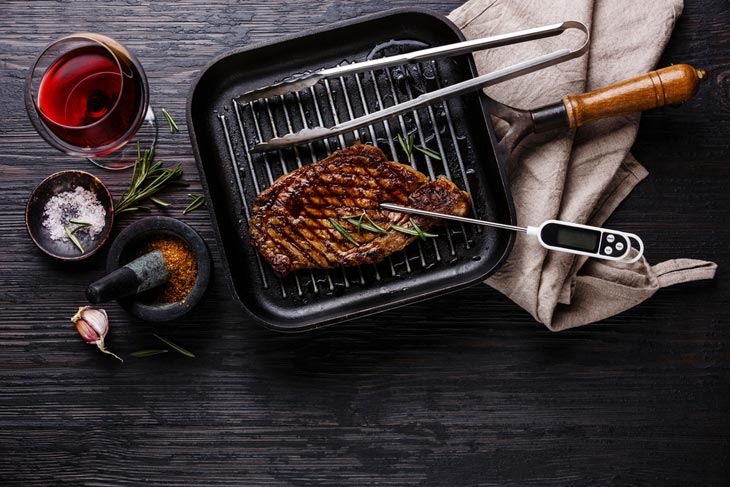 A thermometer is an instrument used to measure the temperature of an object, person, or system.
Around the 1500s, Galileo Galilei invented this device with the basic principle of air contractions and a high coefficient of expansion of mercury.
When a change in temperature causes the air pressure inside the glass to change, the mercury level increases and decreases the liquid level. It signals the temperature according to the line marked on the gauge.
The applications of thermometers are widespread in many fields of life, such as medical practice, manufacturing, science, cooking, etc.
Now, how do you know if pork is done without such a tool? Scroll down to get the answer.
How To Tell If Pork Is Done Without A Thermometer?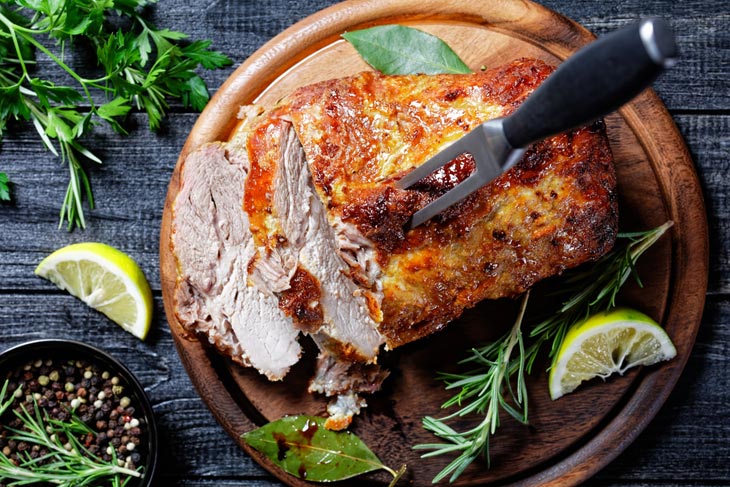 Check The Pork Freshness And Juices
How do you know pork is done? You can test the pork meat by slicing it thinly with a knife to see how fresh or pink it is. A piece of pork can still be rare or medium if the pink meat is more than 20%.
In addition, you can poke your chopsticks into the meat to see its juiciness.
If the meat is still quite wet and not very bouncy, it's not done yet. A piece of cooked pork will have no red or not much deep pink shade.
Note: The freshness factor will need personal experience as juicy is not always watery.
Check The Pork's Inside Tenderness
Pork loin tender should be checked from the center of the whole piece. A skewer or long knife is a good tool to determine if a pork loin is soft or hard.
Depending on when you poke the pork chop, you can judge the doneness. If the pork chop is still a bit tough to pierce, it's good to give it a little more time to cook.
In case the knife cuts through it very easily and without too much effort, you can take it out and have a delicious meal right away. That's how to know if pork is done.
Check A Sample Slide Of Pork Loin
A more intuitive way is to try a slice of pork loin. You can use a knife to cut a piece of the cooking pork loin to taste.
If the taste isn't right, the consistency isn't satisfactory, or the heat isn't enough, you can continue cooking to finish your pork loin.
You should apply this test to the center of the pork loin and handle it with care. It takes a lot of experience in cooking pork to try this method.
Check The Pork Loin From Outside By Fingers
You can know how to tell if pork loin is done by using your finger. Fingers are the most suitable tool for checking the firmness of meat because of their strong force and ease of control.
From the firmness of the meat, it is possible to judge its doneness. This method can apply multiple times throughout the cooking process, and different degrees of doneness should get into the note.
When the pork chop isn't ready, pressing down with your thumb will reveal more indentations and certain areas that are softer than others.
If the pork is ready, its firmness resembles the same as your thumb.
Check The Color Of Pork Loin
Another way of how to know when pork is done is to cut the thickest section of the pork belly and check the color inside.
The meat's interior color should be opaque or light pink. Slightly pink cut is edible, as per USDA standards.
Meat that is too red can be color reversion and should be discarded. Microorganisms thrive in this environment.
The pH can also affect the quality of the pork, so this is not a surefire way to see whether the pork is ready.
Following The Right Cooking Time
Cooking time for pork is usually included in the recipe. You can use the oven timer or the set timing on your phone.
Each pound of pork loin needs 20-15 minutes to cook. If you pull pork from smoked pork loin, you will need to cook at 96°C for the perfect state.
When you intend to cook a stuffed pork loin, it's advisable to get it to 63°C before taking it out of the smoker.
Processing pork loin in a crockpot promises that the meat achieves the right internal temperature as well as becomes tender.
However, assessing ripeness over time without a meat thermometer is really risky. To be certain, cook at the proper temperature, then add some extra time to the cooking duration.
FAQa
How To Fully Cooked Pork Loin?
Pork loin can be divided into four different states of ripeness, similar to beef. Each degree of maturity needs a corresponding temperature accompanied by:
Medium-Rare meat – about 65°C. The cut meat inside is still quite pink and juicy.
Medium meat – about 65 to 68°C. The pork loin has gradually recovered, leaving only a certain pink area on the pork.
Medium-well meat – about 70°C. The pork was drier, and the inside was pinkish white.
Well-cooked meat – Little more than medium-well, about 71°C. When the meat is fully cooked, the fibers can be seen, and the color is the bright gray dry loin.
Usually, people will enjoy pork loin in medium or medium-well with tender, juicy, and delicious meat loin. But you can add a small step to make the meat fully cooked to the well state:
Preheat the oven to 160°C.
Arrange the pork in a thin layer around the plate and drizzle with your choice's chicken or vegetable sauce.
Grate pork loin with butter or oil by drizzling or rolling, then cover with aluminum foil.
Heat with the internal temperature of 60°C for 25-30 minutes.
When the light turns on, remove the pork loin from the oven and wait a few minutes to cool before slicing.
How To Know When a Pork Is Done?
In addition to relying on color and time to predict the doneness of pork, a thermometer is a must-choice option in this case.
Using a thermometer is the best way to measure meat's doneness and make the cooking process simpler.
Different cuts of pork have different cooking temperatures. Regular pork is quite lean, so it is usually processed at 60-64°C.
Fresh cuts of meat such as pork chops, pork butt, pork tenderloin, pork loin, and pork roasts call for between 60-64°C to ensure maximum flavor.
Ground pork is done when it reaches 72°C. Ham can be cooked to 60°C and slightly reheated to 63°C.
Slices that are too small to measure with a thermometer or too large need slow cooking over low heat.
Conclusion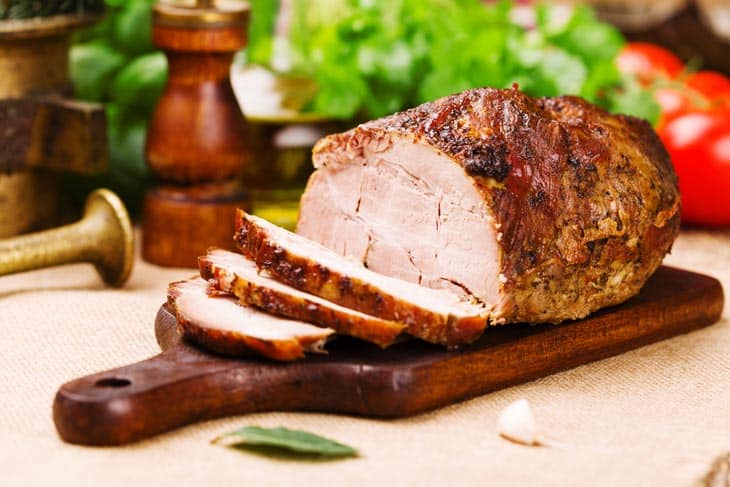 Cooking with a thermometer is greatly convenient in detecting raw meat. Yet how to tell if pork is done without a thermometer?
Luckily, you can also rely on several other factors to determine the doneness of pork.
Cookers need to use those methods simultaneously when missing the thermometer to have a delicious, tender, juicy, and healthy pork dish.