Teriyaki Stir Fry Noodles – A Step by Step Guide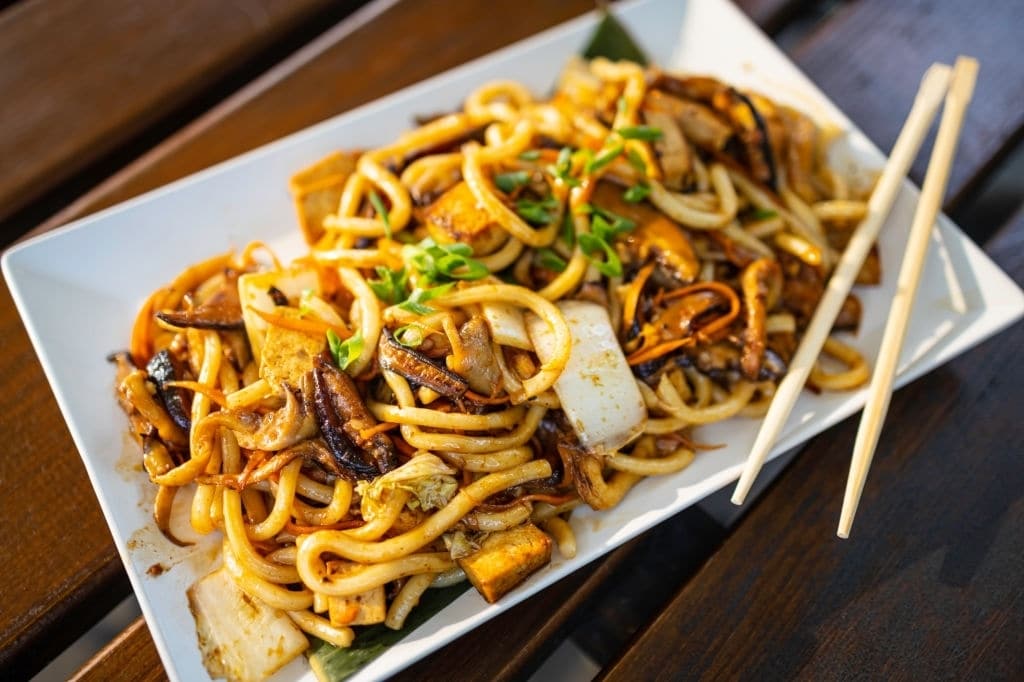 Teriyaki is the perfect sticky sauce for serving over rice with soy sauce and is made with rice wine (mirin), and sugar. If you love foods with teriyaki, then you'll love this teriyaki stir-fry noodles guide
Follow the stir-fry noodle guide below to have a great meal!
What Kind of Noodles Do You Use For Stir Fry?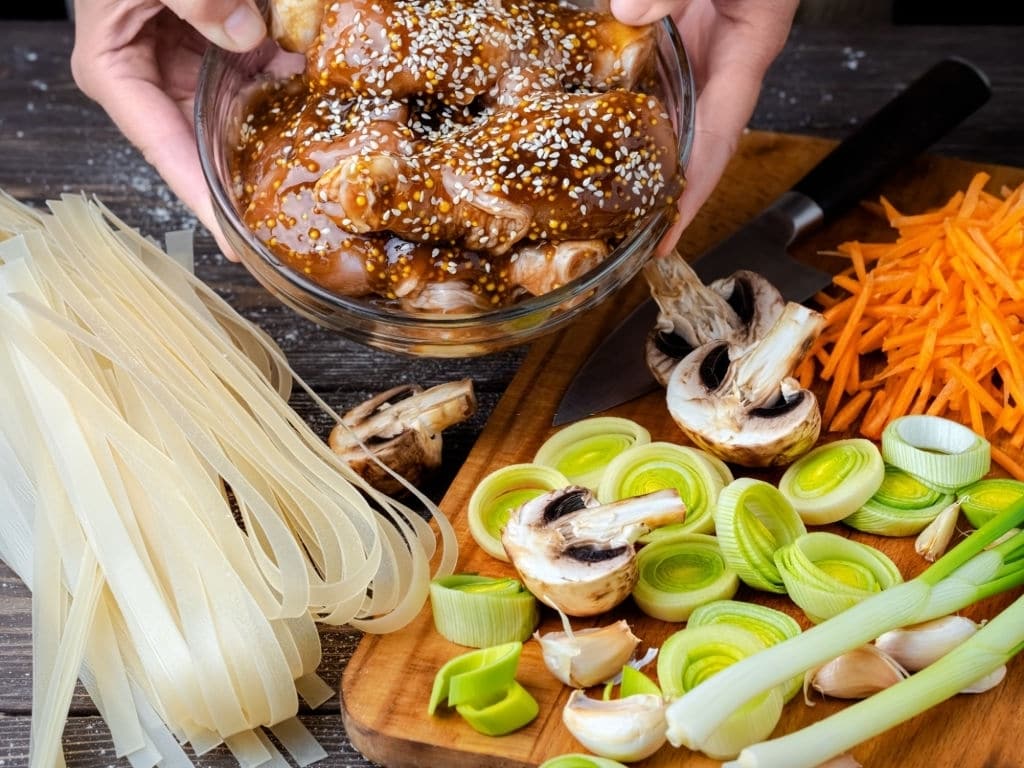 Your choice of noodles will greatly affect the result of your homemade teriyaki noodles, so be sure to use some of the ones I have listed below.
Soba Noodle
Soba noodles are traditional Japanese noodles made from buckwheat. You can find this typical ingredient easily at any convenience store. Depending on the weather, soba noodles are available in hot and cold varieties. You can use them to make delicious Japanese teriyaki noodles.
Japanese Udon
Teriyaki Udon noodles sound great, right?
Udon is a noodle made from a mixture of flour, water, and salt. This type of noodle from Japan has toughness, a neutral taste, and is easy to combine with ingredients. Udon is especially suitable for vegetable teriyaki. Because there is a lot of water in the ingredients, you do not have to worry about them drying out due to the heat.
Spaghetti Noodle
Spaghetti is a type of pasta in the shape of a small round, made from semolina flour and water. The most characteristic thing that distinguishes the "Queen in Italian cuisine" from other countries is the semolina flour – made from the hardest wheat with amber color. This is a great dish that can satisfy all diners.
Rice Noodles
Noodles use non-glutinous rice starch or flour, sometimes combined with other ingredients such as eggs (egg noodles). It is cut in a square shape or microfiber and usually dried. This is a less popular option than teriyaki pasta, teriyaki spaghetti, or any other egg noodle substitute.
How to Make Teriyaki Stir Fry Noodles
Make The Teriyaki Sauce
Teriyaki sauce is a typical sweet-salty sauce of Japan that is very popular in dishes to create a shiny and vibrant color. Follow these instructions on making this simple teriyaki sauce at home, and you won't need to buy teriyaki sauce from the supermarket.
You need to prepare soy sauce, chicken stock, sugar, fresh ginger, cloves garlic, and cornstarch. You can add a little mirin to make the sauce more fragrant.
First, you put the mixture of 20ml soy sauce, 110g brown sugar in a cup, stirring. Then add 7.5g minced ginger, 5g minced garlic, 15ml honey, 15ml sesame oil, 45ml mirin alcohol into the cup and stir well. Pour homemade teriyaki sauce into a saucepan, bring to a boil.
When the mixture is boiling, reduce the heat, and simmer for about 4 minutes until the sauce is thick. Remove the pot from the stove and let the teriyaki sauce cool, and now you are ready for the next step.
Make The Teriyaki Chicken
Home cooks can use the whole chicken breast. It would be best to poke a few holes in the chicken, marinate the teriyaki sauce just made on top of salt and pepper for 5-10 minutes to infuse.
Put one tablespoon of cooking oil in a pan, add yellow onion, meat and fry over medium-high heat. After the skin is yellow and bulging, turn it over and fry for 2-3 minutes.
It would be best to sprinkle two tablespoons of Sake and then cover again for 6-8 minutes on low heat. Keep in mind that when put in Sake, the chicken skin on top must be in direct contact with the alcohol. This will prevent the skin from becoming soft, and the alcohol will seep into the flesh.
Finally, pour the rest of the teriyaki sauce into the pan. You can add some fresh vegetables such as carrots or bell pepper to a teriyaki vegetable stir fry. You need to cook and scoop the surface of the meat with a spoon.
When the water starts to thicken again, turn off the heat. Please take out the meat and use the knife to cut it into bite-sized pieces. This simple sarku japan chicken teriyaki recipe is tasty and easy to make.
Stir Fry The Noodle
To avoid soggy noodle in soup, you can refer to these easy stir fry noodle recipes.
Boil a pot of water, then add in the noodles. If it is white rice noodles, you should wash them to remove dirt and then boil them. Boiling time also depends on different types of noodles.
If it is egg noodles or shrimp noodles, it should only be boiled for about 1 minute to 1 and a half minutes to ensure that the fibers are still chewy, not crushed.
For rice noodles, you should boil it for about 4-5 minutes (depending on the size of the noodles). Or you should refer to the time of boiling noodles on the package.
After boiling, it would be best to take out the noodles immediately, put them in a bowl of cold water to let the noodles cool, or rinse them through this cold water. This will help remove the gelatinized dough outside the noodles. Therefore, the noodles will no longer stick together when stir-fried.
After about 10 minutes, you take out the noodles and add a little sodium soy sauce to create the color. At this point, put the pan on the stove with a little olive oil so that the cooked noodles do not stick or clump.
Last but not least, add the chicken and the sauce mixture, continue stirring over low heat for a few minutes. Your teriyaki chicken stir fry with noodles is complete.
Are Teriyaki Stir Fry Noodles Healthy?
Yes, they are, if you cook it properly.
Chicken breast is one of the great options due to its high protein content and low-fat content. It is especially helpful for those trying to lose weight. A skinless, boneless, cooked chicken breast provides the following nutritional ingredients:
Calories: 284
Protein: 53.4 grams
Carbs: 0 grams
Fat: 6.2 gramsHowever, chicken teriyaki stir fry with noodles is a cooking method that uses quite a bit of oil. This can affect your health and cause severe health conditions like a heart attack.
When processing foods at higher than 120 °C with cooking oil (vegetable oil), acrylamide will be produced. This is an intermediate product made up of a chemical reaction between desiccant sugar and amine asparagine acid, which can cause cancer, especially for those who directly perform the cooking process.
How to Preserve Teriyaki Stir Fry Noodles
The best way to store noodles with teriyaki sauce is to put them in the cooler of your refrigerator.
Even in the refrigerator, food should still be stored in a separate box or food bag, tightly closed. It would help if you did this to avoid affecting the dish's ingredients and the smell of other foods.
Before processing, you need to take a serving portion out of the refrigerator cooler, leave about 4-5 hours, and then start processing. Doing so will limit sudden changes in temperature, ensuring the nutrition and deliciousness of the dish.