What Temperature Should You Roast Vegetables (Chart & Guide)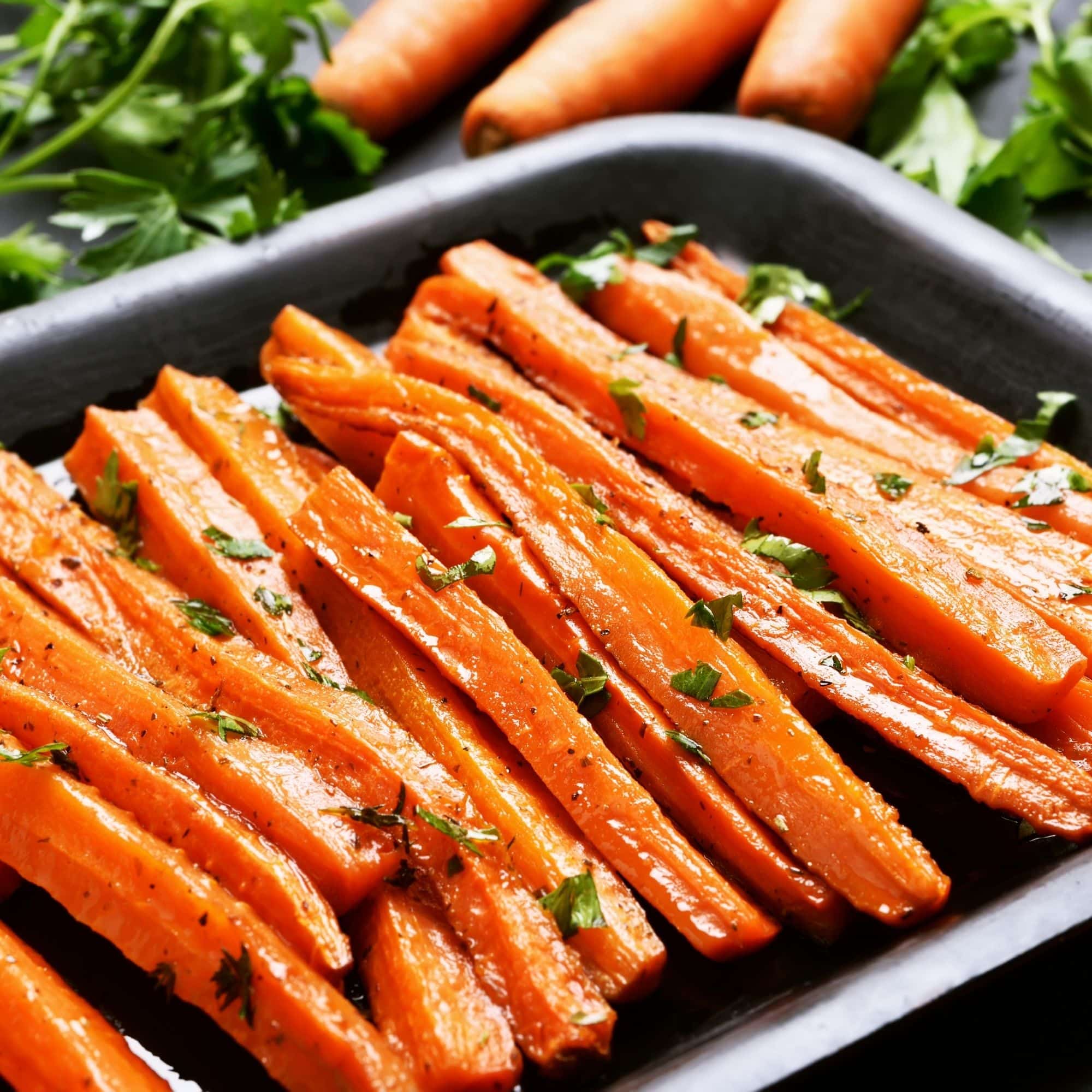 If you have ever wondered about how to roast vegetables, then you have come to the correct place to learn all about vegetable roasting times!
Roasting vegetables mellows and sweetens the flavor of vegetables, which makes for a tasty (and let's not forget healthy) meal.
Below you will find a list of different vegetables you can roast, the temperature they need roasted at and the length of time to roast them as well. Keep on reading to learn what temperature you should roast vegetables at and more.
Vegetable Roasting Chart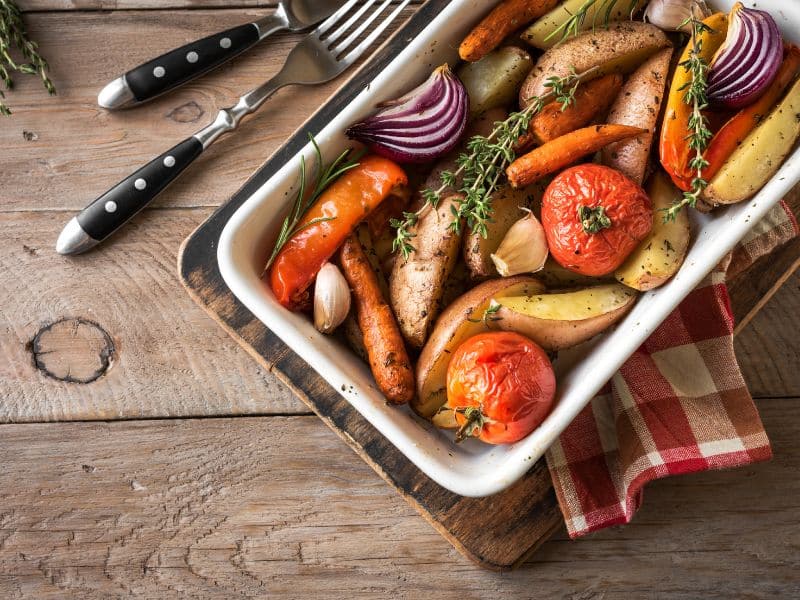 Use the chart below to find your favorite roasted vegetable to learn how to roast (or bake) them to make a healthy side dish for your next dinner.
| Vegetable | Temperature & Time | Procedure |
| --- | --- | --- |
| Asparagus | 425℉ for 10 to 13 minutes | Drizzle with olive oil. |
| Beets 2″ to 3″ unpeeled, scrubbed and dried | 375 ℉ for 1 to 1 ¼ hours | Wrap in aluminum foil. |
| Brussels Sprouts, halved | 425 ℉ for 20 -25 minutes | drizzle with olive oil and or seasonings |
| Carrots peeled, 1″ diagonal slices | 325 ℉ for 40 to 50 minutes | Place in shallow baking dish, dot with butter, cooked covered stirring occasionally. |
| Cauliflower, cut into florets | 425 ℉ for 30 to 35 minutes | Drizzle with olive oil or butter. |
| Corn on the cob, husked | 375 ℉ for 30 to 35 minutes | Rub with butter and wrap in aluminum foil. |
| Garlic, unpeeled | 350 ℉ for 1 hour | 2 tablespoons of butter and 1 tablespoon of water per head of garlic basting every 10 minutes. |
| Onions, peeled | 325 ℉ for 30 to 45 minutes | Stand upright, drizzle with melted butter, basting several times during roasting. |
| Peppers, seeded, quarted | 375 ℉ for 40 to 45 minutes | Skin side down, drizzled with oil. |
| Potatoes, unpeeled, washed and punctured with fork | 400 ℉ for 75 minutes | Check occasionally, potato is done with an internal temperature of 210℉. |
| Pumpkin, halved, seeded | 350 ℉ for 75 minutes | Cut side down on greased baking sheet. |
| Squash (butternut), halved seeded | 425 ℉ for 30 to 45 minutes | Cut side down on greased baking sheet. |
| Sweet Potatoes, unpeeled, washed and punctured with fork | 400 ℉ for 45 to 50 minutes | Place evenly without touching on rimmed baking sheet. |
| Tomatoes, cut in half, juiced and seeded | 400 ℉ for 20 to 25 minutes | Cut side up, drizzle with olive oil. |
| Zucchini, sliced or cut lenghwise | 425 ℉ for 15-20 minutes | Elevated on baking rack on top of baking sheet. |
---
Roasted Vegetable Recipes
There are so many delicious roasted vegetable recipes that it is hard to decide which to include in this guide. Some great options include roasted Brussels sprouts with bacon, roasted sweet potatoes with cinnamon, and roasted butternut squash!
Take a look below at some of my favorite roasted recipes with veggies.
Roasted Veggie Recipes
---
Common FAQ's about Roasting Vegetables
How Do You Roast Vegetables?
When it comes to cooking vegetables, many people think about roasting them. Roasting is a great way to cook vegetables because it caramelizes their sugars and brings out their natural flavors. There are a few things you need to know before you start roasting vegetables.
First, make sure your oven is preheated to the correct temperature. Second, be sure to position your cut vegetables on the baking sheet (with or without parchment paper), so they will evenly brown and season how you'd like. Finally, stir once or twice during roasting for even cooking to make sure the vegetables are done to what you prefer.
What Temperature is Best for Roasting Vegetables?
There is no definitive answer to this question, as the best temperature for roasting vegetables will vary depending on the vegetable and the recipe. Generally, roasted vegetables are at a temperature between 375 °F and 425 °F, but it is important to pay attention to the specific recipe and follow the instructions closely for best results.
What are the Benefits of Roasted Vegetables?
There are many benefits to eating roasted vegetables, including:
They are a healthy side dish.
They are a great way to add flavor and nutrients to your diet.
They can be a quick and easy meal option.
How to Reheat Roasted Vegetables
There are a few ways to reheat roasted vegetables. The most common way is to simply place them in a microwave safe dish and heat them on high for about 15 to 20 seconds. Another way is to place the vegetables on a baking sheet and roast them in a preheated oven at 325 degrees for about 15 to 20 minutes.
How Long do Roasted Vegetables last in the Fridge?
When it comes to roasted vegetables, the best time to enjoy them is right when they are fresh out of the oven. However, if you want to ensure that your vegetables will last in the refrigerator for a few days, it is best to roast them in smaller batches and store them in separate containers.
Can I Freeze Roasted Vegetables?
It is possible to freeze roasted vegetables. For best results, allow the vegetables to cool completely before freezing. Once frozen, they can be stored in a freezer-safe container for up to six months.
What Can I Eat with Roasted Vegetables?
Roasted veggies pair well with many main dishes. Below are a few favorites I found across the Internet.
---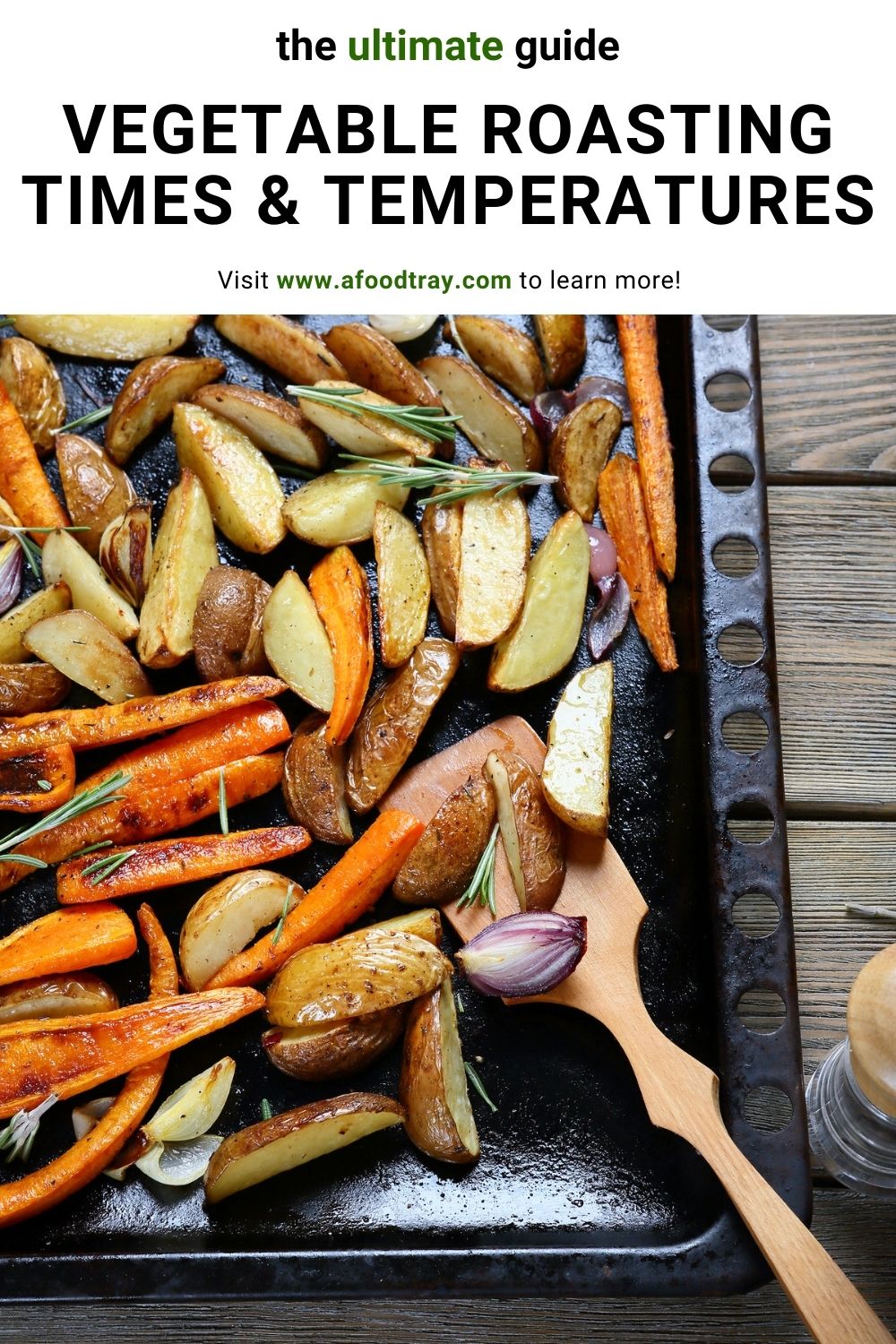 More Food Questions and Posts