Exploring Sieved Tomatoes: What They Are and How to Use Them
You may have come across the term "sieved tomatoes" in recipes or at the grocery store. But what exactly are sieved tomatoes?
In short, sieved tomatoes are a type of tomato product that has been strained and puréed to create a smooth, thick consistency. They are a versatile ingredient that can be used in a variety of dishes and offer a unique flavor and texture compared to other tomato products like canned diced tomatoes or tomato paste.
In this blog post, we'll delve deeper into what sieved tomatoes are, their uses in cooking, and some tips on how to incorporate them into your favorite dishes.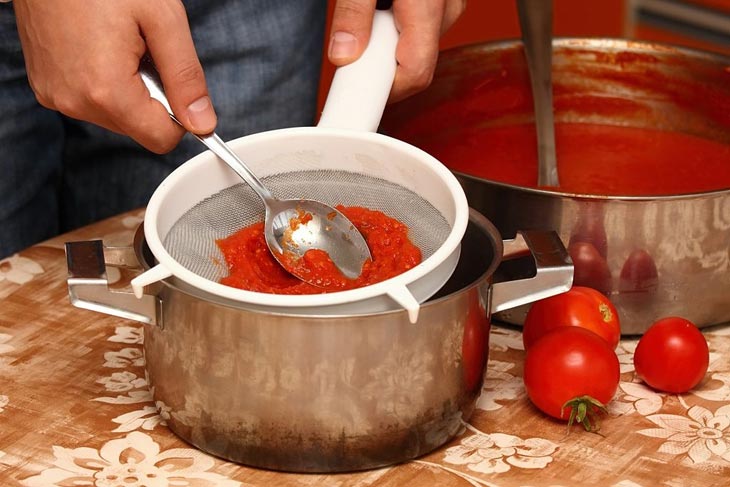 What Are Sieved Tomatoes?
Origin
This sauce originates in Italy, famous for many incredible tomato dishes and sauces. In Italy, people sometimes also call it passato or passata di pomodoro.
The word passata means passed, and Pomodoro is tomato. So, it's basically passed, or strained tomatoes.
How Is It Made?
To put it simply, sieved tomatoes are strained tomatoes that makers pass through a sieve. It is, as such, a perfect substitute for strained tomatoes.
In essence, they are no different from tomato passata and are a passata substitute.
The act of passing through a sieved makes them have a smooth, puréed texture. That's why sometimes people confuse it with tomato purée, although there is a slight difference.
The texture is also what separates passata vs. crushed tomatoes, though.
Texture
Although sieved tomatoes are a great tomato passata substitute or strained tomatoes substitute, whether the name you prefer, people still don't use it as widely as crushed tomato; hence it's confusion in the name.
One of the first things you should notice about passata cooking sauce is that it is usually uncooked and fresh.
The sieve which allows tomatoes to pass through typically has tiny holes so that it creates a very smooth, chunk-free texture for use in delicate dishes.
When selling it, they often use a jar, in the case of jar passata. Occasionally, it also comes in cartons or cans.
The ingredient frequently comes uncooked, so cooks must use it a few days after buying to prevent spoiling.
Though the texture is relatively uniform for all types of passata, some brands will make it thicker; some others can make it much thinner.
Depending on your usage and preference, you should get the right one for your dishes.
Taste
Another thing to remember is that the sauce (Cirio passata or passata Kroger alike) often contains no or very little spice and other ingredients other than whole tomatoes.
If there is, they typically only lightly salt it. That makes it one of the purest ingredients to use.
Nevertheless, the dish is a great sauce source which is present in many recipes we know or love worldwide, even in Asian cuisine.
How Are Sieved Tomatoes Different From Other Tomato Products?
As we have said earlier, sieved tomatoes have a smoother texture than crushed tomatoes, though they all can be a tomato juice substitute. But there's more to just that.
Tomato Sauce And Paste
First, tomato sauce and paste, as we see in supermarkets like ketchup products, are cooked. What's more, these products frequently contain so many more ingredients than Pomodoro.
For example, some sauces contain carrots, onions, or garlic to enhance the flavor.
In the US, tomato sauce is essentially canned purée with additional flavorings. In Australia, it is, however, ketchup.
A paste, however, is much thicker and more concentrated than passata. Both ketchup and paste can't make an excellent passata sauce substitute.
So, if you don't have passata at hand but need it for your dish, your best bet is tomato purée or sieved canned Pomodoro.
Purée
Purée, on the other hand, has the same texture but is usually cooked. As such, it can only substitute for sieved in dishes that require boiling or simmering, not raw dishes or salad, for example.
Another thing that makes sieved stand out is that its primary ingredient must go through skinning and deacidification processes to ensure a fresh, organic, chunk-free, sweet, creamy flavor.
Though purée is not always a substitute for passata, the reverse is true; you can always cook it to turn it into a perfect purée.
Diced And Crushed Tomatoes
Finally, diced and crushed tomatoes are chunkier and less consistent than sieved. If you want to use them as substitutes, you have to run through a metal sieve first.
Otherwise, they can serve in dishes where chunkiness is a bonus point, like some pasta.
Thanks to its thick, creamy, and unique texture, passata serves a wide range of dishes, from meatballs to stew dishes.
How To Use Sieved Tomatoes
If you'd like to, you can easily make sieve tomatoes or make passata at home without buying them from stores. It is a fast and straightforward process.
Usually, it involves red, ripe Pomodoro that come without seeds and skin. You can store it in a glass jar or can without adding preservatives or any other ingredients besides a bit of salt.
The sauce is the bread and butter of many featured spices in Western cuisine, such as Bolognese pasta, meatballs, some spaghetti, or fresh pizza.
The freshness and sweetness of the sauce will help bring your dishes to another level.
Ingredients For 10 Servings:
About 4.4 lbs of ripe red tomatoes (cluster or San Marzano)
Or you can use canned products if you don't have fresh ones.
The Process
First, you need to wash fresh Pomodoro by running them through tap water. Discard any black or rotten part.
Boil the ingredients for two minutes to soften them and make it easier to peel the skin.
Then, chop the tomatoes in halves and remove the skin and the seeds and inner, juicy part that contains a lot of liquid.
Use a strainer machine to strain them to the desired consistency, then store them in bottles or jars. If you don't have such devices, use a regular blender, then run them through a sieve.
That's all; you can store the sauce in fridges to keep them fresh longer.
The versatility of passata is insane, and it can go with any dish that calls for a tomato sauce.
Traditionally, Italians use it in soups, stews, pasta, or pizza. The freshness and organicness have no competitors.
Some mix it with salad or pasta, or pour it directly on pizza and eat with other ingredients.
The mild and delicate flavor helps it get along with many dishes. Furthermore, you don't need to purée the sauce every time you use it if the plate is raw and requires freshness, which is a bonus point compared to purée.
To store it, make sure you use glass containers, seal them tight, and put them in the fridge.
You can store them in the fridge and use as a pizza sauce. Remember to use the leftover fast before it gets spoiled if you make it.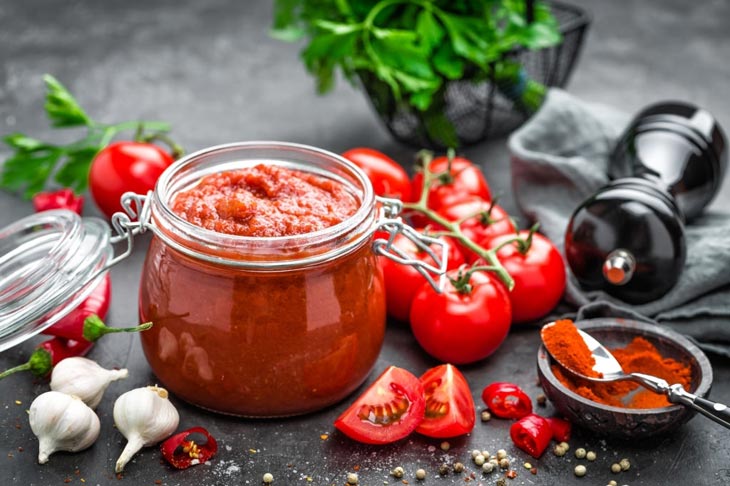 Common Questions About Sieved Tomatoes
What is a substitute for sieved tomatoes?
If you're looking for a good substitute for sieved tomatoes, there are several options you can consider depending on the recipe and your taste preferences. Here are some alternatives:
Tomato sauce: Tomato sauce is a good substitute for sieved tomatoes. It is made by cooking tomatoes with herbs, garlic, and onion until they break down into a smooth, thick sauce. You can use it as a base for pasta dishes, stews, or soups.
Canned diced tomatoes: Canned diced tomatoes can also be a good substitute for sieved tomatoes. They are diced into small pieces and packed in a can with their juice. You can puree them in a blender or food processor to get a smoother texture.
Tomato puree: Tomato puree is similar to sieved tomatoes, but it has a thicker consistency. It is made by cooking and blending tomatoes until they are smooth. You can use it as a base for sauces, soups, and stews.
Fresh tomatoes: Fresh tomatoes can also be used as a substitute for sieved tomatoes. You can peel and puree them in a blender or food processor until they are smooth. This option may require a bit more effort, but it will give you a fresher flavor.
What is a sauce made from sieved tomatoes?
Sieved tomato sauce is often used as a base for pasta sauces. It can be seasoned in a variety of ways, such as with garlic, onion, basil, oregano, or other herbs and spices, depending on the recipe. Take a look at my favorite sauce made from sieved tomatoes.