Mussels are a type of shellfish that are enjoyed by people all around the world. They are commonly served in restaurants and can be found in seafood dishes such as paella, chowder, and pasta.
If you have never tried mussels before, you may be wondering what they taste like. In this blog post, we will explore the taste of mussels and what makes them a popular seafood choice. Get ready to savor the wonderful flavors of mussels, which are similar to clams or oysters in the fact that they are bivalve mollusks.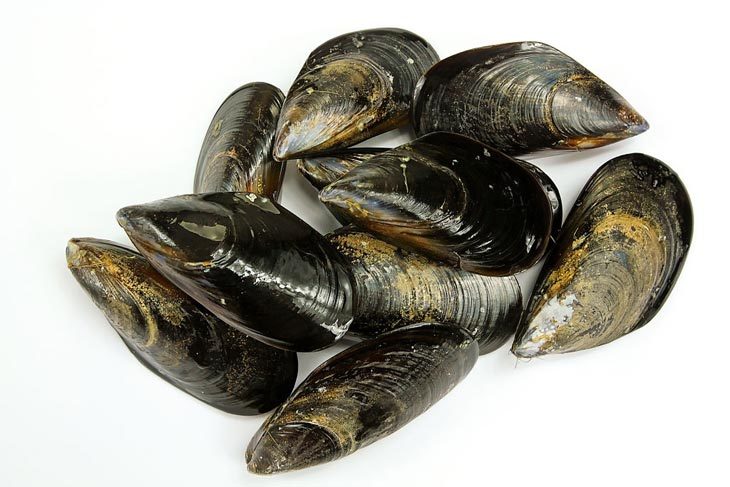 What Does A Mussel Taste Like?
Mussels have a gentle yet distinct taste that is slightly sweet and carries a touch of saltiness from their oceanic environment.
One remarkable aspect of mussels is their ability to absorb the flavors of the ingredients they're cooked with, enhancing their natural taste. By adding spices and herbs, you can further elevate the flavors and make your mussels even more delicious.
Generally speaking, mussels have a slightly salty and briny taste that is often compared to the taste of the ocean. The texture of the meat is firm, yet tender and slightly chewy, making them a unique addition to any dish.
Mussels are also known for their rich umami flavor, which is a savory taste that is typically associated with seafood. The umami taste is created by the presence of glutamate, an amino acid found in many foods. It's what gives mussels their unique flavor and makes them so sought after by seafood lovers.
When cooked, mussels release a flavorful broth that is often used as a base for soups and stews. This broth is rich in the umami flavor, which adds depth and complexity to any dish. The flavor of the broth is often described as slightly sweet, with hints of brine and salt.
Mussels are often paired with other strong flavors, such as garlic, shallots, white wine, and butter, to create a balanced and delicious dish. The addition of these flavors can help to enhance the natural flavor of the mussels while adding depth and complexity to the dish.
When it comes to texture, mussels have a firm, yet tender and slightly chewy texture. The meat is delicate and moist, with a slight crunch that adds to the overall experience of eating them. The texture of the meat is one of the reasons why mussels are so popular in dishes such as paella and seafood pasta dishes.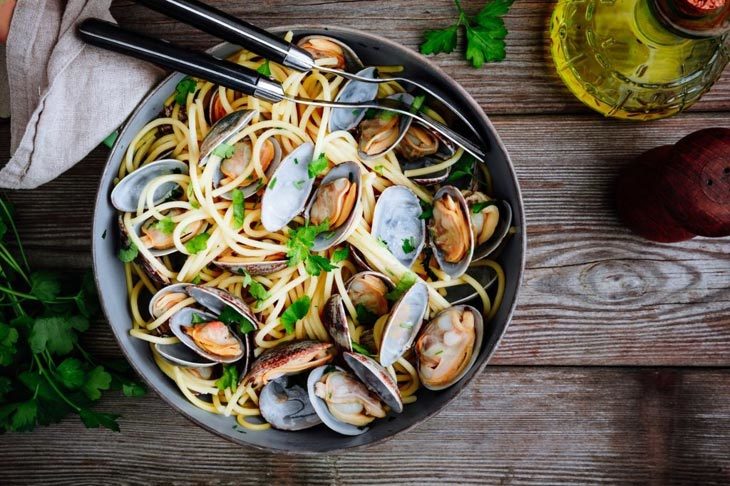 Types of Mussels
When it comes to mussels, there are several types that you might come across. Let's explore some of the most common ones:
Blue Mussels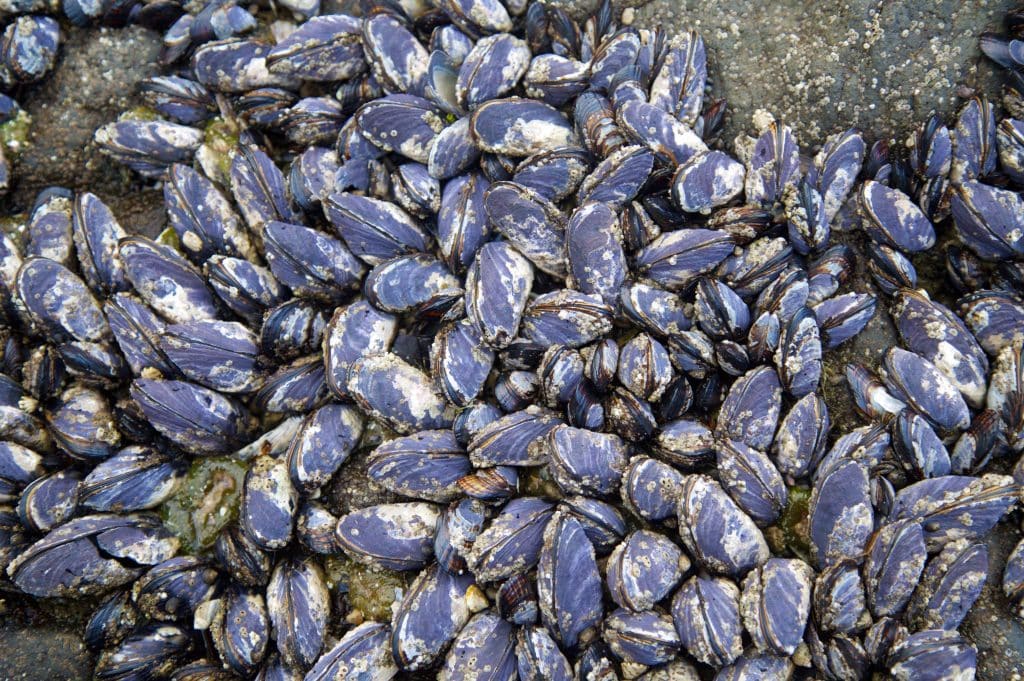 Also known as common mussels or Mytilus edulis, blue mussels are widely distributed and highly popular in seafood cuisine. They have a dark blue shell and a plump, tender flesh. Blue mussels are versatile and often used in a variety of recipes.
---
Green-Lipped Mussels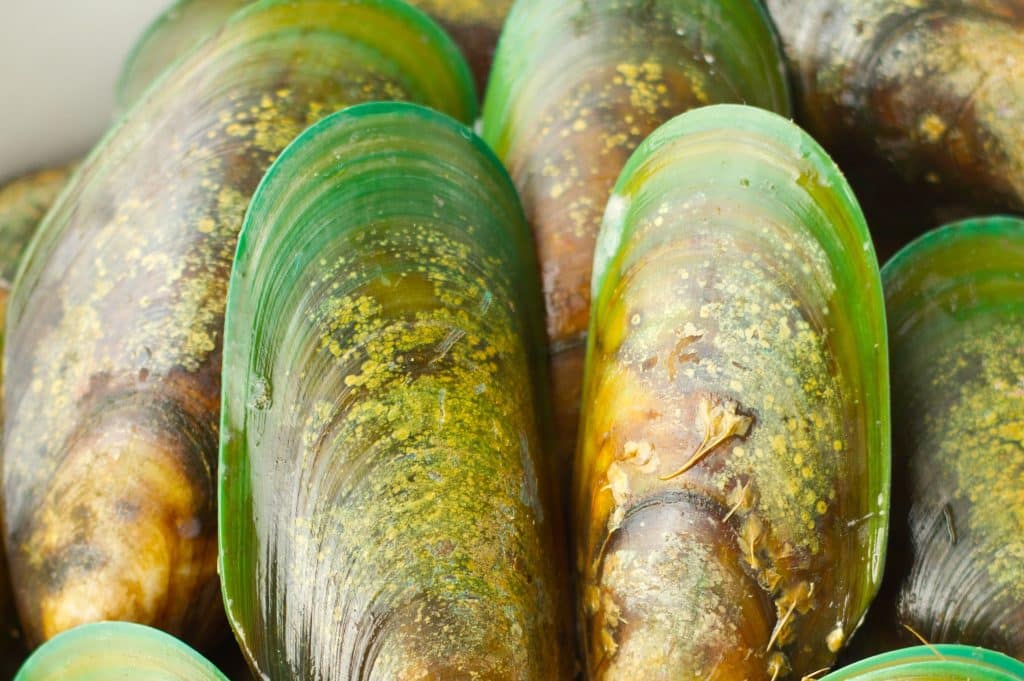 These mussels, scientifically known as Perna canaliculus, are native to New Zealand and renowned for their large size and distinctive green-colored shell. They are highly prized for their sweet flavor and are typically found in seafood dishes or used to create mussel extract supplements.
---
Mediterranean Mussels
Native to the Mediterranean Sea, these mussels, scientifically known as Mytilus galloprovincialis, are smaller in size compared to blue mussels. They have a triangular shell and offer a delicate, slightly sweeter taste. Mediterranean mussels are commonly used in Mediterranean and Italian cuisine.
---
Pacific Mussels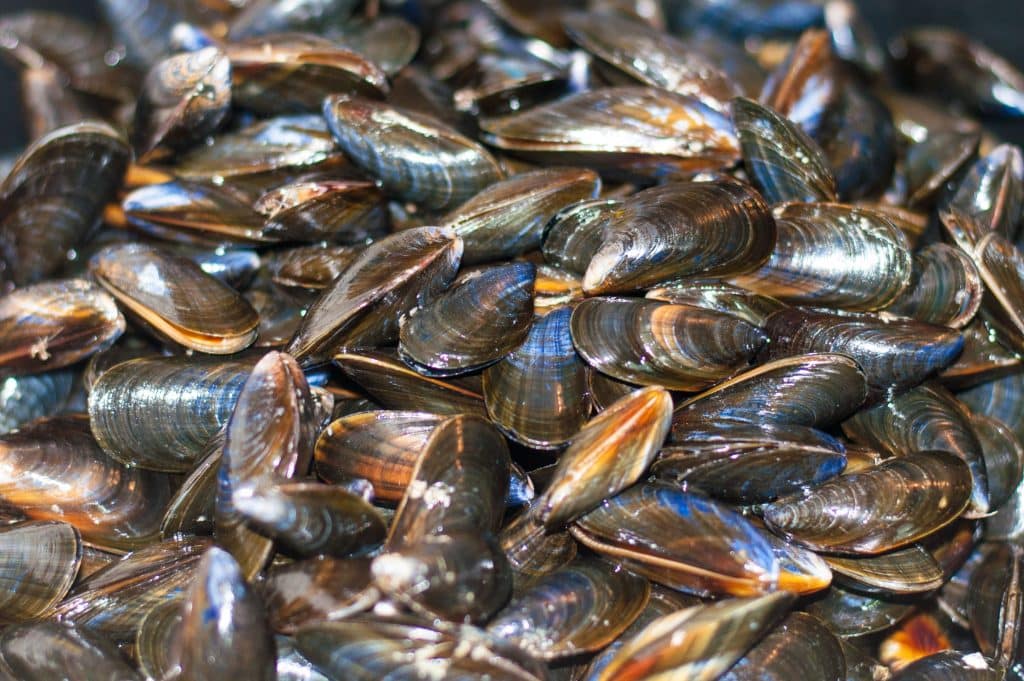 Pacific mussels, also referred to as California mussels or Mytilus californianus, are found along the western coast of North America, from Alaska to California. They have a dark shell and a briny flavor that is favored by many seafood enthusiasts. Pacific mussels are often used in regional dishes and seafood boils.
Note: These are just a few examples of the different types of mussels you might encounter. Each variety offers its own unique characteristics, flavors, and culinary uses. So, whether you're trying a classic blue mussel recipe or venturing into other flavors, there's a lot of deliciousness to explore with mussels.
Mussels Cooking Tips
As I have mentioned above, mussels are filter feeders, so they are likely to mix with chemicals, toxins, and waste products. Therefore, to be able to eat them, you need to know some freshwater mussels cooking tips below.
When buying freshwater mussels, you should always look for those that are still fresh and alive. Raw mussels should have a sea and salty aroma. If they have an off smell, it is best not to choose them.
You can also look at their shells to test their livability. Normally, freshwater mussel shells are closed tightly. If some are open, you can tap at the shells of mussels to check if they are still alive.
If the mussel closes itself, then you can enjoy bringing it home. If it remains the same, then it is likely that the mussel is not fresh anymore.
When you have all the freshwater mussels you need, you can ask for a bag of ice to keep them at their best quality when you travel home. Make sure they are not drowned in water as fresh mussels need air to breathe.
When you're working on your frozen mussels, you can take a brush and scrub its shell to remove any dirt. If you found something like a strand of hair attached to the quality mussels, it is their beard. You should remove it along with the dirt and debris.
You can remove the mussel beards by grabbing and dragging them to the end of the mussels. It will be easily popped out with a firm grab. You can also use scissors to cut the mussel beard.
Once you have finished preparing the mussels, it's time to cook them!
When cooking the mussels, you can use salty water to steam them. You can also pour white wine to make a flavorful broth and elevate the mussels' taste.
While cooking the mussels, you can stir them gently to check those that haven't popped yet.
Once all of the mussels are open, you can serve them right away with pasta, for example. You can also check other ways to serve with mussels for detailed instruction.
FAQs
Mussels Vs Oysters Taste: Which One Is Better?
Mussels and oysters can look a bit similar, but their taste is no match to each other. So, what do oysters taste like?
Oysters taste like strong briny meat with a firm and slimy texture, while mussels have a mild flavor and chewy consistency.
So, if you look for a good ocean flavor, oysters are the best for you. But if you're looking for a great fresh seafood combination in many recipes, you go with mussels.
Mussels Vs Clams Taste: Are They The Same?
As I mentioned above, mussels and raw clams have certain differences in their outlook. When tasting them, they can have a similar texture which is chewy and soft. But their flavor can be different.
So, what does clam taste like? Or what do clams taste like? When putting clam vs mussel, clams have a saltier and more fishy taste than mussels.
Conclusion
In conclusion, mussels are a unique and flavorful addition to any seafood-based dish. They have a distinct taste that is slightly salty and briny, with a rich umami flavor that adds depth and complexity.
Their texture is firm, yet tender and slightly chewy, making them a popular choice in a variety of dishes. Whether you are a seafood lover or not, mussels are definitely worth trying, and their flavor and texture will not disappoint.