What Does A Gooseberry Taste Like?
So, you're here because you've heard about gooseberries – this weird fruit that's supposed to be really good for you.
Now, you might be wondering what does a gooseberry taste like? And how can you actually use it in your meals? Oh, and what about keeping it fresh for a while?
Well, all the information you need about gooseberries is right here in this article. Now let's get into the details.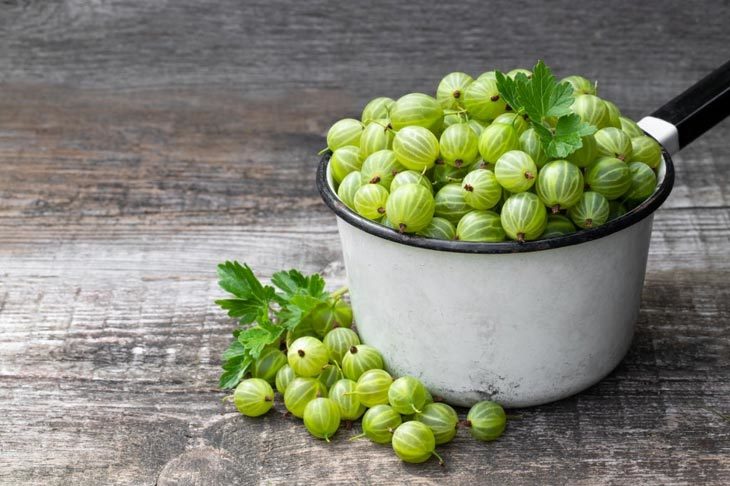 What Is Gooseberry And How To Use
Before getting into details about gooseberry taste, let's discover some interesting information about this tasty, healthy fruit.
Gooseberries are close relatives to currants, as they belong to the same genus: Ribes. They have two common types: the European (Ribes grossularia var. uva-crispa) and American varieties (R. hirtellum.)
Both of these types give fruits that grow either individually or in small groups along the stem.
Aside from the two mentioned gooseberry types, you might have heard of some different fruits that have the name gooseberry, including:
Do these "gooseberries" belong to the same group as the European gooseberry and American gooseberry?
Well, these fruits are nothing like the gooseberries you want to know about. The only factor that binds them together is the name "gooseberry."
What Do Gooseberries Look Like?
Gooseberries can come in multiple shapes: spherical, oval, or pear-shaped with appealing translucent skin. Their skins come in a variety of colors, such as green, yellow, or red, depending on their ripeness and varieties.
Besides, their outer skin features thorns to some degree. Sometimes, these thorns can be very sharp, so it would be best to wear gloves if you want to harvest these berries yourself.
The inside of gooseberries has many small edible seeds at the center.
What Makes Gooseberries A Great Addition To Your Diet?
Gooseberry is a great fruit to add to your diet as it provides plenty of health benefits.
First, gooseberries are high in fiber yet low in calories and fat, meaning you enjoy a decent portion without worrying about gaining weight.
Besides, these berries are rich sources of antioxidants, including vitamin C, tiny amounts of vitamin E, and phytonutrients.
You might have already known that tons of research have proven that antioxidants can reduce your risk of type 2 diabetes, heart disease, and certain cancer types. It also helps slow the aging process.
Moreover, these berries are rich in potassium and magnesium, which are necessary nutrients for your cells and muscles to function well.
How To Use The Nutritious And Healthy Gooseberry?
There are tons of ways to enjoy gooseberries. Here, let us show you some common ones.
First, raw gooseberries are excellent as healthy snacks as they are pretty low in energy yet high in nutrients. You can also use it as a cranberry alternative when making detox juice.
If you have a sweet tooth, let's use the unripe gooseberries to make jam or marmalade. This tasty jam or marmalade will go perfectly with yogurt, waffles, or pancakes.
Furthermore, you can bring fresh air to your dishes with delicious gooseberry cakes, such as cape gooseberry cake, gooseberry-apricot cake, and so on.
What else can you do with gooseberries?
You can also use them to flavor beverages such as sodas or create yummy fruit wine, and tea. These beverages will surely please your taste with the remarkable summer flavor.
What should you do if you have plenty of fresh berries and can't use them all at once?
In that situation, it would be best to preserve them in the form of dried fruit so that you can enjoy these nutritious fruits over a long period of time.
What Does A Gooseberry Taste Like
It depends on their spices and their ripeness. With unripe gooseberries, it has a fairly firm texture similar to that of a green grape. On the gooseberry flavor, some people describe it generally as tart as a sour grape with gentle hints of sweetness. While ripe gooseberries are sweet and a bit tart. They also have a soft texture. Just one bite, and you feel how they are melting in your mouth.
What about dried gooseberries?
Dried berries' taste is a complex mixture of sweetness and sourness. Of course, their flavor is milder than the fresh gooseberries due to the drying process. However, they still work great in tons of dishes.
What Is The Best Tasting Gooseberry?
Among diverse gooseberry species, which is the best tasting gooseberry?
Let's check out the common gooseberries with excellent-tasting flavor on the part below, and decide which is the best gooseberry for your needs.
Gooseberry Leveller
Gooseberry Leveller are mid-season berry plants with large, sweet yellow fruit. Many cooks say that this nearly ripe gooseberry works best for pies and crumbles due to their wonderfully sweet taste.
When you leave them fully ripen on the bush, they can be a healthy snack to eat raw or a great addition to yogurt.
Gooseberry Pixwell
This is one of the most popular varieties that you might find in local supermarkets. It has a fair quality with a slightly sour taste. For usage, it would be best to use the slightly under-ripe gooseberries in dishes, such as salad dressing or gooseberry wine.
Gooseberry Hinnonmaki Red
These fresh gooseberries surely catch your attention at first sight due to their appealing red look.
They have quite tart and slightly bitter skins, yet sweet, aromatic flesh. These features create a unique, complex flavor of Gooseberry Hinnonmaki Red.
Gooseberry Captivator
Gooseberry Captivator is a lovely, nearly thornless gooseberry that will certainly surprise you with its quality and flavor.
Once ripened on the gooseberry bush, these gooseberry skins will turn blush pink, and their fleshes will become as sweet as those of the ripe red currants. You can feel the sweet flavor in red currant jelly.
Frequently Asked Questions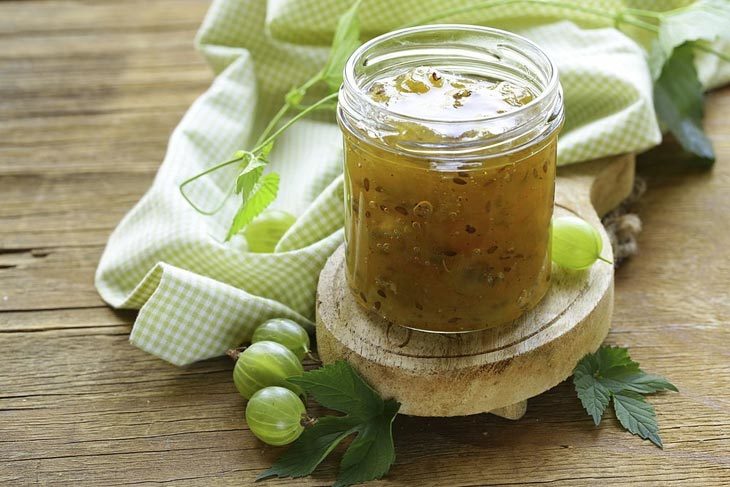 When Are Gooseberries Ripe?
Mid-summer is the time for most gooseberry species to ripen. How to tell if the gooseberry is ripe enough for your recipe?
Well, pick up a gooseberry, gently press it with your fingers, and feel its firmness. Fresh gooseberries are ready to eat when they become fairly firm.
What if you miss the golden harvest time, and some gooseberries become very squishy? What does a gooseberry taste like when it is overripe?
In that case, gooseberry's flavor might change slightly, but they are still good to use for desserts or jam.
How To Store Gooseberries Properly?
After buying or harvesting gooseberries, you need to store them properly to extend their shelf life. So, which is the best way to preserve this summer fruit?
The first preserving method is to pack unwashed gooseberries in an airtight container and leave them in the fridge. This way, they might stay fresh for around a week.
Another option is to wash the gooseberries, lay them out on a tray, and freeze them. This method helps maintain gooseberries' taste for up to six months.
So, what does gooseberry taste like after freezing?
Well, a frozen gooseberry tastes pretty much the same as a fresh one. However, it might get squishy quickly at room temperature. Thus, you should use it as soon as possible after defrosting.
What else can you do to preserve fresh gooseberries?
In that case, it would be best to can the ripe gooseberries using the same canning method for any other berries. Following this method, your fruit can stay savory for nearly a year, as long as the containers remain sealed tight.
Aside from the above methods, drying is also a great way to extend gooseberries' shelf life. Once they are dry, they can last up to six months in the pantry or more than a year in the freezer.