Are you curious about the Dragon fruit? Whether you want to know what it tastes like or whether you would like to know what it can do for your health, this post is for you!
In this post, we will discuss what Dragon fruit is, what it can taste like, and some of the benefits that it has.
I also found a few recipes for dragon fruit in as well, if you'd like to try to make a recipe with dragon fruit.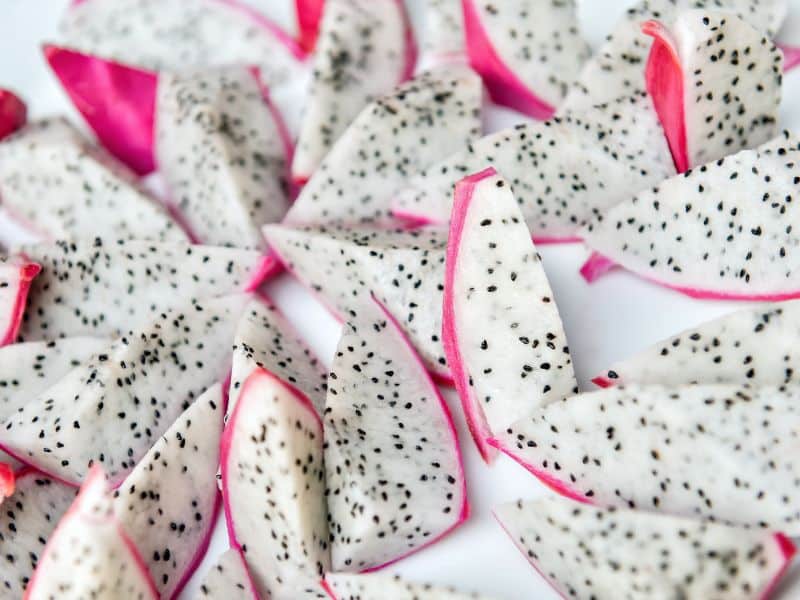 What is Dragon Fruit?
Dragon fruit is a type of cactus fruit that is grown in the tropics as well as the United States. It is also known as strawberry pear or by its scientific name Pitahya (pitaya).
This fruit got the name dragon fruit because the outside of the fruit has a leather like skin and spiky leaves. The dragon fruit's flesh can be white, pink, or red with small black seeds. You may also see a blue flesh from time to time.
Colors of Dragon Fruits
Pink skin with white inside: It is the most well-known kind, but it is not as sweet. Alice, Cosmic Charlie and Guyute are some of the names it is sold under.
Pink skin with red or pink inside: It is sold in stores under the names Red Jaina and Bloody Mary and is bigger as well as sweeter than the white flesh variety.
Pink skin with purple inside: This variety goes by the name American Beauty
Yellow skin with white inside: The yellow dragon fruit is the sweetest, but the hardest to find.
What Does Dragon Fruit Taste Like?
Dragon fruit can taste a little sweet, a little sour, or a little tart. It can also have a fruity taste. Some people say that the dragon fruit has a fruity taste that is similar to banana or pineapple.
The dragon fruit flavor is associated with the color of the flesh. A white dragon fruit has a mild taste, while the darker, redder insides can be sweeter.
If you'd like to make dragon fruit taste a bit better, you can drizzle it with honey, mix it into a smoothie or add some to yogurt with other fruits for a healthy snack.
What are Some Benefits of Eating Dragon Fruit?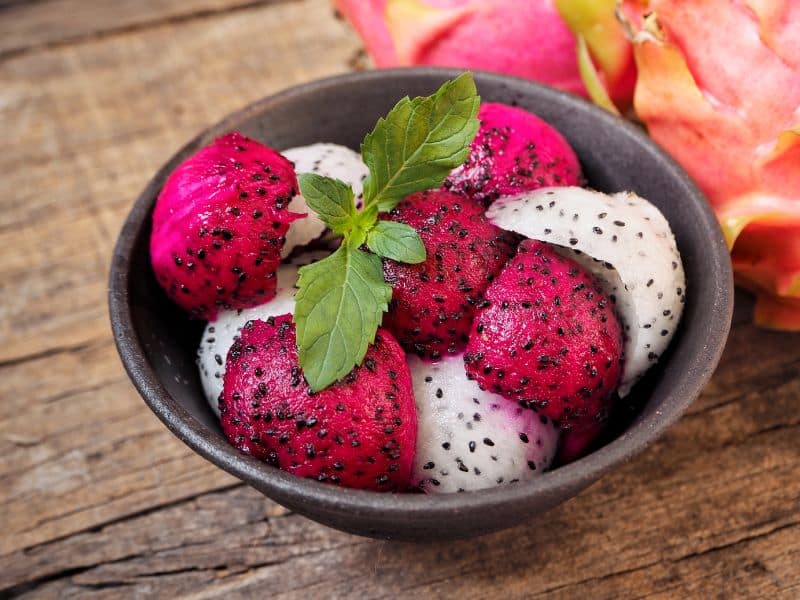 One of the main benefits of dragon fruit is that it is high in vitamins and minerals. These vitamins and minerals include vitamin C, iron, magnesium, potassium, fiber, and zinc.
Additionally, the sugars in dragon fruit are thought to have health benefits such as decreasing bad cholesterol levels and fighting inflammation.
Some benefits of eating Dragon fruit include the following:
It is a good source of vitamin C.
It is a good source of dietary fiber.
It is a good source of potassium.
It is a good source of magnesium.
It is a good source of antioxidants.
It has anti-inflammatory properties.
It can help improve your cognitive function.
How Does Dragon Fruit Grow?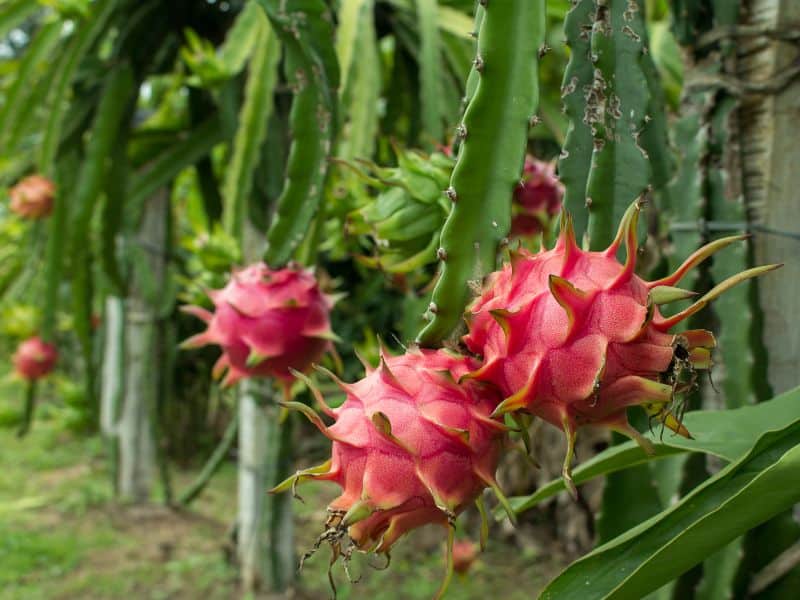 Dragon fruit grows on climbing cactus, and It is a high-yield crop that can be grown in tropical and subtropical climates. It can tolerate temperatures up to 104 degrees F and short periods of frost, but will not survive long exposure to freezing temperatures.
Dragon fruit plants can bloom in as little as six to eight months, although container grown plants indoors or out may take up to two years to have fruit. Once it does bear fruit, you could get 4 – 6 cycles of fruit a year for up to 30 years.
The dragon fruit is in season from early summer through the fall. It begins flowering in June and fruit formation occurs shortly after.
Common Questions about Dragon Fruit
What Is Pitahaya?
You may have heard the term Pitahya along with dragon fruit from time to time well, Pitahaya is the scientific name for dragon fruit.
How To Tell If A Dragon Fruit Is Ripe?
When it comes to dragon fruit, the best way to tell if it's ripe is to give it a gentle squeeze. If it yields to pressure, then the fruit is ready to eat.
What Are The Typical Colors of Dragon Fruit?
The colors of dragon fruit can vary depending on the cultivar. However, most varieties will have some red and yellow hues.
Dragon Fruit Recipes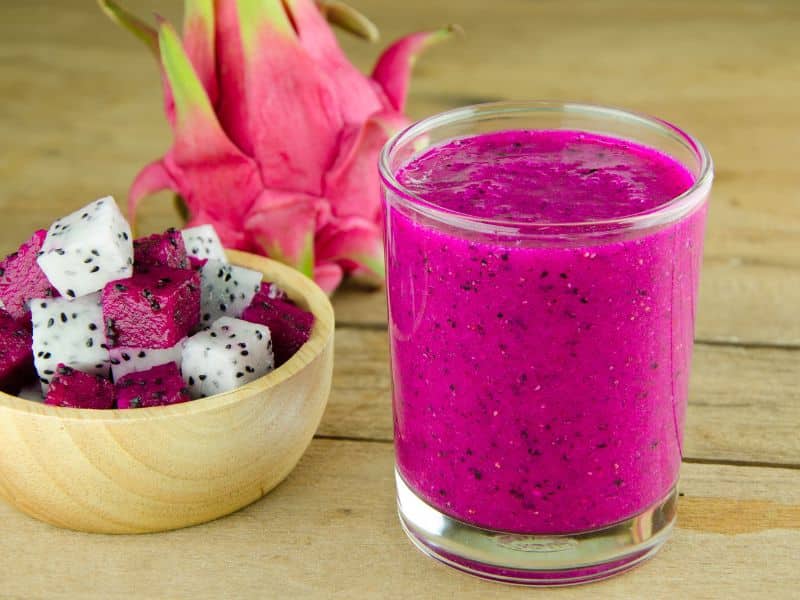 Here are some easy recipes with dragon fruit:
1. Dragon Fruit Smoothie: This smoothie has a berry flavor with a punch of lime and pink dragon fruit.
2. Dragon Fruit Tart: Make these tasty tarts with dragon fruit at your next get-together.
3. Dragon Fruit Breakfast Bowl: A dragon fruit smoothie bowl is ready in 5 minutes with just 5 ingredients.
4. Dragon Fruit Ice Cream: Make this yummy ice cream with coconut milk and dragon fruit.