Mexican cuisine is known for utilizing all parts of meat, including lesser-known cuts, in its dishes. Dishes like Menudo (stomach soup), tacos de Cabeza (cow head tacos), tostadas de pata (cow feet), and Lengua tacos showcase the creativity and versatility of Mexican chefs. If you're a fan of Mexican food, you're familiar with their no-waste approach to cooking.
"Tacos de lengua, also known as Lengua tacos, are a popular Mexican dish that feature the tongue as its primary filling. The small diced pieces have a unique flavor and texture that makes them a favorite among Mexican cuisine. If you're wondering what Lengua is and what it tastes like, have a look below for more information."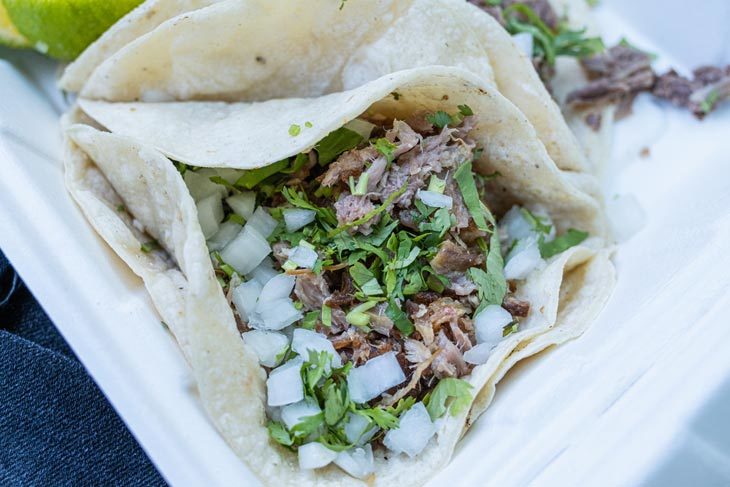 What Is Lengua Tacos?
Lengua, Spanish for cow tongue, is the star ingredient in the dish Tacos de lengua. The tongue is shredded and diced into small pieces before being wrapped in a soft corn tortilla with onion, lime juice, cilantro, and salt.
The softness of the beef tongue, the crunch of the tortilla, the freshness of the veggies, and the tanginess of the salsa verde create a truly delicious taste experience that should be tried by all.
Curious about the taste of beef tongue? Read on for more information about this unique meat.
What Does Lengua Taste Like?
Lengua might not be what you usually think of when mentioning beef. However, when cooked right, the tongue meat is absolutely a hidden gem for recipes.
Then, what does cow tongue taste like? Overall, the beef tongue has a meaty and springy texture similar to standard beef steaks. When it is cooked, the lengua has a distinctive flavor of cow meat. But what exactly does lengua taste like? Here is the detailed description.
Raw lengua may not look appealing to some, as it resembles a large tongue with visible muscles, connective tissues, and taste buds. The thick black skin can be removed after blanching.
As the tongue is a strong muscle, the texture of lengua is tougher than beef steaks. To soften the muscle fibers and connective tissues, it's common to braise the lengua for hours. This process results in a tender and soft meat that is diced or thinly sliced for serving. The taste is rich and umami, with a soft and springy texture.
What Are The Nutritional Facts Of Lengua?
Lengua is a rich and meaty cut of meat that is packed with healthy nutrients. If you're watching your diet, it's a great option to include in your meals.
Just 3 ounces of lengua provide around 240 calories and a good source of healthy fats with minimal saturated fat. It is also a great source of minerals and vitamins, including zinc (44% of daily intake), potassium, iron, and phosphorus.
Lengua is also rich in B vitamins, which help improve metabolism by converting fats and proteins into energy. With 3 ounces of beef tongue, you can get up to 2.7 micrograms of Vitamin B-12, fulfilling your daily requirement.
How Do You Eat Lengua?
Lengua may not be a popular dish in American kitchens, but it is widely used in cooking around the world, particularly in Mexican cuisine. To enjoy its tender texture, it must be peeled and braised for a long time.
Lengua can be enjoyed simply with a sprinkle of salt and a glaze of sauce, or as a filling for tacos or sandwiches with other flavors like cilantro, salsa, red onion, and queso casera.
In other parts of the world, there are various lengua-based dishes with different cooking methods. In China, it is cooked overnight with soy sauce and spices and served cold with sauce. In France and Belgium, it is boiled and served with vinaigrette and mushroom to remove any raw taste. Grilled lengua is also known as gyutan in Japan.
FAQs
1. Is Lengua gamey?
Lengua has a rich and meaty texture which can hold a flavorful gamey taste. Depending on how it is cooked and served, the cow tongue can range from mild to strong beefy taste.
If you prefer a less gamey and meaty flavor, you should combine the lengua with sharp flavor ingredients like lime, cilantro, and salsa.
2. Is cow tongue delicious?
Depending on how you cook the cow tongue, the flavor can be varied when you combine it with different ingredients. Cow tongue alone is bland with a gamey and robust beefy flavor. When appropriately braised with a great sauce, you can have a delicious Lengua dish.
Conclusion
Lengua, or cow tongue, may not seem appetizing to many due to its appearance, but when cooked properly, it's a delicious meat that rivals even steaks.
To enjoy lengua, it's important to understand its flavor and texture. The meat is often braised to make it tender and the rich, beefy taste can be enjoyed on its own or used as a filling for tacos or sandwiches. Get to know this unique meat and taste its delicious potential.