What Does Matcha Taste Like? Everything You Need To Know
You probably tried many recipes with matcha, but have you ever wondered about its flavor notes when standing alone?
If you're unsure about the answer, it's time to get the most out of this green tea powder. Dig into our post now!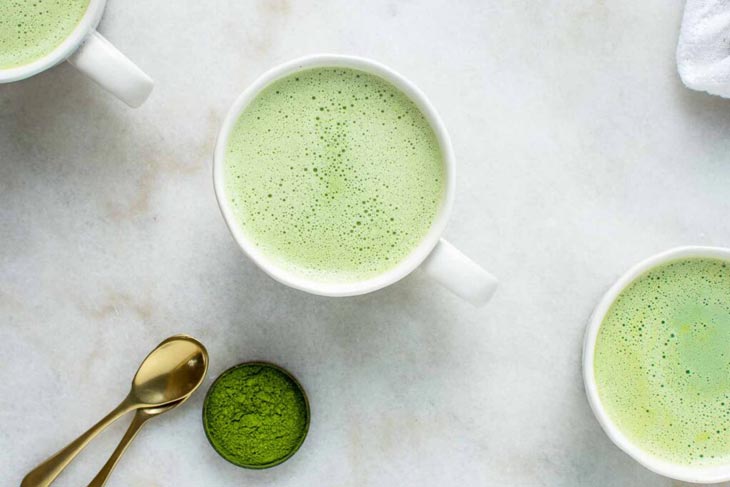 What Is Matcha?
Matcha is a Japanese green tea made by grinding the young tea leaves into a bright-green powder form. Still, the leaves that matcha powder comes from is different from other regular green teas.
Matcha is a type of green tea. Manufacturers use specialized growing and processing techniques to turn the same Camellia sinensis leaves that are used to create regular green tea into matcha.
Specifically to matcha leaves, the farmers must shade the plants for 3-4 weeks before harvesting. After harvest, the leaves are steamed, dried, and finally stone ground into the fine powder that we know of today.
According to research, shade-grown green tea leaves have a higher amount of chlorophyll. This green colored pigment makes the leaves grow bright green, which increases the nutrients, and even creates a more distinct flavor – the one that matcha is known for.
The Health Benefits of Matcha
Matcha has some health benefits. The green tea leaves are high in antioxidants, which may reduce cell damage and prevent chronic diseases.
Matcha is also good for the liver, promotes brain and heart health and may even promote weight loss!
What Does Matcha Taste Like?
Pure matcha powder offers a rich flavor profile that includes mild vegetal and grassy notes, a natural sweetness, a hint of bitterness, with a umami and savory finish.
For a better understanding, let's go into much more detail!
Vegetal
The first impression when you taste any high-quality matcha must be its grassy, vegetal flavor.
Due to the steaming process, this Japanese green tea features a stronger vegetal note than other oriental green teas, which is also nuttier and milder.
Many tea lovers also believe that matcha comes with richer and more concentrated "green tea" notes as they originate from whole ground tea leaves.
Bitter
If you've ever tried matcha tea, you probably noticed the earthy bitterness of it instantly. While extreme bitterness is a sign of low-quality or incorrectly prepared matcha, the high-quality matcha will contain a slightly softer bitterness that blends well with other flavors.
Sweet
Matcha also has a slight sweetness to it. Though pure matcha isn't as sweet as a latte or pastry made with matcha, it does have a little bit of natural sweetness. This flavor helps balance out other strong flavors of this unique tea.
Umami
Matcha is famous for its pleasant savory taste, known as "umami." This Japanese term indicates the fifth flavor that comes after sweet, bitter, sour, and salty. It is also the hardest to describe.
You can also think of umami flavor as something deep, earthy, and flavorful. Browned meat, mushrooms and tomatoes are known for their umami taste, and matcha powder has it too!
Umami is one of our five core food tastes. Along with the other tasted above, umami makes up the basic building blocks of what flavors our taste buds can pick up.
What Does Matcha Taste Like at Starbucks?
Different brands of matcha tea can have slight flavor differnces. Starbuck's version of matcha is no different.
If you've ever tried authentic matcha tea, you'll realize that it has a creamy leafy flavor with umami undertones.
This combination of flavors can make your taste buds dance. Even if you skip the sugar that is usually added to Starbuck's matcha latte, you'll notice that matcha from here is significantly sweeter than most.
What Affects The Taste Of Your Matcha?
While matcha has its highly unique flavor, there's still a chance it won't taste exactly as described. There are many factors that can impact the taste of your matcha.
Type Of Water
Regarding pH level and minerals in the water, it's best to use fresh spring water to bring out exactly the flavors of matcha.
Otherwise, you can consider filtered water as the second option, but never use hard water or well water as it can alter the taste of matcha enough that its true flavor is hidden.
Temperature Of Water
Always maintain a maximum temperature of 80 °C (176 °F). If you don't have a temperature controlled tea kettle, you should boil the water and let it cool for a few minutes. If you use boiling water, which is at 212 °F, your matcha will become much more bitter than it should be.
Water to Matcha Ratios
There are two main types of matcha tea: Usucha and Koicha.
Usucha tea is thinner, and uses more water than Koicha.
Usucha tends to make your matcha thinner since it is made with the ratio of 1 teaspoon of pure matcha powder into about 1/3 cup of water. Matcha tea made with the Koicha method will be much thicker since it is made by mixing two teaspoons of matcha powder into 1/5 cup of water.
As a result, Usucha brings out the light, smooth, and flavorful notes suitable for everyday drinking. Meanwhile, Koicha often appears in tea ceremonies in Japan as it features an intense matcha flavor and a much creamier mouthfeel.
Matcha Grades
Matcha comes in a variety of grades. The taste of matcha also depends on the grade itself.
The ceremonial grade matcha, for example, denotes the purest flavor, which is naturally sweet with a vegetal, grassy flavor and a smooth finish!
On the other hand, the culinary grade matcha features a strong flavor that allows the grassy tones of the green tea to shine through in lattes and baking. Not surprising, culinary grade is the much cheaper option.
Organic Vs. Non-Organic
If you use pesticide-sprayed tea, the flavor may be affected. When it comes to matcha, it's even more vital to consume 100% organic since you're drinking the full stone ground tea leaves.
Why Does My Matcha Taste Bitter?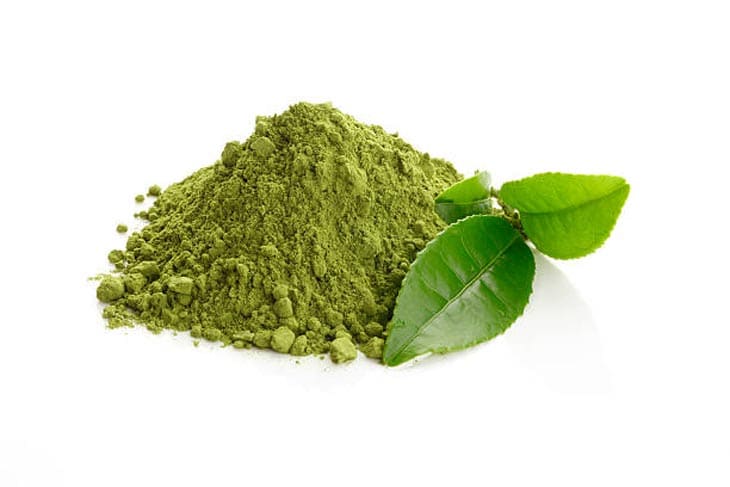 There are many reasons that causes your matcha tea to taste bitter, including improper water temperature, as we mentioned above. Besides, poor storage methods can also influence how matcha's flavors change over time.
If your matcha is exposed to light and air, the catechins (phenolic compounds) in matcha, notably EGCG, begin to break down quickly. As a result, your matcha can turn from vivid green to a dull yellow color and taste quite dry and bitter.
How To Store Matcha Properly?
Matcha powder can last for one year when stored properly, but you should ideally use matcha powder within one month of opening.
When exposed to the air, the ambient heat and humidity can deteriorate this unique green tea powder's complex flavors and proported health benefits.
It's best to store your matcha in a dark, airtight container (with a vacuum pump if you have one) and then put it in a cool, dry environment.
You can also place the container in the fridge to extend the shelf life of your powder. This way, you can prevent heat and moisture from impacting the quality of your matcha.
However, it is not a good idea to store matcha in the freezer. This is because when you defrost the frozen matcha, it's likely to get exposed to moisture.
What Can You Do With Matcha?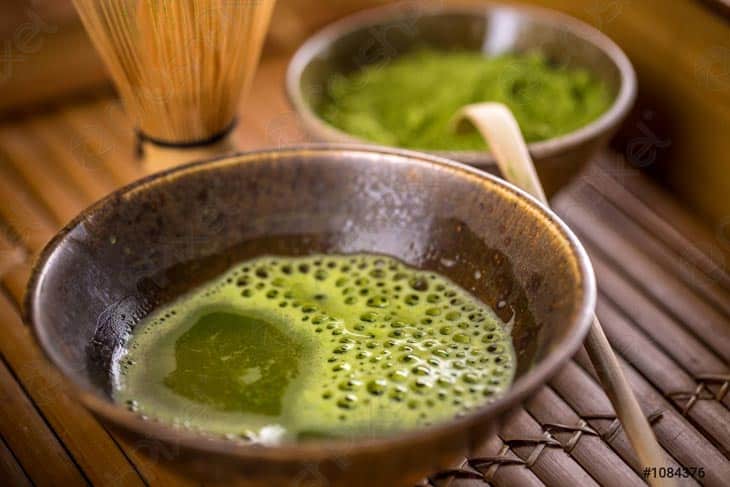 Typically, everybody can make a cup of traditional matcha green tea by using the proper ratio of green tea powder and water.
If you're looking for a coffee alternative in the morning, iced or brewed matcha is a great option.
Matcha can also be used as a flavoring in baked goods, just like vanilla or cinnamon is. Matcha can also be used as an ice cream flavoring!
Some easy homemade matcha recipes include matcha cupcakes, matcha bread, and matcha milkshakes.
The Final Word
Good matcha should have a silky texture, a subtle bitterness, slight sweetness, with a savory finish!
When buying matcha, look for the best quality brands available. Poor quality matcha may turn you off trying it a second time, which would be a huge shame!