What Does Octopus Taste Like? And How To Make It Awesome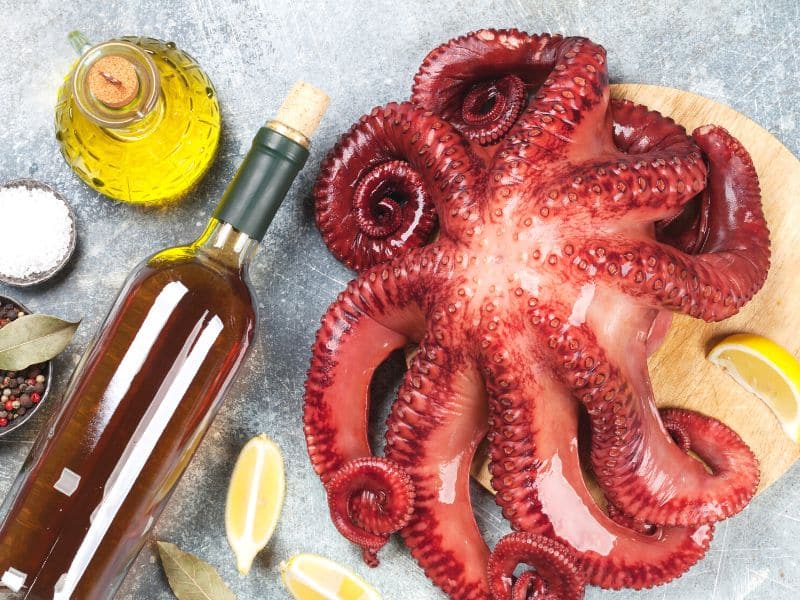 What does octopus taste like​? Well, the answer depends on what ingredients you use and how you combine them. There are plenty of ways to cook octopus, and in this post will share with you some of them and as explain what octopus tastes like as well.
What Does Octopus Taste Like?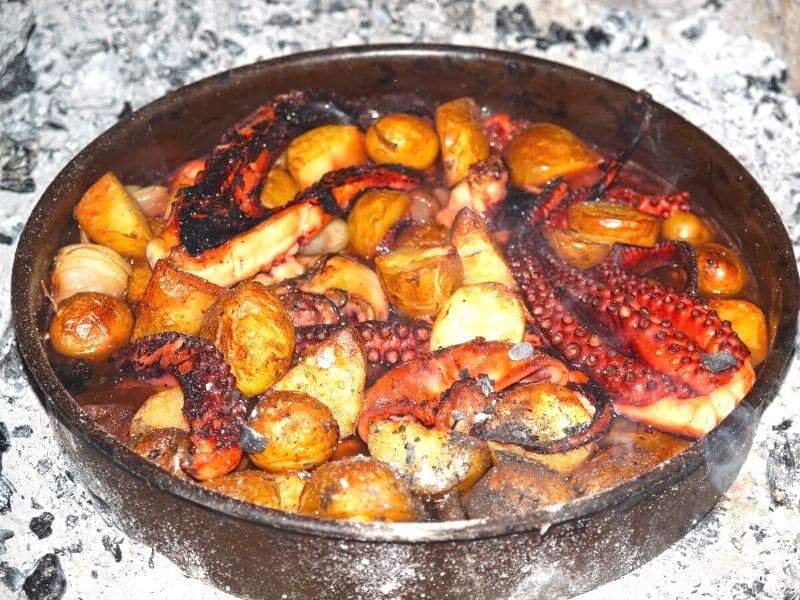 With raw octopus, you can feel the freshness, toughness, slimy, or sweetness at the first bite. When combined with sesame oil, it has a nutty flavor. In fact, octopus tastes like connected between lobster and meat. Octopus retains its chewy and crunchy texture.
Even the texture of the octopus was known as a chewy texture but tenderer than squid, that is the reason it will be used in common dishes such as Italian dishes, Korean delicacy, etc. Fresh octopus is a bit of sweet flavor, but when it is combined with other dishes, it will have a distinct flavor profile. So let us discover what is it.
Recipes Using Octopus
Sannakji
Many cultures usually eat octopus even when they're alive, especially in Korea. This dish called Sannakji is very well-known in Korea yet strange for the rest of the world. A baby octopus will be chopped into little pieces, seasoned with salt quickly and then come with sesame seeds and sesame oil. It tastes pretty good.
Diners must chew thoroughly before swallowing because these pieces of tentacles are still moving and squirming. If not, they will stick to the throat, causing suffocation. Thus, it always makes foreigners who experience Korean cuisine be more cautious.
Takoyaki
In Japanese cuisine, Takoyak​​i with a ball shape is a common dish that has a crispy coating on the outside and soft inside made of octopus, wheat flour, ginger, and onion. Especially, the octopus is boiled first and then cut into small pieces.
This perfect snack is served with mayonnaise, Japanese Worcestershire sauce, and seaweed. All of these ingredients make it crispy and very tasty.
Octopus Salad
This dish combines octopus, shrimps, and mussels with some types of vegetables like tomato, green and red paprika, and cucumber. The first thing we need to do is boiling all the seafood. Using a slow cooker will help octopus tender, but still a little chewy. Cut octopus and the vegetables into pieces.
After tossing all of these above ingredients with lime juice and a little olive oil, the octopus salad is completed. It will not only bring the freshness of seafood but also have a little sourness mixed with the vegetables.
Grilled Octopus
If you're crazy about grilled foods, let's try this dish because it's very easy to do. The size of the octopus will decide how long it takes to make the octopus tender. After boiling, let it cool down to room temperature, and then season it with salt, pepper, garlic, fresh parsley, olive oil, and lemon juice.
We can use gas, charcoal or wood to get the fire as long as the fire should be hot enough. Put the grill four inches above the source fire. Roasting seasoned octopus until its outside turns brown without making the inside dry out. A flavorful and delicious grilled octopus was created!
Miruhulee Boava
This is a Maldivian delicacy which is made of garlic, pepper, onion, coconut oil, octopus tentacles, and curry leaves. First of all, half of the garlic, onion and curry leaves will be fried until the onion turns golden brown. Then, we pour all the rest of ingredients into a thick and smooth paste.
After adding the octopus to the paste and seasoning, braise the mixture at a low heat around 20 minutes.
Nakji Bokkeum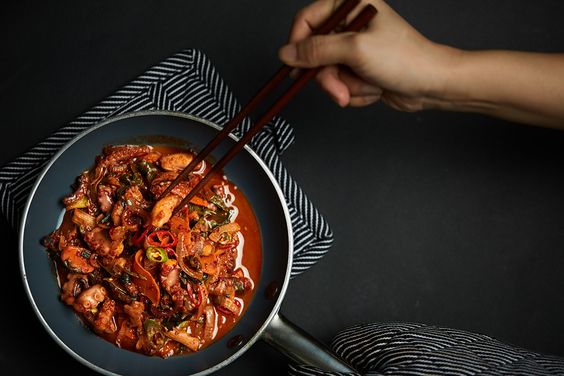 This food is also known as spicy stir-fried octopus which is served with warm cooked rice or noodles. After cutting the octopus into pieces and boiling it for 2 minutes, we pour half of the dipping sauce over it. Then we stir-fry onion, octopus, green and red peppers together until it's cooked perfectly.
As a result of the perfect harmony of the octopus and spiciness, it's a special delicacy when you're enduring stress or depression. That's because spicy foods can help to get rid of your stress.
Octopus Sushi
Not only used in Takoyaki, but the raw octopus is also poached for sushi dishes. To make sushi, people always use their legs to eat raw. However, it requires being sliced extremely thinly since it's too tough to chew. It has a sweet aroma!
The Nutrition Of Octopus
Fresh octopus is healthy, which contains high nutritional values, including both essential vitamins (A, B1, B2, C) and abundant minerals (omega-3, calcium, zinc, iron, selenium, potassium, and phosphorus). For example, 85 grams of raw octopus can provide about 45mg of Calcium and 17mcg of vitamin B12. (Via:www.weightchart.com)
Here is the detailed table of octopus's nutritional value: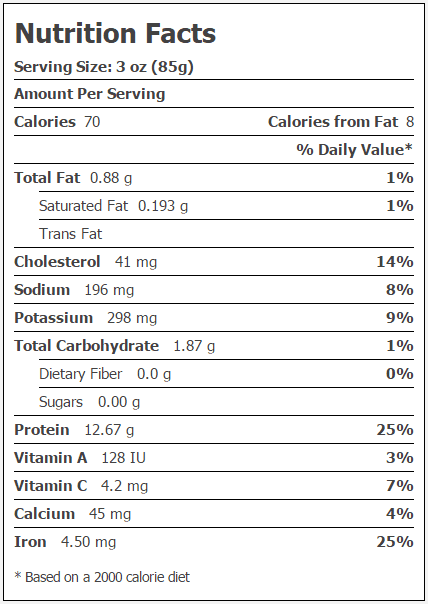 Via: Weightchart.com
Conclusion
Have you ever tried one of these foods? If not, I highly recommend you to try it once in your life to discover what does octopus taste like. If you have any questions, just let me know by leaving a comment in the box below. I always appreciate your support!