What Does Sake Taste Like? Ways To Serve Sake Properly
Sake is a special drink that gains its fame worldwide due to its brand reputation and its flavor. Especially, its unique flavor differs from the other alcohol types you may have drunk.
But what does sake taste like, exactly? How to serve it? If you are curious about it, please give our post a check. We will give you a whole amazing experience with this Japanese alcohol.
What Is Sake? How Is Sake Made?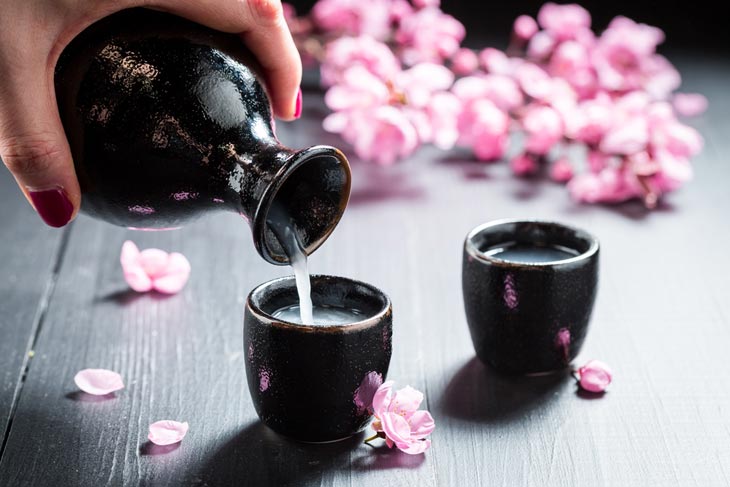 Sake is the Japanese specialty, an alcoholic beverage of high-quality fermented rice. In Japan, some people call it Nihonsu, but others often remember the rice wine title.
Sake has a long history of more than 2500 years and appears as a ceremonial drink in every daily meal of the locals here.
Manufacturing a bottle of sake is quite complicated, asking for delicate skill and carefulness.
The people have to brew the combination of sake mai polished rice, Aspergillus oryzae, or koji mold, yeast, and clean water for one year or more to get the perfect level.
Of course, the progress does not end like that. Each ingredient plays a different role in brewing, so sake manufacturers have to prepare a lot.
First, the hardness level of water decides how fast the fermentation process is and how delicately your alcohol produces.
It will be best if people use water from natural springs with low mineral content.
When it comes to rice, it must go through the polishing process to remove all the excessive substances like proteins and fats.
Then, brewery workers will wash, soak these grains, and steam them before cooling them down to mix with the koji spores.
The koji-rice needs careful supervision to keep its humidity and temperature all the time. After all, they combine all the ingredients to create a yeast starter and prepare for the main fermentation.
All the steps have explained the special sake flavor. But Keep scrolling down to know.
What Does Sake Taste Like?
Take a sip of sake, you will feel the delicate sweetness and the clean taste.
The taste profile is a balanced fusion of pungent and savory notes with a fruity and nutty undertone, reminiscent of wine yet less dominant.
How Does Sake Taste Like?
Some people wonder: "Is saki sweet?", so the answer is yes. Sake tastes like wine in terms of the fruity aroma but is the milder version of wine.
This aroma does not last long once you pour it into a glass. However, the sake aftertaste still lingers gently at last in your mouth without leaving any heavy feeling.
Sake also brings the savory aroma of Koji, which resembles the taste of potato and mushroom.
It is not an exaggeration to say that Koji is the spirit of this type of drink, which decides how the taste of sake will be.
Apart from that, sake is rich in glutamic acid content, which is double the acid amount in a bottle of wine. That's why the sake brings a much umami taste while drinking.
Rest assured, it does not produce a malty and harsh punch to your palates like the feeling of drinking beer or other strong hoppy. You can enjoy this light yet interesting beverage in a meal.
How Different Brands Differ In Taste?
There are several sake brands available on the market for you to choose from.
Of course, each type has a unique taste, so you had better consider carefully to see which one suits your appetite most. But how does the taste differ from brand to brand?
For example, the Honjozo flavor is relatively light and smooth, making it effortless to drink, even for those who do not get used to wine.
Another sweet variety of sake is Nigori. It brings you a creamy and bold taste that suits many ages well.
If you are looking for a fruity flavor, do not miss out on the Ginjo brand. It is fragrant and delicate enough for you to enjoy from sip to sip.
A wilder version calls for the brand Shiboritate, whose taste is similar to white wine.
The Junmai-style sake has an intense flavor with low acidic content. If you favor the earthy rice taste, let's go for the Futsushu brand.
Last but not least, Daiginjo sake produces a premium drink with a complex and light taste.
How To Serve Sake?
Can You Drink Straight Sake?
Of course, you can, but you should not do that. It is amazing if you serve chilled sake in a white wine glass to experience all the fantastic aromatics this beverage brings.
Still, opting for a wood drinking cup called masu or a ceramic cup called ochoko will be much better and show more respect for this alcoholic drink.
Do not forget to swirl the cup and smell the aroma before taking a sip. It is how to enjoy such a premium rice beverage.
Does sake taste good when it is hot? Yes, it is up to drinkers' preference, weather, and brand to decide which type of sake. Hot sake is as good as cold sake if you drink it on a suitable anniversary.
For example, a cup of warm sake is perfect for you to relax in the cool season. Sake experts will pour sake into a ceramic tokkuri and put this thing in a hot water bath before serving it to you.
Do You Sip Or Take Shots Of Sake?
As mentioned above, we prefer sipping Japanese sake instead of taking shots of it.
Sake seems to be an aged pastime in Japan with specific procedures. That's why everyone should respect its ceremony by drinking it properly.
Never consider sake as a tequila slammer. It is brewed for reasons, so you should enjoy sipping it little by little as a result.
What Mixes Well With Sake?
Sake is traditionally perfect for the appetizer phase to bring amazing flavors to your dinner.
You can combine it with deletable sushi, light sushi-like nigiri or sashimi, ramen, and other Japanese foods during this meal.
Is sake good to mix with anything else? Well, there is a wide range of food that also suits this drink well without making your stomach feel heavy.
You can consider tempura. They pair well with each other even when the tempura is reheated.
Frequently Asked Questions
Is Sake Strong?
Yes, it is quite potent, with a concentration of 15 to 17%. If you often drink red wine and feel it is enough, then sake might make you drunk with more than 2% to 3% alcoholic content.
This beverage is believed to be similar to rum or vodka actually in terms of heaviness.
Is Sake Similar To Vodka?
Although sake is considered as strong as vodka, the latter is still on another level.
Sake is a brewed rice drink that brings a fruity aroma, while vodka is an alcohol product with a strong concentration.
What Is The Difference Between Sake And Soju?
Although some people mistake the sake for soju, a distilled beverage from South Korea, they are different in some ways.
For example, sake manufacturers use rice, koji mold, and clean water to brew this drink, while soju needs to go through a distillation of rice, barley, and sweet potatoes.
Due to its versatile ingredients, many people praise soju for its strong aroma and taste.
Drinking soju in mouthfuls helps you easily recognize which ingredients are utilized and how sweet this beverage is.
Soju alcohol content is higher than its opponent, which is 24%, according to the Los Angeles Times.
In Conclusion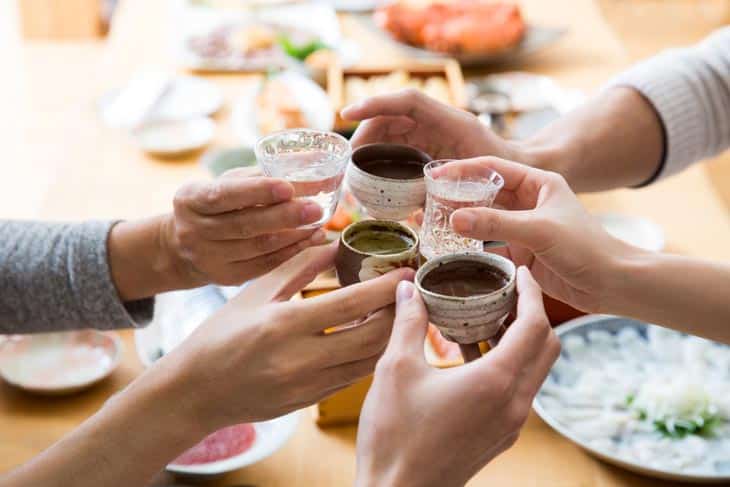 What does sake taste like? How does sake taste in different serving methods? We have replied to all these problems in the article above.
There is no wrong way to enjoy this high-quality fermented rice beverage if you do not miss out on any single information.
Good luck and have the best experience of drinking sake!