What Does Sweet Potato Pie Taste Like?
Thanksgiving is a celebration that we all anticipate joining with our family and friends. Not only does the fall-winter atmosphere make people closer together than ever, but this holiday is also the time when we can treat ourselves with delicious dessert recipes.
Are you looking for a tasty dessert homemade recipe and find sweet potato pie on the list? But what does sweet potato pie taste like? Is it delicious?
Read this post to find out all the information about this dish!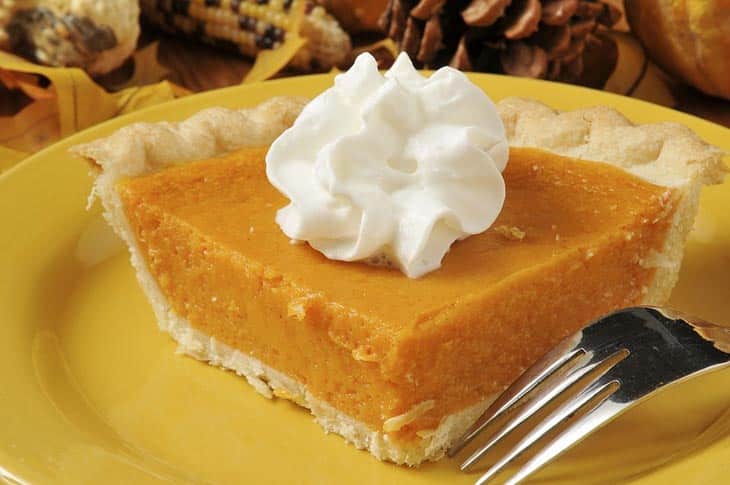 What Does Sweet Potato Pie Taste Like?
Sweet potato pie tastes sweet and creamy, thanks to natural sweet potatoes' delightful texture and flavor. A bite of it can drive you to heaven with its lovely autumn-like flavor that melts instantly in your mouth.
Many people also wonder, "Does sweet potato pie taste like pumpkin pie?" and "pumpkin pie vs sweet potato pie – Which tastes better?" Sweet potato pie is usually compared to the famous pumpkin pie. Both are Southern desserts, which are popular when it comes to Thanksgiving or autumn-to-winter family celebrations.
Both cakes have the same texture and appearance, so it's entirely up to you and your ingredients to choose what cake you will bake for your family on Thanksgiving. In our opinion, they are all delicious. Still, sweet potato pie will give off a more holiday vibe due to its healthy and creamy ingredients such as sweet potato, vanilla, cinnamon, etc.
Sweet potato pastry also includes an earthy vibe that comes naturally from natural sweet potato, lacking pumpkin pie. This earthy yet sweet flavor balances the texture. Specifically, its texture is well-made with crunchy crusts and soft, luscious fillings, which will melt in your mouth instantly and make you feel the taste more vividly. 
In contrast with a canned sweet potato cake, the homemade version makes use of fresh sweet potatoes' smooth texture and natural sweetness.
Of course, you can choose to purchase a sweet potato pie in your local bakery, but remember that the homemade one will have an exclusively earthy, starchy flavor extracted from sweet potato. When making your sweet potato pie, you can easily adjust the level of sweetness, bitterness in your cake to match your preference. In the end, we all want to enjoy something on our own when it comes to holiday celebrations, right?
Let's go through the elements that make the pastry a lovely treat on holidays:
Pie Crust. Making a crunchy, buttery, golden-color pie crust is the first step of achieving a lovely sweet potato pie. Like pumpkin pie, sweet potato pie consists of two main elements: the filling and the crust. One small tip for you to bake the pie crust is to bake it first and put it in the freezer while baking the fillings. Leave them in the freezer for 15 minutes after baking, and you will be surprised by how crunchy and shiny your crust is!
Sweet Potatoes. Sweet potatoes are the star of sweet potato pie. The velvety texture, along with the vibrant color, is what makes sweet potato an ideal ingredient to bake in desserts. Baking sweet potatoes for pies is one the best use of sweet potatoes indeed.
Instead of a canned sweet potato that is fast to get, we will always recommend you use natural, newly-bought sweet potato for baking this recipe. The fresher the potatoes are, the more easily you can handle them, ultimately making the best results.
Spices. What are the spices you can use in sweet potato pastry? It is also the same with the question "What goes with sweet potatoes?". Once you figure out the ingredients that can be a lovely match to sweet potatoes, you can actively twist the original baked sweet potato pie recipe into your preference.
Some original spices that go perfectly with roasted sweet potato pie recipes are vanilla extract, cinnamon, nutmeg, etc. However, depending on your taste, you can add special spices such as ginger or even some bourbon to intensify the taste! It's important to follow the traditional flavor first, then adjust it with your preference to get an exotic-taste sweet potato pie!
Is Sweet Potato Pie Healthy?
Since sweet potatoes are known to be packed with numerous healthy ingredients, we can assume that the pie is healthy. However, despite the nutrients and vitamins sweet potato pastry can offer, it is not a daily eating pie! The number of calories and sugar in sweet potato pie is still considered too high, so it's best to leave it as a once-in-a-while eating treat.
Sweet potato pie vs pumpkin pie – Which pie is healthier? – The answer is sweet potato pie. While pumpkins are lovely autumn vegetables with healthy characteristics, you can still find more beneficial ingredients in sweet potatoes. Still, if you want to make a fast-to-go cake for holiday treats, pumpkin pie is a safer choice. One surprising fact about pumpkin pie is that you can use canned pumpkin to make a delicious pumpkin pie. Hence, you only need to consider "How long can canned pumpkin last in the fridge?" before you take it out and bake a pumpkin cake.
How To Serve Sweet Potato Pie?
After baking sweet potato pie, you need to patiently wait for a period of time to cut and serve perfect slices of cake. More particularly, with custard pies like sweet potato pastry, it's vital to leave your newly roasted sweet potato pie to rest at room temperature for at least 4 hours before cutting it. Minimum 4 hours will help dense your pie's filling, which makes cutting precisely neat. Nice cutting will make your pastry look stunning and tastier!
Besides, add some whipping cream on top of a sweet potato pie piece to upgrade its appearance. If you have honey toast, you can apply the recipe of avocado toast with honey to have a juicy coat for your sweet pastry. Beware not to pour too much honey; otherwise, it can accidentally ruin the pie's flavor.