What Goes with Sweet Potatoes? Simple and Great Recipes
Are you wondering what goes with sweet potatoes the best? Below, I found some yummy recipes for sweet potatoes that everyone in the family will love.
Dinner Dishes Go With Sweet Potatoes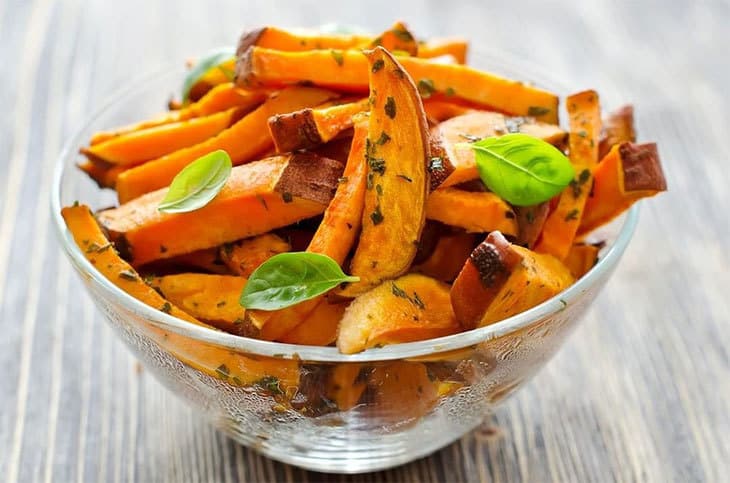 Those following healthy diets should know the impressive benefits of sweet potatoes and how to cook them properly.
And, should you prepare sweet potatoes for dinner?
Definitely yes! Here come several dinner recipes with sweet potatoes you should try.
Pork with Sweet Potatoes, plus Apple Sheet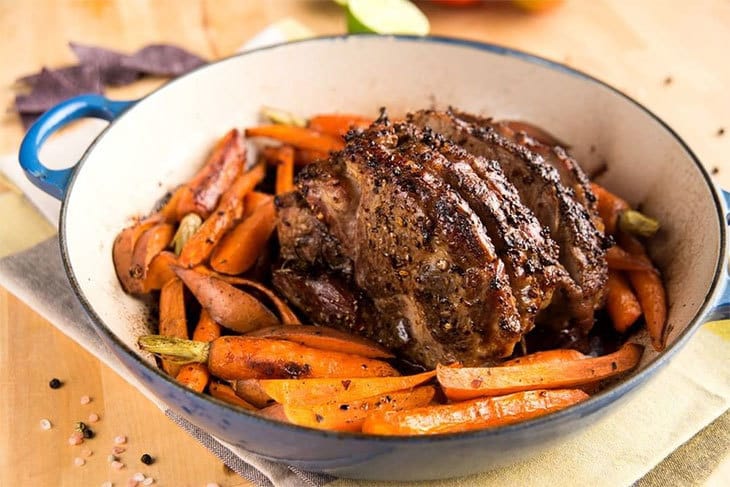 Pork goes well with sweet potatoes to create a delicious and nutrition-rich dish for dinner. You can find these ingredients at any grocery shop or mall. Not to mention, the recipe is easy to follow.
Ingredients
2 sweet potatoes. Cut them into quartered lengthwise
2 apples. Cut them into quartered
1lb of trimmed pork tenderloin
1 sweet onion. Cut it into 1'' pieces
1 tablespoon of lemon juice
1 tablespoon of sliced sage leaves
1 tablespoon of salt
1 teaspoon of black pepper
1 cup of maple syrup
1/2 cup of melted butter
1/4 cup of toasted pecans
Kitchen tools: pans, racks, spoons, tongs, etc
Directions
Step 1 : Put a rack into the oven and preheat it to 425°- 450°F.
Step 2 : Mix melted butter, salt, sage, and pepper into a large bowl.
Step 3: Add quarters of sweet potatoes, onion, and apples to the bowl. Toss them for 2 or 3 minutes so all ingredients mix and coat together.
Step 4: Add pork to the bowl and toss it evenly so that it is well coated with all ingredients. Roast all ingredients with some vegetables at 145°F for 25 to 30 minutes. If the potatoes are fork-tender and the pork is no longer pink inside, then you can turn off the oven.
Step 5: Heat maple syrup in a saucepan. When it starts to boil, lower the heat below medium level and continue cooking for some minutes. Remove the pan from heat. Add some lemon juice to the syrup. Then, set it aside.
Step 6: Slice the pork and serve it with potatoes and apples. Drizzle maple syrup and place pecans on the top.
---
BBQ Chicken & Roasted Sweet Potatoes
Your children will never get bored with chicken and sweet potatoes.Don't believe it? – Just make this dish tonight!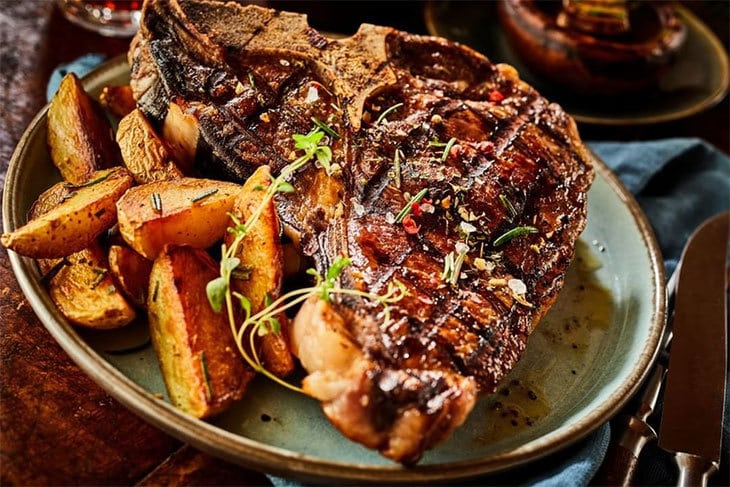 ingredients
4 chicken thighs (with bone and skin)
3 potatoes. Dice 2 of them into 1/2'' pieces. Cut the other in half
2 cups of BBQ sauce to marinate the chicken (use flavors your kid love)
2 tables of olive oil
2 teaspoon of salt
1 teaspoon of pepper
Directions
Step 1: Put a baking sheet into the oven. Preheat it to 400°-425°F.
Step 2: Coat the thighs with BBQ sauce and place them into a zip-top bag. Seal and set it aside so that the chicken is fully marinated.
Step 3: Put pieces of potatoes in a sheet. Drizzle some olive oil, along with pepper and salt. Toss to coat the potatoes evenly.
Step 4: Put the marinated chicken over the sweet potatoes. Pour the leftover marinade onto the top. Bake the sheet for 30-40 minutes at 165°F.
Step 5: Turn off the oven. Tear down the chicken into small pieces and serve on half of the roasted potatoes.
---
Vegetarian Recipes With Sweet Potatoes
Sweet Potato and Pumpkin Soup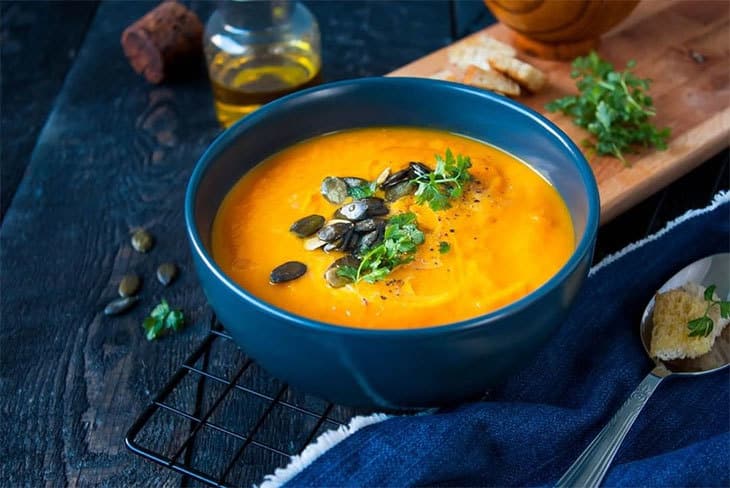 You are a vegan who wants to cook sweet potatoes with vegetables rather than meat. Then, what goes with sweet potatoes?
Sweet potatoes can go in pairs with various fruits and vegetables such as squashes, pumpkins, yams, and jacket potato.
Here I share a non-boring recipe of vegetable soup (without tomato).
Ingredients
2 medium sweet potatoes
1 lb pumpkin
1 onion and 1 clove garlic (you can skip these if you have religious ties)
4-5 slices of bread
4 cups of vegetable stock (or water if there is no stock available)
Pepper, salt, and olive oil to taste
2-3 bay leaves
Kitchen tools
Directions
Step 1 : Preheat your oven to 390°-400°F
Step 2 : Peel and cut pumpkin and potatoes into 2'' chunks.
(Sometimes, I use a Zoodle maker to cut the pumpkin in noodle form so it can get soften even more quickly.)
Step 3: Peel the onion and cut it into 4 pieces.
Step 4: Place the pumpkin, potatoes, and onions on a baking tray. Drizzle oil and sprinkle pepper and salt over the top. Roast the veggies for 40-45 minutes until they are golden and soft mush.
Step 5: Switch off the oven and place the roasted veggies into a saucepan. Pour the stock to the boil. Simmer the mixture gently. Remember to stir the veggies sometimes. Add more stock or hot water in case the soup is thick.
Step 6: Turn off the heat. Serve the soup in a bowl or small cup. Decorate bay leaves onto it and then enjoy the soup with some bread.
---
Sweet Potato Burger With Avocado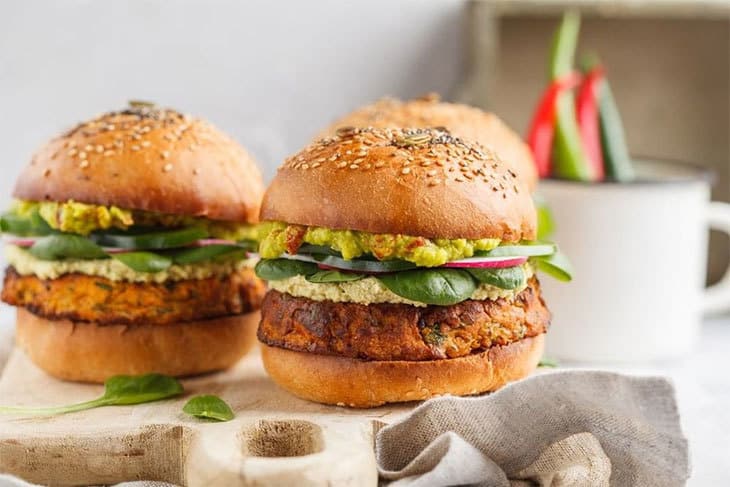 ingredients
Sweet potatoes
Cooked white beans (you can also use canned or rinsed beans)
1/2 cup of chopped onion and garlic powder (skip if you do not want it)
2 tablespoon of tahini
Olive oil, pepper, and salt to taste
Toppings: burger buns, avocado, greens
Make a Delicious Vegan Burger
Step 1 : Bake sweet potato at 400°F for 40 minutes to 1 hour, until it is fork-tender.
Step 2: Mash beans and potatoes into a large bowl. Add the onion and garlic, if any. Add tahini, pepper, and salt to taste, then keep mashing until the mixture is thickened. Place the mixture into the fridge for half an hour.
Step 3: Take the mixture out and divide it into small parts. Make patties with your hand and set them aside.
Step 4: Place a baking sheet and drizzle oil evenly. Preheat it to medium heat, around 400°F. Bake the patties for 10-15 minutes until they are cooked through.
Step 5: Toast the burger buns. Add vegan mayo, greens, avocado, and pepper on the top. Serve warm to get the best taste!