Mushrooms are a type of fungus that grows on the ground or in trees. Their fruiting bodies, or caps, are made up of gills that give the fungus its name: mushroom.
A mushroom is a growth that takes the form of a dome on a stalk, with gills on the underside of the cap. Today we are going to discuss Blue Oyster Mushrooms.
Blue oyster mushrooms are a type of mushroom that is found in many parts of the world. They are considered an edible mushroom and can be eaten raw or cooked.
They are usually small, but they can grow to be large and are found on dead or decaying trees in the Spring or Autumn. They have thicker, long stems with small caps. As they age, the mushroom clusters turn grey instead of the deep blue coloring they started with.
What Do Blue Oyster Mushrooms Taste Like?
Blue oyster mushrooms have a meaty or savory flavor, like many mushrooms.
They've also got a slightly chewy texture that makes them feel a little similar to meat. Beyond that, the flavor is a bit more subtle and hard to describe. Some people say that blue oysters have a mild seafood flavor.
What Are The Different Ways To Cook Blue Oyster Mushrooms?
Oyster mushrooms are a popular choice for cooking, as they are thin and cook evenly. They can be used in stir-fry or sauté dishes, due to their slender shape.
Similar to other oyster mushrooms, blue oyster mushrooms contain high levels of protein and can be cooked in a variety of ways, such as sautéed, grilled, or fried as a side or even the main meal!
There are many methods for cooking blue oyster mushrooms, and each method offers a unique flavor and texture.
Here are a few tips:
1: Fry them in a bit of oil or butter
2: Steam them
3: Fry them in a batter
4: Bake them
5: Simmer them in a sauce
How Do You Store Blue Oyster Mushrooms?
The best way to store mushrooms is to take them out of their container before placing them in the fridge.
To preserve mushrooms, wrap them in paper towels and place them in open plastic bags in the refrigerator.
Paper bags are even better for mushroom storage in place of plastic bags if you have them.
Common Questions About Mushrooms
Should Mushrooms Be Stored In An Airtight Container?
No, storing mushrooms in airtight containers or closed plastic bags will cause moisture to build up and speed the molding process.
Should You Wash Mushrooms?
It depends. Only rinse them if they are being used in a salad or soup. You can brush them with a pastry brush or rub them down with a damp paper towel otherwise.
How to Tell if Mushrooms Are Bad
They feel slippery or sticky. The first thing to check if you're unsure if mushrooms are bad is to see if they're slimy.
They have brown spots.
They feel soft.
Not only that, but they are moldy.
Furthermore, they have a strong and bad smell.
Mushroom Bake Recipe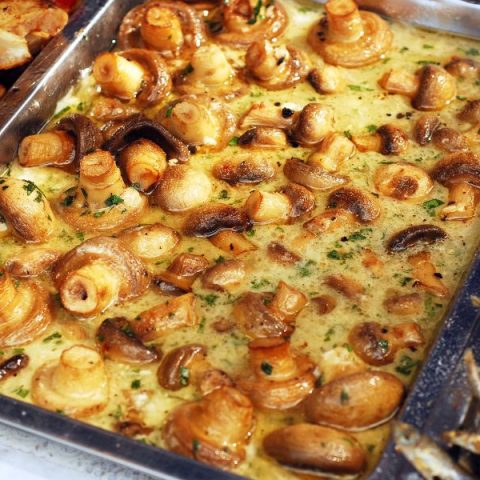 Blue Oyster Mushroom Bake
Ingredients
1 lb. blue oyster mushrooms (or any mushrooms) wiped clean
1 tbsp. butter
1 tbsp. olive oil
1 small onion, diced
1 garlic clove, minced
1/2 tsp. dried thyme
1/2 tsp. dried basil
1/2 tsp. salt
1/4 tsp. black pepper
Instructions
Preheat your oven to 350 degrees Fahrenheit.
Cut the mushrooms into bite-sized pieces or leave whole. Place them in a baking dish.
In a separate pan, melt the butter and oil together. Add the diced onion and garlic and cook until the onion is translucent.
Pour the onion and garlic mixture over the mushrooms and sprinkle the thyme, basil, salt, and black pepper over the top.
Recommended Products
As an Amazon Associate and member of other affiliate programs, I earn from qualifying purchases.