What is Better Than Bouillon?
If you have ever made soups, then you probably have used an ordinary bouillon cube, but what about a bouillon base? Better Than Bouillon is a paste that is easy to use and adds just the right amount of flavor to your dish.
Learn about all the different flavors of better than bouillon, so you can find the perfect one for your next recipe.
What is Better Than Bouillon?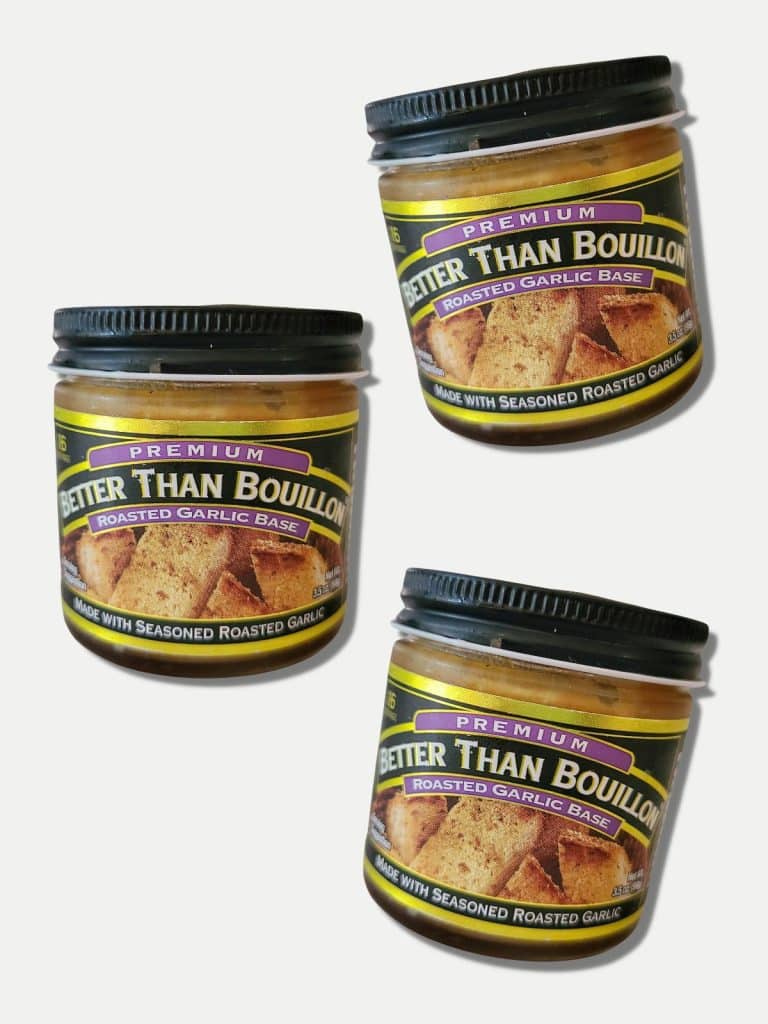 Better Than Bouillon is a concentrated paste that adds extra flavor to almost any dish you can think of, like the name implies, better than a bouillon cube. They have a wide variety of flavors, so you'll be able to use it frequently.
Why Use Better than Bouillon?
First, it adds a more robust flavor than ordinary bouillons which means a better tasting flavor in your meals like soups, sides and make slow cooker dishes better. Plus, it also makes wonderful marinades glazes for vegetables and more.
Second, Better than bouillon is easy to use. These bases easily spoon right out of the jar, so you can add as much or as little flavor as desired. Better than bouillon, blendable bases easily spoon right into whatever you are making.
Flavors of Better Than Bouillon
Roasted Chicken Base
This base is made with roasted chicken, which gives any recipe you add it to a richer, more robust flavor than ordinary bouillons. This is our go base for all our chicken meals' since this roasted chicken base adds amazing flavor.
Roasted Beef Base
Roasted beef is used in Better Than Bouillon® Roasted Beef Base to make it taste great.
Seasoned Vegetable Base
The Vegetable paste is made by combining puréed carrots, celery, onions, and tomato with seasonings to create the perfect addition to soups and sides. If you thought your roasted vegetables were good, this will make it even better.
Roasted Garlic Base
All the taste of roasted garlic easily in your meals with this convenient garlic paste. Make all your meals taste wonderful!
Chili Base
Add an extra kick to your meal with this chili paste that is made with specially selected chili peppers.
Fish Base
Make with cooked white fish, this fish paste will add that extra level of flavor to your soup or meals.
Ham Base
Made with real ham, this will paste will add that next level to casseroles, soups and more! Great for adding flavor to your next holiday ham recipe.
Lobster Base
If you love lobster bisque, then you will love adding the perfect flavor to it with this lobster paste! Also makes a great lobster mac and cheese as well.
Mushroom Base
This mushroom paste is made with sautéed mushrooms and is a great addition to cream of mushroom soup and any dish that you want a mushroom taste in.
Turkey Base
Better than bouillon, turkey paste is made with real turkey and turkey juices, which makes it a great addition to gravies, pastas and more.
Sautéed Onion Base
Add an extra flavor of onion to any meal you wish with this vegan sautéed onion bouillon paste.
Common Questions About Better Than Bouillon
How Should I Store Better than Bouillon?
Since some paste flavors contain meat and vegetables, it is best to store, Better than Bouillon, in the refrigerator.
How Long Does Better than Bouillon Last?
Better than Bouillon can last up to two years from the date it was made.
How many servings are in one jar of Better Than Bouillon?
The jars of Better than Bouillon have 38 servings in them, and a serving of Better Than Bouillon is 1 teaspoon.
Recipes Using Better Than Bouillon Base
We've also listed out below some tasty recipes using Better than Bouillon if you are looking for a new meal to try.
Better than Bouillon Recipes