Making desserts is always fun and tasty. Imagine the moment you get your freshly baked brownies out of the oven. It is one of the best feelings ever, right?
However, once you taste them, they seem to be not as delicious and chewy as you would expect. Chewy brownies are indeed tasty, but what makes brownies chewy is a secret that not many people know.
Learn more below!
What Makes Brownies Chewy?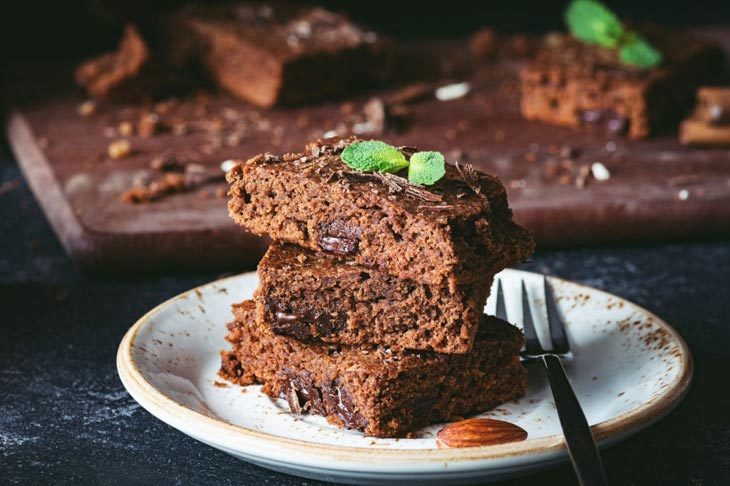 Let's have a deep look into a brownie's ingredients to see which ingredient plays the biggest role in how to make brownies chewy, not cakey.
Fat
In any chewy brownie, fat is the glue that holds everything together. If you eat a brownie with no fat, it would be dry as well as not good to eat.
We suggest you use melted butter and vegetable oil /canola oil to ensure the brownie texture comes out great.
You should use fresh veggie oil to avoid any off-flavors and use unsalted butter to refrain from adding in more salt. Using the right ingredients is what will make brownies chewy will pay off in the end.
Chocolate
Unlike fudgy or cakey brownies, where you can use a lot of chocolate to spice up the flavor of your brownies, it's a contrasting story with chewy brownies.
Instead of using pure chocolate, you should use more cocoa powder than the chocolate itself when creating the chocolate flavor for your brownie.
Our recommended chocolate portion is cocoa powder mixed with chocolate chips. The more chocolate you put into your recipe, the more likely your brownies become cakey and fudgy rather than chewy.
Cocoa will enhance your brownies, making them chewier in texture with a more genuine flavor.
You are welcome to put in more chocolate chips if the flavor seems too bitter. Chocolate chips can help develop the shiny crust on top of your lovely brownies.
Sugar
One twist about sugar that can turn your brownie from cakey to chewy is to use dark brown sugar or white granulated sugar. Dark brown sugar will help your brownies be chewy, and with a bit of white sugar, you can have the shiny, crunchy top as well.
Egg
Two large eggs are the usual amount to use when making brownies, but to make the brownies even chewier, you should add in one more egg yolk.
Flour
The flour you should use for chewy brownies is an all-purpose flour. Also, all-purpose flour is cheaper than bread flour, so it is a more convenient and affordable option.
To successfully achieve chewy brownies, you must have enough but not too much all-purpose flour; otherwise, the cake will turn out to be too dry. Learn the recipe carefully and pour in the flour with caution to make sure you can get chewy brownies in the end.
Leavener
If you are not familiar with the leavening agent, baking soda and or baking powder is used in baking. Since we want to have chewy brownies in the end, the portion of the leavener used must be limited to about ⅛ teaspoon only.
Cornstarch
One tablespoon of cornstarch will turn your brownies from drying out to puffing up with the shiny, chocolate-rich layer on top.
Baking Technique
The last thing you need to remember if you would like to have chewy brownies is using the right baking technique. Chewy brownies require you to slightly under bake, while cake like brownies need to be fully baked.
Once you over bake, the brownies will lose their moisture, and the chewiness and richness will be gone. Moreover, after finishing baking brownies in the oven, put them in the fridge for one hour to chill. This technique will help to make extra chewy brownies.