9 Ideas for What to Eat with Sourdough Bread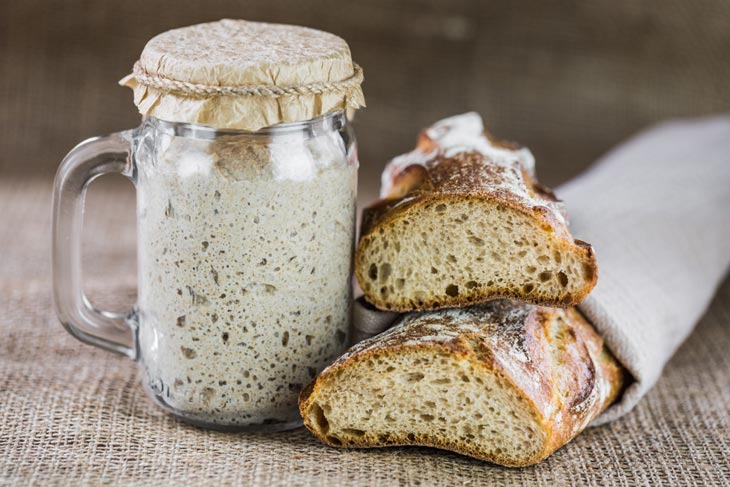 Sourdough bread is one of those foods that many people are passionate about. There's just something about that tangy flavor and chewy texture that's so satisfying.
But when it comes to pairing it with other foods, it can be a bit of a challenge. That's why we've put together a list of the 9 best ideas for what to eat with sourdough bread. These suggestions range from simple and easy to more complex and indulgent, so there's something for every taste and occasion.
Whether you're a long-time sourdough fan or just getting started, we hope these ideas will inspire you to get creative in the kitchen!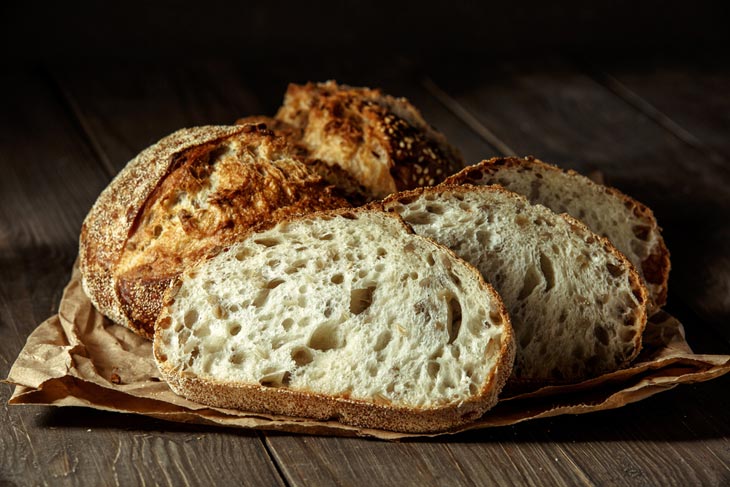 What Is Sourdough Bread?
Taste
The most significant difference between sourdough bread and other bread products is that bakers do not use industrial yeast when creating it.
This is because it takes a long time to make bread with a natural sour taste, as natural yeast develops more slowly than industrial yeast.
So, sourdough bread has an extremely unique taste: a little bit of sourness from the and fresh natural yeast that is used to create it.
Sourdough loaves can be made plain, which is the most common, or with extra flavors, such as spent grains, sesame seeds, or vegetables.
How To Make
It is a type of fermented bread. People rely on natural yeast fermentation to make it. This method has appeared for a long time and is still maintained today.
Fermenting according to traditional methods is based on natural yeast and lactic acid bacteria available in wheat flour to make baking powder.
The ingredients in the baking mix will ferment the sugars in the dough and create a featured flavor.
You first need to pour sour yeast into the water to make it. Then, stir well to dissolve the yeast. After that, pour the flour into the mixture and mix until the mixture comes together.
The next step is to bring the dough to rest for about 8-14 hours at 65-70 degrees F on the kitchen counter.
After the dough has risen, it is time to shape the bread. Then, bake the cake until it is golden brown.
What To Eat With Sourdough Bread?
There are many ways to eat sourdough bread. Scroll down to discover the top 9 recipes that use sourdough bread!
#1. Sourdough Bread Bowl Sandwich
The first recipe mentioned is a sourdough bread bowl sandwich.
Everything you have to prepare is honey mustard salad dressing, melted butter, slices of sharp cheddar cheese, 1/3 pound thinly sliced deli ham, 1/3 pound thinly sliced deli smoked turkey, 4 slices of smoked provolone cheese, and one loaf.
Let's follow some cooking instructions here to make it:
First, you need to cut the loaf to sandwich the other ingredients.
Then, place the ham, cheese, and honey mustard salad dressing one by one.
Finally, spread a layer of butter on the loaf and enjoy it.
This dish is simple and saves time. It is suitable for breakfast meals or a picnic.
#2. Mango Toast With Hazelnut-Pepitabutta
The next recipe is mango toast with hazelnut-pepitabutta. Compared to the dish above, this dish is more complicated:
First, you need to bake pumpkin seeds and hazelnuts until it is brown and fragrant.
After they have cooled, put them in a blender to get a smooth mixture.
Then, add some kosher salt into this paste.
Next, place red pepper, blueberries, and a dash of kosher salt in a spice grinder to blend. Place a few slices of mango on toast, topped with the mixture, a little honey, and oil.
This dish is very tasty and healthy. Besides, its ingredients are easy to find. For this reason, it is the perfect dish for those who are on a diet and want to save time.
#3. White Bean And Spring Vegetable Stew
The dish called white bean and spring vegetable stew is one of the meals with sourdough bread.
According to its name, you can guess the main ingredients of this dish. People use white beans, vegetables like celery, mushroom, parsley, mint leaves to make it.
Here are some quick steps to do:
After soaking beans, you need to put them in a pot along with vegetables.
Then, bring them to a boil and place the pot in an oven for about an hour.
Finally, you can serve it with sourdough bread.
The aroma and sweet taste of vegetable broth will create a good impression for you when eating. Furthermore, if you are a vegetarian, this dish can be a good suggestion.
#4. Linguine With Anchovies And Tuna
Linguine with anchovies and tuna is a famous recipe hailing from Italy. It is also a dish that everyone who comes to this country wants to try at least one time.
However, if you have a loaf of sourdough bread and some other ingredients, you totally can make and enjoy it at home according to the following way:
The first step is to sauté anchovies, garlic, and crushed tomatoes to make the sauce. Meanwhile, use kale to make pasta broth.
Then, grind the bread into crumbs and bake it on low heat. Subsequently, mix them with garlic and parsley.
Next, cook the pasta with kale broth until al dente and mix with the previously made sauce.
Finally, sprinkle some crumbs on the dish and enjoy.
The tangy flavor of anchovies, parleys, and the bready flavor on the top will completely conquer your palate when enjoying the dish. So, you should try this recipe one time. It can bring you new experiences.
#5. Shaved Fennel Salad With Croutons And Walnuts
If you still do not know how to serve sourdough bread, try to make shaved fennel salad with croutons and walnuts right away.
To make this dish, you might need to refer to these instructions:
You first need to shred a loaf mix it with cooking oil and salt.
The second step is to bake it with walnuts until they are deeply golden and crisp croutons.
The next step is to make salad dressing. You mix garlic, vinegar, and red pepper in a bowl and wait about 10 minutes for the garlic to infuse the flavors.
Mix three tablespoons of the oil into the vinegar mixture.
After that, continue to add the croutons and chopped walnuts; set aside.
Thinly slice stalks and fennel bulks and place them in a bowl.
Subsequently, mix it with mint in the same bowl.
Then, arrange the croutons and walnuts mixture along with the fennel and mint mixture on a plate.
Finally, don't forget to squeeze some lemon and salt to make the dish more flavorful.
#6. Salad For Breakfast
Like the dish above, this one is easy to make and suitable for breakfast. All you have to do is make a delicious dressing that suits your palate. After that, mix the dressing with different kinds of vegetables.
Then, tear toast into small pieces and cut the boiled eggs into bite-sized pieces. Lastly, put it all on a plate and decorate it as your reference.
With a few simple steps, you can already make a tasty salad. Hence, this recipe is worth a try.
#7. Kimchi Toast
Kimchi toast may be one of the simplest dishes you have ever seen. In this recipe, kimchi and cream cheese are toppings for sourdough bread. Here is a complete and quick guideline to do it:
The first step of the dish is mixing cream cheese with kimchi in a small bowl.
Then, put the scallion and cilantro in a bowl, and season with some lime juice and salt.
Next, spread cream cheese kimchi mixture on toast and scallions salad on top.
Last but not least, drizzle with chili oil and sprinkle with sesame on the dish.
#8. Chile-Lime clams with tomatoes and grilled bread
What's good with sourdough bread? Chile-Lime with tomatoes and grilled bread is the answer. Let's learn how to make the dish:
First, you use a bit of butter to sauté garlic, shallots, or shallot substitute.
Next, add tomato paste, beer, and fresh tomatoes to cook until the beer is reduced by almost half.
Then, add sambal oelek, chickpeas, and clams to the pot and cook until the clams have opened.
Meanwhile, coat the bread with oil and salt for baking.
The last step is to place the clam mixture on delicious toast, add some cilantro, squeeze some lime juice on top and enjoy.
#9. French-Ish Onion Soup
If you seek what soup goes well with sourdough bread, French-ish onion soup is the way to go. With the following recipe, you can make it at home.
First, you use oil to sauté the onion and garlic on medium heat. Then, add wine and cook until the wine evaporates.
Subsequently, continue to add water, salt and cook until the soup is well combined and flavorful. At the same time, cover bread with cheese to bake.
Scoop the soup in a bowl and place the toast on top.
Finally, sprinkle some black pepper, chives, or substitute for chives to enjoy.
Is Sourdough Good For You?
Apart from creating appealing meals, sourdough bread is also a nutrient-rich dish that brings health benefits.
In particular, its fiber helps feed the beneficial bacteria in the body. Thereby, digestive health will improve.
Besides, it also has effectiveness in lowering blood sugar levels. Fermenting bacteria change the structure of bread molecules and decrease the glycemic index.
Hence, your sugar levels will not be as high as eating white bread.
One more positive news is that lactobacillus present in bread helps to increase resistance and support to strengthen the immune system for the gut in the body.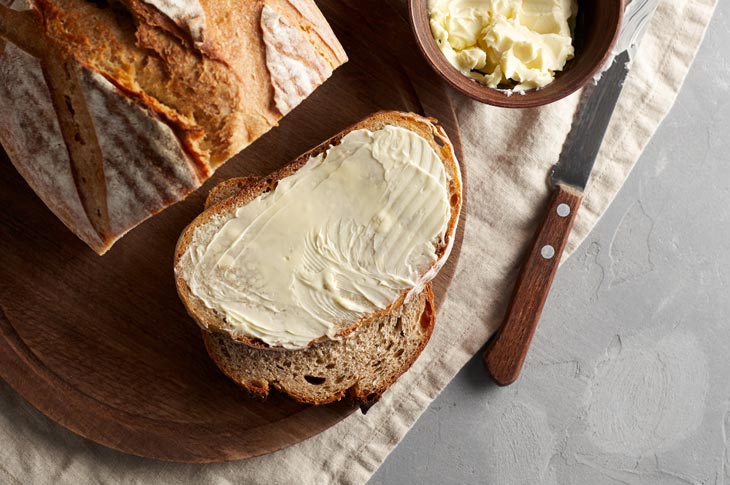 Conclusion
In short, this article has covered information relating to what to eat with sourdough bread and its additional benefits.
We hope that now you can find out what pairs well with sourdough bread and get more new ideas to create delicious meals for your loved ones.
Thus, do not hesitate to experience new dishes from the above excellent recipes!