French onion soup is a unique, tasty appetizer that is savory, so it needs something served with it to balance it out. However, looking for "what to serve with French onion soup" might not be an easy task.
Here, we'll give you dozens of ideas for the perfect sides to go with your soup.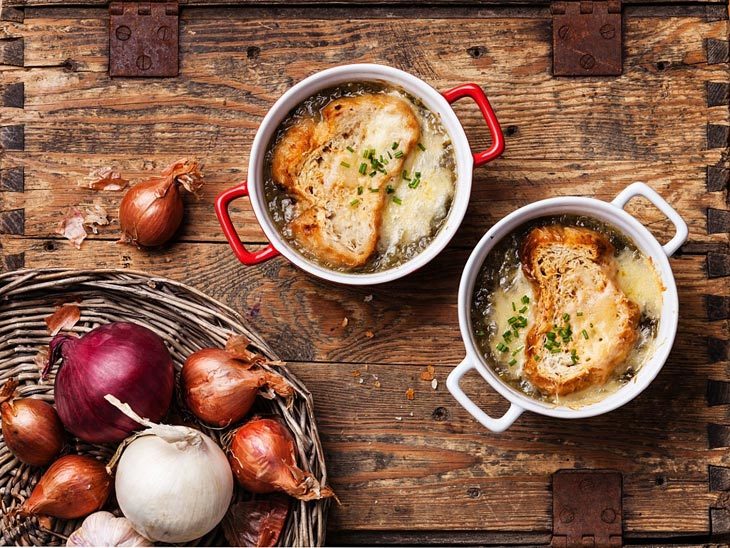 What To Serve With French Onion Soup – Recommended Options
Wondering what goes with French onion soup (Soupe à l'oignon) perfectly? Here we have a collection of 18 best combinations for you to choose from. Scroll down to find out which side will be the greatest choice!
1. Green Salad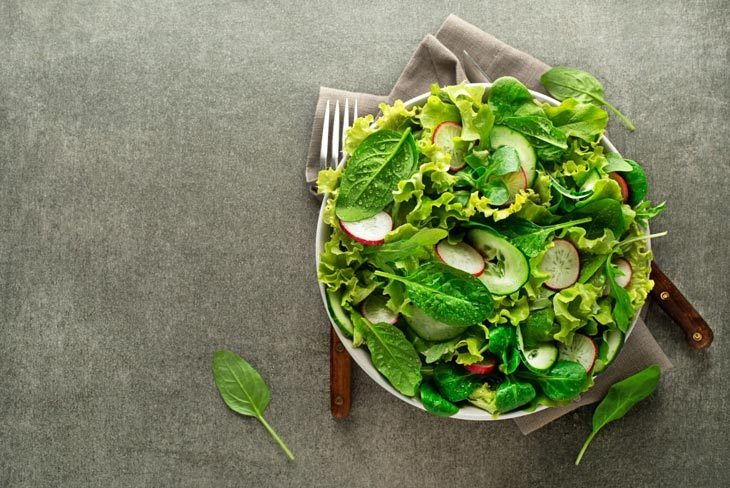 Green salad is among the simple sides for French onion soup that will save you lots of time. If you are too lazy to cook more, green salad might be worth giving a try.
Not only does it have a rich nutritional composition which is good for your health, the crunchy and adaptable taste is also impressive. You can even make it your own way to create something that suits your palate.
2. Grilled Chicken Pesto Panini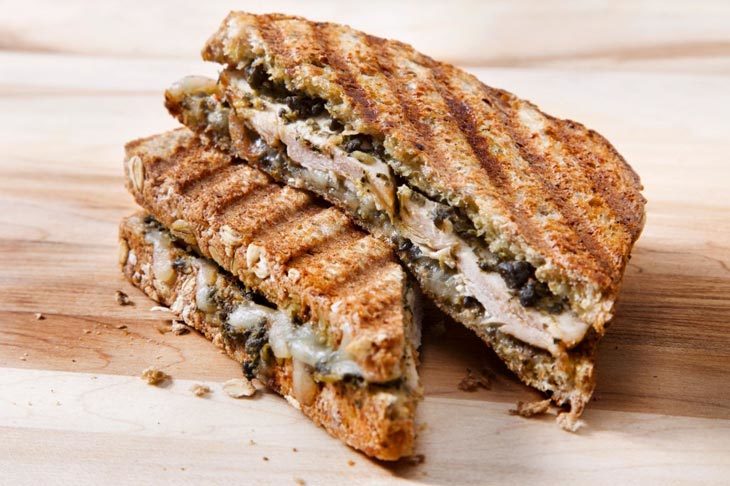 Surely no one can resist the classic look of the French Onion broth with a beautiful melted cheese on top. Looking for a side that perfectly matches such an appealing appearance but still has great taste? The grilled chicken pesto panini will help somehow!
Here is what you should follow when it comes to this recipe:
First, let's begin with spreading butter on each side of the slice of bread.
Then toss them with chicken, cheese, pesto, mayo, tomatoes, butter, pepper, and salt. Plus, don't forget to check the status of the chicken. Once it shows these signs of bad chicken, get rid of it immediately.
After about 3 to 5 minutes of frizzling, the grilled chicken pesto panini is now ready to serve!
Panini once done baking will have a crispy golden color with dazzling mozzarella cheese oozing out. Its fragrance is also sure to make your mouth water!
3. Beef Steak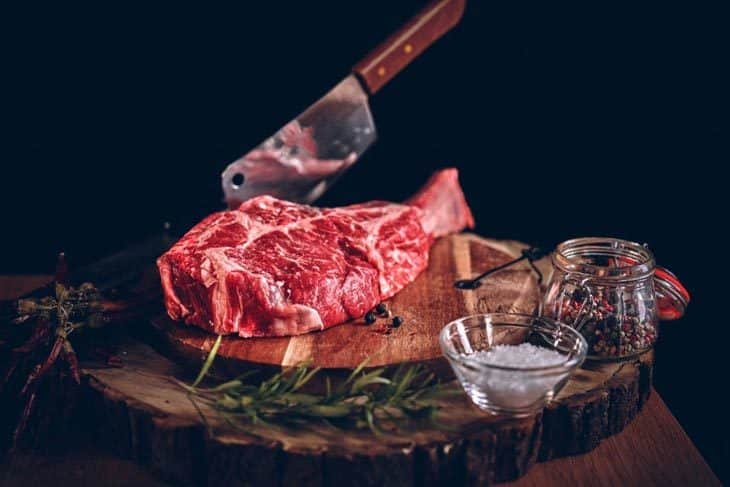 If you wonder what main dish goes with French onion soup, then do not miss out on the steak!
Steak, with the nickname "the holy grail of entrees" of Western cuisine, really fascinates the gourmets with its umami flavor. That's also why it can make the broth much more delicious than ever.
Wanna get some tips that help your dishes be better? It would help if you choose lean cuts of beef, such as sirloin, to prepare your steak. Cook the steak to your favorite doneness, and then enjoy it with a delicious broth!
4. Scallops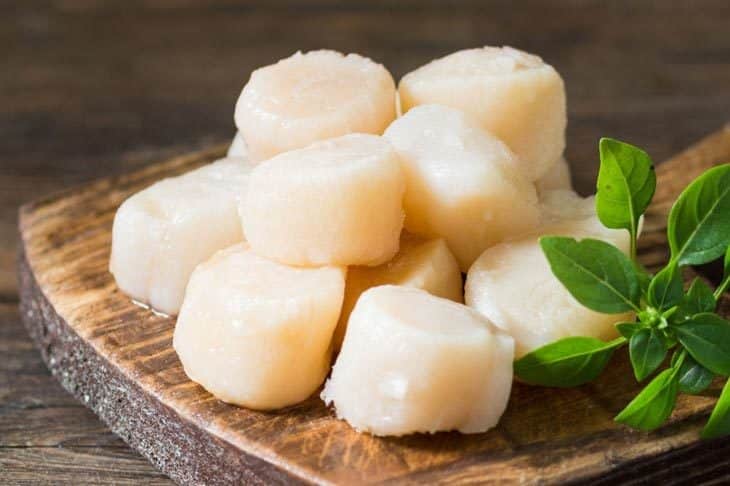 Running down for a lighter side to pair with your French onion soup dinner? Scallops, also known as" big meaty chunks of heaven", will make you as satisfied as possible!
You need to prepare a sufficient amount of scallops and season them with salt and pepper. Then, put two teaspoons of olive oil and two teaspoons of butter in the pan. When the fat starts to smoke, pour in the oysters.
Ninety seconds is the perfect time for each side of the cockle. After a minute and a half, flip the scallops and continue to bake for ninety seconds. After putting them on the plate, cover with a layer of saffron sauce.
5. Lemon And Baked Salmon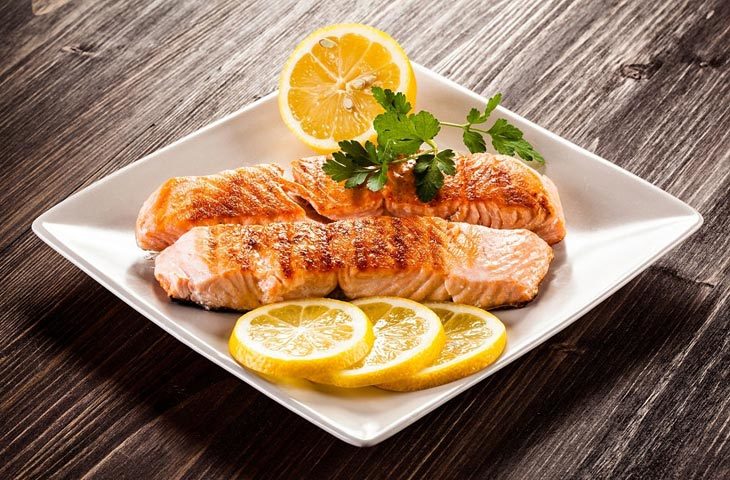 One delicately flavored side dish that we are about to recommend is lemon and baked salmon. With its rich flavor and easy-to-prepare recipe, this will be an easy dish to follow.
All you need to do is marinate the salmon with garlic, place it in the oven and bake at 450 degrees F. After about 12 to 15 minutes, cover the dish with a layer of lemon juice. And now your baked salmon will be ready to serve.
6. Wine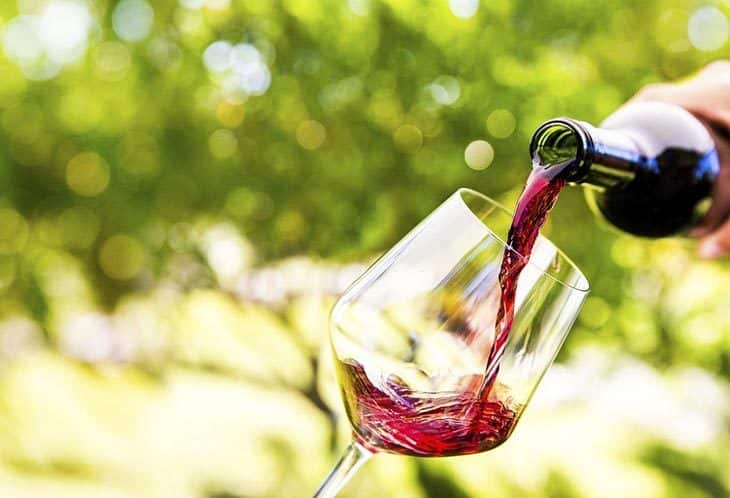 A unique combination will make a French onion soup dinner party leave an unforgettable impression. For those looking for novelty, please consider some wine. Yes, we're going to talk about wine, with two typical choices- dry white and fruity red.
Dry white wine has a strong flavor and leaves your throat feeling full. This flavor is in stark contrast to the sweetness of the French onion broth. If you are interested in this combination, try some famous dry white brands like Pinot Grigio, Chablis, or Sauvignon Blanc.
In contrast to the dry white, Fruity red wine blends sweetness and sweetness. Accompanied by French onion broth, it will melt your tongue for the deliciousness! Some fruity reds you'll want to try come from the Syrah, Pinot Noir, and Merlot distilleries.
7. Dark Chocolate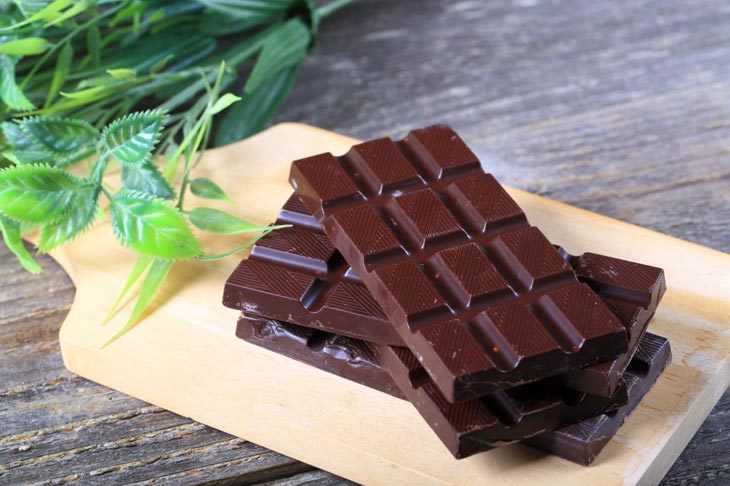 It may sound a bit weird, but dark chocolate would make a strangely perfect accompaniment to French onion broth. When you are a chocolate lover, then what could be better!
You can buy chocolates at convenience stores and will be able to use them immediately after peeling. Or, if you want something more challenging, you can try making them at home.
Use the molds to create different-shaped chocolates that will make your meal even more fun! But if you even have no idea what to do, it'll help if you follow the homemade chocolate recipe!
8. Roasted Veggies With Mushrooms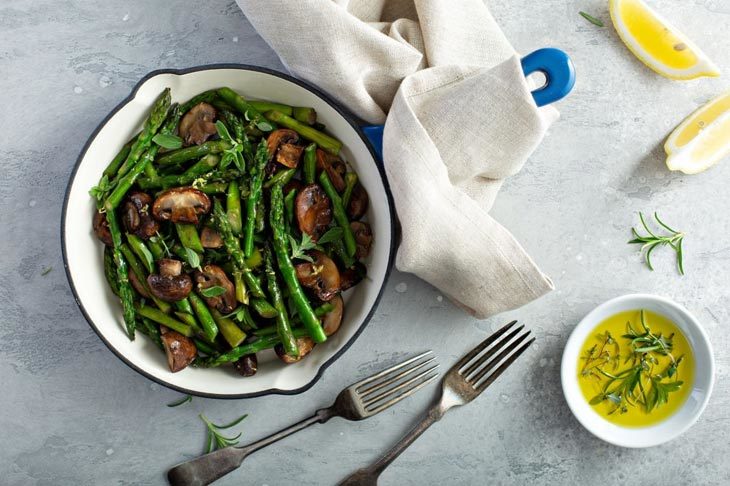 Have you tried roasted veggies with mushrooms? Don't hesitate to pair this dish with the French onion soup menu for a whole new taste.
This side's ingredients are completely plant-based, which means they are very nutritious and good for the human body. In addition, the recipes are also very easy to follow right in your kitchen.
Stir-fry vegetables with some ingredients like mushroom, tomato, onion, yellow squash, Eruca vesicaria, and other vegetables. When they're soft and watery, you can put the roasted veggies with mushrooms on a plate.
9. Lemon-Parsley Tilapia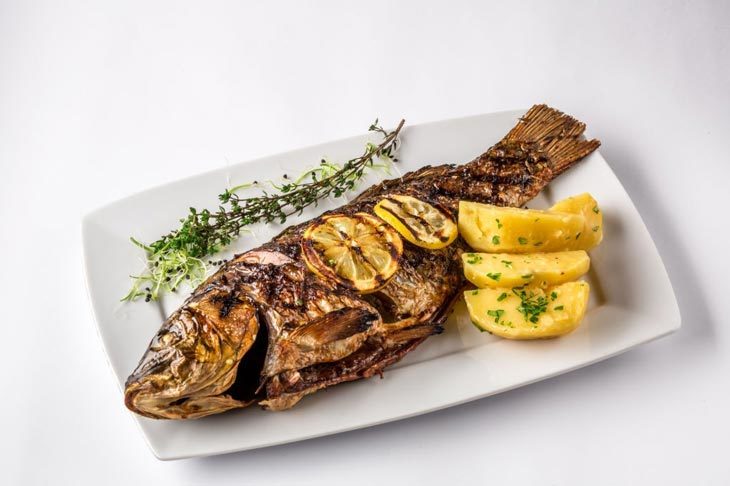 Looking for a delicious seafood dish with easy-to-find ingredients? We recommend the lemon-parsley tilapia because it will work perfectly with the French onion soup meal!
Marinate tilapia with your favorite ingredients, coat with butter and bake for 15 minutes. After topping the baked fish with a layer of lemon, what you receive will be a dish with great taste!
Tilapia with lemon and avocado will be an ideal source of protein for your body. So, choose this side every time you cook French onion .
10. Noodles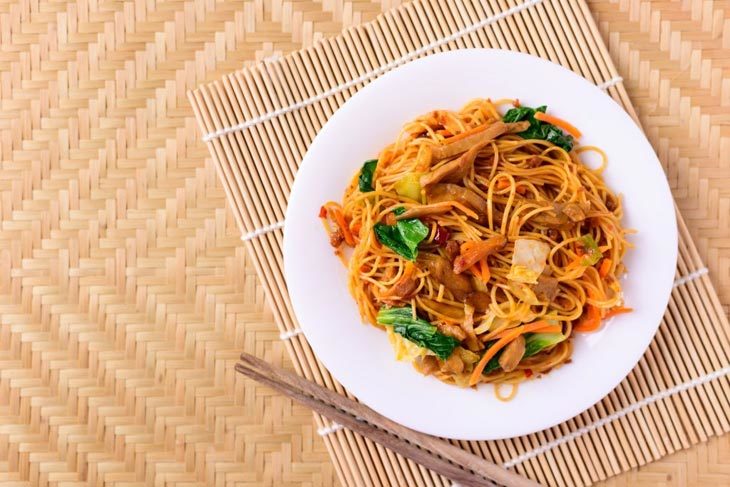 Another ideal side will surprise you when looking for a harmonious combination with the broth. Pasta and soups? You didn't get it wrong; they work perfectly!
Noodles are not difficult to buy, nor are they difficult to cook (around five minutes). When using it with the broth, you will feel each noodle containing an unprecedented aroma.
11. Homemade French Bread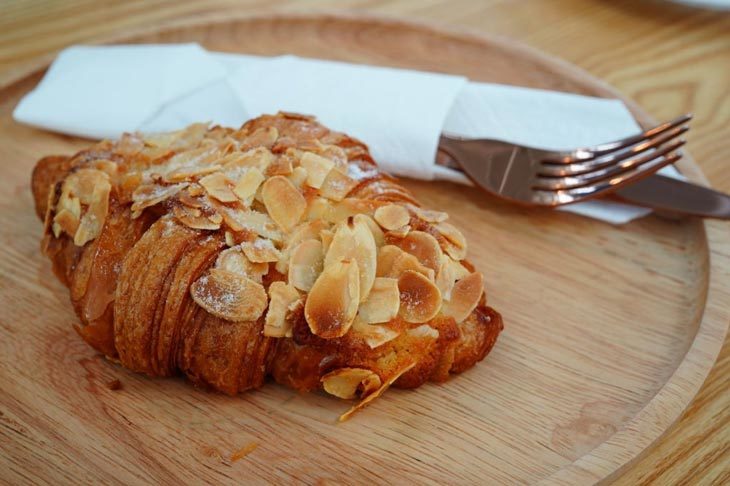 Have you ever eaten bread with s? If not, consider the homemade French bread for your Soupe à l'oignon .
You can refresh the bread by dipping it in beef stock, or topping it with a layer of parmesan or gruyere. Then, a soft, chewy French bread combined with French onion soup will melt your tongue!
12. Bread Sandwiches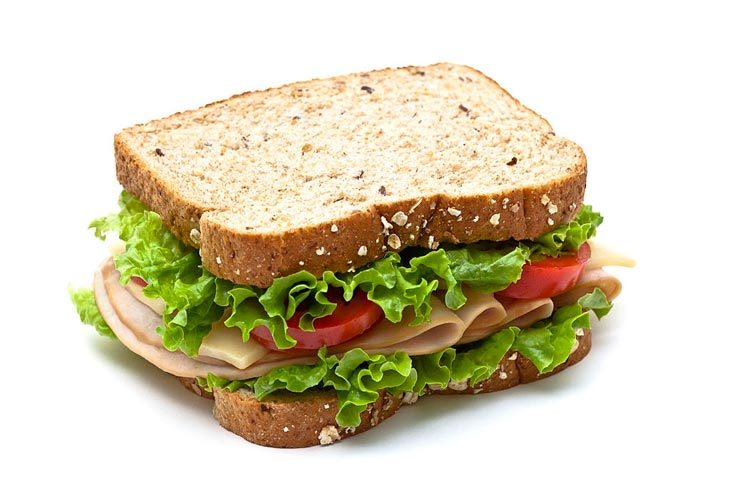 Will a sandwich pair well with French onion soup? Well, this is worth considering depending on one's taste. But if you try it with some other more novel ingredients, the taste it brings out will amaze you!
To create a sandwich that goes well with French onion soup, you should add a little mustard or aioli. Also, increase the number of green vegetables to cut down on the fat and sweetness of the Soupe à l'oignon.
A sandwich is at its best when its crust is reasonably crispy, and the food ingredients are fresh. Please stay away from high cheese sandwiches because it is not good for your health at all, believe us!
13. Grilled Cheese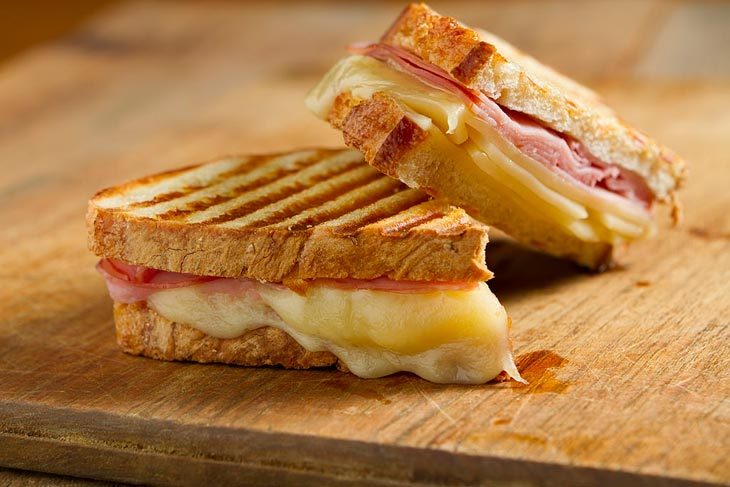 Cheese has a fairly large fat content, but its taste is paired well with a French onion soup. Of course, you can choose this side, but be aware of the amount of cheese you will use.
Combining grilled cheese for French onion soup with bacon, vegetables, or tomatoes will diversify the cheese flavor in this sandwich.
14. Roasted Garlic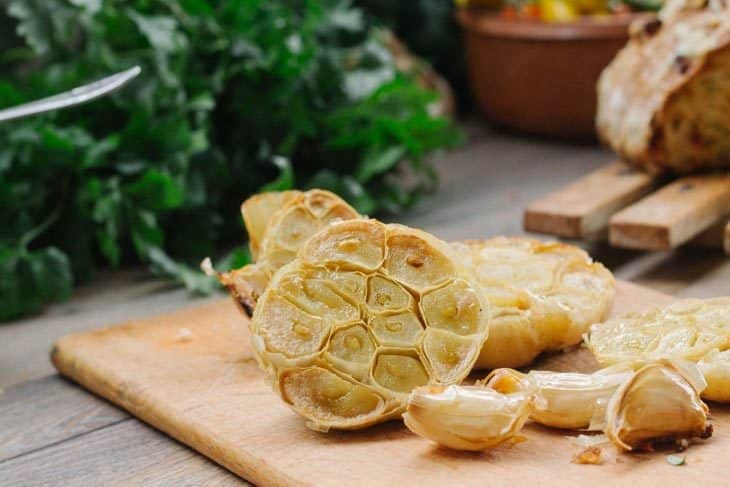 You may not like garlic because it makes your breath smell. But it can actually make your Soupe à l'oignon more perfect than ever!
Garlic is rich in protein and vitamin C, which is very good for health. Besides, it's also very easy to make – just put the garlic in the pan, add some olive oil and cover it with aluminum foil. Baked garlic is now ready after half an hour of baking in the oven!
15. Prosciutto-Wrapped Asparagus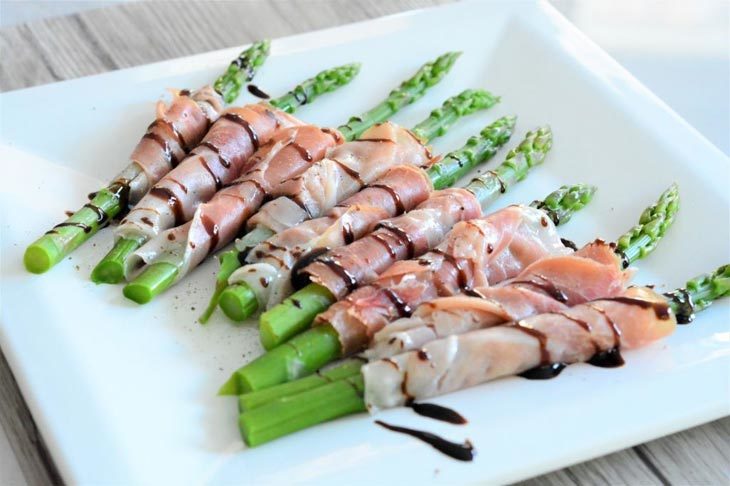 Prosciutto-wrapped asparagus makes a great appetizer and also makes the perfect companion to Soupe à l'oignon.
It would help if you wrapped the asparagus in prosciutto, then you can bake, grill or even fry them. And so, a batch of low-carb asparagus is out of the oven!
Depending on your taste, you can combine asparagus with Parmesan cheese, ground pepper, or garlic butter. Good luck with your Soupe à l'oignon!
16. Farro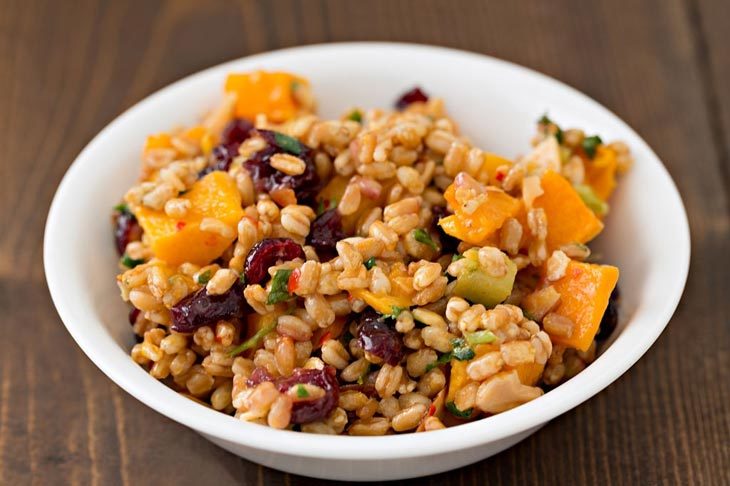 Looking for a unique yet effective combination? If so, try farro- a unique cereal thriving in Italy!
Farro is nutritionally richer than wheat and barley. Also, it stands out because of its chewy texture and mouth-watering flavor.
Farro is also much simpler to prepare than other grains. You need to boil a pot of salted water, then drop in the farro and stir well. Once the pickling farro becomes tender, drain and spread evenly in a large tray.
After about twenty minutes of cooling, you can mix farro into French onion soup and enjoy it immediately.
17. Crudité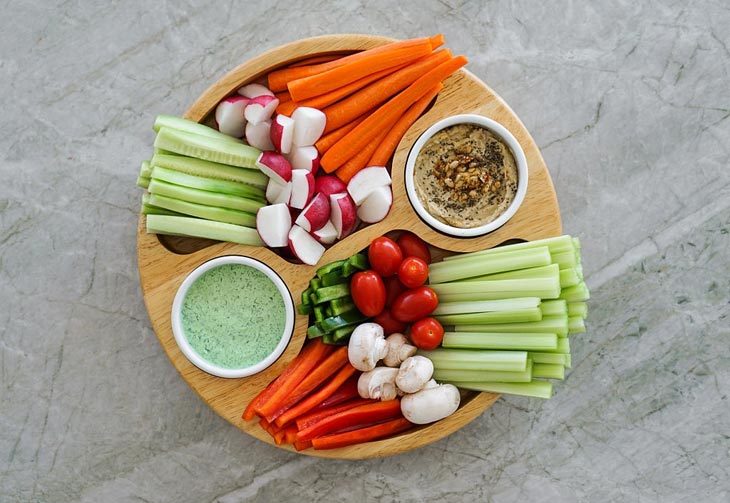 Crudité is the perfect choice for those who want a healthy, balanced diet, as it blends nutritious vegetables.
Crudité is easy to prepare and does not require too many ingredients. Moreover, its taste is also great to pair with cheese-rich dishes like Soupe à l'oignon.
Here is the recipe for those who want to make some homemade crudité platter.
18. Croque Monsieur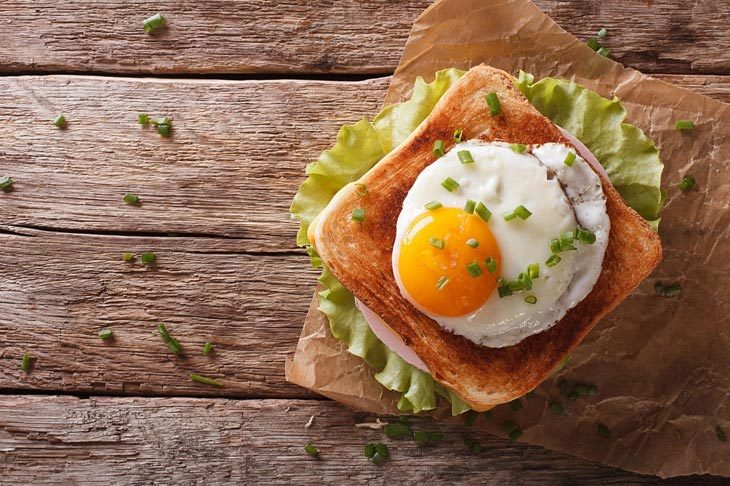 Croque Monsieur is a famous French crispy bread. It looks a bit like a grilled hamburger and a gruyère cheese sandwich as well.
The melted cheese gives the Croque Monsieur a mouth-watering aroma and rich flavor. Of course, it makes your French onion soup more delicious than ever.
Some Last Words
Finding an ideal side for Soupe à l'oignon epends on many factors, such as your budget, your preferences, and the amount of time you can afford. That's why before making a purchase, you always need to consider this problem carefully.
Through this article, we hope you have chosen what to serve with French onion soup. Now, it's the perfect time to give it a try! Roll up your sleeves and start cooking now!