You plan to turn the leftover cooked rice into a hearty and delicious dish. Yet, you wonder if you can serve it with other dishes to make the casual meals unforgettable.
Fortunately, yes! Tons of meals can be made with fried rice that are sure to delight your guests. We will introduce them to you right away!
So, wait no more! Let's scroll down the parts below to find out what to serve with fried rice to bring out fantastic meals.
What To Serve With Fried Rice? Top 14 Ideas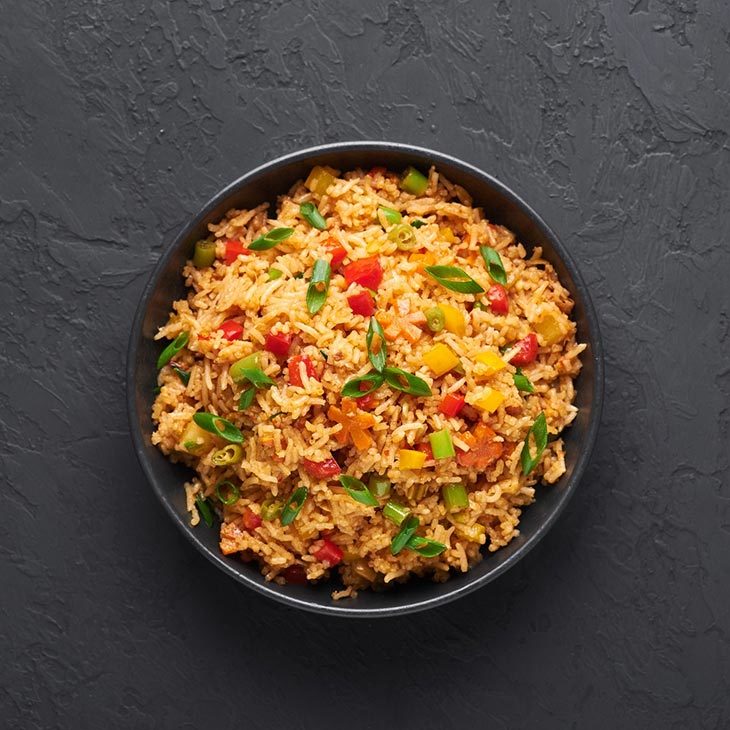 The answer might depend on the fried rice type you intend to make. Here we provide a top menu for fried rice so that you can easily pick the most suitable dish for your favor.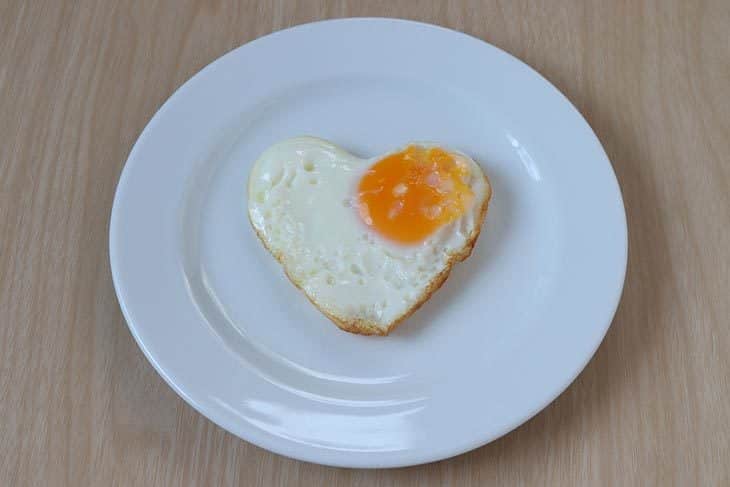 Wondering what goes well with fried rice?
The fried egg is the simplest side dish as you can easily make it in less than five minutes.
There are multiple versions of fried eggs, including sunny-side-up, over-easy, over-medium, and over-well. Among them, we highly recommend you go for a sunny-side-up egg with one fried side and beautiful raw yolk.
Add the fried egg on the top of the rice and leave the runny yolk to add richness to your main dish.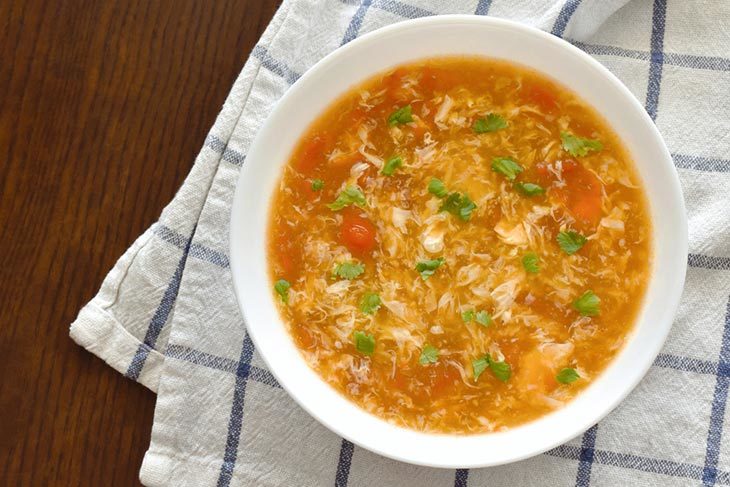 Egg drop soup is among the simplest-to-make chicken fried rice sides.
You can make this staple by whisking the beaten eggs in chicken broth and seasoning with a bit of salt and pepper. Besides, you can add tofu and finely chopped scallions to the soup.
This Asian soup comes with a mild flavor that helps to balance the flavored and hearty taste of the dish. It is also well-known as one of the most fabulous starter sides for fried rice.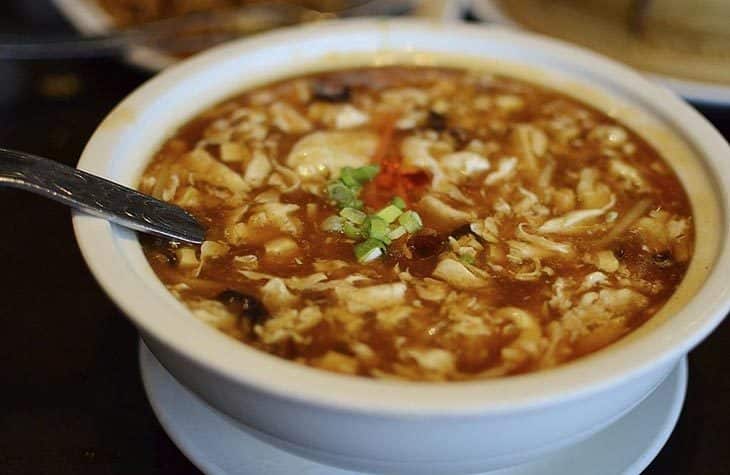 Now, let's move on to another famous soup in Asian cuisine – hot and sour soup.
As the name suggests, this Asian soup offers a spicy and sour taste that helps to stimulate the taste buds. As such, it is not only a good side dish for fried rice but also a delicate appetizer for multiple meals.
So, is it simple to make this soup?
The difficulty depends on the version of hot and sour soup you go for. If you opt for the basic one, you only need a few ingredients, such as tofu, mushroom, broth, seasonings, and around 30 minutes to complete this tasty soup.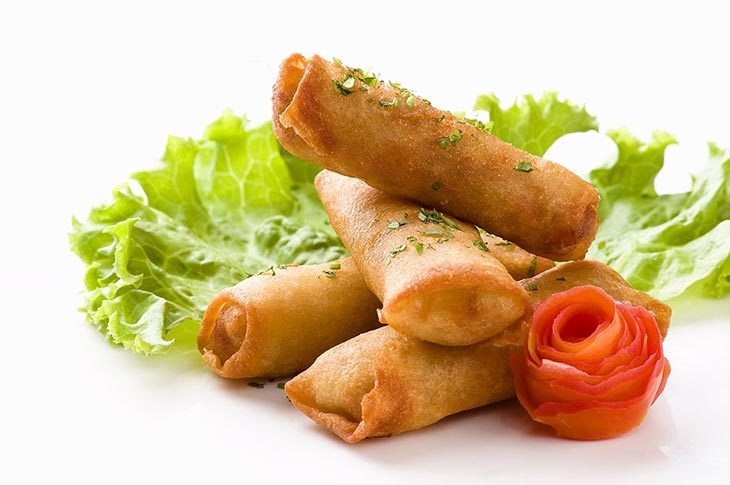 Another food to serve with fried rice – egg roll, the savory Asian roll with complex flavor.
It is simple to make egg rolls by combining the ingredients, including ground pork, shredded cabbage, carrots, and seasonings like salt, soy sauce, pepper, and sesame oil.
Wrap and fold the filling in an egg batter to create small rolls. Then, fry them in a pan over moderate heat, occasionally turning until browned all over.
When completed, you will have egg rolls crunchy on the outside yet soft inside.
Furthermore, the egg roll makes a famous appetizer in East Asian cuisine when enjoyed with dipping sauces, such as ginger soy sauce or spicy peanut sauce.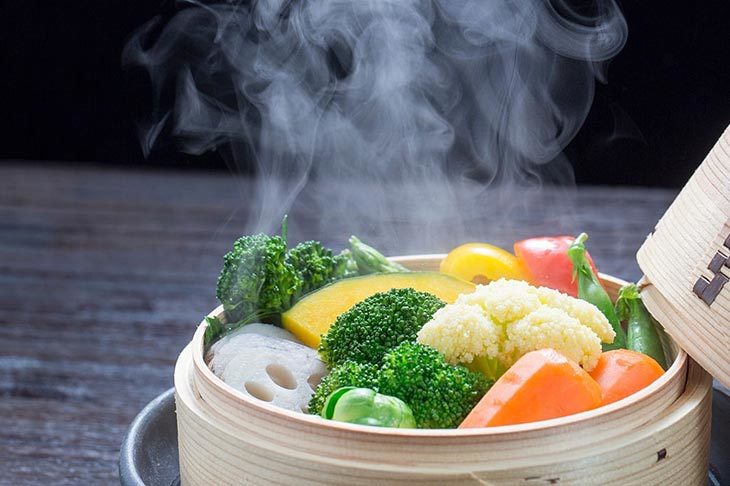 What if you are a vegan? What to serve with fried rice vegan?
In that case, steamed vegetables would be the best dishes with fried rice because they are quick to cook and very healthy.
You can pick any fresh veggies you prefer, such as carrots, broccoli, baby corn, or bok choy. Rinse them with water and cut them into small pieces.
Then, you put them into the boiling pot and cook for around two minutes. If you want additional flavor for the steamed vegetables, you can add a bit of pepper and salt to the boiling water.
After that, take them out and rinse with cold water to make them more crispy. This is how you have healthy sides to go with fried rice.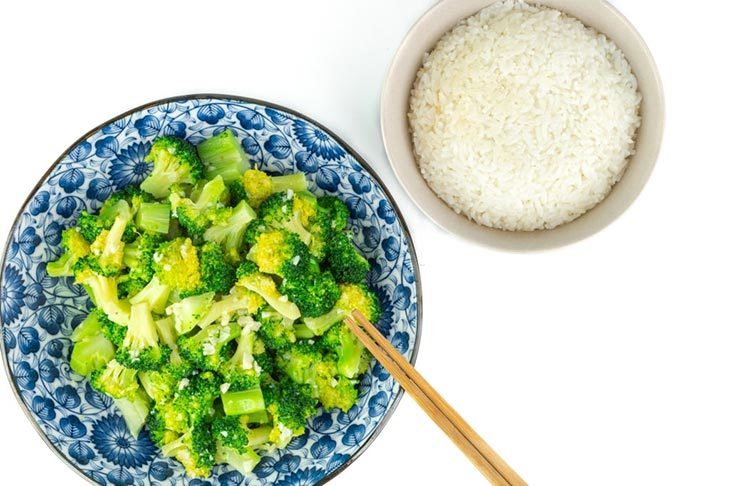 Wondering what to serve with vegetable fried rice if you are a big fan of veggies?
Let's try Chinese Broccoli (Gai Lan), one of the healthiest Chinese leafy greens. This dish is quite popular in Chinese cuisine due to its tastiness and nutrient-richness.
Preparation is quite simple, requiring you to stir-fry the broccoli with seasonings in medium-high heat for a couple of minutes.
The secret ingredient for this side dish is the clear rice wine which stimulates a cleaner and milder flavor.
Due to its gentle taste and low protein, this side dish is also a great choice if you are looking for what to eat with chicken fried rice.
Related article: Broccoli Substitute – The List For Veggie Lovers!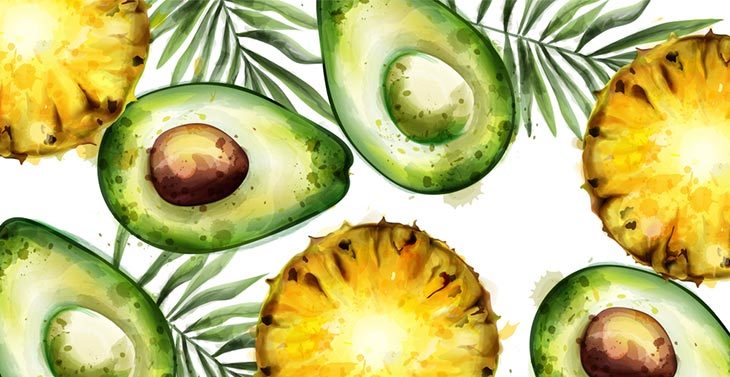 What to pair with fried rice when you want to bring fresh air to it? Let's try grilled pineapple-avocado salsa.
All you need to do is to slice the fresh pineapple and ripe avocado into medium chunks so that you easily fork them in with every bite.
Then, combine the pineapple chunks with oil and honey and grill the mixture for a few minutes. When the mixture is cool, add the seasonings and toss with avocado.
Here you have a beautiful and savory side dish for chicken fried rice with ease.
Chinese dumplings (also known as Jiaozi) are among those best side dishes for fried rice in Asian cuisine.
Although they are available in different fillings, such as pork or shrimp, the dumplings always taste delicious and juicy.
The process of making dumplings at home is quite time-consuming as you need to use flour & water to make the dumpling wrappers.
As such, we recommend you purchase the ready-made dumplings. This way, it only costs a couple of minutes to steam or pan-fry the dumplings.
Related article: How To Reheat Dumplings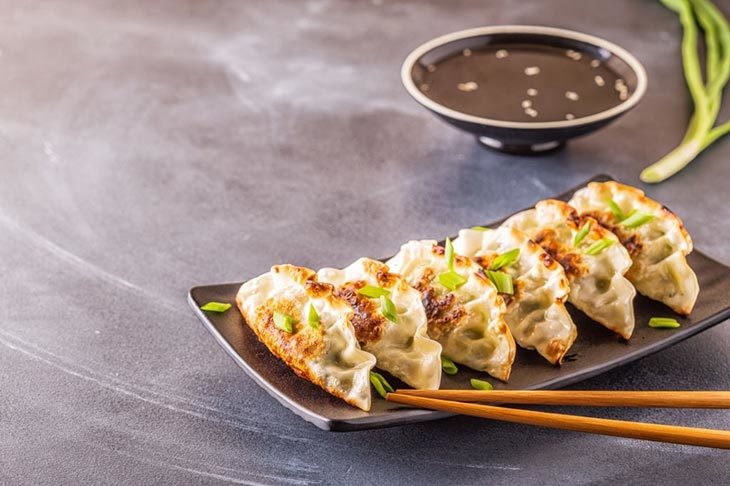 What to serve with Japanese fried rice? Why don't you try the famous Japanese dumplings – Gyoza.
Like Jiaozi, Gyoza offers a mouthwatering taste due to the juicy filling made from either vegetables or minced meat.
So, what are the differences between the two Asian dishes to eat with rice?
Well, the main difference is the cooking method, as Gyoza involves both pan-frying and steaming.
The cooks start by frying them in a hot pan until crispy brown on the bottom sides. Then, they add a small amount of water before covering the pan to steam the entire dumplings.
Hence, Gyoza will feature the best mix of textures – crispy bottoms and tender, soft tops. Also, the delicious juicy filling will make you fall in love at first bite.
For these reasons, Gyoza has always been one of the most-preferred fried rice dinner ideas in Japanese cuisine.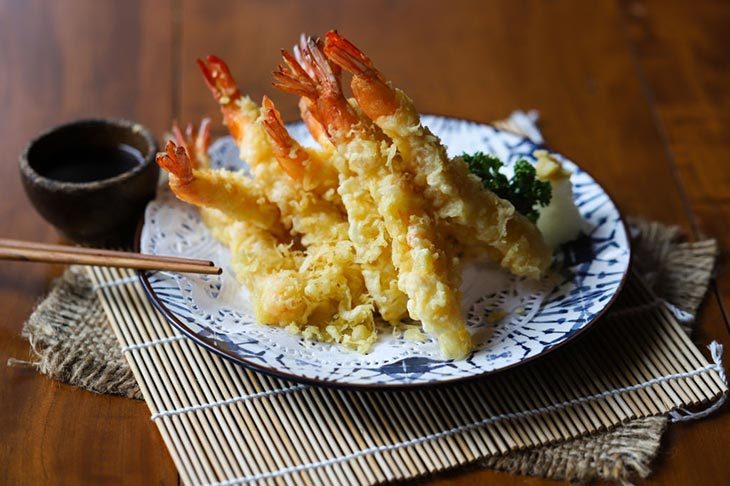 Tempura has always been on the top list of what to have with fried rice.
The taste of tempura varies depending on the ingredients used as its base. Among the options, shrimp is the most popular one (also known as Ebi tempura).
Shrimp with fried rice makes such a heavenly Japanese meal due to the contrast of flavor. The shrimp offers a gently sweet flavor with the crispy batter, while the rice is bold.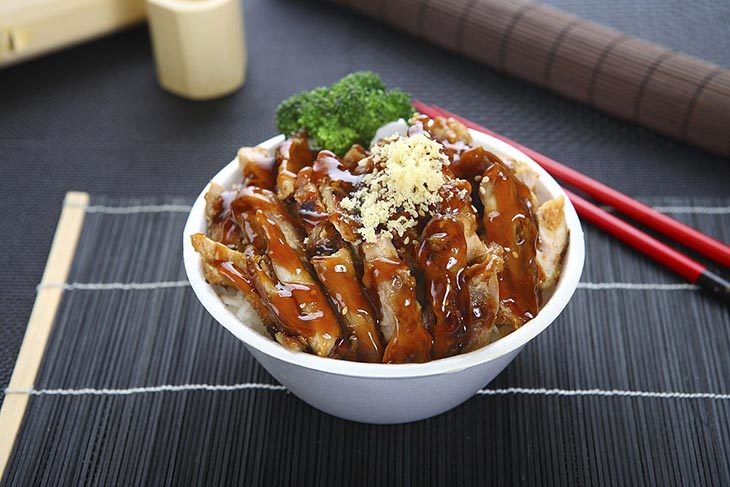 What goes with fried rice for dinner if you want a Japanese-inspired meal? We suggest you try chicken teriyaki as it has a wonderful sweet and smoky flavor.
However, chicken teriyaki is meaty and protein-rich. You might need to add other food ingredients such as carrots, broccoli, onions, leeks, and garlic to help balance the flavor and nutrients.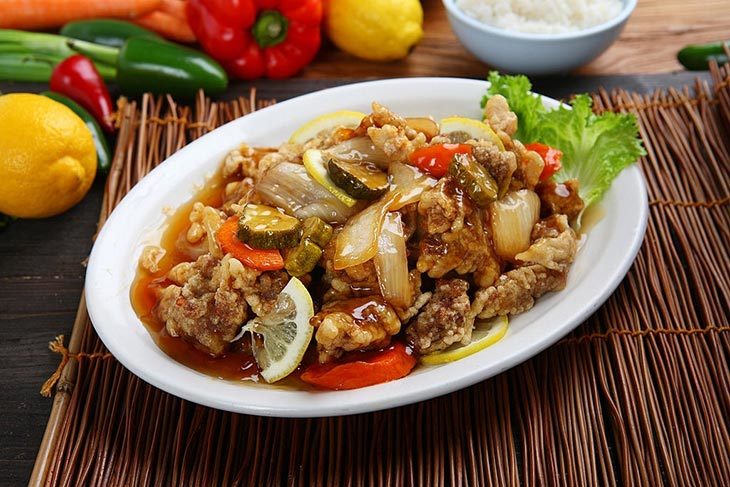 What else to eat with fried rice? Sweet & sour pork is a good side dish due to its simple cooking process and delicious taste.
You have to make the batter first by combining salt, flour, water, pepper, cornstarch, and baking soda. Then, dip the pork into a batter for deep-frying until they turn golden.
What about the sauce-making process?
You need to mix soy sauce, white vinegar, ketchup, sugar, cornstarch, and water in the pan at low heat. Add the pork cubes when the mixture is well-blended. Then simmer the combination.
After that, garnish the dish with onions, and you will have such a beautiful dish to enjoy.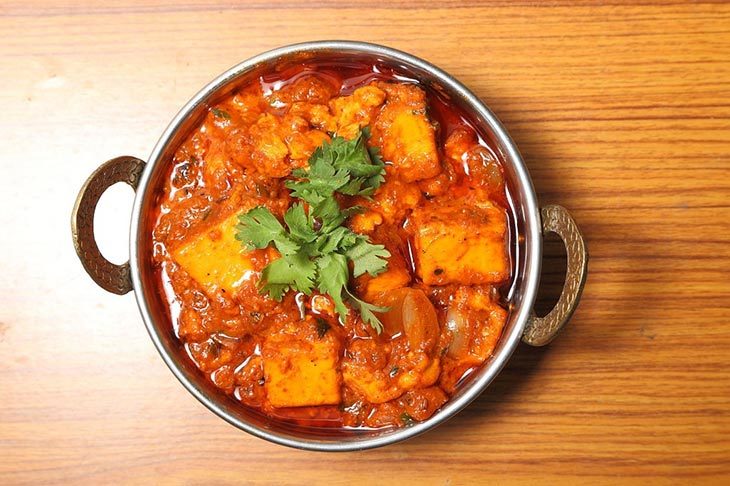 What to make with fried rice for Indian weeknight dinner? Let's try Paneer Pepper Masala (or Paneer Kali Mirch) and blow your guests away with its distinctive flavor.
Paneer, also known as ponir or Indian cottage cheese, blending with freshly ground black pepper creates a unique creamy taste with a hint of spiciness.
Also, it is easy to make at home in less than 30 minutes. Thus, if you are looking for a simple yet tasty side dish for fried rice Indian, consider Paneer Pepper Masala first.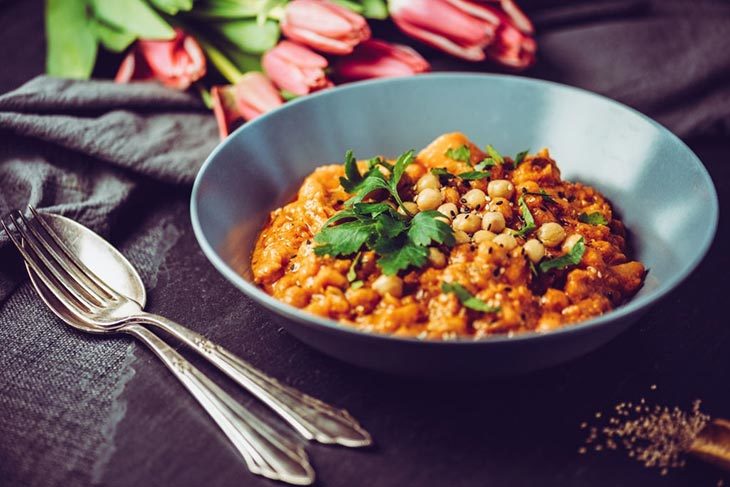 This vegan is so simple to make that anyone can easily make it regardless of their cooking experience.
First, you will need to cut potatoes into small chunks and fry them with onion, adding sliced red bell pepper, tomato sauce, and chili powder.
After that, add a bit of water and more veggies of your preferences, such as chickpeas, cubed carrots, or zucchini chunks. Season and simmer the mixture for a few minutes.
That is how you create slightly-spiced chickpea potato curry to serve as the main dish to go with fried rice.
How To Make Yummy Chinese Fried Rice
Here, let us give you the ultimate method to make the perfect dish:
First of all, scramble eggs in the pan and make them break into small pieces. After that, put the eggs on one side and prepare for the other ingredients!
Heat up pieces of carrots, peas, onions, or garlic (depending on your taste).
Now, put the rice inside the pan and start stirring the combination of rice and vegetable at high heat. Add some soy sauce or oyster sauce to enhance the flavor.
Once the color of the food slightly turns brown (around three minutes), turn off the heat!
Taste the rice to check if it needs more seasoning.
Finally, serve the rice on the dish and enjoy!
Conclusion
Fried rice is a hearty and colorful dish on its own. Yet, you can consider serving it with other dishes to take the meal to the next level.
So, which one is your most favorite? Do you have any other recommendations on what to serve with fried rice?