What To Serve With Quiche – 14 Great Side Dishes To Go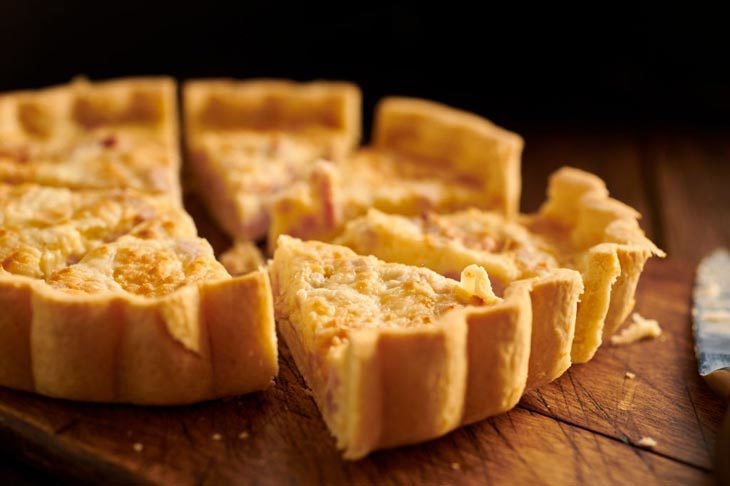 Everyone loves quiche – a hearty, delicious dish that's super easy to make. It's also a good main dish to be served at the family dinner table!
The tart can go with almost anything. However, the dish itself is enough to make the main character of the party, so it will be a bit heavy if you serve it with another main course.
To make sure you have a delightful quiche meal, check out this article for several choices of what to serve with quiche. Keep scrolling down to find out!
What Is A Quiche?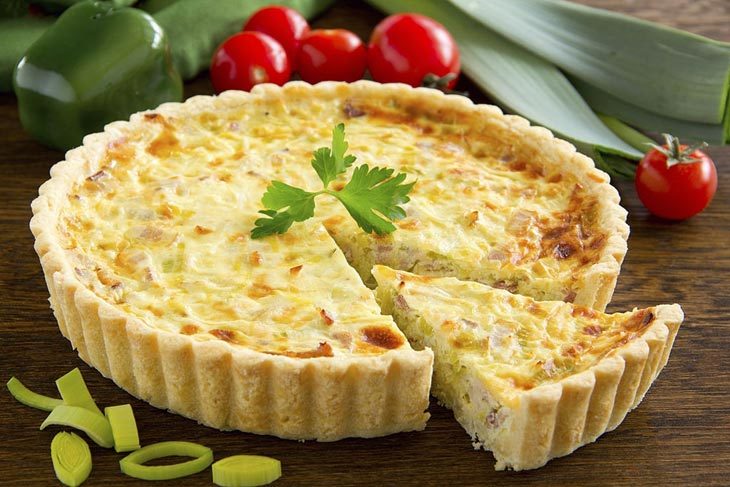 It is a kind of egg tart that originated in France. With a pastry crust, the inside of the food is usually a savory filling. People often use meat, seafood, vegetables, and cheese, but the most famous is the Lorraine quiche, which is filled with lardons or bacon.
As the food can be prepared in many different ways, it has become very popular and appears in most Western cuisine cookbooks. You can even turn it into a vegetarian dish to suit your taste and health.
A dish of this egg tart provides carbohydrates from the crust, proteins, and vegetables' fiber from the filling. It basically has almost all the nutrients that are required for a meal. Besides, it is also high in calories, so people usually have them without any side dish.
People prefer to serve the pastry at brunch or lunch, as it will be a little heavy to eat for dinner.
How to eat quiche?- It will be cut into slices like a cake and shared with everyone. Indeed, the pastry is too big for one person to jump in and finish the whole dish.
What To Serve With Quiche – Side Dishes That Won't Make Your Meal Too Heavy
As mentioned above, the pastry is plentiful enough to be eaten on its own without any accompaniment. But if you are serving a meal to a large number of people, it would be a bad idea to just top it off with this dish alone.
In that case, here are some suggestions for what to pair with quiche to keep your meals filling but still light.
Tomato Soup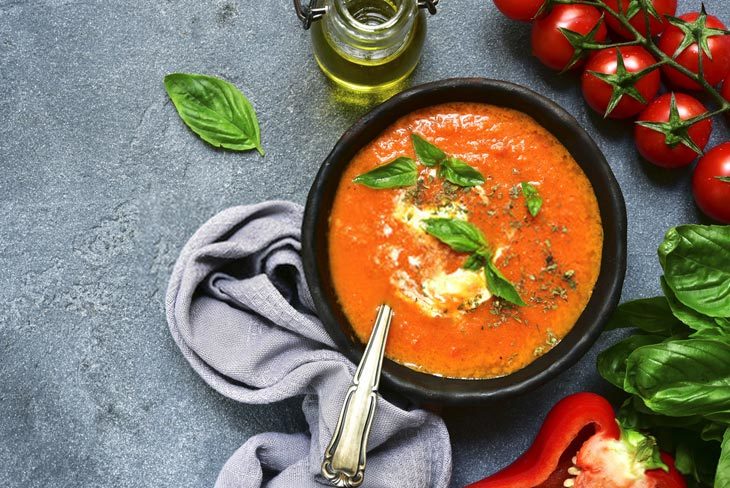 One of the perfect sides for quiche – tomato soup. It is as pleasing and delicious as it is easy. Prepare the ingredients, put them in one pot and let the stove do the work.
You'll have time for a chat instead of spending most of the meeting hunched over in the kitchen.
As the egg tart is rich and savory, the mild sourness of tomato soup will lessen the bitterness and create an interesting contrast in mouthfeel.
Especially suitable if you serve tomato soup with a cheesy egg tart, it will be the perfect piece to complete your meal.
Green Salad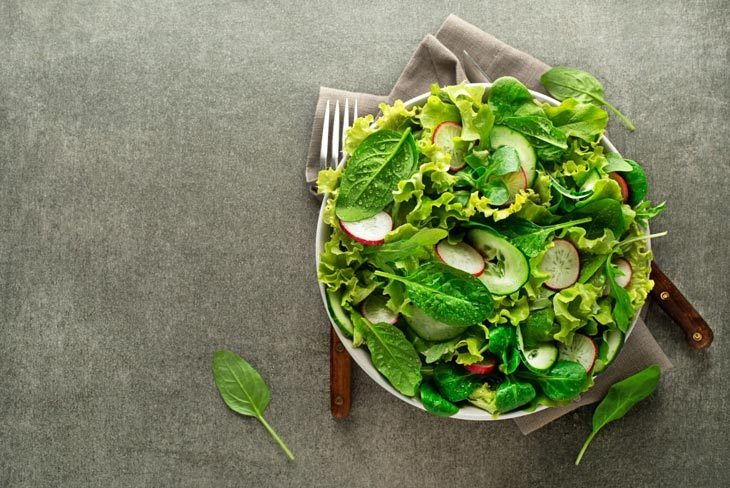 Maybe the French tart itself is perfect already, but what's wrong with adding a little color and texture? Have you ever tried a delicious salad with quiche before?
This is a simple salad that is easy to make but still tasty. Furthermore, it is one of the most refreshing quiche sides, which can add fiber to help ease the metabolism of protein in quiche. What can go wrong when having green salad with quiche anyway?
Another good thing about this dish is that you can use the greens you like-Aroma greens, cabbage, or lettuce will do. Add some salad dressing, and your job is done!
Chicken Soup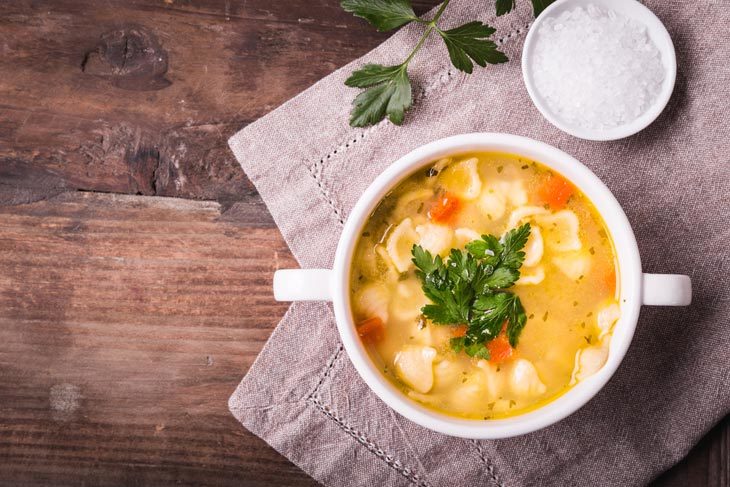 Conversely, if you're serving a veggie and cheese-free meal, you'll need one of the rich side dishes for quiche. In this case, consider making chicken soup!
Especially during the chilly months, it is perfect for you to serve chicken soup as an accompaniment. The meal will warm you up and help balance out the meal with a veggie quiche.
Italian wedding soup or chicken noodles are all great options. The chicken broth is delicious and flavorful, but it won't be as greasy as the red meat broth.
Fruit Salad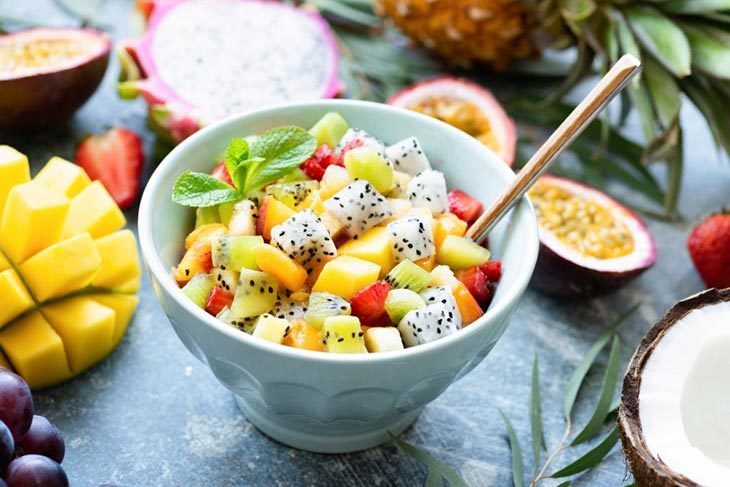 Another perfect answer to what to serve with quiche for brunch is fruit salad. Not only is it easy to eat, but it's also simple to prepare and can be taken anywhere if you're busy in the morning.
Combine your favorite fruits; it's especially delicious if you use crunchy fruits like apples and pears in combination with berries.
Cut them into bite-sized pieces, add dressing like yogurt and honey to your liking, and you've got a refreshing salad to eat with the French pastry.
Make sure that you use fresh fruits, as fresh food ingredients are always better. You can keep the fruit cold in the refrigerator for a cooling sensation when eating. Additionally, it's most suitable for eating in the summer for camping or outdoor meals.
Biscuits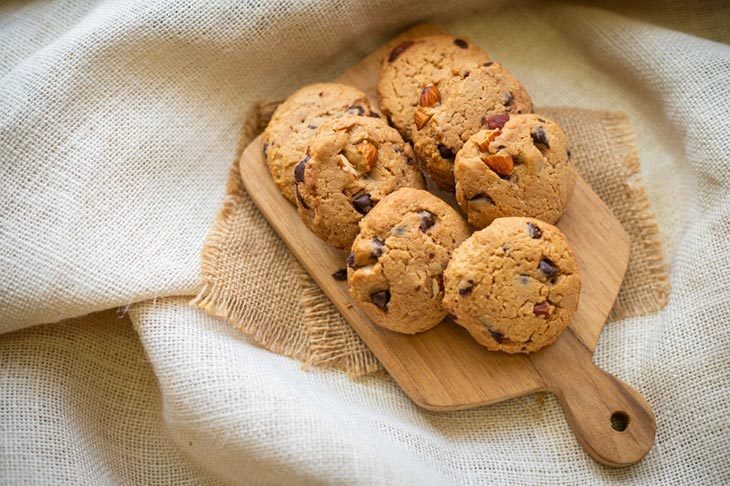 Surprising, isn't it? An interesting choice among sides with quiche. It's not exactly a dish, but it will be a fun element, adding a crunchy feel to the meal.
This will save you from overeating and have something other than the egg custard for you to change up your taste. This ensures that you won't get bored from eating only quiche.
This is also a good option if you are wondering what to serve with quiche for breakfast. You won't want to do much in the morning, and biscuits are a quick option. Dip the biscuit with gravy or whatever sauce you want for a change of taste while eating.
Roasted Vegetables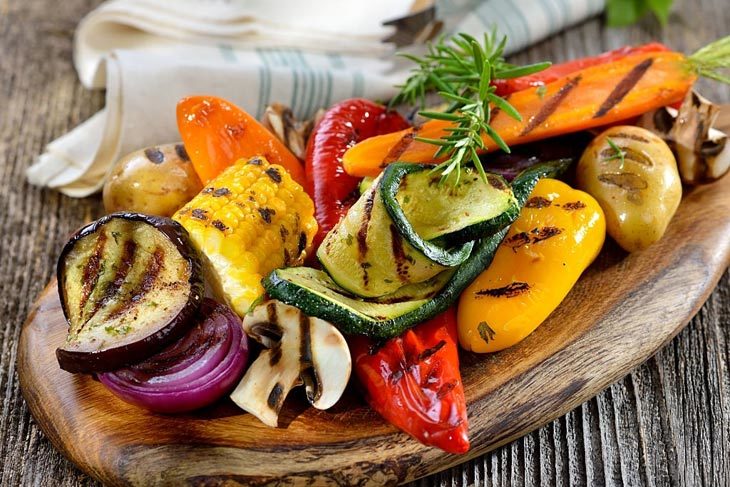 What's quicker than roasted vegetables as a side dish for quiche? You just need to prepare the vegetables you like, such as asparagus, broccoli, or beetroot. Put them in the oven, and let it do its thing.
Moreover, this is also a suitable answer for what to serve with quiche for dinner. It's light enough to go with a savory quiche. Roasted vegetables will provide enough fiber to help support digestion, making sure you don't feel bloated in the evening.
Jacket Potato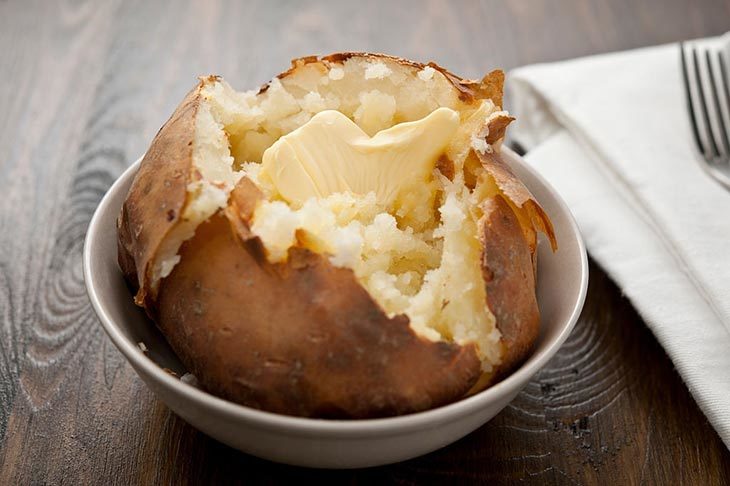 One of the best side dishes for quiche, and also works with many other dishes, is jacket potato.
In European cuisine, it is a healthy and appetizing breakfast dish. But it can perfectly become a side dish for the egg custard. Who can resist soft, hot, creamy potatoes with a hint of butter and tempting cheese?
Has anyone told you that it is very easy to make a potato jacket? Put a big potato in the oven. Make sure to poke it first, so it doesn't explode, then coat the outside with a little olive oil and salt for crispy skin when baking.
Once the potatoes are done, while they are still hot, open the potatoes and put in a knob of butter and a handful of cheese. You can serve it with some baked beans or bacon; it will enhance the savor of the custard and make the meal more hearty.
Pumpkin Pie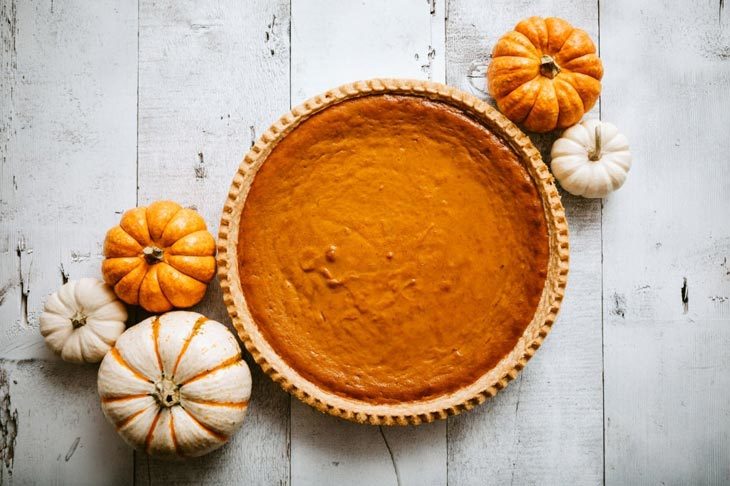 If you want a sweet dessert after the main meal, look no further than pumpkin pie.
If there's a light appetizer like carrot or tomato soup as suggested, it would be the perfect menu with quiche. It will be even better if you have them in the fall, as pumpkin pie will bring out the best festive harvest and thanksgiving atmosphere.
Pumpkin pie has a creamy, silky, smooth consistency of pumpkin puree and milk. A touch of sugar will accentuate the sweetness of the pumpkin. Indeed, combined with a slightly salty dough base will be the perfect balance for the rich pastry!
New Potatoes Coated In Butter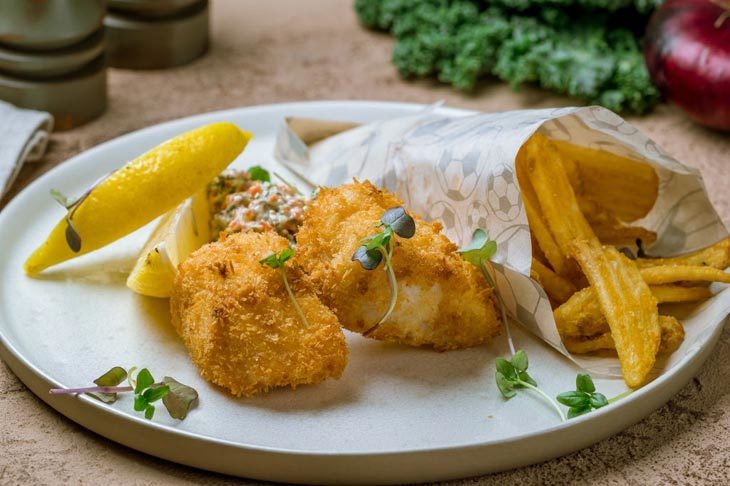 Here comes another excellent choice for what to eat with quiche. If you are a fan of potatoes, try to turn new potatoes into a wonderful side dish with your custard.
Make new potatoes covered in butter by scrubbing the potatoes first. New potatoes don't need to be peeled; just make sure you rinse them thoroughly to get rid of the dirt. Then, boil them until soft.
Take them out after the potatoes are cooked. While they're still hot, immediately add a generous amount of butter so the butter can coat the potatoes evenly. Finally, chop a little bit of coriander like parsley or coriander to enhance the flavor of the food.
Sauteed Mushroom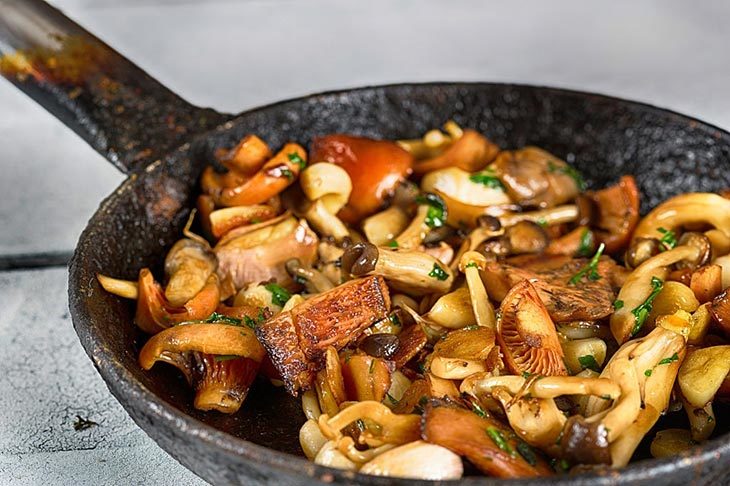 Mushrooms are an easy-to-find ingredient and are favored by many people. They are easy to eat, easy to prepare, and they grow all year round. For quiches, mushroom creminis are top-recommended.
It is one of the quickest quiche side dishes. Sauté the mushrooms with a little olive oil and butter to give them a more appealing smell. Wait until they are golden brown, then your sauteed mushrooms are ready.
Their sweet crunch will satisfy your taste buds when served with the tart. Even the pickiest eaters can't resist these tempting mushrooms.
Beverages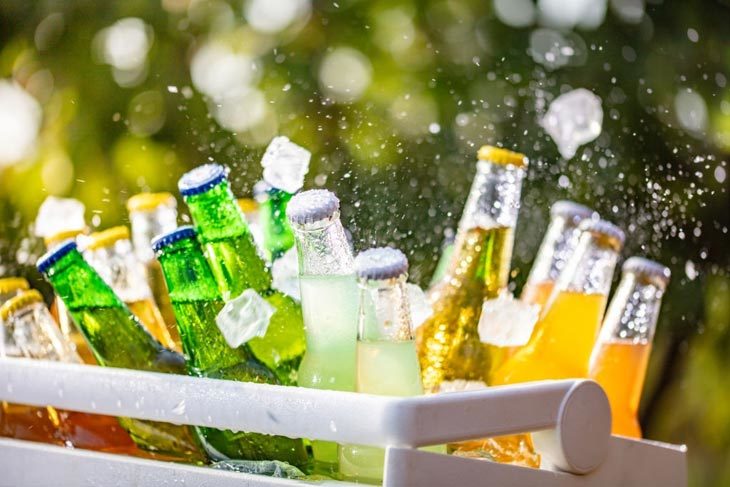 No need to wonder what pairs well with quiche anymore. While this isn't exactly a side dish, it's undeniable that every dish becomes much savory and complete when it comes with a drink.
Any beverage will go well with this food; you just have to choose according to personal preference – Wine, coffee, cocoa, sparkling water, or plain water are all fine.
Beverages help improve your savor while eating. It will wash away all the flavors in your mouth for a while, so you can enjoy the full flavor of the dish right after. Not a bad choice, right?
Slaw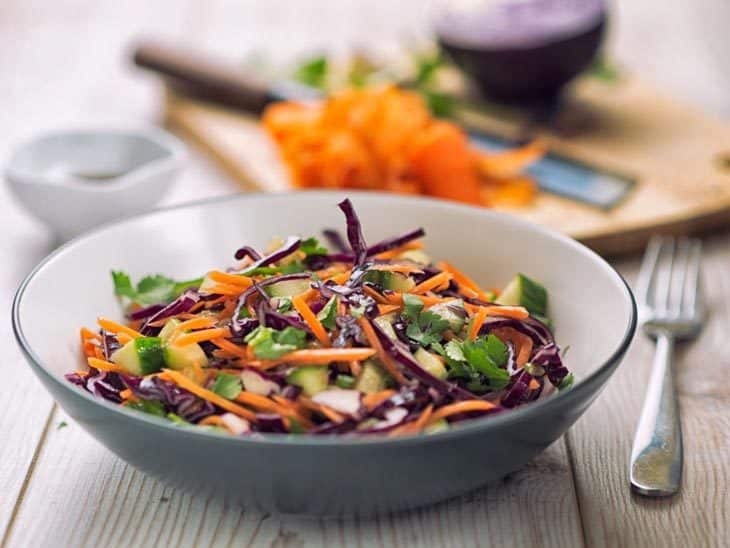 It's not even a comeback, for it has been here for ages. An immediate answer for what goes well with quiche is slaw, and it also works well with lots of other dishes.
You also can't mess up a slaw anymore because slaw is meant to be messed up. In particular, it is a combination of a lot of vegetable ingredients that provide you with a lot of proteins.
Crispy ingredients will give you a crunchy, cold bite of vegetables. It will refresh your palate and keep you from getting fed up with a rich quiche.
Cornbread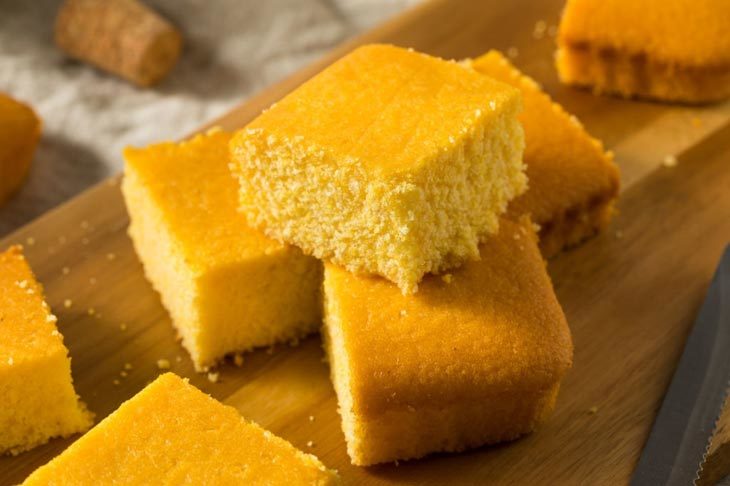 Cornbread is easy to prepare, easy to eat, and easy to store. Whenever you eat the eggy pastry for breakfast, lunch, or dinner, cornbread is always a go-to choice.
Frequently Asked Questions
Can I Preserve Quiche In The Fridge?
Yes, of course. You can freeze it once it's finished baking and keep the food edible for up to 4 months. Keep it in the pan you used to bake it and cover it with cling film. Finally, wrap everything in foil, and store your pastry in the freezer.
How Can I Reheat Quiche?
To reheat this food, you can use either an oven or a microwave. For an oven, set it to 350-degree F and reheat for 15 minutes. Or you can microwave it for 2 minutes.
It's best to allow the custard to reach room temperature before reheating so that it can be heated evenly. Lastly, make sure you let it reheat thoroughly before eating to avoid stomach upset.
Can I Eat My Quiche Cold?
One nice thing about the pastry is that you can eat it hot or cold, as long as it's cooked properly. However, eating it warm will help you feel the buttery taste and aroma of the food better. But it is perfectly safe to eat it cold the next day after you make it.
However, it would be a bad idea to defrost the French pastry and consume it without reheating. It will not taste good at all, and there will also be a risk of causing digestive problems.
Conclusion
The article offers several options for what to serve with quiche if you haven't any idea. Consider making one of the suggestions above, or feel free to make a side dish that is not on the list.
Just make sure that it won't overpower the main dish.