It looks complicated, but vegetarian white pasta sauce recipe is so easy to make for family meals. If you are looking for the full recipe for this dish, please scroll on down to find it below.
How Many Calories Are in White Bean Pasta Sauce
White beans have high nutritional content and are especially rich in vitamins.
Every 100 grams of bean pasta sauce contains 2.04 mg of vitamin A, 14 mg of vitamin C, and a small amount of B vitamins. It contains only 0.4 grams of fat and about 2.3 grams of protein.
The mineral composition in this white bean alfredo sauce is also quite high and rich, in which sodium accounts for about 320 mg, potassium 260 mg. In addition, there are other substances such as calcium, iron, magnesium, and phosphorus.
The nutrient content of white beans also works to prevent the synthesis of starch molecules in the body, reducing fat accumulation and creating a feeling of fullness for a long time, suppressing appetite.
Besides, in the nutritional composition of beans, there are many antioxidants, which fight free radicals that damage the body, slow down the aging process, and prevent cancer naturally.
White beans or any other bean substitute are also good for the heart as they reduce arthritis symptoms, and prevent bowel cancer.
Rich in protein, fiber, and low in fat, white beans do wonders for people with cholesterol in the blood, picky eaters, and relieve fatigue and pain.
How To Make White Bean Pasta Sauce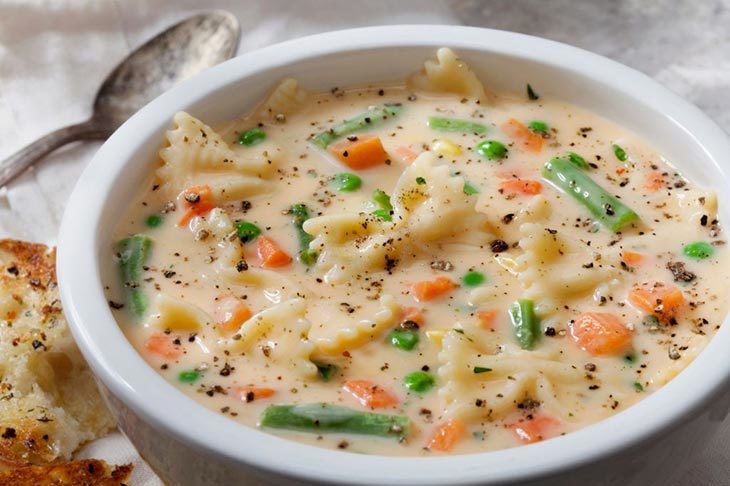 Prepare the ingredients
First, to make the white bean sauce recipe, you need to wash the beans and soak them in water mixed with a little baking soda.
Baking soda can soften beans quickly because when hot or reacts with acidic substances, this ingredient will release CO2.
Therefore, you can save processing time and make beans softer. Besides, soaking Baking Soda also works to detoxify, clean beans, remove dirt, pesticides, and preservatives.
In addition, you will also need the following ingredients for a perfect cannellini beans pasta sauce.
Butter
Extra-virgin olive oil
Whipping cream
Cream cheese
Italian seasoning
Salt
Black pepper
Freshly grated Parmesan cheese
Make The Sauce
First, put the beans in a pot of water and boil them. Add ½ teaspoon salt to make the beans taste better.
The boiling time is about 10 minutes, and please remember to boil with low heat so that the beans do not crack. Watch until the beans are soft, then turn off the heat and take them out.
Heat a large saucepan over medium heat. You now put the butter in and fresh garlic, wait for the butter to melt.
Then, add the flour, whipping cream, and cream cheese, stir quickly so that the flour does not stick. This step also helps to thicken pasta sauce.
After about 2 minutes, when the flour is golden brown, add fresh milk & cream, and stir well. Be careful as you may overheat and burn the flour. Cook until the cream mixture is slightly thickened, with the aroma of starch.
If you find it too thin, then simmer until the cream thickens. On the other hand, if this low fat vegetarian pasta sauce is too thick, add more milk. Add a pinch of salt to suit your taste.
Cheese is not required in this dish. If you plan to make dairy free white pasta sauce, you can add it to the sauce if you like.
We add about one teaspoon of shredded Parmesan to increase the stickiness and richness of the dish. If you use cheese, there is no need to add salt because the cheese is also a bit salty.
Next, you need to rinse the pan or use another clean pan to get mixed up. On high heat, heat one tablespoon of olive oil, then add the onion, fry until fragrant.
Put the boiled white beans in the pan, stir-fry until just cooked. Lower the heat to medium, and add about three tablespoons of white wine to the pan.
Next, stir and cook until the alcohol evaporates. Finally, add the cream sauce and mix well. Season with a bit of salt and pepper to taste.
Serving
To complete this pasta dish, the home chef should use about 3 to 4 tablespoons of the sauce in a small saucepan, cook until it comes to a boil.
At this point, it would be best to put a medium amount of spaghetti or free pasta salad in a pan with the sauce to infuse. Finally, put on a plate with some oregano or fresh basil on top; you can add more sauce if you like. This dish tastes better when it's hot, so enjoy it!
For convenience in the process of eating, the presence of cannellini pasta is also vital. The plate is placed in the middle; to the right of the plate are knives and spoons; to the left of the plate are forks and napkins, and other dishes are placed in front.
Plate spaghetti is considered an art, so you should not use a knife to cut the noodles short. The best way to enjoy it is to practice turning the forks.
You hold the fork in your hand vertically and then use your fingers to rotate the fork slowly in a circle.
How to Save White Bean Pasta Sauce For Later
To store this white sauce pasta, it is best to keep it in the refrigerator, and use it within about two days.