Who doesn't love a cheesy dish? White cheddar cheese has become a favorite in many households due to its incredible taste and versatility. It's perfect for dishes like burgers, sandwiches, and macaroni.
But what if you can't find it at your local grocery store? Don't worry because there are other types of cheese that can serve as excellent substitutes for white cheddar.
In this blog post, we'll be sharing some of the best substitutes for white cheddar cheese that you can use in your favorite recipes. So whether you're in a pinch or just looking to mix things up, we've got you covered.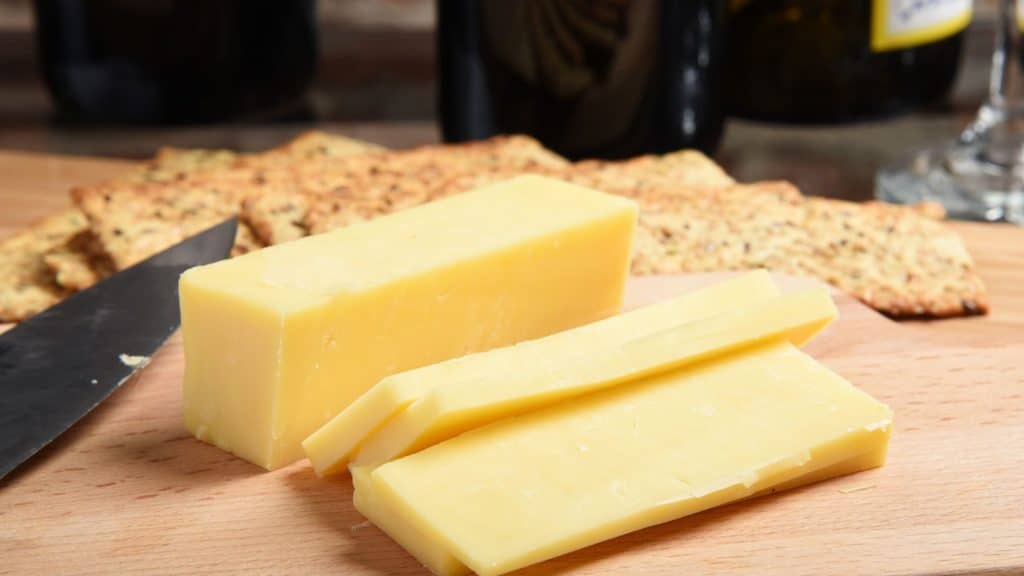 What Does White Cheddar Taste Like?
White cheddar cheese tends to have a hard and smooth texture with an off-white cow's milk color. The cheddar flavor is a complex combination of sharp, intense, and slightly earthy flavor with a mellow character.
However, it depends on the aging of the cheese as well. For instance, young cheddars might have a mild flavor, while older ones possess a sharper taste.
White cheddar is quite flexible when it comes to how to use it. You can use it as a compliment ingredient or a dipped sauce for snacks, biscuits, and nachos.
You can also put shredded cheddar cheese on top of sandwiches and burgers for a sticky and melting effect.
List of 7 Cheeses To Use As A White Cheddar Substitute
White cheddar is one of the most common cheeses globally, yet it is not so common in certain countries. So, how to make a white cheddar dish without the actual cheese itself?
Here are the substituted cheeses for white cheddar that, I think, would perfectly replicate the taste of cheddar cheese.
#1. Edam
You might not find the name of this cheese familiar, but you might have seen it on the cheese shelf before.
A thick slice of cheese with a red cover might fool you with a slice of apple; Edam cheese, made of pasteurized cow milk, has originated in the Edam City, Netherland, since the Middle Ages.
This semi-hard old cheese has a beautiful yellow color with a dry and crumbly texture. As it ages, Edam's taste goes from mild to sharp with a mellow blend of creamy and nutty tones.
The similarity in characteristics of Edam and Cheddar show that they can substitute each other perfectly.
Edam's exquisite tastes are used as a complement ingredient with rich fruits such as apricots and peaches. You can also grate it on bread or dice it for salads to add a slightly salty and creamy taste.
#2. Gouda
Gouda is another cheese from the Netherlands that can be a great substitute for sharp white cheddar cheese.
Dating back to 1184, Gouda is one of the world's oldest cheeses that still develops today. Similar to Edam, Gouda is made of cow milk with a complex process of producing cheese.
Gouda is known to have a slight yellow with dense and crumbly texture on the outside. Depending on the cheese's aging, Gouda taste can vary from mild to sharp with a slightly sweeter note than white cheddar.
However, the overall taste is not much different from our favorite white cheese.
Unlike Edam, Gouda is a great cheese for melting effect. You can easily find it in quality homemade cheese-based soups, mashed potatoes, macaroni and cheese, and sandwiches.
#3. Colby Cheese
Another cheddar cheese substitute that you can find with high quality in the United States is Colby cheese. Colby is considered to be a truly American cheese as its origins were in Wisconsin, 1885.
Like many other cheeses, Colby is made of cow's milk, but the taste difference is from the famous method of making this cheese.
Colby cheese is washed with water to create a mild, sweet, and springy flavor during the process. The cheese also has an orange color with a soft, extra moist, and gentle texture, perfect for substituting miZ ZXld white cheddar recipes.
However, this orange cheese tends to be dry and crumbly after 4-6 weeks, and it does not turn sharp like white cheddar as it ages.
Due to its mild taste, Colby is great as a table cheese serving with slices of bread. It can also be used for grating on salads and grilled in snacks.
#4. Brick Cheese
Another US cheese like cheddar is Brick cheese. With a similar cheddar cheese process, Brick cheese has a medium-soft structure with a pale-yellow to white color.
However, it has a sweet and mild flavor due to the higher temperature in the cheese process resulting in higher fat content. That's why it is a perfect cheese to be on this list.
Brick cheese is mostly used in cheese sauces, pizzas, and burgers as being melted or grated on.
#5. Cantal Cheese
Cantal cheese is one of the most popular cheeses in France. Since ancient Rome, Cantal cheese is probably the oldest cheese in France with a classic cheese taste.
Although making cheese is different from cheddar, Cantal is often preferred as the "French cheddar" for its similar taste.
Cantal is known to have a mild buttery and sweet flavor with a soft off-white core. As it ages, this French cheese taste becomes intensified like sharp cheddar. Due to these characteristics, it deserves the title of best white cheddar cheese substitute.
People mostly use Cantal to eat with fruits like apples, pears, and grapes. It can also be served in thin slices on sandwiches to add a creamy flavor.
#6. Double Gloucester
Coming to England, you can find reminiscent of cheddar cheese in this native cheese called Gloucester. Since 1498, this England cheese has been developed into two types: Single and double Gloucester.
Instead of producing from skimmed milk like single Gloucester, Double Gloucester is a hard cheese made of full-fat milk. The Double Gloucester also has more flavors and bigger size than the Single one.
Possessing a smooth and buttery texture, mellow and nutty taste, Double Gloucester can be considered an English cheddar version.
You can use Gloucester in many ways. Grating, grilling, and slicing are common ways to enjoy this cheese as a snack or on salads.
#7. Mozzarella Cheese
Mozzarella is a cow's milk cheese that originated in Italy. This cheese reputation is already famous worldwide with its long history dated back to the ancient Rome era.
With an off-white color outside and dense texture outside, Mozzarella cheese taste is mild, refreshing, and creamy due to its unique cheese-making process. Although it is not entirely similar to white cheddar cheese, mozzarella is super versatile for various dishes.
You can use Mozzarella for cheese sauce on pastas and pizza, melt it on sandwiches and burgers, and grate on salads.
How To Choose A White Cheddar Substitute
It might be difficult for you to choose a good white cheddar cheese substitute from the list above. So many types of cheese, but so limited time to try them! You might wonder how I can pick and use them properly?
Allow me to share with you my experiences with trying these white cheddar substitutes on my dishes.
If you're looking for a table cheese, Edam, Cantal, and Colby are perfect cheddar substitutes for grating on flatbread and biscuit due to their hard structure and mild taste.
Gouda and Mozzarella are fantastic melting cheese for macaroni and cheese, grilled in the oven sandwiches, and hamburgers.
If you want to enjoy white cheddar cheese with vegetables and fruits, Brick and Double Gloucester are two types of cheese you would want to try.
FAQ
What Goes Well With White Cheddar?
Although white cheddar is known to be used on hamburgers, you can match it with many things as well.
Fruit pairing such as apples, pears, and grapes are spectacular to taste with cheddar. Cheddar also goes well with Cabernet Sauvignon wine due to its fruity and tannic taste.
White Cheddar vs Yellow Cheddar: What's The Difference?
This is a most common question when it comes to buying cheddar cheese. Research shows that white cheddar and yellow cheddar are not so different in terms of taste.
The only difference between them is that yellow cheddar produces the orange color from the flavorless Annatto seeds.