Banana bread is a delicious-baked treat that many people enjoy making because it is so easy to prepare. It is my families go to for a quick treat for this exact reason.
However, one common problem that people encounter when baking banana bread is that it often falls in the middle. This can be frustrating, especially if you were excited about enjoying hot out of the oven banana bread.
Take a look below to find out why did my banana bread fall, some reasons why banana bread falls in the middle and how to fix them!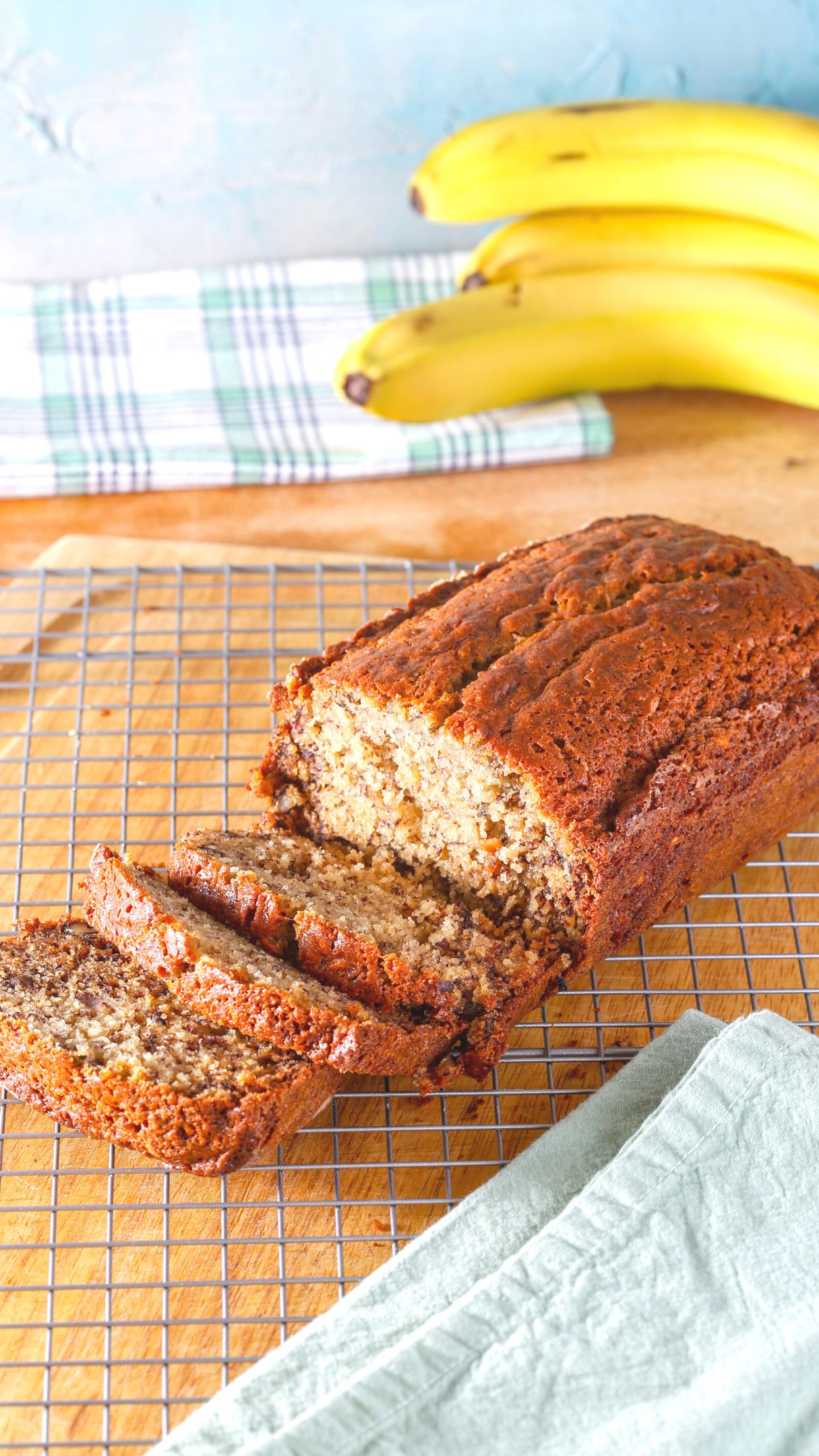 What is Banana Bread?
Banana bread is a type of quick bread made with mashed ripe bananas as the primary ingredient. It is a sweet, moist, and often dense bread that is similar in texture to cake.
Banana bread usually contains flour, sugar, eggs, butter or oil, and baking soda, which helps the bread rise. The mashed bananas add moisture and flavor to the bread, and some recipes may also include other ingredients like nuts, chocolate chips, or spices like cinnamon or nutmeg.
Why Did My Banana Bread Fall?
There are several reasons why banana bread may sink in the middle, including:
Over Mixing
Over mixing the batter can lead to the development of too much gluten, which can cause the bread to sink in the middle. Gluten is a protein that gives baked goods their structure, and too much of it can make the bread dense and heavy.
Too Baking Powder or Baking Soda
Using too much baking powder or baking soda can cause the bread to rise too quickly and then collapse in the middle. Make sure to measure your ingredients accurately and follow the recipe's instructions.
Under Baking
If the bread is not baked for long enough, the center may not set properly, causing it to sink in the middle. Use a toothpick or cake tester to check if the bread is fully baked before taking it out of the oven.
Oven Temperature
If the oven temperature is too low, the bread may not rise properly, and if it's too high, the bread may rise too quickly and then collapse in the middle. Use an oven thermometer to make sure your oven is at the correct temperature.
Too Much Moisture
Using an excess amount of wet ingredients, such as too many ripe bananas, can make the bread too moist, causing it to sink in the middle. Make sure to measure your ingredients accurately and adjust the recipe as needed.
So if you have ever wondered why did my banana bread fall then one of these may be the reason!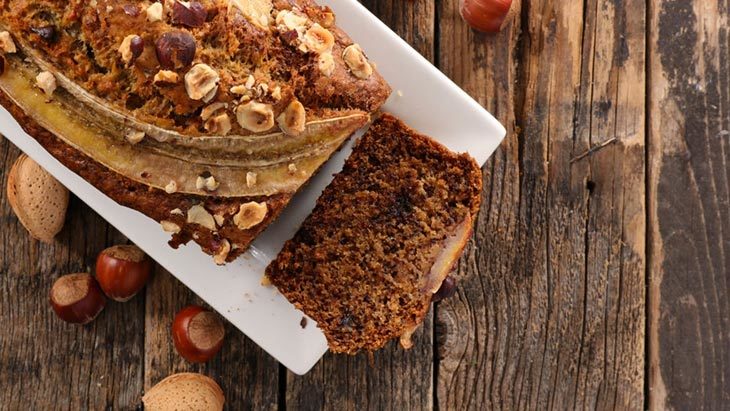 How To Fix Banana Bread That Did Fall: Tips And Tricks
If your banana bread has already sunk in the middle, take a look below about how to fix sunken banana bread.
Continue baking: If the bread is still undercooked in the center, you can try baking it for a few more minutes to help it set.
Remove the sunken center: If the bread is cooked through but has a sunken center, you can remove the sunken portion with a spoon or knife and enjoy the rest of the bread.
Slice and toast: You can also slice the bread and toast it to help firm up the center and make it more enjoyable.
Use it for other purposes: If all else fails, you can use the sunken bread for other purposes, such as making bread pudding or French toast.
To prevent your banana bread from sinking in the future, make sure to follow the recipe carefully, measure your ingredients accurately, and avoid over mixing the batter.
Additionally, make sure to bake the bread for the recommended amount of time and check it for doneness before taking it out of the oven.
Common Questions about Banana Bread
Now that you know the reason to the question of why did my banana bread fall in the middle, you may like these other questions about banana bread too.
What makes Banana Bread Rise?
Banana bread rises because of a chemical reaction between the leavening agent (baking powder or baking soda) and the mashed bananas in the batter. This reaction releases carbon dioxide gas, which gets trapped in the batter, causing it to expand and rise during baking.
Eggs in the batter also help provide structure and hold the bread's shape as it rises. However, banana bread will not rise as much as other baked goods due to the heavy and moist nature of the batter.
What Makes Banana Bread Dark Brown?
The dark brown color of banana bread is primarily due to the reaction between the natural sugars in the bananas and the heat from baking. As the bread bakes, the sugar in the bananas caramelizes and turns dark brown, giving the bread its characteristic color.
What Happens When You Put Too Much Banana in Banana Bread?
Adding too much banana to banana bread can affect the texture and structure of the bread. When there's too much banana in the batter, it can make the bread dense, heavy, and overly moist. The excess moisture from the bananas can also prevent the bread from rising properly and cause it to sink in the middle.
What is the Secret to Moist Banana Bread?
To make moist banana bread, use ripe bananas, add enough fat (such as oil, butter, or sour cream), and avoid over mixing the batter. Ripe bananas have more moisture and are easier to mash, which helps keep the bread moist.
Use brown sugar for added moisture and flavor, and bake until just cooked through but still moist.
Why is my Banana Bread Pale
Your banana bread may be pale because you used unripe bananas, didn't bake it long enough, didn't use enough sugar, or used all-purpose flour instead of a darker flour.
Additionally, if your oven is not set at the right temp or doesn't reach the correct temperature, it can affect browning. To make your bread darker, try adding brown sugar or molasses to the recipe.
Easy Banana Bread Recipes
Take a look at some easy to make banana bread recipes that you can make that are tasty and quick to prepare.
Photo Credit: www.momontimeout.com
If you are looking to use up your ripe bananas, then use them in the best banana bread recipe ever. It is easy to make, uses one bowl and is a no fail recipe!
Photo Credit: www.simplyrecipes.com
Make this one bowl banana bread recipe to make the tastiest and most easy to make banana bread ever!
Photo Credit: www.spendwithpennies.com
This recipe can be made with ingredients you have on hand and once baked, is one of the most moist banana breads you will ever taste!