Biscuits are a great addition to just about any dish, whether its for breakfast, lunch of dinner.
Biscuits do not have a complicated recipe, but there are a few things that can go wrong, most notably that they are too dry. Biscuits that are too dry crumble and are not moist inside as they should be. Find out why this happens and how to fix crumbly biscuits below!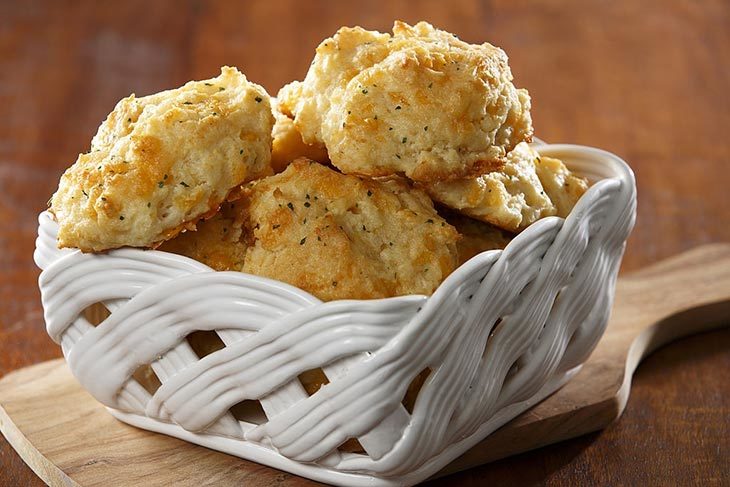 Are All Biscuits the Same?
A basic biscuit recipe contains all-purpose flour, baking powder, granulated sugar, and buttermilk.
However, with the same ingredients, biscuits can have different types and textures. Until now, there are six types of biscuits:
A rolled biscuit is probably the most popular biscuit type in the world. A rolled biscuit, also known as baking powder biscuit, is a type of biscuit where you roll the dough, cut each piece into a round shape, and bake them.
When baking, the biscuit will rise and become higher than its original shape. A good rolled biscuit tastes light, tender and fluffy with a golden-brown color.
Another popular type of biscuit is Drop biscuits. The name comes from how you place the wet dough onto the cookie sheet. About 1/3 cup of biscuit dough is dropped on the baking sheet instead of shaping the biscuit dough like a rolled biscuit.
A dropped biscuit will have a rougher outer texture than a rolled biscuit, which should be mostly smooth on top.
Lastly, scones are wedge-shaped and sweeter than normal biscuits. The texture of scones is commonly crusty, crumbly, and tender, with a cake-like taste because of the added sugar.
Why Do My Biscuits Crumble?
Biscuits crumble because there is not enough moisture inside of them. When they are baked, the biscuits become overly dry, which allows the dough to crumble and break apart way too easy.
Now, why is your biscuit dry? There are a few answers as to why that can happen…
Too Much Dry Ingredients
You could have put too much flour into the biscuit mix. Biscuits with too much flour will not have enough wet ingredients to completely hydrate the flour.
Wrong Fat Amount
Fat (butter or oil) is another important factor that determines your biscuits' texture—fat functions as a glue to hold the biscuit together. If there is too little fat, the dough will mostly consist of just flour and water. Since biscuits typically do not proof a long period of time, the gluten never had a chance to set up, thus leaving fat as the only "glue" in the recipe.
The same could be said for having too much fat in your biscuit recipe. If the ratio of fat to flour and water is too high, there won't be enough flour to hold everything together as the flat begins to melt while baking.
Too Little Water or Milk
The most obvious answer here is that your crumbly biscuits simply did not have enough water or milk to begin with. The dry flour in the biscuit mix needs to be fully hydrated to stay together. Most recipes have these amounts down to the tablespoon in order to get the right dough consistency.
Add too little water or milk, then the flour hasn't had the chance to hydrate. Low hydration will definitely leave you with a crumbly biscuit.
Overcooked
Another way your biscuits can dry out is when they were baked for too long. The longer you bake them, the drier they will become. Usually they are done once the tops of them are golden brown. If your biscuits are closer to a dark brown, then you've likely baked them for too long.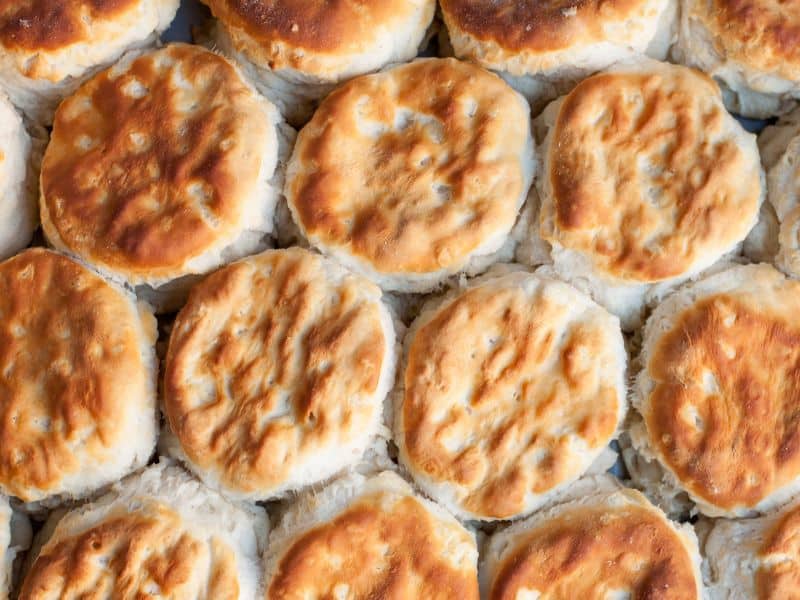 Poor Techniques
Even if you used all the correct ratios, your biscuits still could come out too crumbly.
First, if you over mix the dough, it will usually result in a tougher and less-flaky texture inside. The more you mix the batter, the more brittle the dough will become once baked. Usually you can tell if you mixed the dough too much if it doesn't raise very much while baking, or the texture is more akin to a bagel than a fluffy cake.
Second, you need to let the dough sit to completely hydrate before baking it. If you simply mix the batter together, then bake it immediately, the flour will not have had the chance to completely moisten up. This will create dry pockets of flour that will fall apart once you try to open the biscuit up. This may be the easiest problem to diagnose since you'll clearly see the dry flour inside the biscuit if this happened.