Brisket is a delicious and wonderful cut of meat that is difficult for beginner BBQers to master. Every pit master has had their share of poorly done briskets. Most often than not, the two main issues with smoked brisket is that it is either too tough, or too dry.
If you found your way here because you have dry brisket, then I can help!
What is Brisket?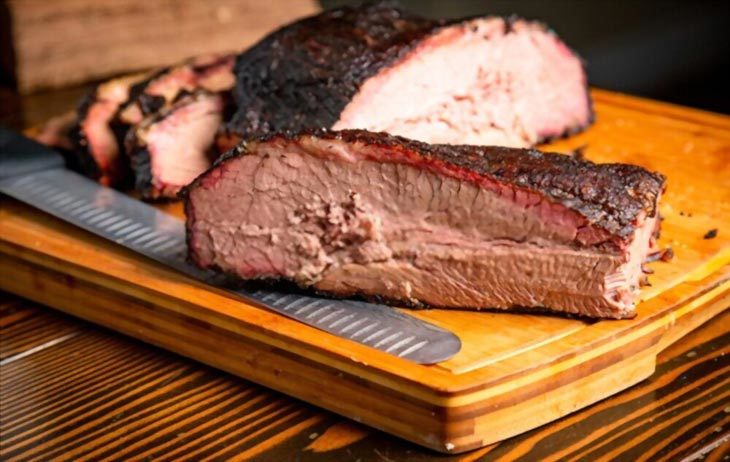 The brisket is one of the toughest cuts on a cow. The muscles that make up the brisket are well-used, and are extremely tough when not cooked properly.
A full brisket weighing 10-14 lbs consists of the flat (first cut) and the point (second cut) muscles. These two overlap each other with a thick layer of fat in between.
Briskets sometimes come as a whole packer, which includes both the flat and the point, or simply just one of those two. How you cook the brisket will be determined by what cut you have.
First Cut
The first cut, or the flat, tends to be much larger than the point. Due to it being a thin, flat layer, this piece is uniformly sized so that it should all cook at about the same time.
Second Cut
The second cut or the point cut is less uniform in shape than the first cut. However, this part of the brisket is the cap that sits between the flat and the thick layer of fat in between that the brisket is known for.
Why is My Brisket Tough?
If your brisket is too tough, it's likely that it simply wasn't cooked long enough.
Remember, every brisket is different in size, shape, and even the amount of fat on it. The weather you're cooking impacts the temperature you're cooking in. Even the cows are different from one another. They probably ate different foods, had different pastures, different caretakers, different everything. These are living animals… not widgets created in a factory.
Just because a recipe you were using said it should take between 8-10 hours to finish your brisket, doesn't mean that is how long it will take. It may take 7 hours if you're cooking in the dry summer months, or 14 hours if you have an especially large brisket going on the smoker in the winter.
When is Brisket Done Cooking?
The best way to ensure you've cooked your brisket long enough is by using a digital thermometer. I take my briskets out of the smoker right at 203°F (95°C). As soon as it comes off the smoker, I put it in a metal 9×13 cake pan – still foil wrapped – and place it inside a cooler with a few old towels placed on top. It will stay in here and still be too hot to touch for over 3-4 hours.
Why Is My Brisket Dry?
There are many reasons that brisket can be dry. Here are the most common culprits as to why:
Smoked at too high of a temperature
The point of BBQ is to cook tough cuts of meat low and slow. The low temperature ensures that the fat and collagen in the brisket have time to melt and break down. If cooked too fast, they won't have a chance to soften and disintegrate, leaving you with a tough mass of fat and other parts that will not be tasty.
The brisket could have been cooked for too long
If you fall asleep during your brisket smoking process, and leave it sit in the smoker past the 203°F point where I suggest removing it, you'll do nothing apart from overcook the brisket. The more you overcook a brisket, the drier it will become.
Too much fat was removed during trimming
Too much fat has no purpose on a brisket, but some is definitely needed. Some briskets I come across have an inordinate amount of fat on the underside of the flat cut. I take the majority of that off before placing it in my smoker. But don't go overboard. Some fat is OK, as it will help lubricate and season the meat as it melts.
Didn't do any injections
Injections with beef broth, brine, or specially formulated injection help combat dehydration and enhance flavor. I like to keep it simple, and inject about 2 cups of regular old apple juice into a whole packer brisket right before smoking.
Didn't do the Texas crutch
About 4-5 hours into your smoking of the brisket, you'll enter the stall. The Stall is where the meat's temperature will stay around 150-160°F for up to 5 hours. To help combat this, I like to wrap it in either butcher paper (preferred), or aluminum foil (ok). This has the added benefit of preventing moisture from escaping the brisket.
The meat sat uncovered too long during serving
I've found that brisket dries out extremely fast if left uncovered on the counter. Your once-moist brisket will turn into rough cardboard in only a matter of 30 minutes. Keep the brisket covered and warm when not being used.
Recipes for Using a Dry Brisket?
If you ended up with a dry brisket, there is unfortunately not much you can do it make it less dry. However, there are a lot of recipes that will take your dry-as-a-bone brisket and turn it into a wonderfully tasty meal.
Chili is one of my favorite ways to use up a dry brisket. Cube the brisket into 3/4 inch cubes, and use it in place of browned ground beef in any chili recipe. The liquid in the chili will be absorbed by the cubes of brisket, and thus they will no longer be dry. As an added bonus, your chili will take on a whole new "smoky" flavor that may ens up being the best pot of chili you've ever had.
Beef stew is another way to use up a dry brisket. Similar to the way the liquid in chili rehydrates your brisket, so will the stew juices.