It can be very frustrating when you follow a chicken salad recipe from A to Z just to end up with some rubbery chicken. Any rubbery or bad smelling chicken will destroy your dishes.
Why is my chicken rubbery? In today's article, we're going to steer clear of the common mistake of making your chicken breast rubbery and how to avoid them. Stay tuned!
Why Is My Chicken Rubbery?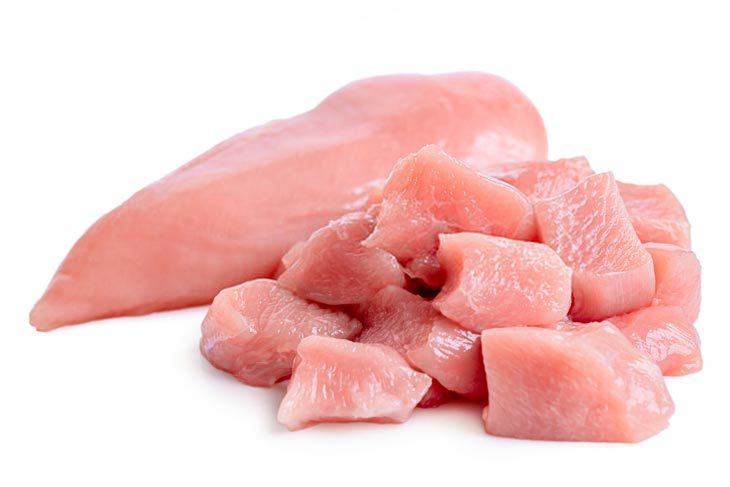 Why is my chicken dry or rubbery?
The possible causes of chewy chicken are overcooking/undercooking or lack of moisture. Besides, the reasons can come from within the chicken, more specifically, woody breast or white stripping.
Overcooking/Undercooking
Overcooking is one of the most common mistakes people make when cooking chicken.
When you overcook, the protein fibers lose their elasticity due to being exposed to the heat for too long, causing your chicken to become rubbery.
However, you don't have to worry much. While overcooked chicken is the most common, it's also the easiest to avoid.
All you have to do is to cut the chicken into pieces of the same thickness all around. From there, cook the meat as the recipe suggests.
Why is my chicken tough? The undercooked counterparts can also be one of the reasons why your chicken proposes a tire-like texture.
Besides the texture problem, undercooked chicken also poses a health risk of food poisoning.
The bacteria in chicken flesh is the main cause contributing to the issue, so be sure your chicken is fully cooked before consuming it.
Some people can't tell whether the meat is fully cooked by just looking at it. In this situation, a thermometer will come in handy.
The chicken is good to go once it reaches 165°F. Be aware that sometimes chicken can be a bit pink in the middle but still safe to eat as long as it's been cooked to at least 165°F.
Lack Of Moisture
Chicken gets dry when we overcook it, yes, but it can also be dry on its own. Sometimes, the chicken is so lean that it lacks moisture when cooked.
This is not your fault; there will be chicken texture issues no matter what you do to fix it.
Since you can't tell if the chicken you bought has such problems, try to keep it as moist as possible through the preparation and cooking process.
You can cover the chicken with plastic wrap until you want to cook or marinate it.
Have you ever heard of brining? It's a process where you submerge a cut of meat into a solution of salt and water.
It helps break down the muscle fibers of the chicken and soften them. Some people like to use pickle juice instead of a regular salt-water solution for flavor enhancement.
Woody Breast
Woody breast is a condition where the muscle fibers in the breast are too tight. Sometimes they can even be knotted up.
While some experts claim that woody breast is a genetic issue, the condition is found to be quite common among organic chickens.
The condition doesn't make the meat harmful to eat, yet the rubbery texture won't be that appetizing, either. So, how to avoid buying woody breast chicken?
Luckily, you can tell if the chicken you're buying has a woody breast. Simply press on the meat and feel it.
Woody chicken breasts tend to be firm to the touch, and you will also feel hard lumps throughout the meat.
White Striping
Why is some chicken rubbery? Another issue affecting chicken is white stripping. Just like the name implies, white stripping is a discoloration that runs in the same direction as the regular muscle tissue, a.k.a white stripes.
Chicken with white stripping has less nutritional value as there is more fat, and the meat is also significantly tougher.
Usually, you can tell if a chicken has white stripping by taking a close look at the meat. If you see any white stripes resembling wood grain, opt for another package instead.
Is There A Way To Save Rubbery Chicken?
There are a few things you can do to salvage rubbery chicken; however, you shouldn't have your expectations high.
Reheat In Braising Liquid
If you happen to have some chicken broth around, use it for cooking with the rubbery chicken.
Pour a small amount of stock into a bowl with the chicken laying flat inside. Reheat in the oven for 10-15 minutes at 300 °F.
You can also use canned broth instead of homemade broth but be aware of the salt content. The reheated chicken may still be somewhat rubbery, but it surely has softened up a bit.
Slice Or Slender Into Pieces
Another way to "fix" stringy chicken is to cut it into smaller pieces and surround it with other ingredients.
When you do so, you can enjoy its flavor without having to do a lot of chewing, and it's also easier to overlook the inferior texture.
We recommend you try a chicken salad with some celery, sweet onion, mayonnaise, and seasonings. Yummy and healthy!
Make Some Sauce
Add some moisture and flavor to the chicken by making a sauce from that same pan you cooked the meat in.
It doesn't need to be fancy; you can just add some water with a few pats of butter (or butter alternatives), then scrape up the pan's bits. Voilà, c'est simple! That's how to fix rubbery chicken!
How To Avoid Rubbery Chicken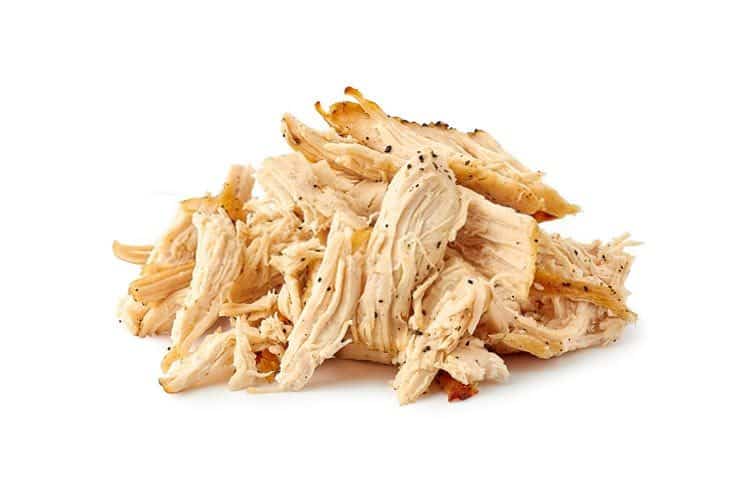 While white stripping and woody breasts are inevitable as they are genetic issues, there is something you can do about the undercooking/overcooking culprits. Here's how you avoid rubbery chicken.
Slow Cooking
Slow cooking is a centuries-old cooking method that lets the food cook at very low heat for a specifically longer time.
Nowadays, people love to cook in slow cookers because they're straightforward to use and don't take much effort.
Simply set the needed time and temperature, and the machine will do the work for you. This is your best bet when it comes to avoiding both overcooking and undercooking.
Since the chicken is cooked in liquid and the cellular water is let out slowly, your meat will remain moist and hydrated after it's done cooking. Boom, dry chicken breast fix is as easy as that.
Brining
Some people don't always have 6 hours to spare, and this is when the brining technique comes in handy. As mentioned, brining aids in tenderizing the muscle fibers and re-tensioning the water within your meat.
Even though brine is just a simple salt solution, the amount of salt you're adding plays an important role in how your meat will turn out.
Too much or too little salt creates an imbalance, so you should follow a recipe carefully.
Sometimes, ingredients are added to the brine recipe to bring out more flavor to the meat. Here's a savory and easy-to-do marinade recipe that you can check out:
3 cups apple cider (or apple juice)
2 gallons water
2 cups brown sugar
1 ½ cup kosher salt
3 tbsp peppercorns
4 tbsp fresh rosemary leaves
5 whole bay leaves
5 cloves garlic, minced
These ingredients are all easy to find, and they will do wonders for the taste of your chicken.
Gravy Technique
The gravy technique will fix your chicken in a pinch if you're in a hurry. When chicken (or meat in general) is cooked in a gravy, moisture is retained perfectly.
As long as you can keep the meat in a moisturized environment, you won't ever have to worry about the rubbery texture.
FAQs
Is Rubbery Chicken Ok To Eat?
The only time it would not be safe to consume rubbery chicken is when the tire-like texture is because of undercooking.
As long as the meat has reached the temperature needed (at least 165 °F), it is safe to be eaten, though the taste may not be that appetizing.
Why Is My Sous Vide Chicken Rubbery?
Sloppy preparation can be what makes chicken rubbery. For example, if you vacuum seal the chicken package too tightly, it can create a stringy texture after being cooked.
The tip here is to remove just enough air so the bag doesn't float, and you're all set.
If you have given it a try and things are still not working out for you, the cause may come from the quality of the chicken breast.
Oftentimes, it plays a huge role in the result of sous vide chicken. It is suggested that you get fresh chicken (if possible) and avoid frozen poultry.
Is Slightly Pink Chicken Okay?
According to the USDA, as long as all parts of the chicken have reached the minimum temperature of 165 °F, it is safe to consume despite the color it displays.
The USDA also states that even fully cooked poultry can occasionally have a pink tint in the middle. Don't assume this is an undercooked chicken texture because it's not!
Conclusion
Why is my chicken rubbery? We suppose you must have the answer by now!
Rubbery chicken, whether resulting from mistakes made during cooking or genetic factors, can be saved with strategies such as slow-cooking or brining. With such methods, it's time to bring these chicken dinners back to your diet!