Why Is My Lemon Meringue Pie Watery? The Exact Reasons & Solutions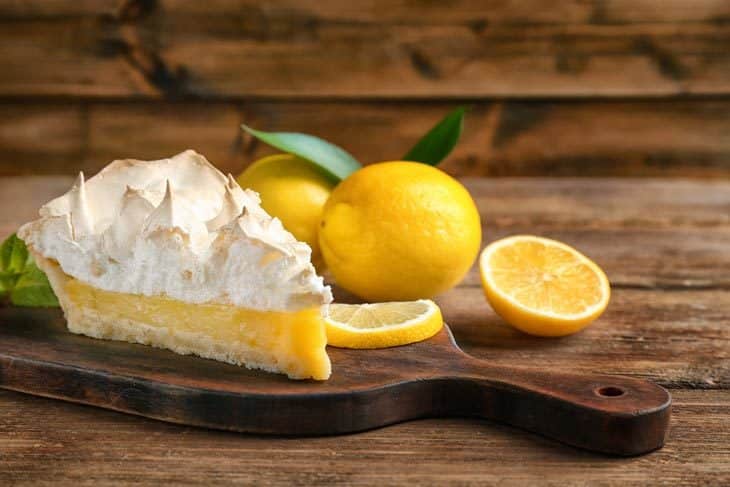 If you are a beginner baker, you should try the lemon meringue pie dessert, as it is quite straightforward.
However, you may not be successful your first time if you don't strictly follow instructions or ignore some ingredients.
You might try to mix your meringue, but the mixture keeps getting runny. So, you may ask, why is my lemon meringue pie watery?
This article will give you a clear explanation and recommend some effective ways to resolve this common problem.
Why Is My Lemon Meringue Pie Watery?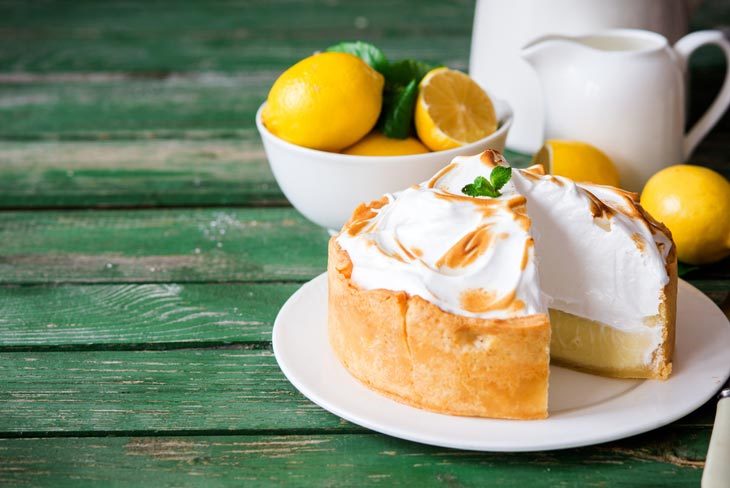 Why does my lemon meringue pie get watery? There are several reasons, but the main ones come from beating egg whites, cornstarch, and baking time. Let's take a closer look at the detailed explanation below!
The lemon meringue pie watery phenomenon is common as in apple pie. It occurs when water is merged between the meringue topping and the pie filling. The first cause is because you beat the egg whites in the wrong ways.
For instance, you may not whip the egg whites enough, or you overbeat them. If you don't give the egg whites enough volume, they won't give the cake enough porosity.
Besides, if you beat them longer, over ten minutes, all the air bubbles will come out, and the cake will collapse.
That's because the proteins continue to squeeze after beating, pressing the water out and forming large, easily deflated bubbles.
What's more, in the process of mixing cornstarch, you are not making enough bonds between it and the free water. If you don't whip the mixture enough, the mixture will lack free water to blend with cornstarch.
Last but not least, baking time may be one of the culprits for a watery lemon cake. In particular, if you overbake it, tiny sugary moisture drops are sitting on top of the pie.
When you see the middle layer appear watery, the reason is you did not bake it in enough time. The solution for this case is simple. You need to put it back in the oven with suitable time settings.
How To Stiffen Watery Lemon Meringue Pie?
After whipping the mixture, you realize that it starts to become watery. Don't stress. You can correct this mistake right away with some recommendations below.
Add Extra One Egg White
If you fail in whipping the mixture, you should try to fix it by adding extra egg white rather than throwing it away immediately. First, whip the egg white until it is foamy.
After, fold it into the existing meringue mix. This solution is extremely effective in bringing in the lift if your previous mixture is too loose. Also, this way relatively works well with French meringue pie.
There are some considerations you should turn over in your mind when whisking eggs. Remember to take the egg white to room temperature before whisking it.
It's better to whip it with the mixer at the highest setting.
Also, when separating the egg, you need to make sure you remove the york completely. That's because it is rich in fat, which is the main cause making the white hard to form the foam.
During this process, you shouldn't add any sugar till soft peaks start to appear. Later on, you can put in sugar, but remember to perform gradually to avoid deflating the egg white.
Add Cornstarch
You can also use cornstarch to save your watery meringue pie. You can put about one teaspoon in the mixture and mix it well to avoid powder pockets. Later it will shape the form better.
How To Prevent Lemon Meringue Pie From Getting Watery?
How to stop lemon meringue pie from getting runny? Apart from the fixes above, there are some useful tips to prevent meringue pie from getting watery.
Make The Crust Cool
Do you put meringue on hot or cold pie? A cold one because a hot crust may make the filling wet and then watery.
That's why you always have to make it cool to avoid accumulating moisture. How to keep lemon meringue pie from weeping? The recommendations are right below.
Simmer And Stir
While cooking the meringue mixture, always remember to stir constantly. If you undercook it, the acid content in the lemon will affect the protein in the egg and make it watery.
Bake On Low And Slow Heat
Meringue topping is especially temperamental and easily becomes weeping when laid out on a lemon meringue cake. Hence, it would help if you baked the pie on low and slow heat to shape its form.
How long to bake pie crust for lemon meringue? At around 350°F within 15 minutes.
Bake A Sufficient Number Of Pies
The last thing to remember is that lemon meringue pie doesn't last long, even when you store it well. For example, when you put it in the fridge, the moisture will condense, creating runny lemon meringue pie.
Thus, the advice is to bake a sufficient number of pies and eat them the same day.
How To Make Homemade Lemon Meringue Pie?
How to make the perfect lemon meringue pie? Looking no further than the best lemon meringue pie recipe in here!
Preparation
Crust:
Plain flour (175g)
Cold butter (100g)
Sugar (1 tablespoon)
Egg yolk (1)
Filling:
Meringue:
Egg whites (4)
Cornflour (2 teaspoons)
Golden caster sugar (200g)
Instructions
Step 1: Make the crust.
How to make homemade lemon pie?
First, let's take a peek at the lemon meringue pie crust recipe. Pour all ingredients for the crust into a food processor and add cold water (1 tablespoon). Blend until they mix.
Next, put the mixture on the floured surface and roll it out. Place the crust in a flan tin and press it. Use a fork to prick it. After that, let it sit for around 30 minutes to one hour.
Step 2: Bake the crust
Preheat the oven. Cover the flan tin with foil and put it into the oven. The time for baking lemon meringue pie crust is about 15 minutes at 350°F.
Then, remove the foil and bake for another 5 to 6 minutes until golden brown.
Step 3: Make the filling.
If you are unsure about the lemon meringue pie filling recipe, you should refer to this guide.
Squeeze the orange to get the juice. Mix all ingredients for the filling together in a saucepan. Cook over low heat and stir well until the mixture is stiffened and smooth.
Remove from heat, add butter and beat until butter is melted. Then, add egg yolks and stir the mixture over medium heat. When the filling thickens, you have completed.
Step 4: Make The Meringue
Put all egg whites in a big bowl and whip until meringue reaches soft peaks. Next, gradually add the golden caster sugar and whisk well.
Then put the cornflour in and keep whisking. Finally, add the remaining sugar and whip until the meringue is thick and smooth.
Step 5: Assemble the cake
Reheat the filling and pour it into the crust. Then, scoop each meringue spoon and place it onto the filling. Remember to spread evenly.
Step 6: Bake the Lemon Meringue Pie
How long to cook lemon meringue pie?
Put the pie in the oven for about 15 to 20 minutes. How to tell if lemon meringue pie is done? When you notice, the meringue becomes a little crisp and colored.
Let it chill about 30 to 60 minutes before eating your lemon meringue pie.
In A Nutshell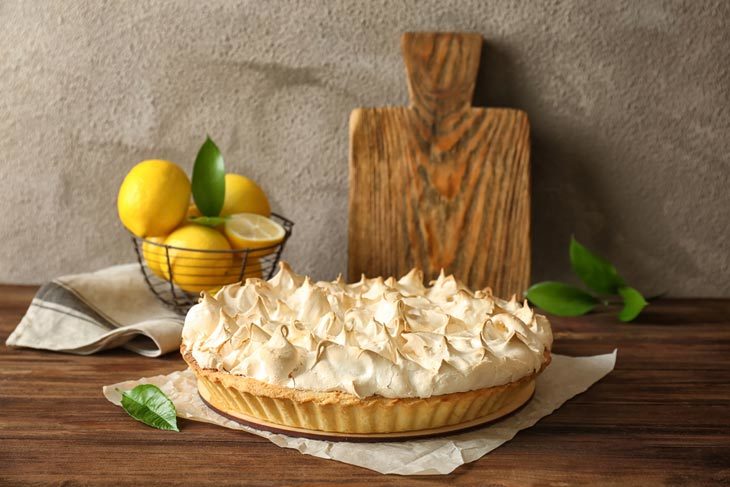 This article has addressed the commonly asked question: why is my lemon meringue pie watery.
You should consider three main aspects: egg whites, cornstarch, and baking time. Besides, we have also shared useful tips for making lemon meringue pie.
Hopefully, this post will be helpful for your pie baking!