Why Is My Lemon Meringue Pie Watery?
Lemon meringue pie is a favorite in our household. I find this lemon dessert a nice challenge for any home baker. But it is worth it in the end, for sure!
Since it is such a difficult dessert to get right, there are a lot of things that can go wrong – mainly that it is too watery, and doesn't have that classic, stiff meringue. This is called a weeping meringue.
Meringue looks like marshmallow fluff, but is simply just beaten egg whites, a stiffening agent (like cream of tartar) and granulated sugar. These ingredients magically combine to create what is called a meringue.
Why Is My Lemon Meringue Pie Watery?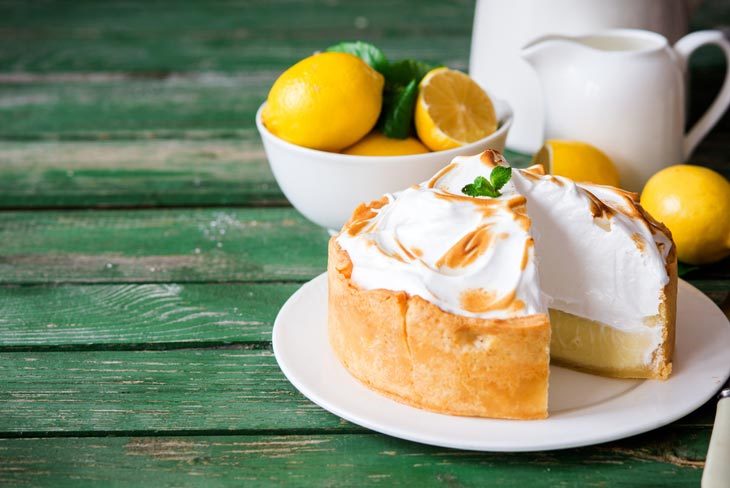 There are several reasons, but the main ones come from either incorrectly beating the egg whites or baking it for too little.
Beat the Eggs
If your meringue is not stiff enough after beating the egg whites, cream of tartar and sugar mixture, it will collapse into a watery mess.
It's best to use a stand mixer or electric mixer to do this. You'll need to mix it close to 10 minutes total, and if you're doing it manually, it will get tiring. I know from experience. 🙂
The best way to create the perfect meringue is to beat the egg whites and cream of tartar first until it begins to look bubbly and just beginning to create soft peaks. Don't mix it too much at this point. Once you have the bubbles, add in the sugar, one tablespoon at a time. Once all the sugar is added, mix until your heart's content.
You cannot over beat a meringue once all the ingredients are together.
After 5-6 minutes, your meringue should form stiff peaks as you pull out the mixer. Only when you get these stiff peaks is your meringue ready to be used in the pie.
If you don't whip the mixture enough, the mixture will lack the consistency that is needed for it to hold its shape.
How To Stiffen Watery Meringue for a Pie?
If you seem not to be able to get the stiff peaks in your meringue, there are a few steps that you can take to fix it.
Add Extra One Egg White
By adding one extra egg white, it should provide more protein to help build the consistency we're after. Similar to above, you should beat the egg white first before adding it to your already-made meringue mixture.
After whipping the additional egg white, fold it into the existing meringue mix. This solution is extremely effective in bringing in the lift if your previous mixture is too watery.
Add Cornstarch
You can also use cornstarch to save your watery meringue. You can sprinkle about one teaspoon into the mixture and mix it well. Cornstarch aids in creating the stiffness needed for the meringue.
Tips for Making the Perfect Meringue
Whip the meringue with an electric mixer at the highest setting.
Don't manually mix the meringue unless absolutely necessary.
Remove the yolk! When separating the egg, you need to make sure you remove the yellow yolk completely. It is rich in fat, which will prevent the meringue from stiffening up completely. Even a drip of yolk can ruin your meringue.
Make sure your bowl is completely clean. Remove any oily residue that may have been left over inside. Wipe it clean with a damp cloth, then dry it before using.
Slowly add the sugar. Too much at once will deflate the egg mixture, making it that much harder to get the perfect meringue.
How To Prevent Lemon Meringue Pie From Getting Watery?
How to stop lemon meringue pie from getting runny? Apart from the fixes above that are specific to only meringue, there are some useful tips to prevent meringue pie from getting watery.
Let The Crust Cool
Adding freshly whipped meringue to a hot crust will instantly deflate and melt the mixture you worked so hard on.
Bake Low And Slow
Meringue topping is especially temperamental and easily becomes watery when baked incorrectly. Low and slow does it with this type of pie.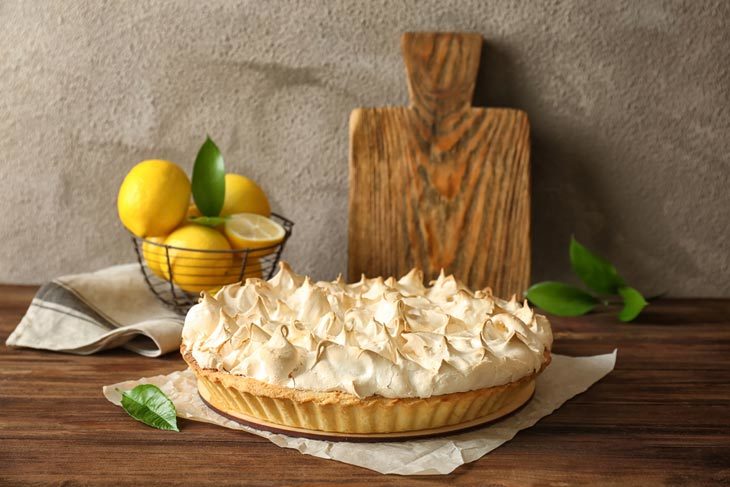 Homemade Meringue Recipe
5 egg whites
1/2 teaspoon cream of tartar
1/2 cup granulated sugar
1/8 teaspoon salt
Instructions
Put all egg whites and cream of tartar in a big bowl and whip until meringue reaches soft peaks. This should take about 2-3 minutes.
Gradually add the sugar into the mixture – 1 tablespoon at a time – while beating on high speed.
Once all the sugar is added, continue beating the meringue for another 5 minutes or so. You'll know you're done when stiff peaks are created when you pull the whisk out.