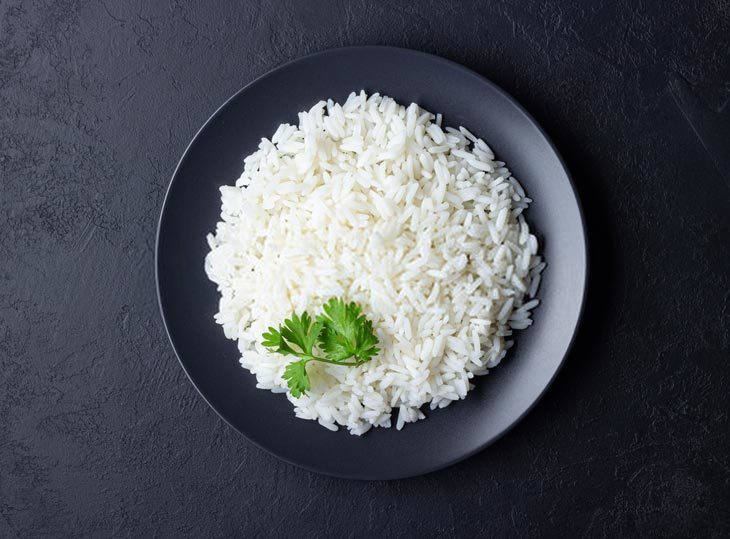 Cooking rice is hard if you don't know the trick to make perfect rice. Maybe you have tried to follow the package instructions, but your rice still comes out mushy.
So, if this is you, then you probably wonder, "Why is my rice mushy?" Or "Why does my rice come out mushy?". If so, read on down to find out why rice can turn out mushy.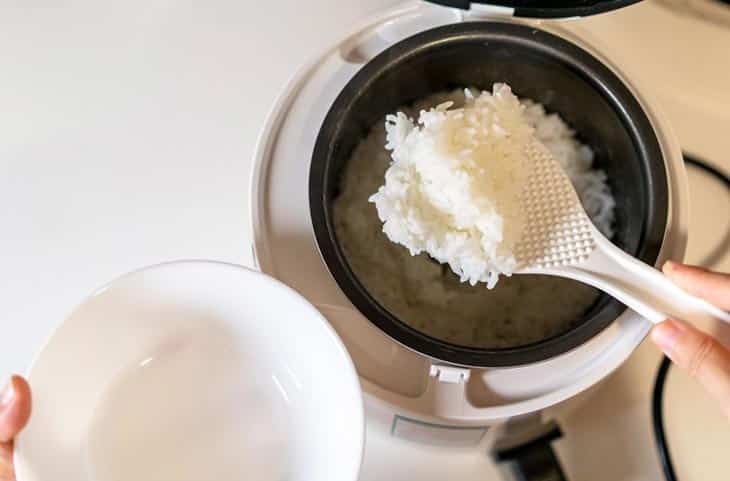 Why Is My Rice Mushy?
If you haven't figured it out yet, there is no one-size-fits-all method for cooking rice. Rice dishes like fried rice, sushi rice, risotto, and pilaf require different types of rice and a specific result.
So, why is my rice sticky and mushy?
There are two main things that affect the rice result: rice starch absorbs water to 90% and softens out by the heat, which is called gelatinization. So, why is my rice soggy? Why is my rice mushy?
The problem happens after the gelatinization when the gelatinized rice is exposed to excessive heat resulting in mushy rice in rice cooker or pot.
When you have figured out rice science, it is easy to see that the amounts of water and pot temperature are the answer to your question, "Why does my rice come out sticky?".
As each rice type has a different starch structure, meaning different water absorption, you need to know the right amount of water for each rice.
Water Amount
The common water content for different types of rice is recommended as follow:
For short-grain white rice, you need to use a ratio of 1 cup of water for 1 cup of rice.
For long grain and medium grain rice water ratio, 1.5 cups of water are better for 1 cup of rice.
For brown rice, you need 2 cups of water for 1 cup of brown rice.
Pot Temperature
The pot you use for cooking rice also affects how the starch turns out as pot size and lid shape can influence the evaporation speed of water to be faster or slower.
So, even though the rice only needs the required amount of water above, you need to add excess water to boil off.
If there is too much additional water, the grains become overcooked, mushy, and sticky. In case there is less excess water, the result is hard and uncooked rice.
When I use a saucepan with a tight-fitting lid, I would add 2 cups of water for 1 cup of white rice, and they turn out to be so fluffy.
How To Fix Mushy Rice Within Minutes?
If you have made a batch of rice mushy accidentally, check out how to make rice not mushy with these tricks to save your pot of rice within minutes!
Save The Rice
You can save the gummy rice with different methods. Overall, these methods will help drain out the additional moisture in the layer of rice, helping it easier to eat.
Method 1: Microwave
Microwaves are a common way to reheat food, but they are also a great tool for sucking out the moisture in your mushy rice.
To fix the rice, you need to take a baking sheet and pour the slimy rice evenly. Then you can microwave it for 1 – 2 minutes on low heat.
Method 2: Cool the rice
Maybe you have noticed that food in the fridge tends to get dryer when you leave them for a long time with no tight cover.
Although this is undesirable when you want to store food, leaving the rice inside the fridge can be a great way to make it tasty again.
Simply take a baking sheet and spread the mushy rice thoroughly. Then you can cover it with parchment paper.
This type of cover allows the rice to be exposed to the air, but other food cannot influence the rice flavor.
Once you're ready, you can place it in the fridge for 30 minutes. Once it is less mushy, you can reheat it and enjoy a different result.
Use The Mushy Rice For Other Dishes
Mushy rice might not be tasty to eat directly, but it can be used for many tasty recipes like sushi rice, fried rice, or rice pudding.
Turn your mushy rice into tasty fried rice
Frying mushy rice will help evaporate the excessive moisture inside the rice and offer you a great meal.
Although it might not be as crunchy and separated as normal rice can offer, the fried mushy rice is an enjoyable dish.
Ingredients
Three tablespoons of butter
Two diced carrots
One white onion
Three garlic cloves
Three green onions
Salt and peppers
How to do it?
Put a saucepan on medium-high heat. Place butter on until it is melted.
After that, add garlic, carrots, onion, cloves, green onions, a dash of salt, and pepper inside the pan. Stir for 5 minutes.
Then add the mushy rice inside and stir together for four more minutes or until the grain of rice is separated and reaches the desired consistency.
Enjoy your fried mushy rice!
Transform the mushy rice into a delicious dessert
Rice is usually for savory dishes, but you can also make it into a delicious dessert. Here is my sticky rice pudding recipe:
Ingredients
One cup of milk
One cup of wet rice
Two tablespoons of sugar
1 ½ teaspoon of cinnamon powder
Salt and vanilla extract
How to do it?
Put a saucepan on medium heat.
Pour the rice and milk into the saucepan. Then add vanilla, a pinch of salt, and sugar inside. Stir continuously from the bottom for 10 minutes.
When the rice consistency is thick without liquid, simmer the pan for a few minutes more.
Then take it out on a serving dish and sprinkle some cinnamon on top.
How To Cook Rice Perfectly? – Step-by-Step Instructions For Newbies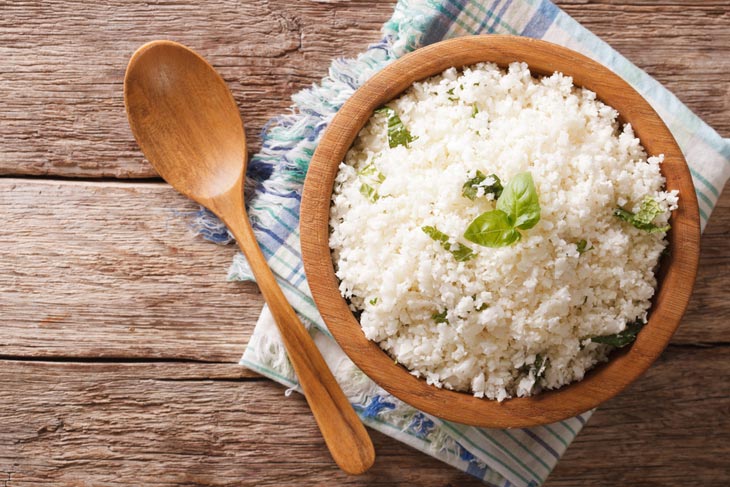 Cooking rice is tricky if you're new to the game. Once you learn the proper way, you can make delicious and fluffy rice in rice cooker. So, if you want to know how to keep rice fluffy, follow my instruction below:
Rinse The Rice With Clean Water Before Cooking
Many people tend to cook the rice straight away from the package. However, this is a problem if you wish your cooked rice grains to be separated.
Store-bought rice grains usually have a thin excess starch film covering them. When they are boiled with this film, the rice becomes super sticky and mushy. So, how to keep rice from getting mushy?
You need to rinse the rice with cold water before cooking to remove the film completely.
Pour water inside and stir from the bottom, and you'll find that all the starches are blended into the water. Then simply drain the water out.
Customize The Rice And Water Ratio
When cooking rice, one of the most important things you need to note is the water to rice ratios like the brown rice or medium grain rice to water ratio which I have mentioned above.
So, if you need to find out how much water for 1.5 cups of rice, you must check the type of rice, the pot, and the lid tightness.
There is no accurate number to how much water to rice ratio. To master the rice cooking game, you must practice more with different experiences.
For starters, it's advisable to work with the standard ratio above with an extra ½ cup of water.
Let The Rice Rest For A Few Minutes
Rice has to rest for a few minutes before they are fully cooked. If you open the lid too soon, you might find undercooked rice with a hard and grainy texture.
Therefore, when following the recipe timing, you should leave the pots of rice to cool down for at least 15 minutes to ensure they are cooked thoroughly.
Set The Pan Of Rice Over Medium Heat
When it comes to cooking rice, the most important part is the consistent heat which keeps a steady water evaporation speed. If you affect the speed, your rice cooking time will be unstable.
That's why it is important to keep the same medium heat for the rest of the cooking time. Be patient enough, and you'll have a fruitful result.
Place A Kitchen Towel Between The Pot And Lid
When the rice mix is boiling, condensation might happen during the cooking time and make the rice soggy and mushy. To prevent this, you should put a clean kitchen towel between the lid end and the pot edge.
Turn The Heat Off After 15-20 Minutes Of Cooking
Once the rice is ready, you need to turn off the heat and let the rice rest for 5 minutes while having the lid closed. After that, you can take out the lid and use a fork to fluff the rice.