Why Is Sushi Good For You?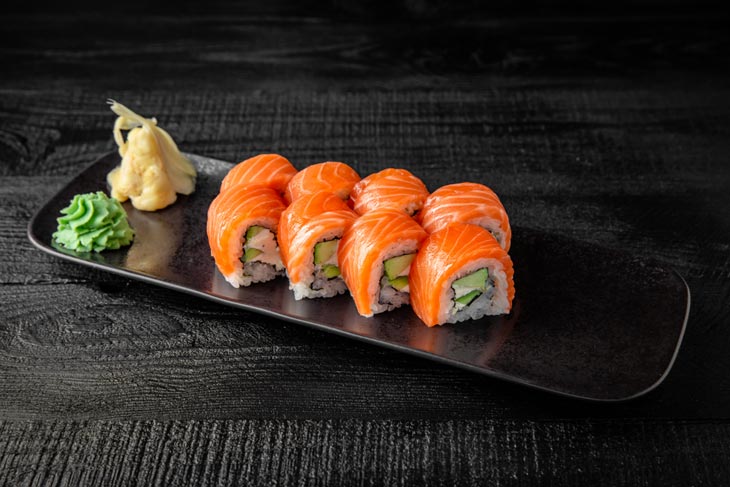 Why is sushi so good? Sushi is a signature delicacy from Japan. Many people love this Japanese dish because of its distinct flavor and its nutritional value.
But this food can bring you more than that. Let's discover 7 common reasons why sushi is so good for you.
7 Common Reasons Why Is Sushi Good For You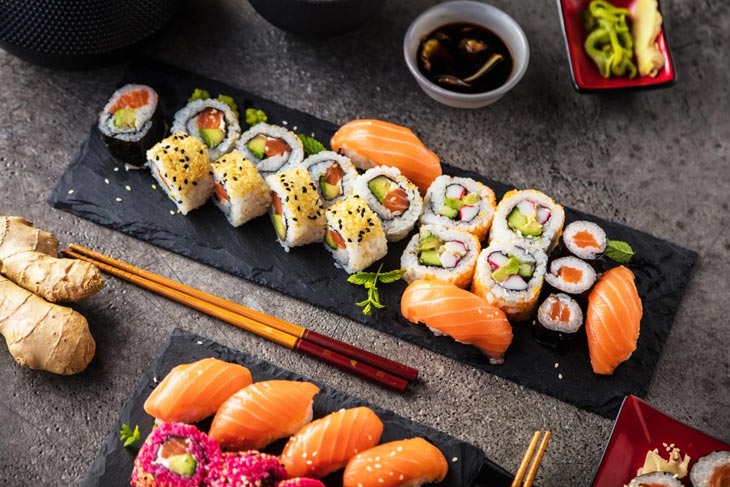 The benefits of sushi can be discovered in many aspects. It helps you control your weight and contributes to anti-aging and quick wound healing.
Besides, it can reduce heart disease risk and maintain a healthy immune system. In particular, it also helps prevent viruses and bacteria, improves memory, and increases your appetite.
Manage Your Weight
Unlike greasy and meaty fast foods that are the central obesity, sushi always makes you feel secure with healthy ingredients and helps you keep fat under control.
The main ones are sushi rice and various types of fish, seaweed, and other vegetables.
Besides, the fresh salmon and tuna in sushi contain very few calories, averaging only about 30-40 calories per gram.
The fiber found in vegetables, the omega-3 fatty acid, and vitamin D found in fresh fish and katsuo bushi also help you burn excess fat, reduce blood pressure levels, and make your muscles stronger.
Wasabi Can Prevent Food Poisoning
Another extra punch of the roll is mustard. It is an indispensable accompanying dipping sauce in a sushi bar.
It helps to sterilize and effectively fight viruses because mustard has antibacterial agents. So it can prevent stomach infections and the risk of food poisoning.
In addition, mustard also helps fight pathogens related to respiratory and cardiovascular diseases.
It aids in clearing the nasal cavity and air circulation when you have a stuffy nose. It is extremely useful whenever you have a cold or a nasal allergy.
Spices With Full of Antioxidants
Antioxidant properties in vegetables, ginger, bonito flakes, and green wasabi in sushi help slow down the aging process, speed up wound healing, and reduce blood sugar levels.
When people are exposed to daily pollutants from the environment, food, and work pressure, they will drive the aging process faster.
The antioxidants in varieties of sushi help prevent the production of free radicals in the cells, slowing down the aging process and prolonging life expectancy.
The oxidizing isothiocyanates in wasabi also help heal wounds and ulcers faster and prevent cancer cells from growing.
Besides, it's a good source of heart and can limit the risk of blood pressure and cholesterol levels.
Improve Your Memory Due To Omega-3 Fatty Acid
People often refer to sushi as a portion of brain food. The reason is that a sushi roll contains Omega 3 fatty acids that improve concentration and enhance memory.
Omega-3 fats help nourish and develop your brain cells, increasing daily gray matter.
Salmon, tuna, and mackerel are the fish richest in Omega 3. It can maintain your eye health, avoiding eye-related diseases. In particular, it reduces the risk of Alzheimer's disease in the elderly.
Mustard stimulates nerve impulses in the brain, strengthens the nerves, and helps the nervous system work more efficiently.
Speed Up Muscle Recovery
Why is sushi good for you? Another reason can be an excellent source of protein it provides. This source can help repair and strengthen your muscle fibers.
Mustard has an anti-inflammatory agent called spiciness that reduces inflammation and muscle swelling and soothes muscle-related injuries.
Protein is beneficial in cell regeneration after injury and reduces stress after a stressful workout.
Boost Your Immunity
Sushi condiments contain a wide range of minerals and vitamins needed to maintain a healthy immune system, making them one of the excellent choices.
Vitamins A, B-complex vitamins, and C found in seaweed, carrots, and other root vegetables help support the digestive system. It also prevents acne and reduces redness on the skin.
Calcium, iron, and zinc found in white fish and seafood help maintain a healthy immune system, and other minerals can increase the body's resistance.
Satisfy Your Palate And Give You Energy
Sushi includes all the flavors that a delectable dish needs. The fatty taste of fish and seafood and the sweetness of vegetables will make you crave.
Besides the sour taste of the sauce, the spicy flavor of the mustard and the salty taste of the seaweed blend can stimulate your taste buds.
You can eat more than normal dishes for sushi because it's not greasy and has lots of vegetables.
It will boost your energy, provide you bundles of joy, and maintain positive energy throughout the day.
Why Does Sushi Taste So Good?
The Quality Of The Fish
The first thing that determines the taste of sushi is the freshness of the fish. The freshest raw fish ingredients are selected and elaborately prepared for this dish.
Many sushi chefs have to go to the market every day to choose the freshest fish.
Preparing and preserving fish is also very important to keep the ingredient from getting fishy and keep its fresh taste.
Each part of the fish has a different fat and delicious flavor, so cutting the parts of the raw fish is also done very carefully.
One trick to keep them from getting fishy is to wash it with a salt and lemon mixture, then drain it.
You can also roll the fish in a mixture of ginger and white wine, but the smell of wine will be a bit strong when you eat.
Fish is only chilled for 24 hours maximum to maintain freshness and delicious flavor. Besides, it is always defrosted slowly by putting it in the refrigerator.
Perfect Rice Shape And Soy Sauce
Rice and dipping sauce also contribute to a great sushi dinner. The white rice or brown rice should be molded into a firm but not dense mass.
The mixture that helps the rice stick together includes sesame oil, vinegar, salt, and sugar. They need to be mixed in a certain ratio to have the most harmonious taste and a smoother texture.
It is necessary to let the rice cool down before forming a block so that the structural component can be shaped firmly.
The acidity of the rice also sets it apart from other dishes. If you don't like this vinegared rice, you can remind the chef not to add vinegar to the rice mixture.
Umami Multiplies
Umami in Japanese is "the essence of good taste", also known as MSG. It plays the role of softening this healthy dish, making it more harmonious and delicious.
Umami also comes from Glutamate found in seaweed, fish, and tomatoes for sushi. When you combine them, the taste of Umami will permeate your tongue.
FAQs
Is Sushi A Good Source Of Protein?
It can be affirmed that sushi is a perfect food rich in protein. This protein source mainly comes from the high omega 3 content found in fatty fish or oily fish.
Sashimi is one of the most protein-rich raw fish dishes, followed by Nigiri.
Besides, other types of dragon roll with avocado and shrimp are also very high in protein, usually between 150 and 500 calories.
It helps maintain the amount of protein needed for your body to function properly.
Why Is Sushi So Expensive?
Sushi is expensive because its ingredients are fresh and delicious. The fish in sushi is always of the best quality and has a high nutritional content, which is good for your health.
In addition, the cost of transporting and preserving these ingredients also contributes to the high price of a sushi meal.
Is Sushi Fattening?
Sushi does not contain a lot of fat, so you do not need to worry about gaining weight. Fat is mainly found in species of fish, but only in small amounts.
The main ingredients in varieties of sushi are fiber and protein.
What Sushi Is The Best For You?
Depending on your preferences, you can choose different types of sushi. Traditional rolls or Maki rolls are popular with everyone.
However, for fish eggs sushi-lovers, then Nigiri sushi and spicy tuna roll are for you.
If caviar is your favorite, then the spider roll of Gunkanmaki is the best fit. Besides, vegetarian sushi options like kappa maki are also available in every Japanese restaurant.
Conclusion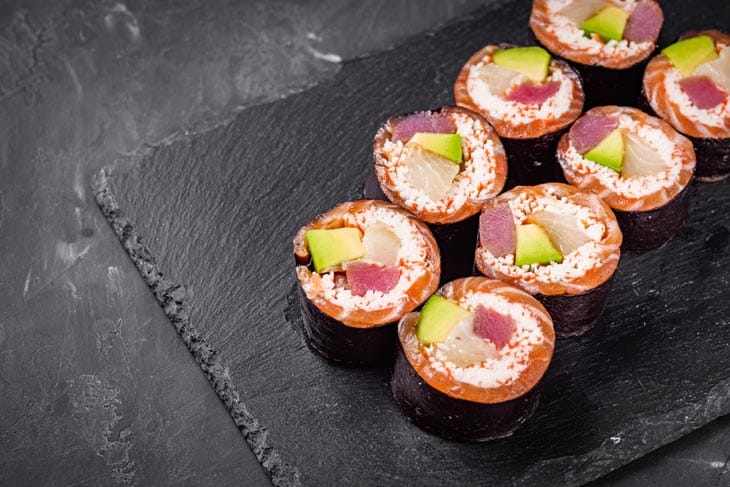 Why is sushi so good for you? Overall, the benefits of sushi are controlling your weight and maintaining a healthy figure.
Real wasabi served with sushi helps slow down the aging process, prevents harmful bacteria and the risk of heart disease, and is helpful in cell regeneration.