List of Substitutes For Zucchini For Your Home Cooking Recipe (Updated)
As a family, we love zucchini as part of our meals, but you will find it very hard to buy zucchini in winter.
What can you use as zucchini substitutes? Zucchini has a mild, sweet flavor, they are frequently alternative by squash such as Eggplant, Yellow Squash, Patty Pan or Chayote Squash. However, if you are not in the squash season, you can use cucumber, parsley, or sweet potatoes instead, and they will not change your dishes taste.
Let's move to next to know why they can replace zucchini and their benefits.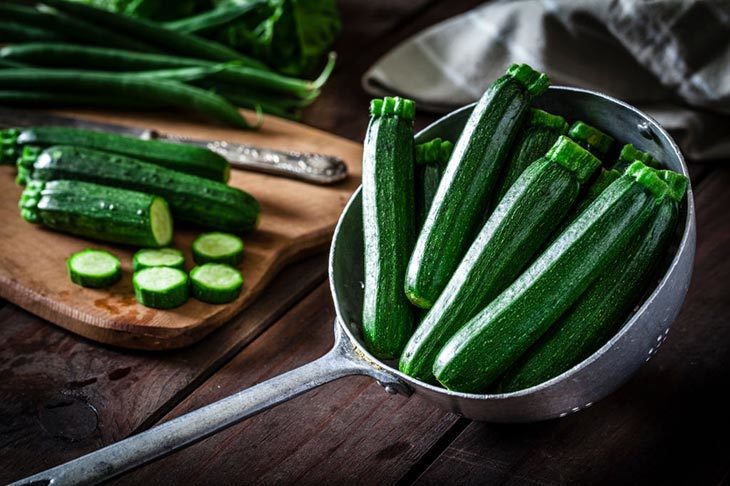 List 12 Best Zucchini Substitutes When Run Out Of Them
Zucchini is very popular all over the world nowadays, and various people love zucchini noodles. My children are addicted to this dish since I am with the best zoodle maker in my hand. There are a number of things we can make with zoodles.
No one can refuse the attraction of zoodle salad, hamburgers, cold zoodle pasta and fried zoodle as well. However, we cannot have the zucchini anytime in a year.
As a result, I used to struggle a lot to find out the proper substitute. And now, I can have my own successful tips.
Years ago, many of my friends used to ask me 'How can other vegetables substitute zucchini?'. My answer was total yes. Many vegetables can have the kind of similar texture and taste to zucchini. But you may not know about them.
No problem at all, you can learn about these zucchini substitutes right now. After a number of cooking failures, I have found out the best replacement in the end which may surprise you.
They can be very cheap and very familiar with all of you. Let's go with the list below!
1. The Best Choice: Eggplant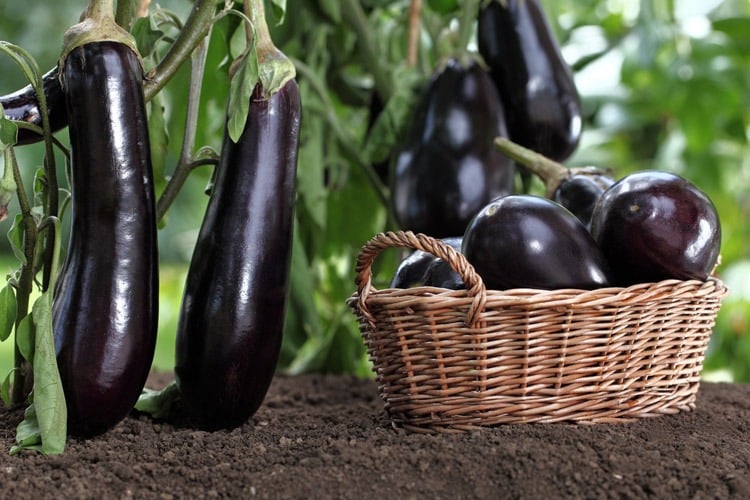 Going to the next idea, I am going to have the eggplants for you. I like them a lot since it is my favorite flavor.
Amazingly, they can be a direct substitute for zucchini as they are made of the same textures. However, when comparing the zucchini to the eggplant, I think that the eggplant will have more flavor.
Furthermore, you may not know that that there are a variety of eggplants which can be slightly different.
My suggestion is the Asian eggplants because they are the most similar to the zucchini. I have used most of the eggplants and figured out that this one is the best replacement.
I have tried the European eggplants once, and it could not meet my expectation. Its skin is very tough and hard so that you need to remove it beforehand.
In addition, the large bell-shaped eggplants sometimes give you a bitter taste.
Hence, you have to salt them for about 20 minutes before starting to cook. However, I think that this way will take me more time, and the busy people will not prefer this option.
One last thing to remember if you are interested in fried zucchini. I notice that the eggplants can absorb more oil than the zucchini.
As a result, you need to have good papers to extract the oil after frying. By doing this, you can avoid the greasy taste and make the dish flavorful.
2. Yellow Squash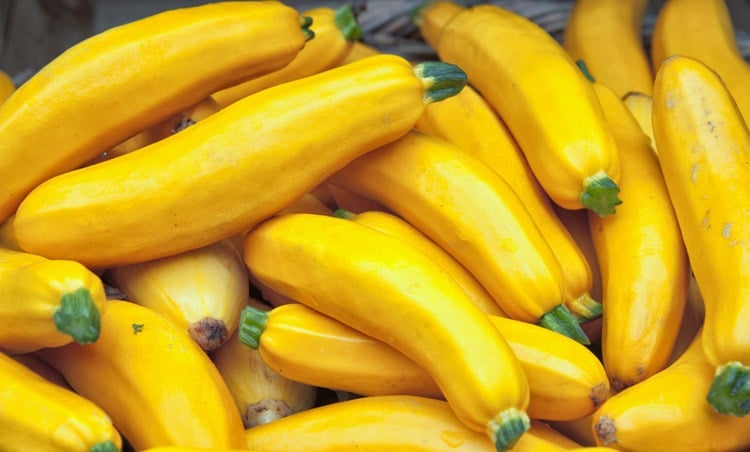 When mentioning zucchini, you need to know that it is summer squash. This is a reason why you can find it very easily in the summertime. Hence, the other summer squashes will be the best replacement for zucchini.
In my opinion, they are very similar to zucchini regarding the taste and the texture. The canary yellow squashes are the perfect example in this case.
Moreover, you can seek crookneck squashes. And well, I am sure that you can have the same cooking recipe as the zucchini.
Don't be afraid of the strange taste since I have tried many times, and my substitute dishes are very successful.
Your family will totally become your fan if you use these substitute in stir-fry dishes. It will provide a very brilliant taste that you cannot forget.
On the other hand, you can slice the yellow squashes with the same shape of the zucchini. Then, cook them with button and onion. Very amazing to try, and it is one of my favorites until now.
3. Patty Pan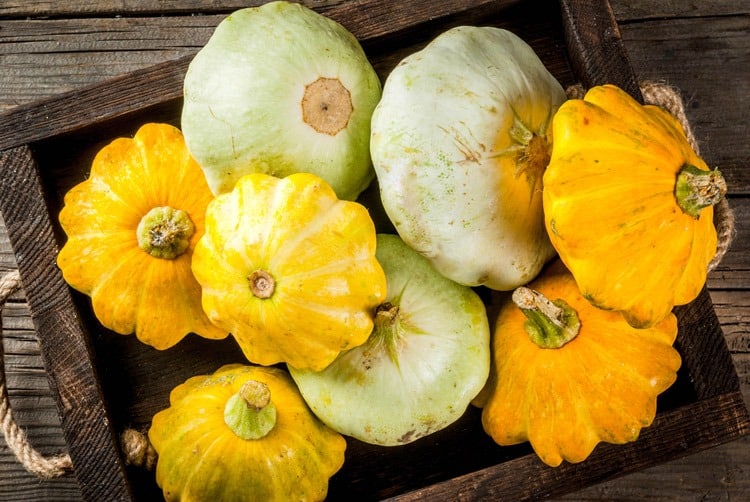 Even if you cannot find these yellow squashes, you can look for scalloped patty pan. They are not the perfect ones but an acceptable substitute.
In my viewpoint, they are very good on its own. As a consequence, it is more suitable to put them into the baking recipe.
You can add some layer of patty pan to the surface of your baking dishes. After that, you can put them all together in the oven for half an hour. The ideal temperature that I usually advise other people is 350 degrees.
4. Chayote Squash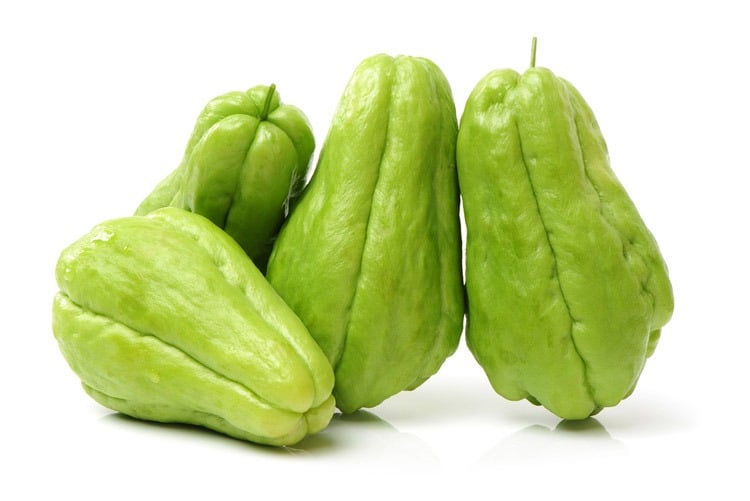 Another replacement I want to recommend is the Chayote squash which is very popular in Latin.
However, you need to remember one important thing when using this squash. It has quite a tough skin, so you need to peel the skin first before slicing and cooking.
5. Cucumber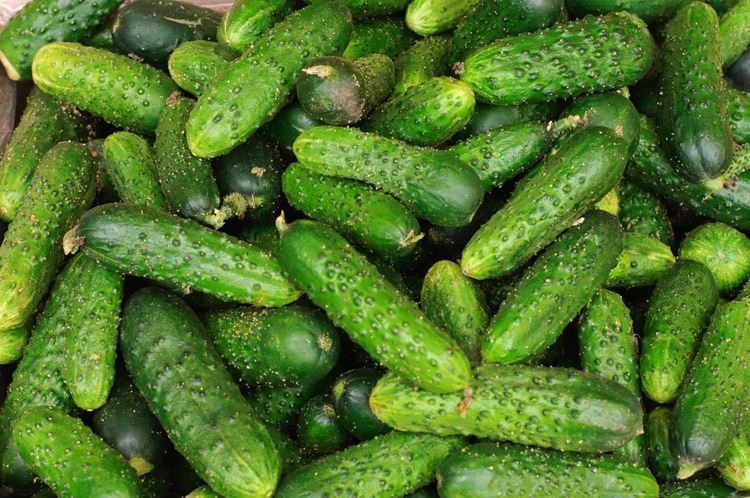 When I ask people about their favorite raw vegetables, the majority of them answer the cucumbers.
They are very fresh, easy to find and good for your health. And a happy news again, they can be a potential substitute for zucchini.
Many of you may have a doubt now since cucumbers deliver a different taste from the zucchini. Besides, they are juicier when either eating raw or making the pickle.
However, you may not know that zucchini and cucumber share the same texture and appearance.
In particular, you can cook the cucumber to make the main dishes. It is very fantastic to use the cucumber in baking as well as making casseroles.
In these dishes, the flavor and texture of the cucumber can be very outstanding. Try it now and you will love it!
6. Pumpkin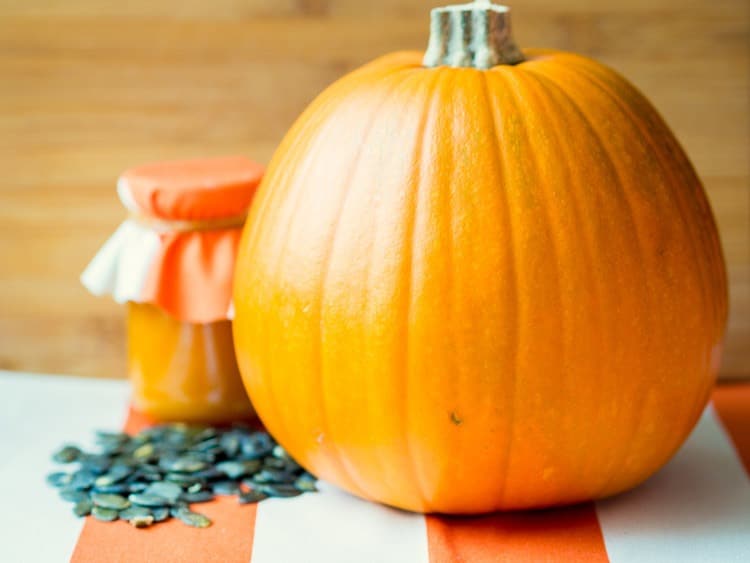 Finally, the name to end my substitute list will be pumpkin or butternut squash. This one will be the prominent substitute when you are about to make the zucchini bread.
As a consequence, you do not need to think about how to keep the store-bought bread fresh anymore.
You can also make the pumpkin puree, which is very suitable for soup. I always choose the small pumpkin since they will give you the best flavor.
Making the pumpkin purée is not very difficult and complicated. You can cut the top of the pumpkin and take out all the seeds.
Then, cut the whole piece in half so that you can bake them easier. The baking duration is 45 minutes at 350 degrees for the best outcome. Thereafter, you can peel the skin and put the pumpkin purée in the blender.
7. Carrot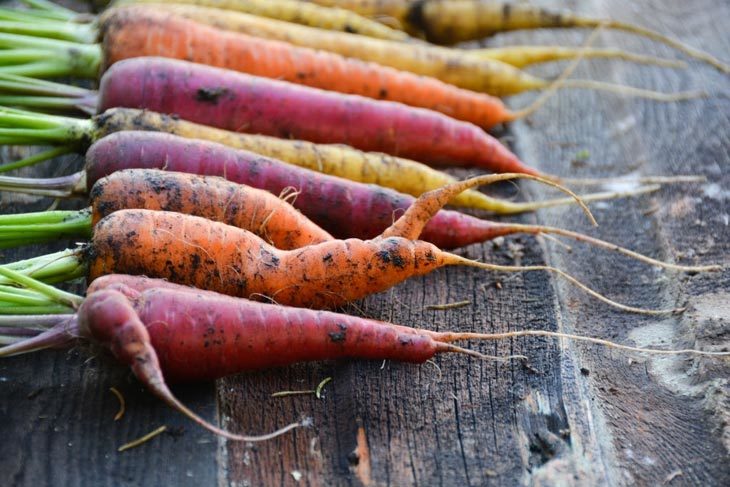 Now, you might concern about why carrot can sub for zucchini? Is it any common points to compare between carrot and zucchini? 
Even a bit surprised for you guy, but when you are making a salad, soup even on bread that needs to use chopped zucchini as main ingredients, you can use chopped carrot instead of that did not change the taste much.
Moreover, carrot and zucchini have many general values such as high water content, more dietary fiber, less cholesterol, less trans fatty acids.
8. Apple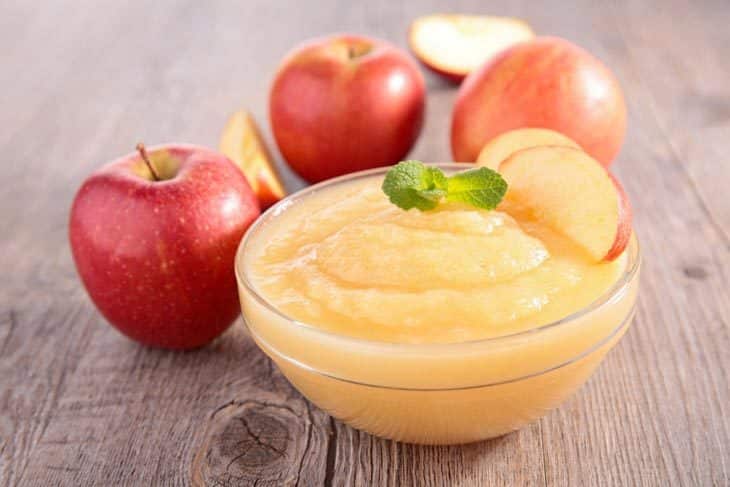 You should use the apple for zucchini in the recipe only on baking recipe or bread. Because when apple was cooked, they have same zucchinis texture mimics.
The second reason, as you know, zucchini will be best in the summer though in some regions zucchini was supplied year-round.
Still, it did not bring the best quality and taste, while apple season is nearly by the winter, in case of winter, somewhere in the US you can not find the zucchini or even when you find it, it did not provide the best quality as you want. Let use apple as a substitution.
The final reason is that both apple and zucchini are excellent sources of vitamins and minerals. But with someone need to provide more Vitamin E, K, or C to your body, an apple will do it better than zucchini.
9. Celery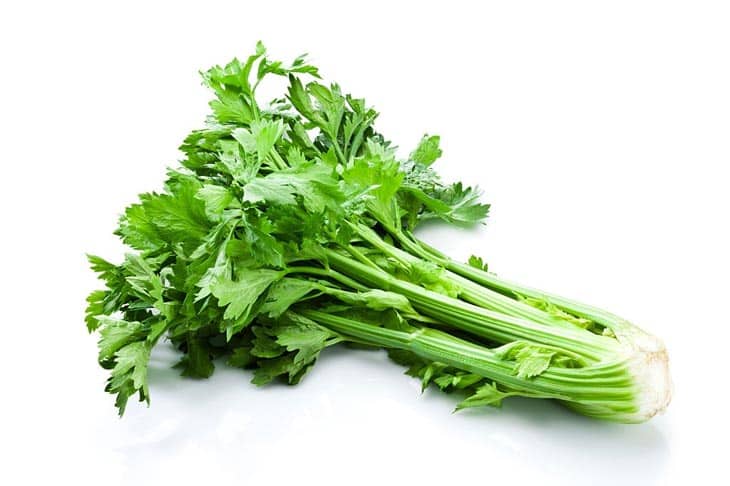 Celery is one of the most popular ingredients for any house cooks, and a promising new is it can be considered one of the perfect zucchini substitutes in soups because:
First: when cooking soups, all ingredients will be sliced and mixed, so the most important thing is the mixing taste is good.
I can't say for sure, but celery will make your soup a better flavor or at least a new experiment worth trying.
Second: Celery and zucchini have much similar nutrition as high in potassium, low carbohydrates, similar in protein and calories. Moreover, with the body's need for blood clotting, celery is an exceptional source of vitamin K.
10. Parsley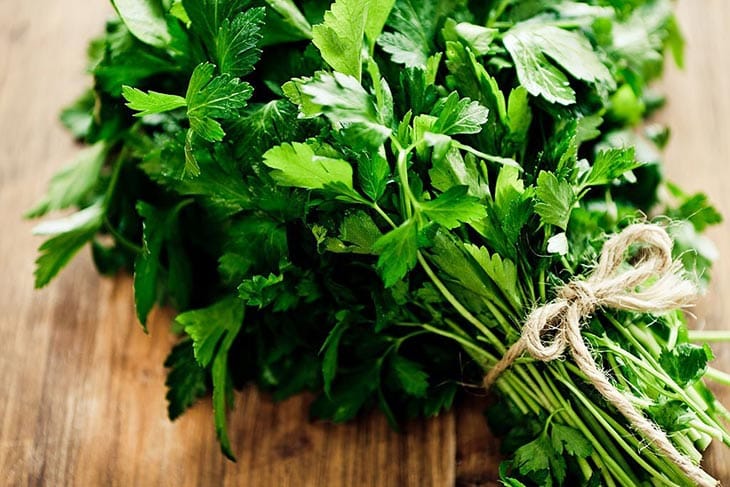 Actually, parsley is almost identical to celery when substitute for zucchini. But some chefs said that parsley has a distinct, mildly bitter taste that will be fit with some savory dishes than celery.
Especially, some dishes need to combine with arugula.
On the other hand, parsley provides a massive source of vitamin A, C, K, making your eyes better day by day.
11. Sweet Potato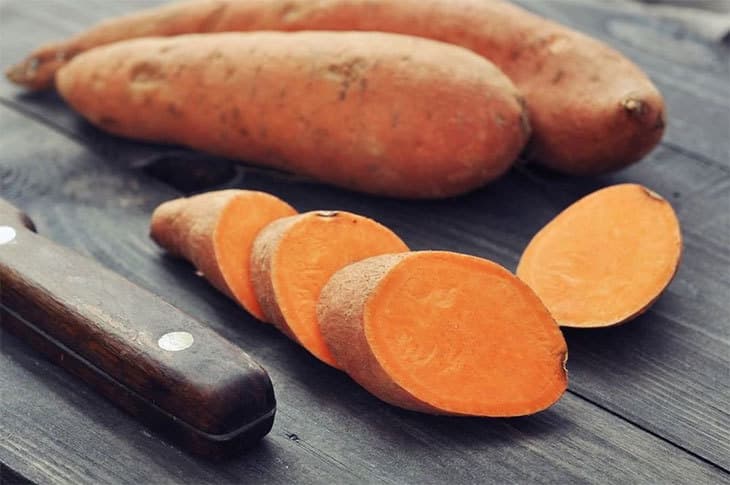 Sweet potatoes can use as zucchini substitutes in any dish because they have almost similar tastes when cooking with other ingredients.
Both sweet potatoes and zucchini a good sources of vitamins and minerals. Sweet potato is more calories, carbohydrates, pantothenic acid, dietary fiber, and vitamin A, while zucchini is a more credible source of vitamin C.
It depends on your menu and meal schedule to balance your body, but sweet potato is not a bad choice when you are run out of zucchini in the pantry.
12. Green Pepper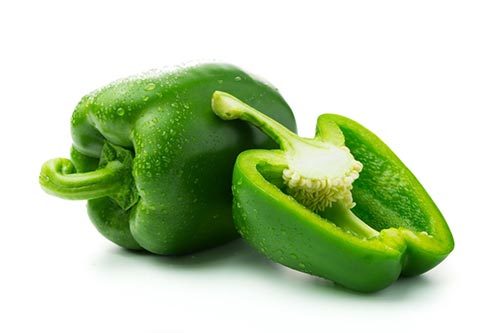 The last name that we want to introduce to you is green pepper – a suitable solution for zucchini substitution that you haven't ever heard of before.
Green pepper has ~ 5000 Scoville so, we only recommend to alternative for zucchini in baking dishes.
Because in baking dishes, the spicy taste will improve the dish flavor, especially at a grilled party. You may feel a bit of taste change, but it is worth trying it.
Moreover, green pepper is more calories, Carbohydrates, Dietary fiber than zucchini, with the same amount.