Have you ever come across a curly green that looks like it's straight out of a fairy tale? Meet the fiddlehead fern—a springtime delicacy that's not just whimsical in appearance but also packed with nutrients.
Below, we'll tell you what fiddlehead ferns are and which ones are safe to eat. We'll also show you how to clean them properly—super important! And, of course, we'll give you some easy ways to cook them, so they taste great.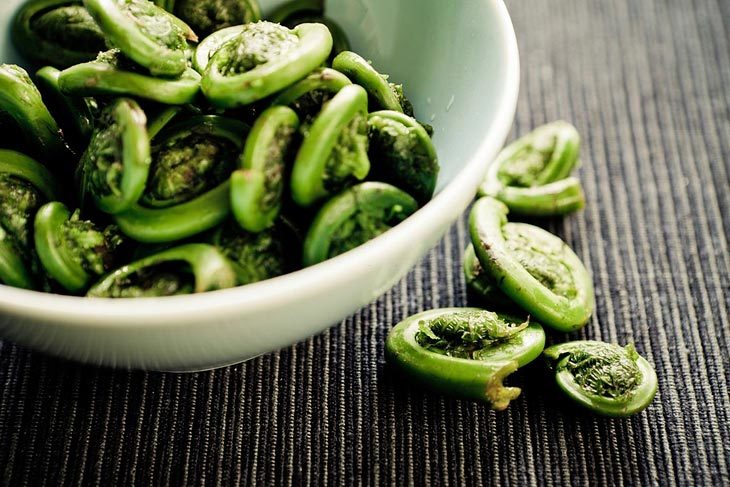 What Is a Fiddlehead?
A fiddlehead is a young fern leaf that hasn't opened up yet. It looks like the curled end of a violin, which is why it's called a "fiddlehead." You can usually find them in the woods during the spring.
People like to eat some types of fiddleheads because they taste a bit like asparagus and are good for you. But you have to be careful; some types aren't safe to eat. The most common one to eat is called the ostrich fern fiddlehead.
Always clean them well and cook them before eating to get rid of any bad stuff like bacteria. They're a special food that's only around for a short time each year!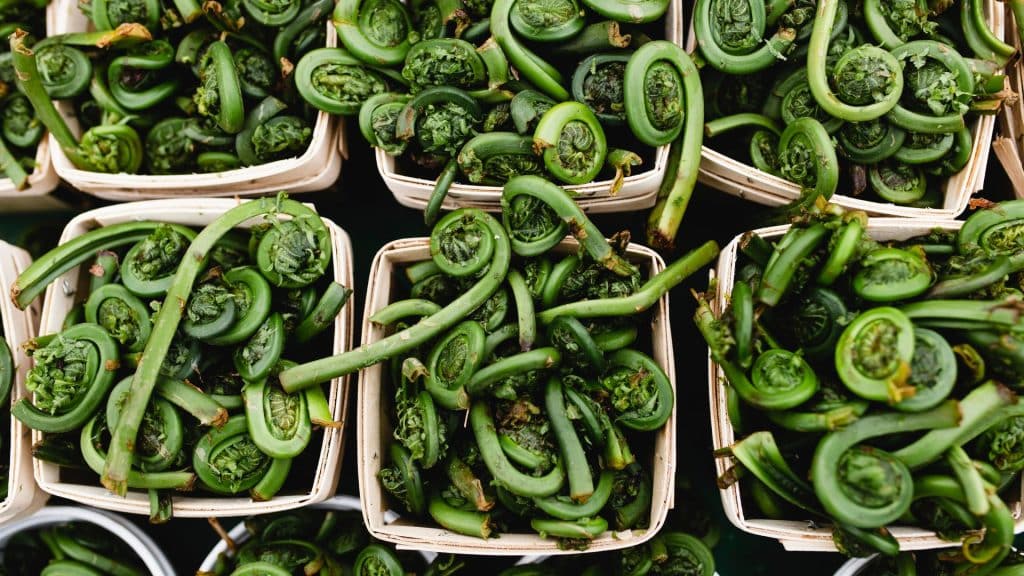 How To Clean Fiddleheads
Cleaning fiddleheads is an important first step before you cook them. Here's how to do it:
Remove Husk: Start by removing any brown, papery husk. Just sort of peel it off; it usually comes off pretty easily.
Wash: Put the fiddleheads in a large bowl of cold water and swish them around to loosen any dirt or grit.
Rinse and Repeat: Drain the water and repeat the washing process a couple of times to make sure they're spotless.
Inspect: Take a good look to make sure you've removed all the brown bits and any lingering dirt.
Trim Ends: Optionally, you can trim the cut ends a little if they look dry or brown.
Once they're clean, you're good to proceed with boiling or steaming, then cooking them the way you like. Always better to be thorough with the cleaning to enjoy them at their best!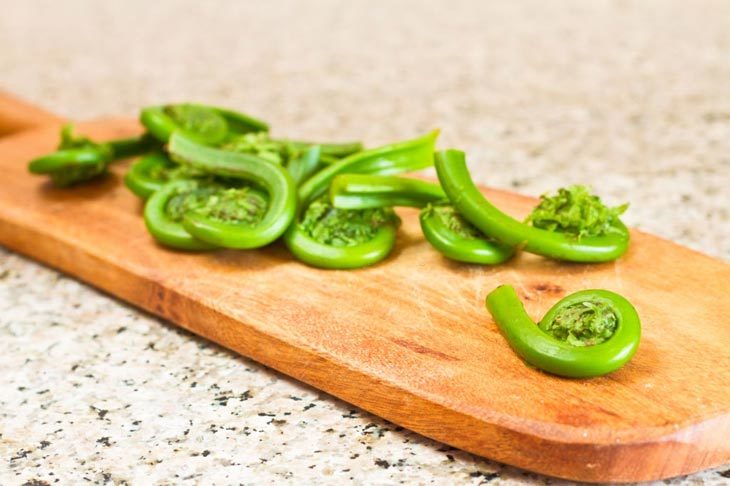 How To Store Fiddleheads
Storing fiddleheads is pretty straightforward. Here are a few options:
Fridge: Store them in the vegetable crisper, wrapped in a damp paper towel and then placed in a plastic bag. They should be good for up to a week.
Freezing: If you want to keep them longer, you can blanch them first (boil for about 1–2 minutes, then immediately cool in ice water) and then freeze them in airtight bags. They should keep for up to a year.
Pickle Them: If you're into pickling, fiddle heads can be a unique item to add to your pickling repertoire.
Choose the method that suits you best based on how quickly you plan to use them.
Are Fiddleheads Safe To Eat?
Yes, fiddleheads are generally safe to eat, but there are some important guidelines to follow. You'll want to make sure you're picking the right kind, usually the ostrich fern fiddleheads, which are the most commonly eaten. Others could be toxic.
Cooking is essential. Raw fiddleheads can carry bacteria and other foodborne illnesses. Boiling or steaming for at least 10–15 minutes is recommended.
Also, not all fiddleheads taste great; some can be pretty bitter. Always forage responsibly and know what you're picking. If you're not confident, it is better to consult an expert.
How To Cook Fiddleheads?
Cooking fiddleheads is a bit like cooking any other green vegetable, but with some extra steps. Here's a quick rundown:
Clean: First, remove any brown or papery skin and wash them thoroughly.
Boil or Steam: This is crucial for safety. Boil them in water for at least 10 minutes or steam for 12–15 minutes to get rid of bacteria.
Sauté or Stir-Fry: After boiling or steaming, you can sauté them in a pan with some butter, garlic, or other seasonings. This step is where you can get creative!
Grill or Roast: You can also grill or roast them, but make sure to boil or steam first. Then, just season and cook until they get a bit crispy.
Remember, cooking is a must; never eat them raw. Enjoy experimenting with flavors!