8 Perfect Chorizo Substitutes
Chorizo is a pork sausage originating in Spain, Portugal, and Mexico. It is usually made from ground pork with red chili peppers, smoked paprika, garlic, salt, and other spices.
However, it is not a common meat product in some countries, so if you wonder what you can substitute for chorizo in your next recipe. Well, don't worry… we have every option available right here.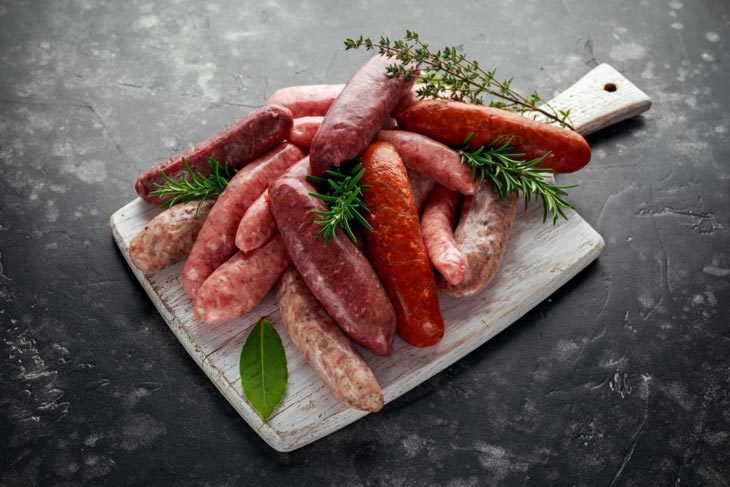 What is Chorizo?
Chorizo is an incredibly popular type of sausage in many Spanish and Mexican recipes. This particular sausage is known for its distinctive flavor that charms any Spanish and Mexican spicy food lover.
There are different varieties of chorizo in different regions like Mexican chorizo, Spanish chorizo, Chilean chorizo, as well as both fresh and dried versions of some of them.
When comparing chorizo vs sausage, I find they are made similarly, but flavorwise, they are quite different.
Chorizo has a signature spicy taste of chili peppers, garlic and smoked paprika. While hot sausage may seem similar, it has more of an Italian flavor with the added heat of cayenne.
The Chilean chorizo has a spicy and peppery taste because of the onion and wine vinegar inside, while the Argentinian chorizo is rich and soft because of the rice content.
The dried – or cured – versions of some have a similar taste to the uncooked ones, but do not need to be cooked before being eaten.
The 8 Best Chorizo Substitutes
Chorizo is an amazingly flavorful and essential ingredient in many Mexican and Spanish dishes. However, if you run out of it, or simply cannot find it in your grocery store, here is a list of our favorite chorizo replacements.
1. The "Other" Chorizo
You may think chorizo is chorizo… and think substituting Mexican chorizo for Spanish, or vice versa, would be a no-brainer. But beware! Mexican and Spanish chorizo have vastly different flavors.
Spanish chorizo is typically made with garlic and smoked paprika, while Mexican pork chorizo usually has vinegar and chili peppers. The vinegar in Mexican chorizo can be a powerful flavor, one which you may not want in a Spanish paella, or something similar.
However, there are plenty of times where you can swap one for the other. Mexican dishes can easily get away with using the Spanish version. Dishes with other strong flavors can typically hide the unwanted flavors from the other chorizo version as well.
2. Italian Hot Sausage
Hot Italian sausage is a great chorizo alternative because of its similarity in heat. While the flavor profiles are not super close, the heat that comes from the two sausages is. If your chorizo is a part of a dish where there are a lot of other flavors, then you'll probably be able to swap in hot sausage flawlessly.
However, if the meat is the main star of the meal, then it's best to not use hot sausage as a substitute.
3. Pepperoni
Pepperoni tends to be mistaken as an Italian type of meat. However, it does not originate in Italy. The pepperoni was created in the 1900s by a group of Italian Americans. Therefore, there is a mix of the Italian influence and familiar taste of American sausage.
Pepperoni is smokey, spicy, and pungent, and it is cured and air-dried. The curing process adds the iconic saltiness to our classic pepperoni. Since pepperoni is a mix of pork and beef, the meat texture is similar, but not exact, to that of cured Mexican chorizo.
4. Ground Pork
Plain ground pork can be a good replacement for chorizo, but you'll likely have to add additional spices to get the flavors close. Adding paprika, garlic, and chili powder would be a good start to get the tastes similar.
5. Bacon
Sometimes bacon can be used as a general substitute for other meats. This is true with chorizo as well, but only if matching flavor is of little concern. Bacon is pork, just like chorizo, but it lacks any of the spices that give it that classic chorizo taste.
6. Kielbasa
Kielbasa is a type of sausage that is a common component of Polish cuisine.
Kielbasa is a cured meat that easily cooks up in dishes. While the flavors don't match very well, you could replace chorizo with kielbasa in a pinch.
7. Salami
Salami is a common Italian ingredient you can find in burgers and sandwiches. When you look at the similarity in flavors, salami is a good cured chorizo substitute. It is a combination of light sweetness, savory, and spicy flavors.
Salami can only be used as a chorizo replacement if you are trying to replace a dried, or cured version.
8. Homemade Mexican Chorizo Recipe
You can always make chorizo at home with this simple Mexican chorizo recipe.
Ingredients
1 pound of ground pork
2 tbsp of salt
3 tbsp of paprika
3 tbsp chili powder (ancho is best)
8 oz of white vinegar
6 garlic cloves (minced)
½ tablespoons of black pepper
½ tablespoons of oregano
Mix all ingredients by hand until all the spices are incorporated. This will be loose chorizo unless you're one of the lucky ones that has a sausage maker attachment for your Kitchen aid mixer.