Who doesn't love a good strawberry cheesecake? With its creamy texture and sweet, fruity flavor, it's no wonder that this dessert is a popular favorite all over the world.
In this blog post, we'll explore the basics of making a strawberry cheesecake, as well as some variations and toppings that you can try out at home.
So whether you're a seasoned baker or just getting started, get ready to satisfy your sweet tooth with these mouth-watering strawberry cheesecake recipes!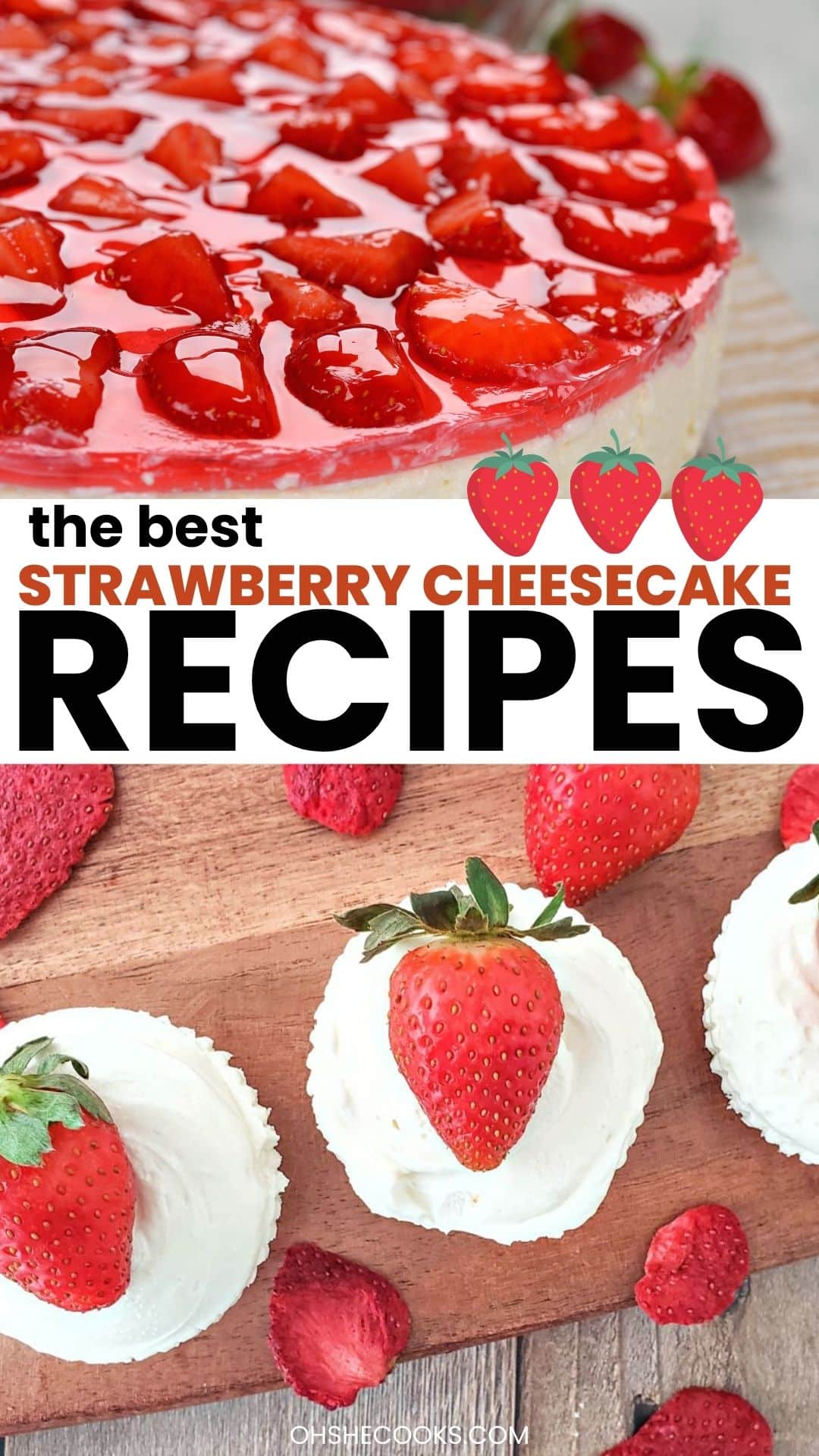 What is Strawberry Cheesecake?
Strawberry cheesecake is a dessert made with a crust of crushed cookies or graham crackers, a creamy filling made with cream cheese, sugar, and eggs, and topped with fresh strawberries or strawberry sauce. The crust is usually made with a mixture of butter and cookie crumbs, while the filling is made by blending cream cheese, sugar, and eggs until smooth. Strawberry cheesecake can be baked or no-bake, depending on the recipe.
Brief History of Strawberry Cheesecake Recipes
The history of cheesecake can be traced back to Ancient Greece, where it was served to athletes during the first Olympic Games in 776 BC. The modern cheesecake recipe came later that included a mixture of cream cheese, sugar, and eggs, which was baked in a crust made of flour, butter, and sugar.
The addition of strawberries to cheesecake likely came later, as strawberries were not widely cultivated until the 16th century. Today, strawberry cheesecake is a beloved dessert around the world, and many people enjoy experimenting with different variations and toppings.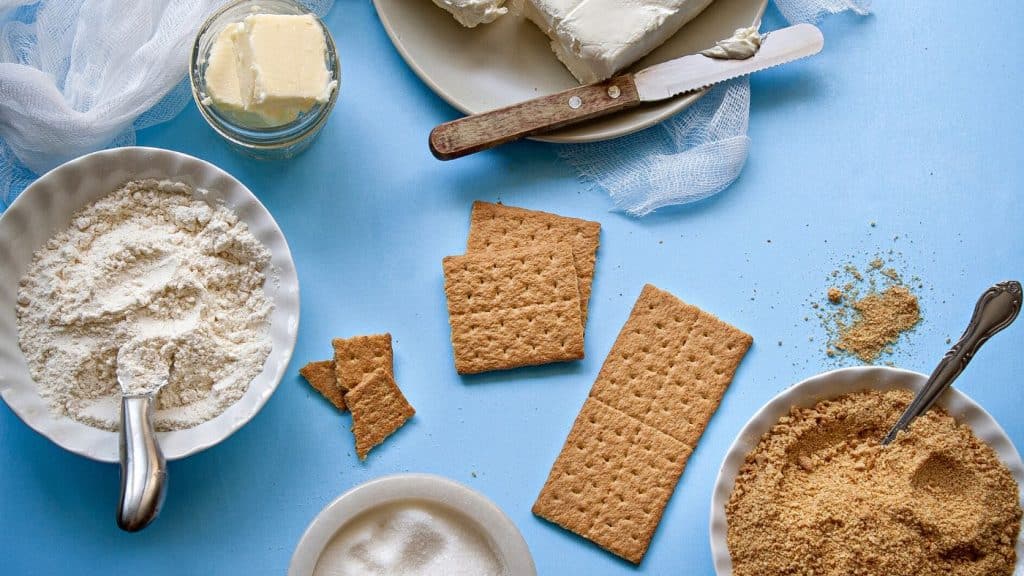 What Ingredients are in a Strawberry Cheesecake Recipe?
The creamy texture and sweet flavor of strawberry cheesecake are the result of a unique blend of ingredients used to make it.
Cheesecake ingredients typically consist of a crust made from crushed cookies or graham crackers mixed with melted butter, and a filling composed of cream cheese, sugar, eggs, and vanilla extract. Some recipes also call for sour cream or heavy cream to be added to the filling, which gives it an even creamier texture.
Fresh strawberries or strawberry purée can then be added to the mixture to create the strawberry flavored cheesecake, but this part is optional.
Finally, the cheesecake is baked in the oven until it sets, and it can be topped with additional fresh strawberries or a strawberry sauce before serving.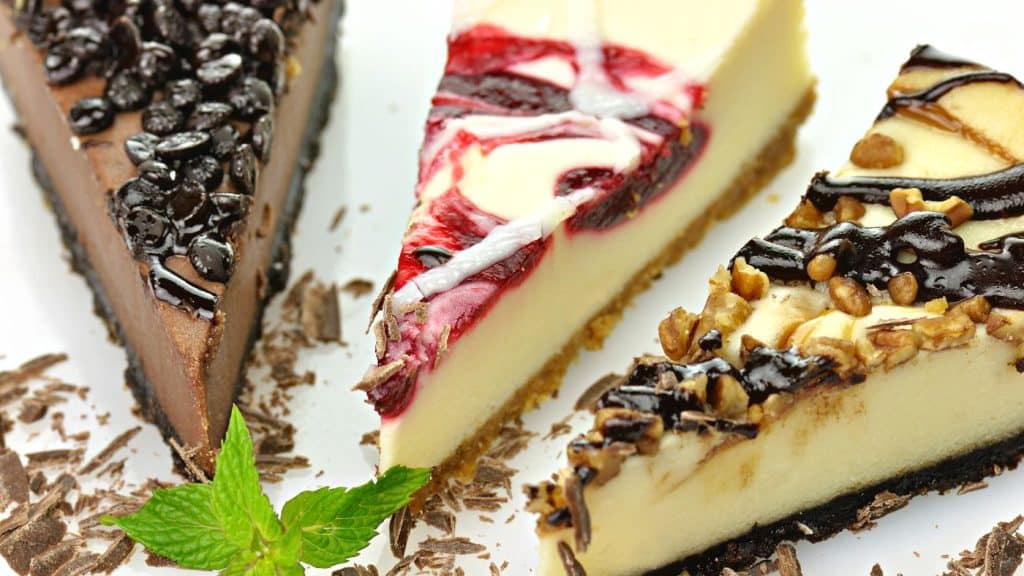 What are some variations for Cheesecake Toppings Apart from Strawberry?
There are many delicious toppings you can use to dress up your cheesecake. Here are some popular options:
Blueberry topping: made with fresh blueberries, sugar, and a splash of lemon juice, this topping is perfect for blueberry cheesecake.
Chocolate ganache: a rich and decadent topping made with melted chocolate and heavy cream. This works especially well with chocolate cheesecake.
Raspberry sauce: a tangy and sweet sauce made with fresh raspberries, sugar, and a little water. Perfect for raspberry cheesecake.
Salted caramel sauce: a rich and indulgent topping made with sugar, cream, butter, and a sprinkle of sea salt. This pairs well with many different types of cheesecake.
Whipped cream: a classic topping that goes well with any flavor of cheesecake. You can add a little sugar or vanilla extract to the whipped cream for extra flavor.
Lemon curd: a tangy and zesty topping made with fresh lemon juice, sugar, butter, and eggs. This works especially well with lemon cheesecake.
Cherry topping: a sweet and juicy topping made with fresh cherries, sugar, and a little cornstarch to thicken it up. This pairs well with many different types of cheesecake.
These are just a few examples of the many delicious toppings you can use to make your cheesecake even more special. Get creative and experiment with different flavors and combinations to find your favorite!
Common Questions About Cheesecake
What type of crust should I use for my strawberry cheesecake?
You can use a traditional graham cracker crust or a cookie crust made with shortbread or vanilla wafers. You can also experiment with different flavors of crust, like chocolate or almond.
Can I use frozen strawberries for the topping?
While fresh strawberries are recommended for the best flavor, you can use frozen strawberries in a pinch. Just make sure to thaw them completely and drain off any excess liquid before using. I will always recommend using a strawberry cheesecake recipe with real strawberries anytime!
Can I make strawberry cheesecake ahead of time?
Yes, you can make strawberry cheesecake ahead of time. It will keep well in the refrigerator for up to 3–4 days. You can also freeze it for up to 2–3 months.
How do I prevent my cheesecake from cracking?
To prevent your cheesecake from cracking, make sure all your ingredients are at room temperature before mixing. Also, avoid overmixing and over baking your cheesecake. Finally, you can use a water bath to help regulate the temperature and prevent cracking.
Can I use a different type of cheese for my cheesecake?
While cream cheese is the most common cheese used in cheesecake, you can also experiment with other types of cheese like ricotta, mascarpone, or goat cheese. Just be aware that this will affect the texture and flavor of your cheesecake.
Can I make a vegan strawberry cheesecake recipe?
Yes, there are many vegan strawberry cheesecake recipes available. These recipes usually use a combination of vegan cream cheese and coconut cream to create a creamy and delicious filling.
Can I make a gluten-free strawberry cheesecake recipe?
Yes, you can make a gluten-free strawberry cheesecake recipe by using a gluten-free crust made from almond flour, gluten-free cookies, or other gluten-free ingredients. Be sure to check all your ingredients to ensure they are gluten-free.
---
Let's Get Started
Take a look below at some of the best strawberry cheesecake recipes you can make as well as eat! 🙂
Best Strawberry Cheesecake Recipes
I hope you enjoyed this collection of classic strawberry cheesecake recipes mixed with other varieties of cheesecake strawberry recipes and found a new favorite to bake.