If you love quick and easy to make cookies, then these adorable Rudolph cookies using peanut butter sandwich cookies and chocolate will be a fast favorite.
These five ingredient cookies are quick to make, are no bake, and the outcome is an adorable reindeer cookie that kids to adults will love!
Read on down to find step-by-step photos of the process of creating these semi-homemade Christmas reindeer cookies, as well as the recipe. Enjoy.
Christmas Reindeer Cookies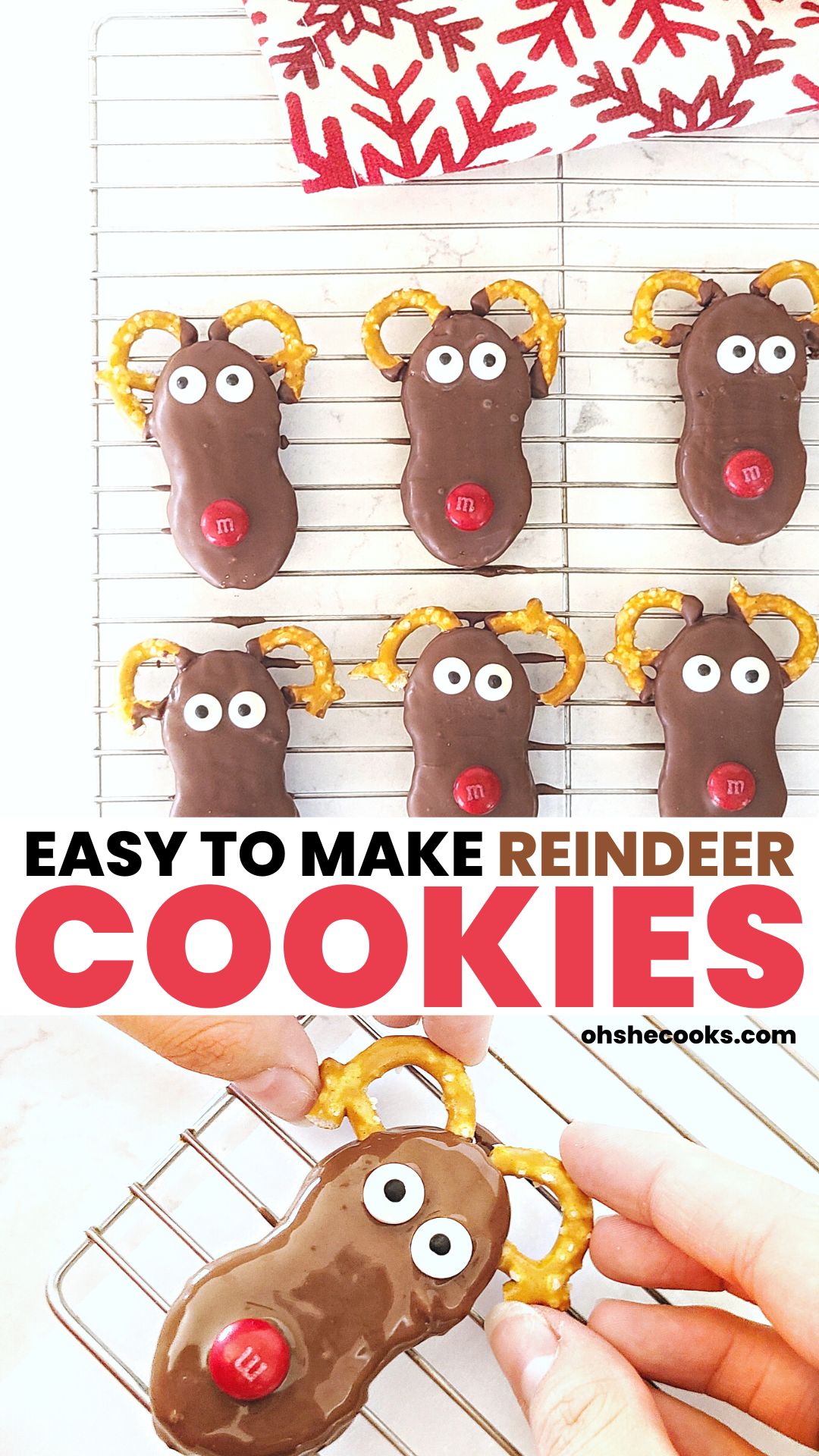 You'll love making these cute reindeer cookies because they are super easy and take only a small amount of time. This means that you can make these reindeer cookies for Christmas parties and get togethers the same day if needed.
These cute Rudolph cookies only take 5 ingredients, are simple to make and are great for Christmas gifts as well!
Ingredients for Chocolate Reindeer Cookies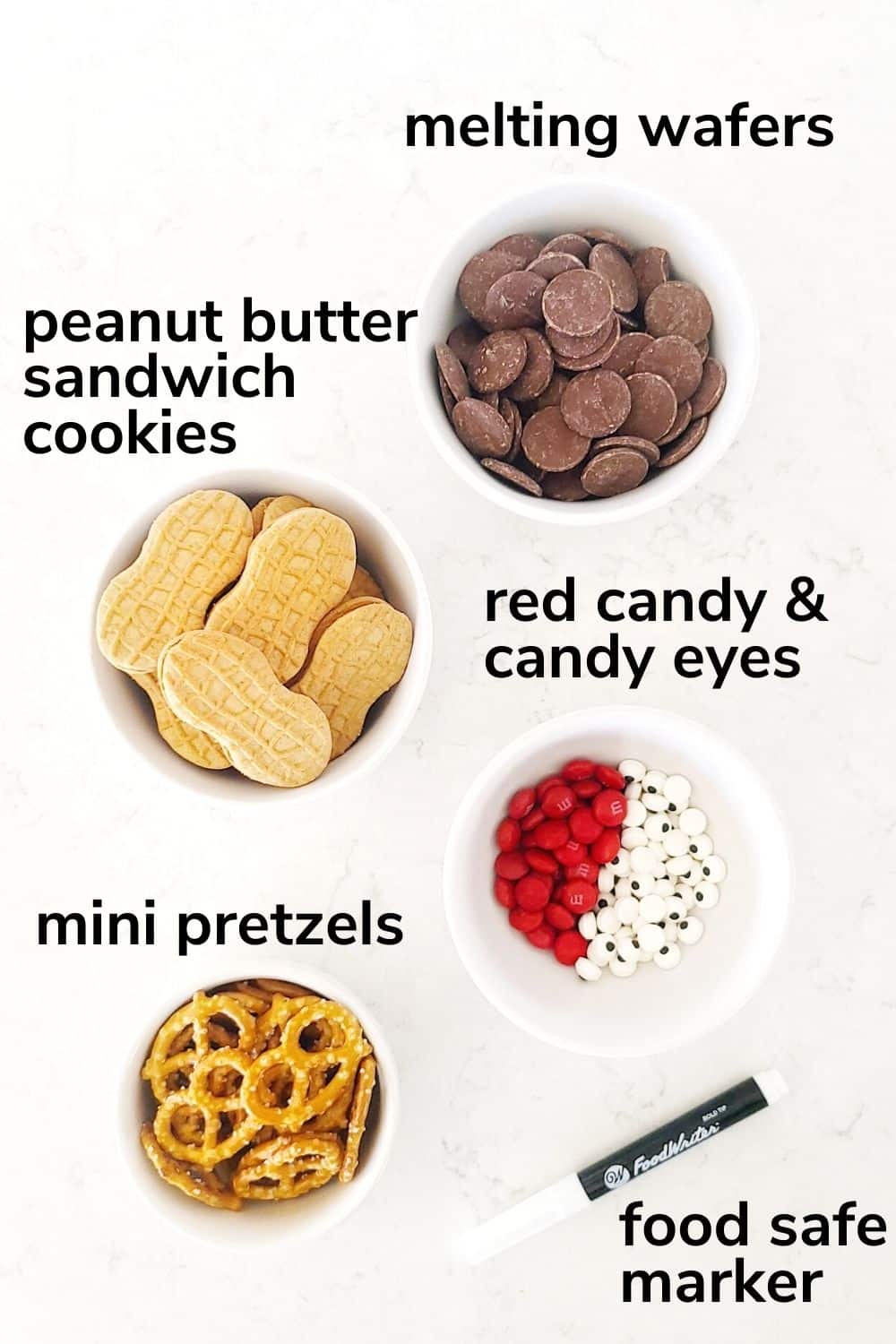 You'll just need a few ingredients to make these easy reindeer cookies, which are listed below.
Melting Chocolate / Melting Wafers
Mini Pretzels
Nutter Butter Cookies
Red M & M's
Candy Eyes
1. Melting Chocolate
I recommend using a higher quality melting chocolate like Ghriadelli chocolate or melt ems chocolate, both of which are easy to find in most stores. For the reindeer cookies shown, I used Ghirardelli Milk Chocolate Melting Wafers in the 10 oz bag. You will not need the whole bag, but you can use as much as you prefer.
2. Peanut Butter Sandwich Cookies
The perfect cookie shape for the reindeer head is a peanut butter sandwich cookie! You can find these at most stores and online as well.
3. Candy Eyes and Red Chocolate Covered Candy
I used candy eyes I found at my local grocery store, as well as red chocolate candies for the Rudolph nose. You could also use brown candies as well if you prefer.
4. Mini Pretzels
You'll also need mini pretzels to make the reindeer antlers. We broke the pretzels in half, dipped them in the melted chocolate and stuck them to the side of the fully covered reindeer cookie.
5. Edible Marker
If you'd like to draw on a mouth to the reindeer cookies, you can use an edible marker. My best advice is to NOT draw on the mouth until the chocolate cover cookie is completely dry.
How to Make Reindeer Cookies
Melt Chocolate
To make these cookies, you'll first have to melt chocolate wafers in a microwave safe bowl at half power for 30 seconds. Next, stir the chocolate and then continue microwaving at 15 second intervals at half power, stirring between each interval until the chocolate is melted.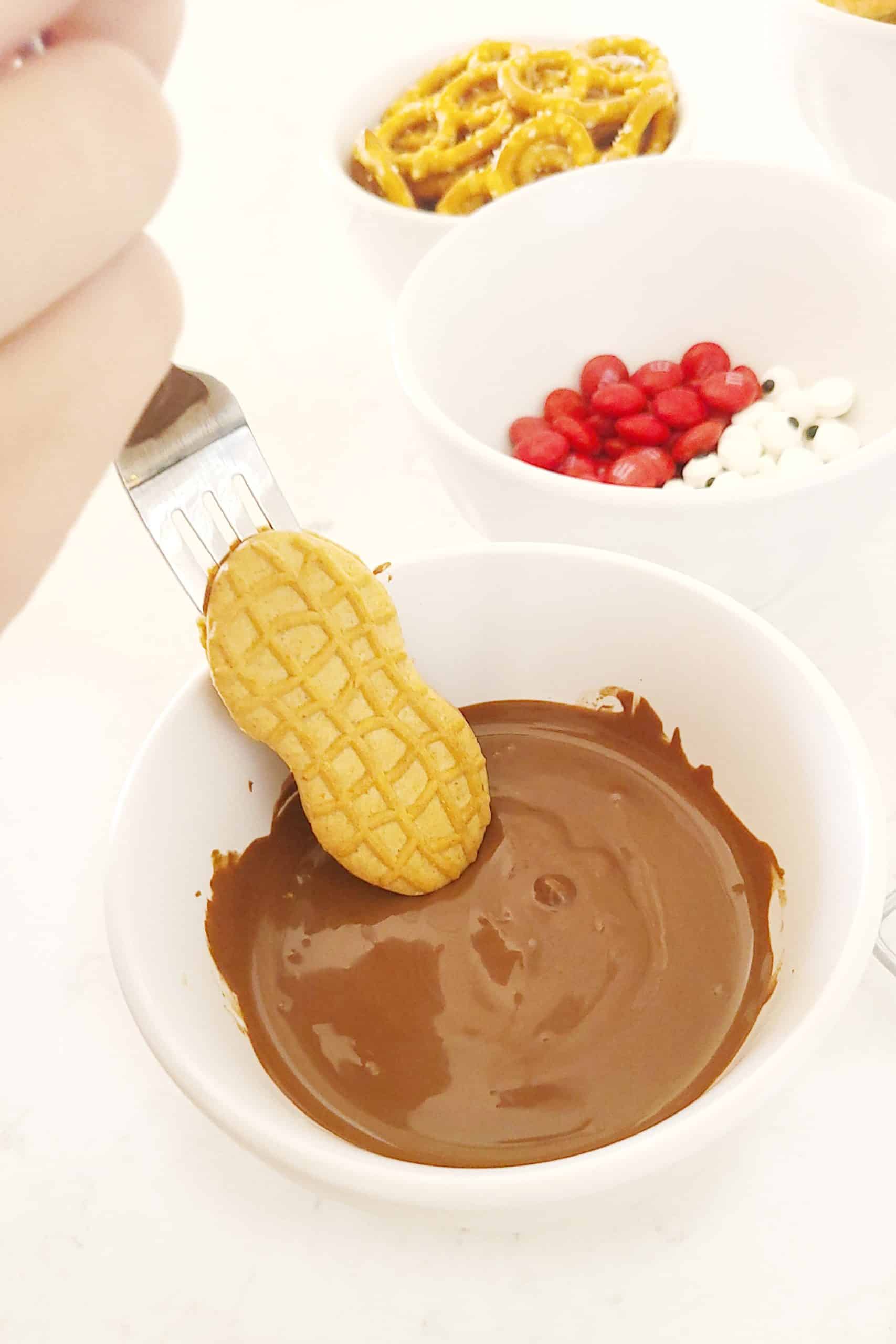 Dip Peanut butter Sandwich Cookies
Next, you'll want to cover the sandwich cookie with the melted chocolate. We round the best way was to drop the cookie in the chocolate until fully submerged.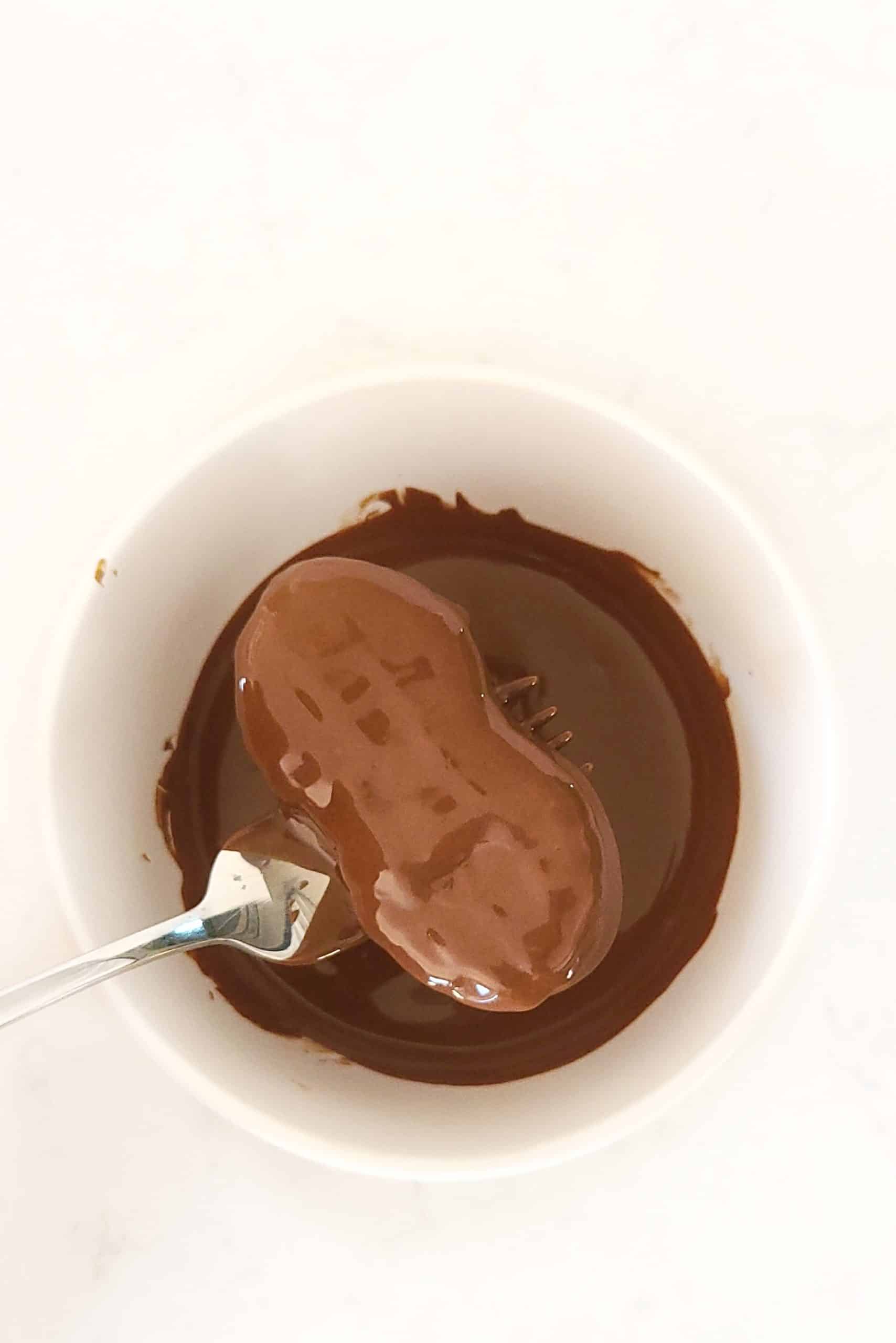 Place on a Cooling Rack
We then lifted the cookie out of the chocolate with a fork and placed onto a cooling rack, so we could get ready to decorate them and turn them into adorable reindeer cookies.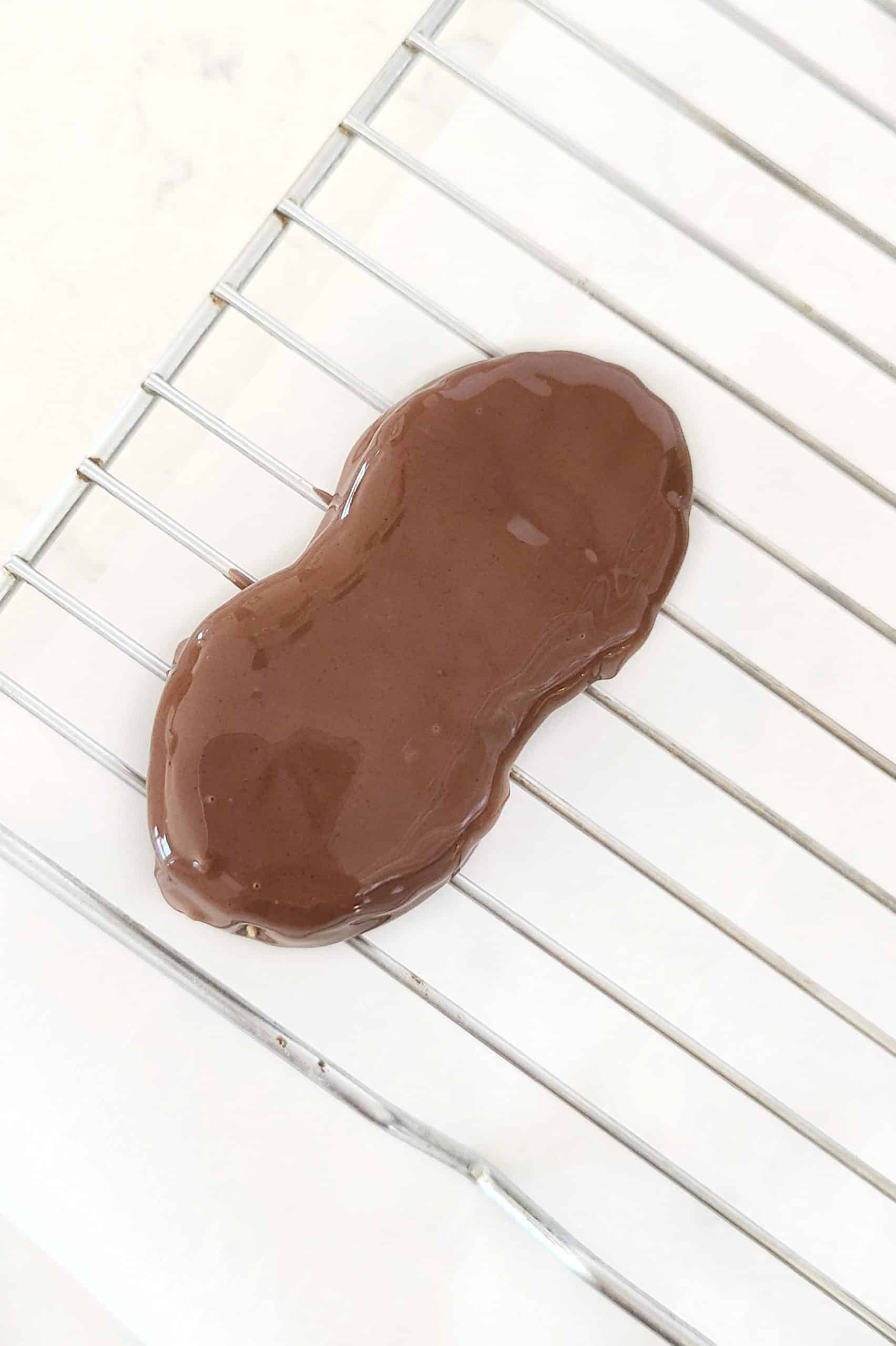 Decorate the Cookie with Candy
To make a reindeer cookie, place a red colocate covered candy at the bottom of the cookie and two eyes at the top.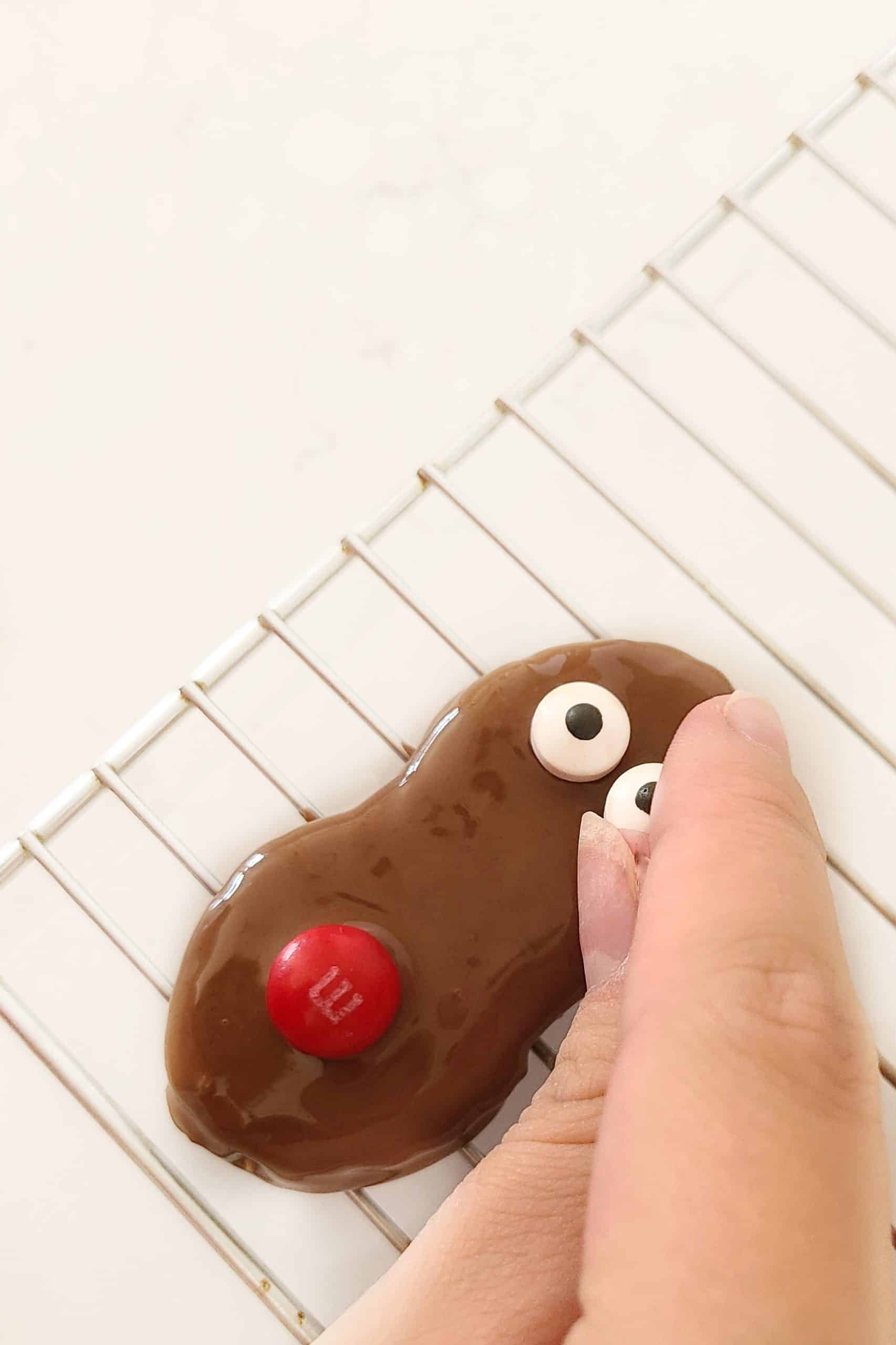 Add Pretzel Antlers
You will want to use mini pretzels broken into pieces. This part will not be perfect, so be creative with it. To make sure the antlers will stick on to the reindeer cookie, I suggest dipping the end that will be attached to the reindeer with chocolate first.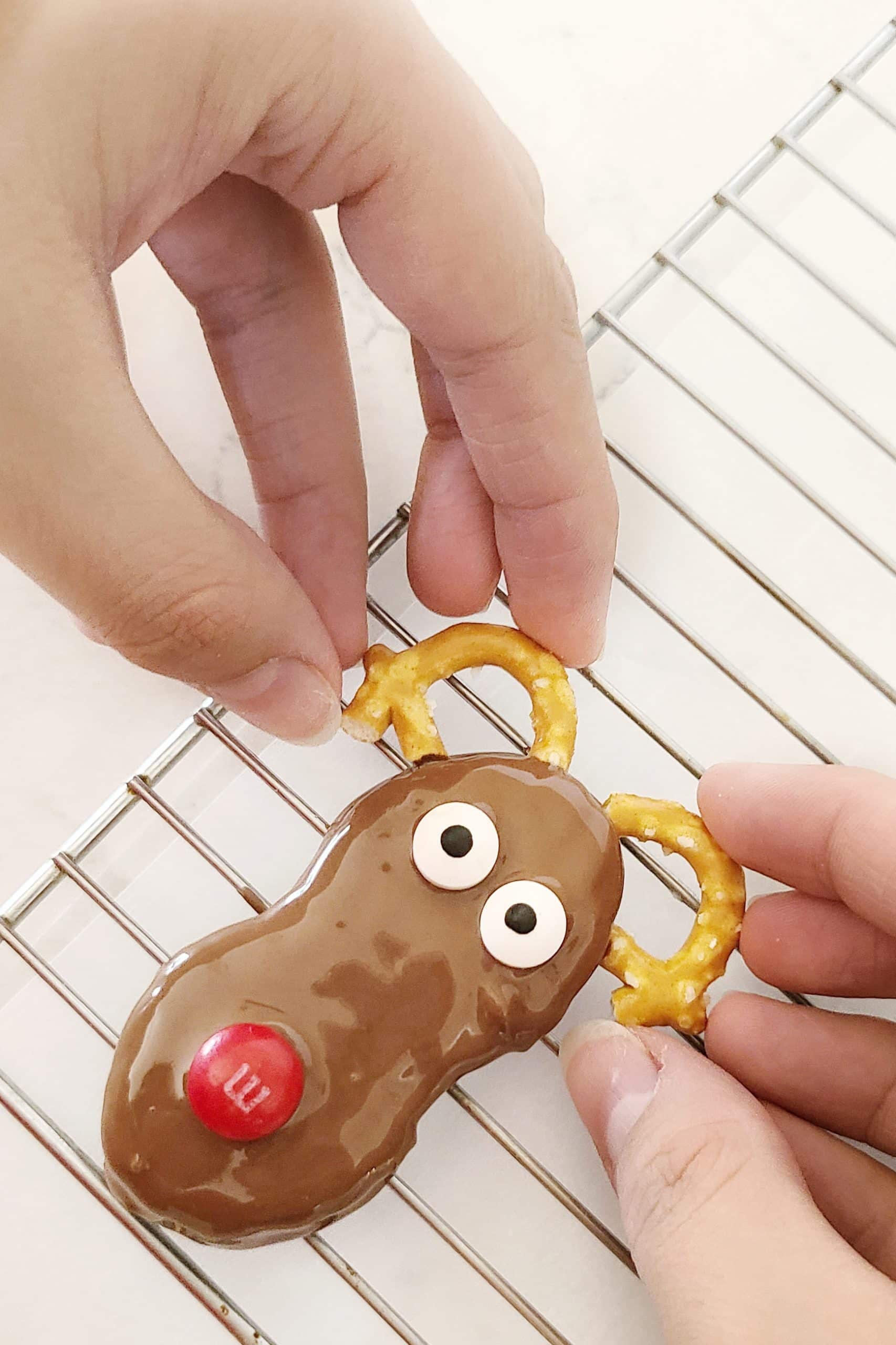 Let Dry
Let the chocolate completely dry on the cooling rack before attempting to use the optional edible marker pen to draw a mouth. I did not for these pictures, but you can if you wish.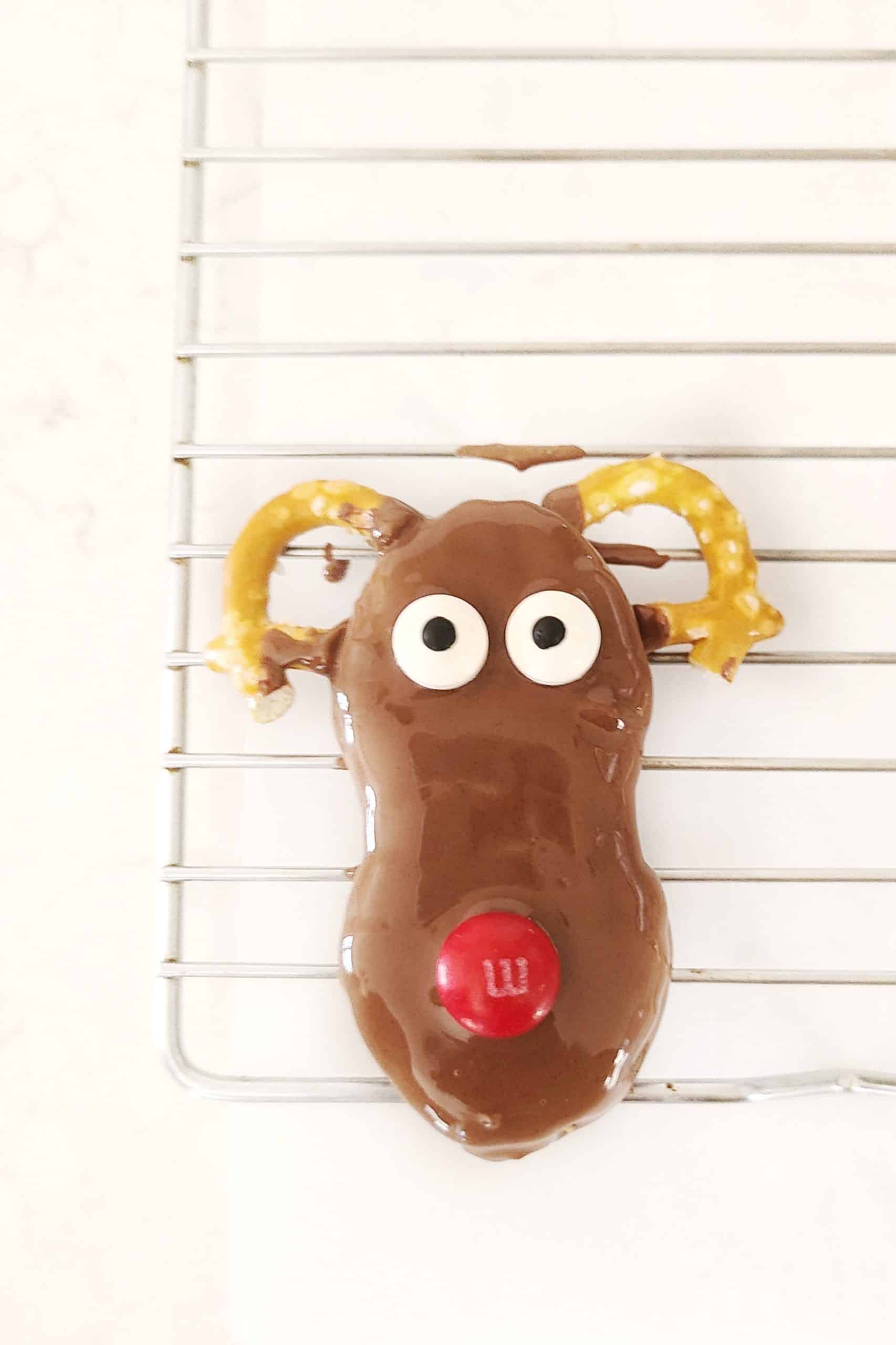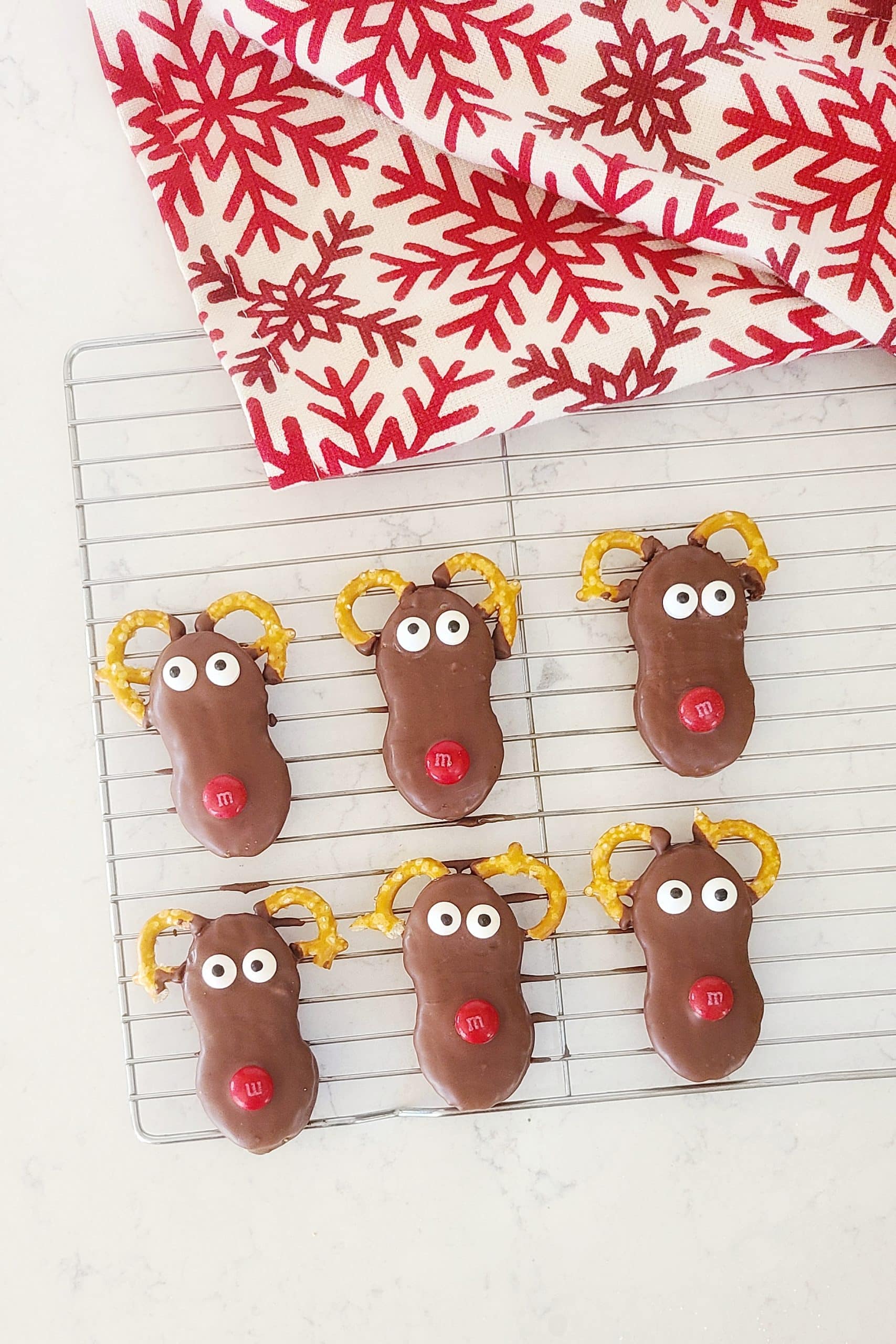 And that is all the steps you need to know to make reindeer cookies! The only thing left to do is gift them, serve at your next party, or just enjoy them yourself!
Furthermore, these cute cookies would be perfect for Santa with a glass of milk! Enjoy!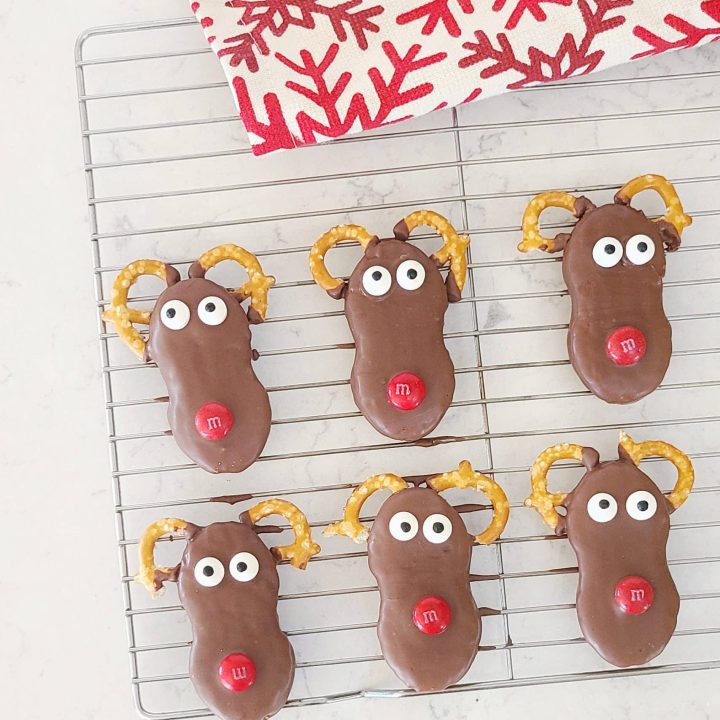 Rudolph Reindeer Cookies
Additional Time:
10 minutes
Reindeer Cookies are the perfect cookies for Santa or for all your little Christmas helpers.
Ingredients
10 oz. Melting Chocolate
12 Mini Pretzels
12 Nutter Butter Cookies
12 Red M & M's
24 Candy Eyes
Instructions
Melt the chocolate wafers in a microwave safe glass bowl as indicated on the package instructions, stirring frequently.
Submerge the peanut butter sandwich cookie until it is covered in chocolate.
Using a fork, remove the cookie and place onto a cooling rack.
Decorate the chocolate covered cookie with a red candy as well as candy eyes.
Attach the broken pretzel pieces to each side of the reindeer head, making sure to dip one end of the pretzel in chocolate to make sure it sticks to the cookie.
Let Dry
(Optional): Use an edible marker to draw on a mouth.
Notes
You will also need a cooling rack and a small microwaveable bowl for the chocolate wafers to make these reindeer cookies.
Recommended Products
As an Amazon Associate and member of other affiliate programs, I earn from qualifying purchases.