What To Serve With Enchiladas – 14 Great Side Dishes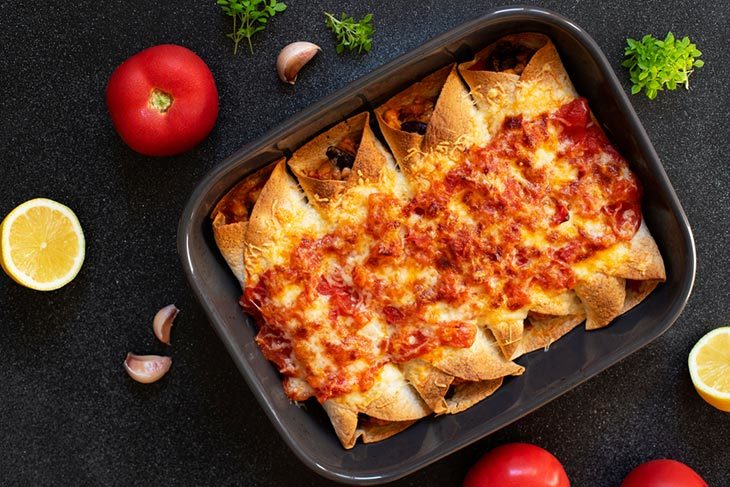 If you're a fan of Mexican cuisine, then chances are you've had enchiladas before. These flavorful and comforting dishes are a staple in Mexican food and are loved by many. However, sometimes it can be challenging to decide what to serve with them, but we are here to help with our what to serve with enchiladas post!
Do you go with the traditional rice and beans or mix it up with something different? That's where we come in. In this blog post, we'll be sharing 14 great side dishes to serve with enchiladas.
Whether you're looking for something simple or something a bit more adventurous, we've got you covered. So, let's get started and explore some tasty options that will elevate your enchilada game!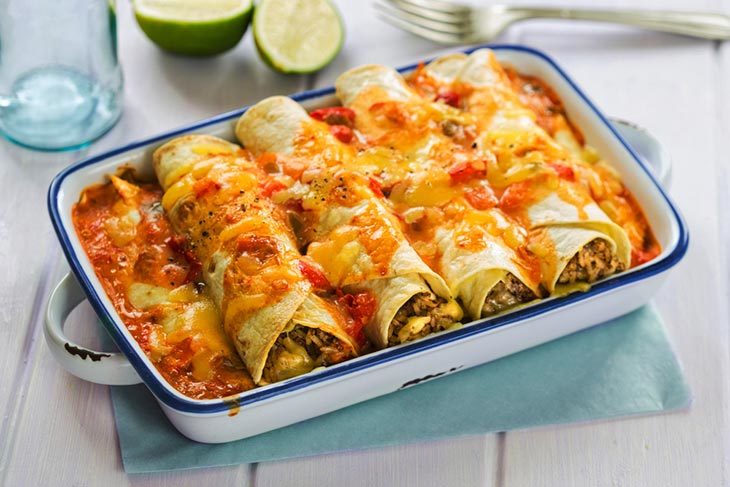 What Is An Enchilada?
Similar to dishes like burritos, tacos, or quesadillas, this dish also originates in Mexico.
It is made from various ingredients such as chicken, beef, pork, cheese, vegetables, beans combined. Those ingredients are wrapped in a flat, round piece of bread, commonly known as a tortilla. 
It is then topped with a savory sauce. There are a variety of sauces that can be served with it. For example, there are many sauces made from chili peppers, while others are made with cheese. However, people often prefer to eat chili-based ones.
At first, enchiladas were just corn tortillas topped with chili sauce and had no filling. After that, this dish was changed and upgraded in both ingredients and form.
Now, it is not difficult for you to come across this dish on the street due to its reputation – The dish became popular not only in Latin America but also in many other countries around the world.
What To Serve With Enchiladas
Here are 14 suggestions of enchilada dinner sides that you may need to know before preparing the meal:
Chips And Salsa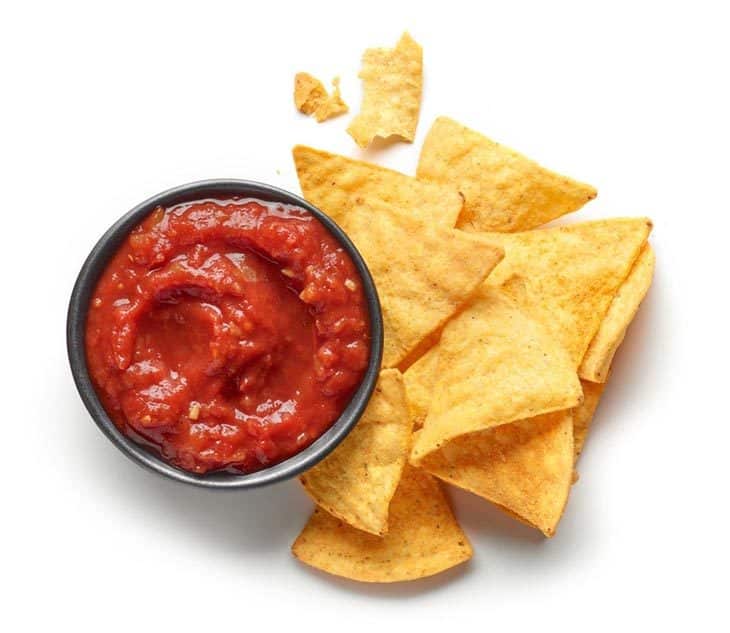 A classic combo – tortillas chips and salsa served with enchiladas. It is one of the most iconic sides of enchiladas.
The chips are accentuated by their crispness and mild salty taste, so you won't get bored of just eating enchiladas.
Besides, an interesting fact is that these chips can be served with most salsa recipes. Fresh cilantro salsa is recommended. You can either follow any salsa sauce recipes you find or try several sauces ahead of time until you find the one you like best.
Plus, you can alter potato chips if you can not find any tortilla chips nearby.
Mexican Sweet Corn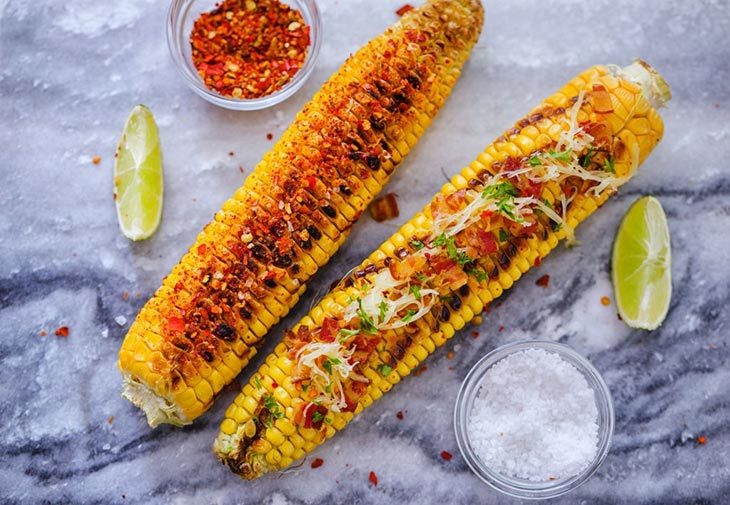 This is a dish from authentic Mexican cuisine. Since enchiladas are also street food, Mexican corn, therefore, will be one of the best sides for enchiladas.
If you serve it at the table, you can shred the corn and mix it with more food ingredients: parmesan, cilantro, or parsley. You can also leave corn on the cob, especially if you're going to eat it on the road. It will bring a slightly sweet and smoky taste to your dish.
Mexican Coleslaw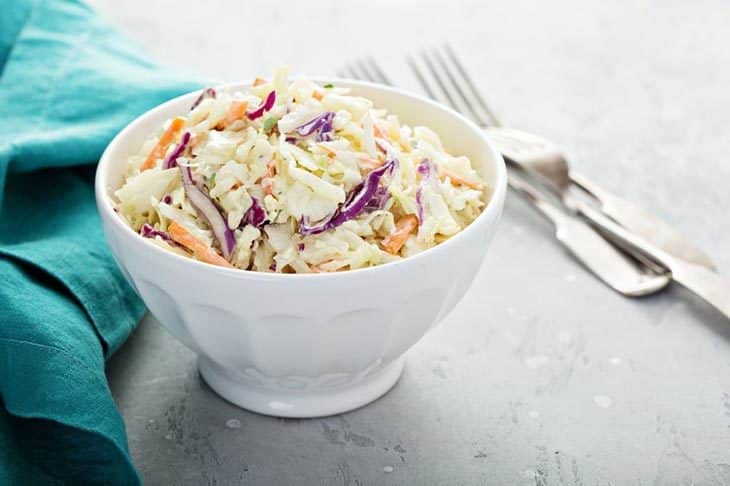 You're making enchiladas packed with a good amount of protein from beef and wondering what goes good with beef enchiladas? Be sure to consider making a coleslaw, as it's light enough to go with beef enchiladas.
The good thing about this dish is that you can add your choice of ingredients. Anything that is left from some previous meal, like beans, cabbage, any proteins, can be used for coleslaw.
Many people will think of carrots and celery, which probably are the easiest ingredients to combine with many other dishes. But they've been around for a while, and you probably want something else. Consider using a Pachyrhizus erosus root!
What's really worth mentioning here is that if you're making a dish that's completely inspired by Mexican cuisine, make a Mexican coleslaw. It takes the traditional one to a whole new level and is even more delicious.
Plus, fiber from the coleslaw makes it easier for you to metabolize meat protein. You'll also feel less guilty about consuming much of the animal protein and fat!
Related article: How Long Does Coleslaw Last? How To Tell If It Go Bad?
Pico De Gallo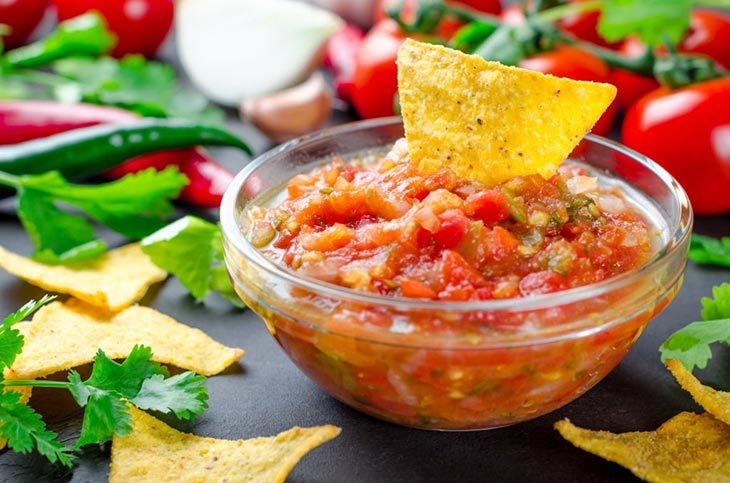 The next Mexican-inspired dish is pico de gallo. Best of all, it creates a contrast in flavor when you pair it with the dish. Indeed, it is another great choice out of enchilada side dishes.
In case you're not sure what vegetable goes with enchiladas to make your pico de gallo, try the classic combination: tomatoes, onions, jalapenos, lime, and cilantro. You can eat this homemade salsa right away or leave it overnight for more flavor.
It is also great to eat pico de gallo with chips; either tortilla or potato chips will do!
Taco Salad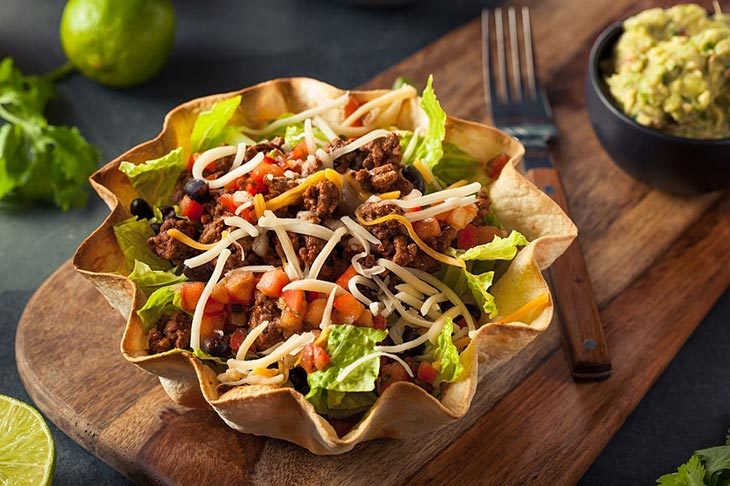 In case you're wondering what salad goes with enchiladas, make sure you'll give taco salad a try. Trust us, it won't let you down, as taco salad is also one of the most classic Mexican side dishes for enchiladas.
This is a quick, hearty, filling dish that even the pickiest eaters can't refuse. You can use leftover beef from the enchiladas filling as a topping for taco salads. Add a few toppings to your liking, and you've got a quick yet flavorful dish.
Related article: How To Eat A Taco Without Making A Complete Mess
Shrimp Cocktail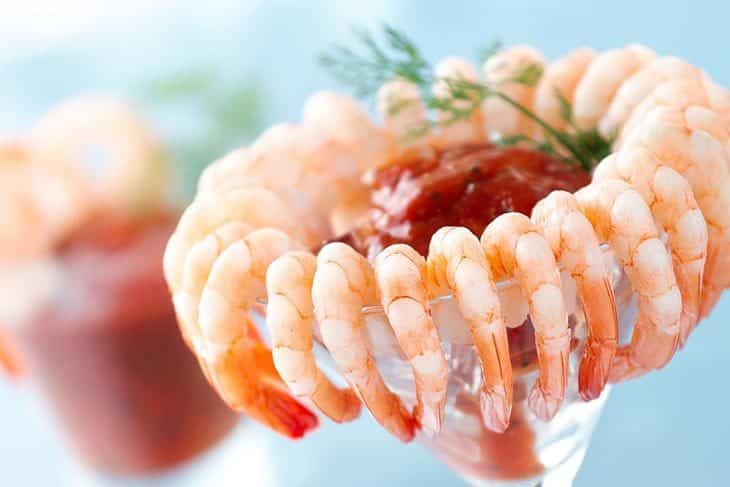 A Western cuisine-inspired side dish for enchilada casserole, shrimp cocktail. This amazing appetizer packs a whole different flavor from the meaty enchiladas. How delightful it is to have a bite of seafood with the chilling bite of cucumber and avocado!
Shrimp cocktail brings out the fantastic flavor of the dish while giving your palate such an experience during the meal.
Furthermore, we suggest you serve this dish with homemade cocktail sauce! In this way, your sauce would be much smoother in texture and obtain the freshness in which those store-bought ones lack.
Refried Beans Dip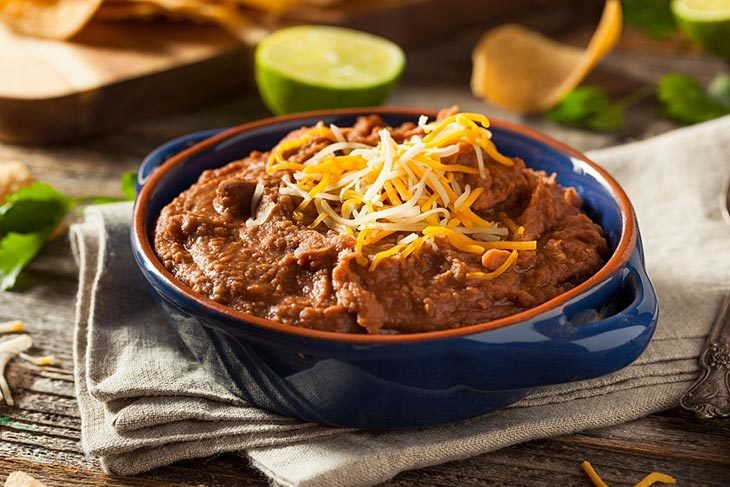 Tired of dips with too much cheese? Worried they'll make your dish too heavy on cheese? Then why not try the dip made from refried beans?
This is a healthier variation of the cheese dip, making a great side dish with enchiladas. It uses plant-based ingredients, which can help balance the nutrients in your meals.
Use refried beans, salsa topping and add a little spice of your choice, and you have an irresistible delicious refried beans dip.
Guacamole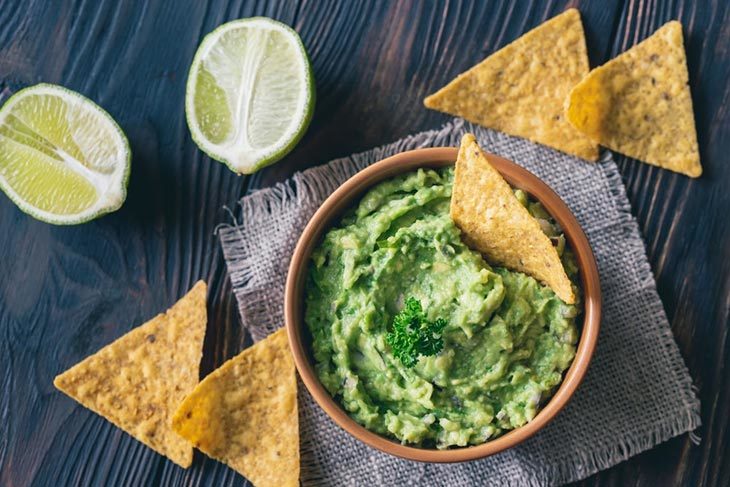 It's definitely not a comeback because it's always here! Who can say no to the undefeated classic guacamole when it comes to Mexican food? No competitor can beat it, as guacamole is such a perfect choice amongst enchiladas sides.
Imagine the wonderfully creamy, velvety flavors when you combine avocado with lemon, cilantro, Roma tomato, shallot, and spices together. It's the perfect blend of great flavors, and it's even better if you serve it with hot spicy enchiladas.
Mexican Corn Pudding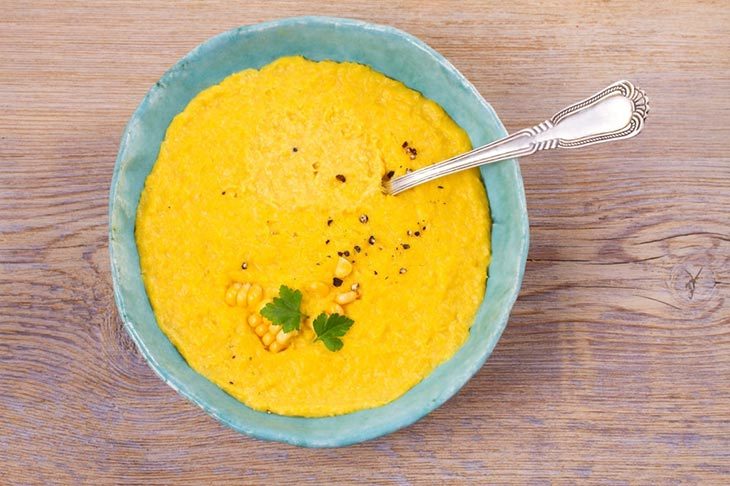 Another Mexican street food has the potential to become one of the best sides with enchiladas. Mexican street corn pudding will also give you a great taste of Mexican cuisine.
Corn on the cob can be the perfect summer choice. If you're looking for the perfect winter treat, consider making corn pudding.
This dish can be the main meal and is sufficient to eat on its own. However, it still manages to be a delicious, filling, hearty side dish.
Layer multiple flavors and toppings to your liking. You can add cayenne pepper and lots of cheese.
Creamy Apple Jicama Slaw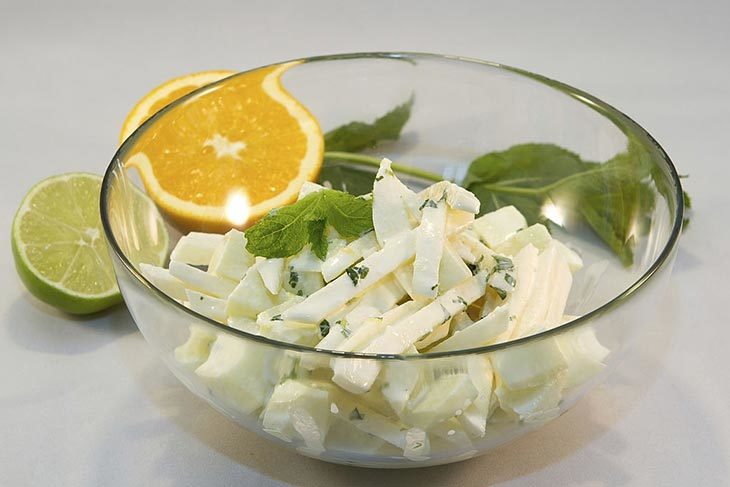 A perfect accompaniment to a hearty main course. It's fresh, healthy, and pleasant at the same time. Fresh and crunchy ingredients combined with creamy sauce give a sweet, refreshing taste. A great choice for late summer or outdoor dining.
All you need to do is shred the jicama and apples and put them in a large bowl. Add parsley, salt, and pepper to taste, then mix them with mayonnaise or crema.
This dish is perfect when served with hot, spicy, and meaty enchiladas.
Churros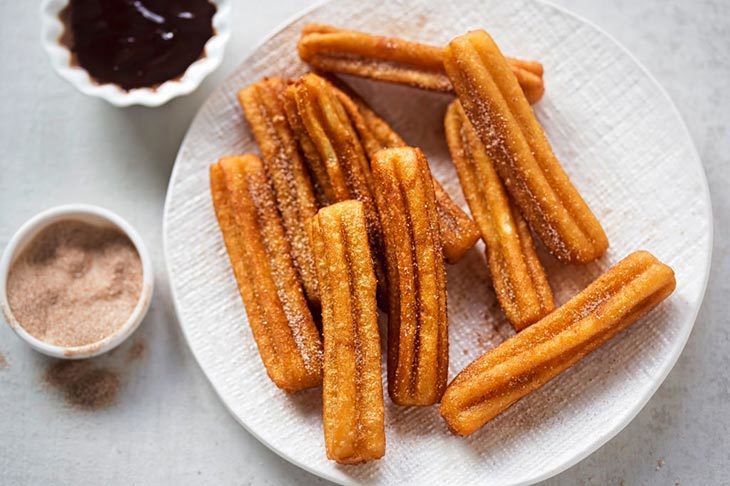 Who loves Mexican street food? Here is another option taken from the street food that is sure to go well with enchiladas. Churros – the dream dessert of every kid, and for adults as well.
What better way to end an enchilada meal than with this cinnamon sugar fried dough? It's best when dipped in chocolate and most fun to make at home.
Spanish Rice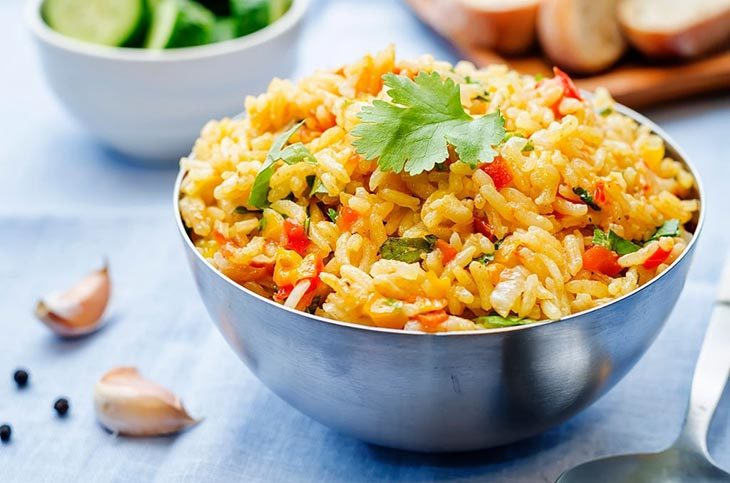 There are so many delicious flavors from this dish that you can enjoy it alone as a main course. It is a very delicious accompaniment and suitable for formal meals.
An interesting fact about this dish is that Spanish rice actually does not come from Spain., and there are still some controversies around its origin.
Upgrade your ordinary rice to Spanish rice with all the flavors: a little spicy, sweet, with a strong tomato flavor. It all comes together to make a wonderful dish.
A lot of spices are added into the food to create that aromatic savor, common spices you can try for the rice are oregano, chili powder, cayenne, or cumin.
Mexican Cornbread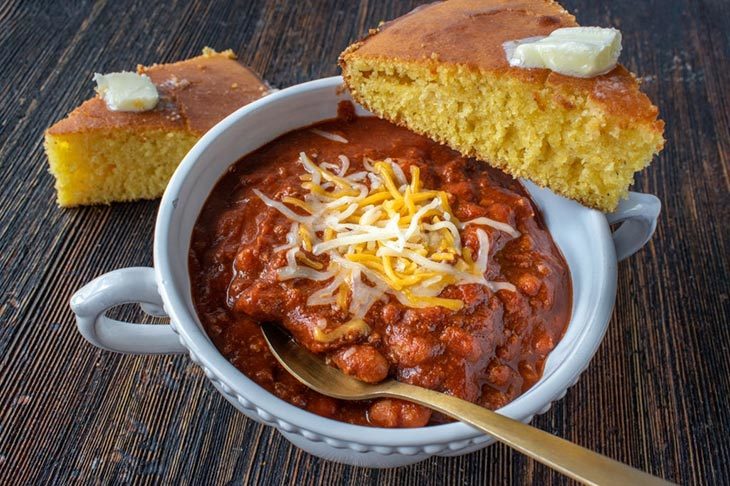 There's no argument that the main course and the sides coming from the same cuisine are never wrong. Enchiladas served with Mexican cornbread, an irrefutable combination.
The light and fluffy cornbread go well with any soup. It would also be great as a side dish for enchilada casserole. It is filled with jalapeno and cheddar cheese flavor, bringing you a pleasing mouthfeel.
Garlic Vegetable Saute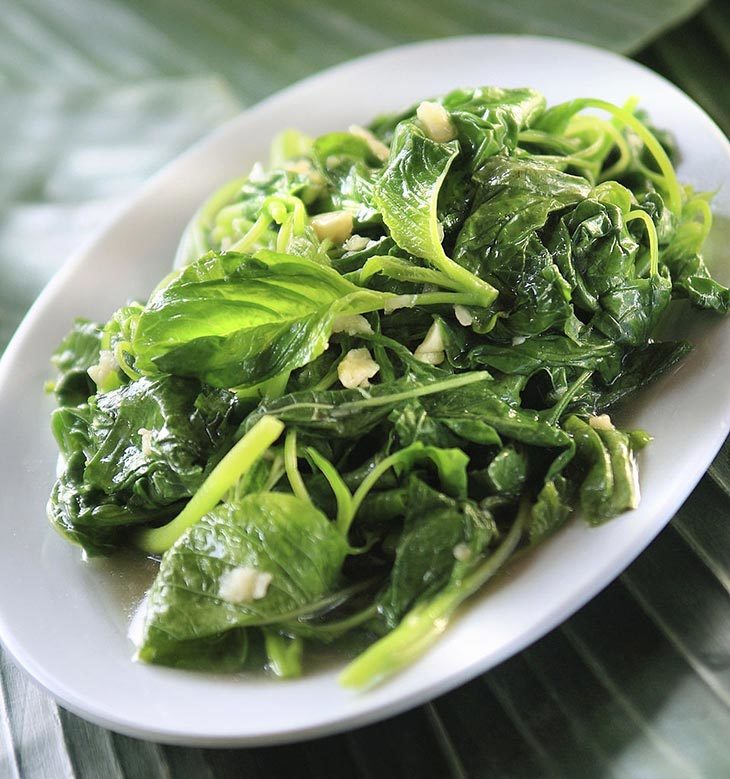 You know enchiladas can be a little unhealthy. and you need to add fiber to ensure a balanced nutrient profile. Garlic vegetable saute is the easiest and fastest choice.
Saute will retain the fresh taste and nutrients in vegetables. Adding garlic will spice up your dishes with an aroma scent, making your dishes smell more appealing.
Frequently Asked Questions
What Are Some Good Toppings For Enchiladas?
Besides the proteins that you'll be adding to your enchiladas, add a variety of cilantro to your dish for a wider variety of flavors. You can add other vegetables like radishes, onions, and even jalapeños.
You can add a few slices of avocado, too. Whatever you add, chop them well into bite-sized pieces to eat easily. Also, adding cheese or sour cream will also add an interesting layer of flavor to your dish.
What Drinks Go Well With Enchiladas?
When it comes to Mexican food, people will usually serve them with beer, margarita, or michelada. However, with enchiladas, many people will choose to enjoy it with wine.
For white wine choices, it should be light ones like a light, refreshing pinot grigio or a mildly oaked chardonnay. Red wine choice, on the other hand, we recommend you opt for a juicy, unoaked syrah or zinfandel!
Conclusion
Basically, there are many dishes that can be side dishes for enchiladas. With only 14 of the above-suggested dishes, you're free to pick from even those that aren't on the list above, as long as they go well with the food.
I hope that this article on what to serve with enchiladas helps you decide the best side for your meal if you haven't had anything in mind.