16 Best Side Dishes For Chicken That You Should Try
If you're a fan of chicken, you know that finding the perfect side dish can take your meal from good to great. A well-chosen side dish can complement the flavors of the chicken and add an extra layer of texture and nutrition to your plate. But with so many options out there, it can be tough to know where to start.
That's why we've put together a list of the best side dishes for chicken that you should try. Whether you prefer classic comfort foods or healthier options, we've got you covered. So, let's get started and take your chicken dinner to the next level!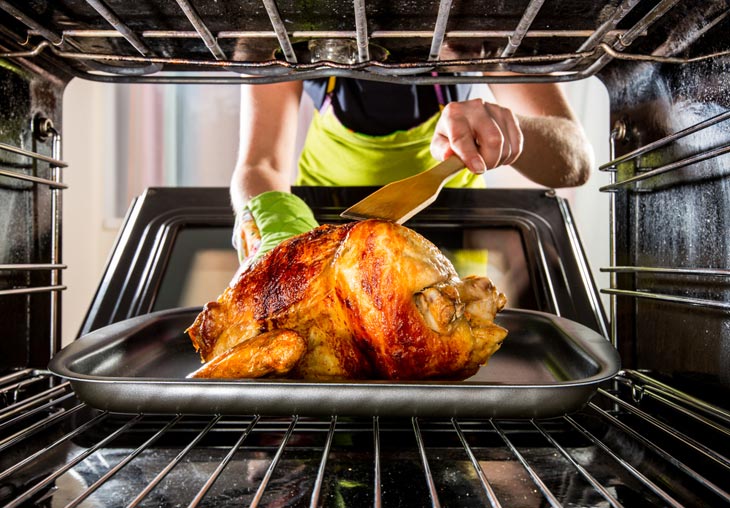 Delicious Side Dishes For Chicken
A well-chosen side dish can enhance the flavors of chicken and make your meal more satisfying. From classic comfort foods to healthier options, our list of delicious side dishes for chicken will give you plenty of ideas to take your dinner to the next level.
1. Classic Potato Salad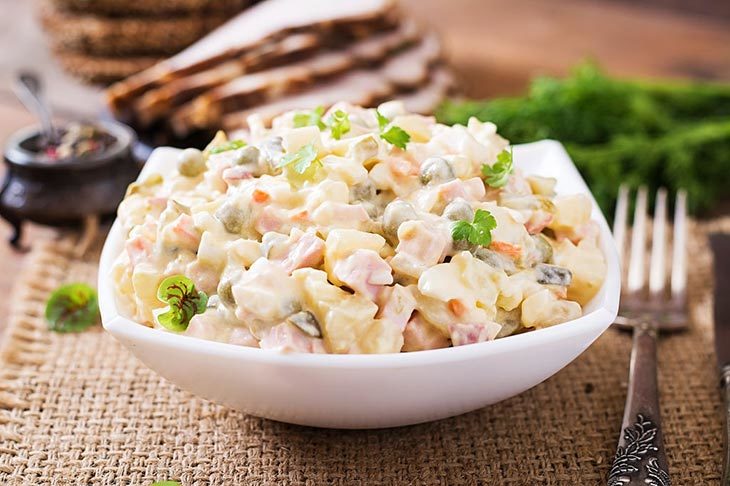 The first suggestion on our list is considered an easy side dish for chicken.
Here's what you need to make this top-notch potato salad side dish:
Yukon gold potatoes (two per attendee)
White vinegar to taste
Eggs (boiled, one per two potatoes)
A few sprigs of celery
A handful of green onions
One full tablespoon of Miracle Whip
One teaspoon of yellow mustard
A handful of
Pinches of kosher salt and fresh ground pepper to taste
Once you have gathered all those ingredients, it's time to get cooking. The process will take no more than 15 to 30 minutes, so potato salad is a great choice for last-minute feasts too!
Boil the potatoes with their skin on. This allows the potatoes to cook without losing or taking in more moisture and keep their structure for assembling.
Leave the potatoes on your stove at a simmer for 20 minutes or until you can easily pierce them with a fork.
Once the potatoes are done, plate them and mix with the rest of the ingredient list as sauce and seasoning.
The potato salad has a rather soft texture, so it goes extremely well with fried or crispy roasted chicken drumsticks. It is also rather sour (or at least tangy), so it goes well with hearty sweetness to balance out and refresh your palette.
2. Garlic Parmesan Sautéed Zucchini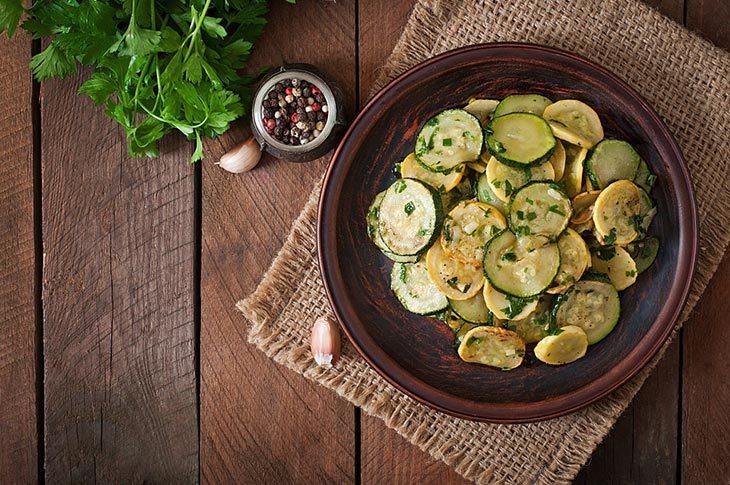 This side piece is a continuation of the quick veggie dish trend, as it takes at best half an hour to make a considerable portion of Garlic Parm Sautéed Zucchini, for sure! However, the savor that this dish gives is entirely different from potato salad's lightness on the tongue. Enhance the rich aroma of your meal with these vegetable side dishes for chicken!
Here are the ingredients you need:
One tablespoon of virgin olive oil
Two cloves of minced garlic
Three sliced up zucchinis
Half a teaspoon of dried oregano
A pinch of Kosher salt to taste
A pinch of Freshly ground black pepper to taste
A pinch of crushed red pepper flakes
A quarter cup of grated Parmesan
Once you have gathered all the ingredients, simply add oil, garlic, zucchini, oregano, and seasonings in that order into a medium-heated skillet.
3. Dinner Rolls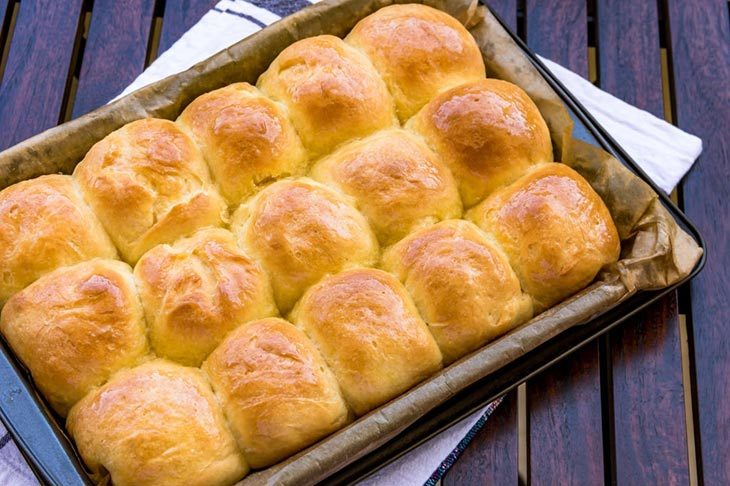 Another candidate on this list of chicken side dish ideas is dinner rolls. This is the type of side dish you see at every other mid to high-end restaurant. They are soft and slightly sweet – which is one of the perfect match sides for baked chicken, rotisserie chicken, or heavy gravy ones!
Here's what you need for a couple of dinner rolls on your table:
Two cups of all-purpose flour, or more if needed
An envelope of yeast
Two tablespoons of sugar
Half a teaspoon of salt
Half a cup of milk
A quarter cup of water
Two tablespoons of butter
All you have to do from there is add all the ingredients into the dough as if you're making bread, and bake at 375℉ for 20 minutes!
4. Grilled Sweet Potato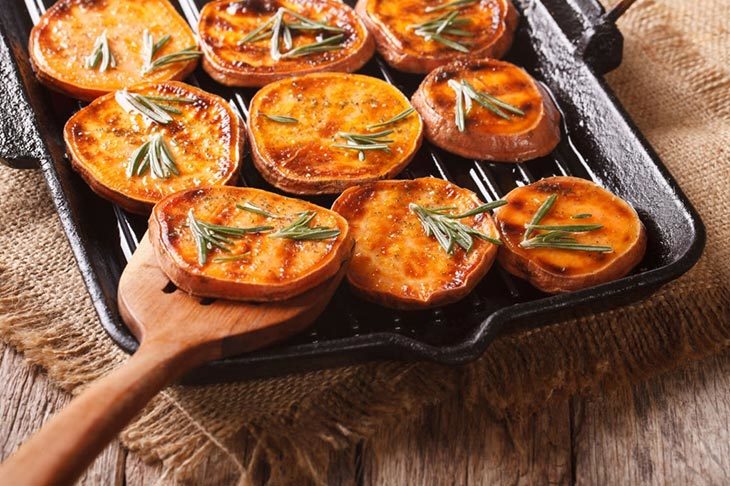 Grilled sweet potatoes are as easy as they come, which eventually are listed as one of those quick sides for chicken. The vegetable is already good for eating raw. Grilling it (with a glaze of honey on top) will give it a devilishly good smokey feel and crispy exterior – perfect for all guests around the table!
5. Bacon Balsamic Brussels Sprouts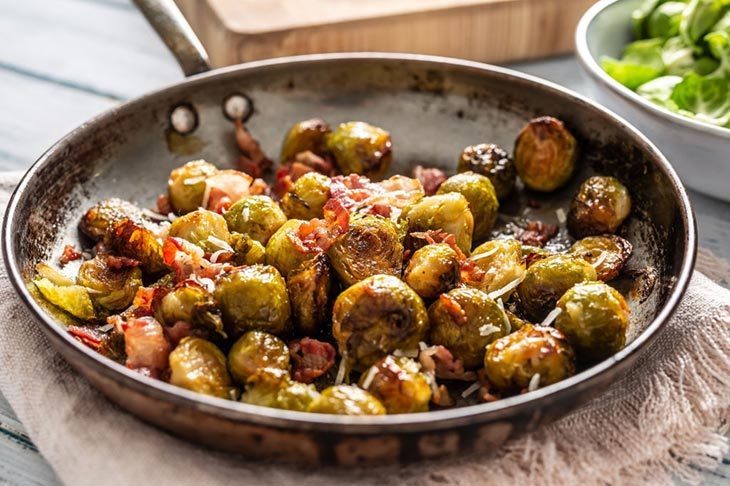 Related article: How Long Do Cooked Brussel Sprouts Last? – What You Should Know About Leftovers
Here's what you do to get a side dish full of satisfying crunchiness:
Set your oven to heat beforehand at 400℉.
Shove oiled Brussel sprouts in and roast for half an hour. Be sure to flip them halfway through.
Add the fried bacon into the mix as well as reduced balsamic vinegar sauce.
The recipe is as simple as they come, and you will love its combination with your heavy proteins! As there are numerous chicken side dish ideas out there, maybe you can try to make your own recipe and get an unexpectedly good meal!
6. Honey-Glazed Carrot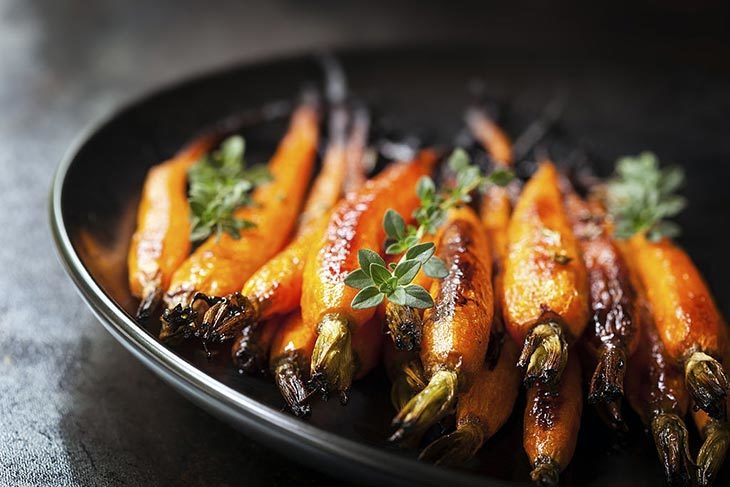 Similar to the grilled sweet potato, honey-glazed carrots add a crunch and add into the chicken dish's sweetness. All you have to do is to shove those honey-glazed carrots into the oven until they are ready for serving!
If you are busy people as well, add this recipe to your chicken accompaniments list! This recipe is quick yet still provides enough nutrients!
7. Fattoush

Here comes another candidate for simple side dishes for chicken – fattoush.
To prepare this famous Middle Eastern salad, use these food ingredients:
Chunks from two tomatoes
A quarter of a cucumber
Half a red onion
One romaine lettuce
A handful of mint leaves
A handful of parsley leaves
Two pitas
One teaspoon of sumac
Half a clove of garlic
Two tablespoons of red wine vinegar
One tablespoon of extra virgin olive oil
Half a lemon's juice
As all salads do, you simply have to toss all the ingredients together. The pitas can be toasted right before eating to keep them hot and fresh.
8. Triple Cheese And Macaroni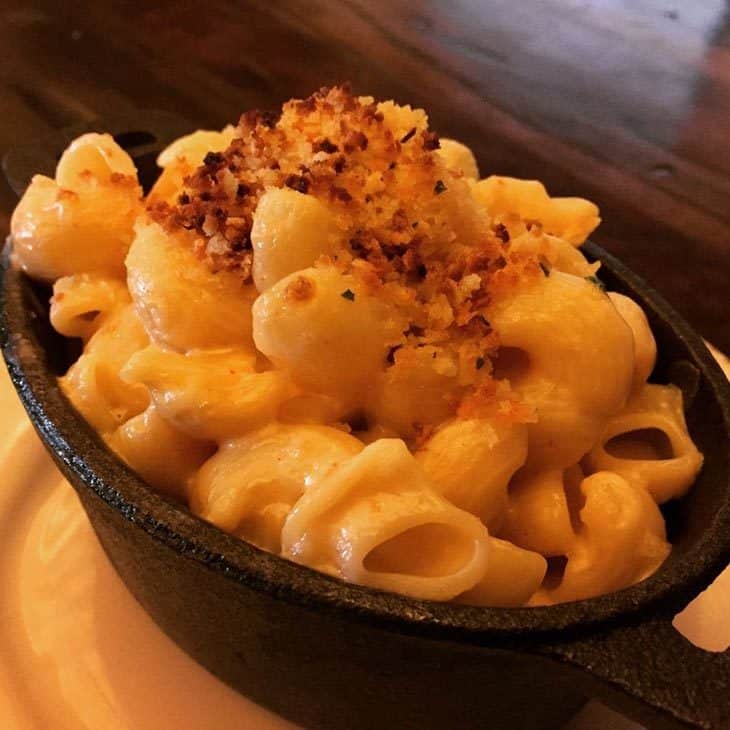 A handful of macaroni and cheese, dough & salt will make up the answer to the question, "What to pair with chicken?". We recommend you eat it with light dishes like boiled breasts, so the tastes of the two savory dishes don't crash!
9. Oven-Roasted Rosemary Potatoes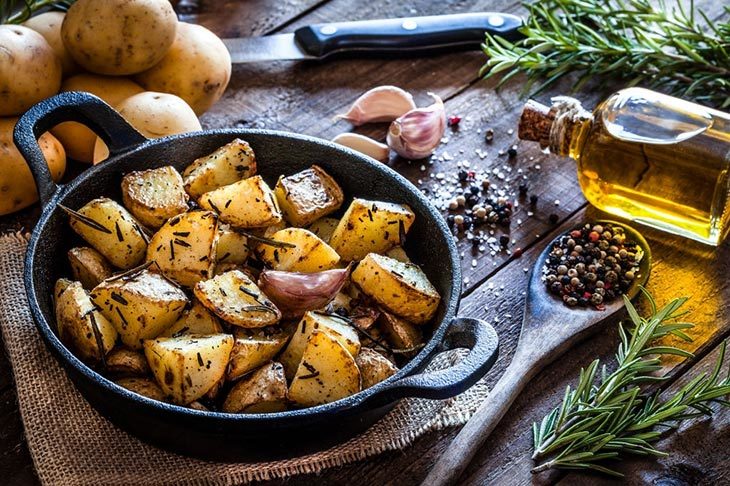 Suppose you are finding the middle ground between potato salad and honey-glazed carrot. Why don't you try oven-roasted rosemary potatoes from Western cuisine as a side dish for chicken? The oven will only be in use for 15 minutes, as oil glazed-potatoes with rosemary is not a combination that's too tough to cook.
10. Boulangere Potatoes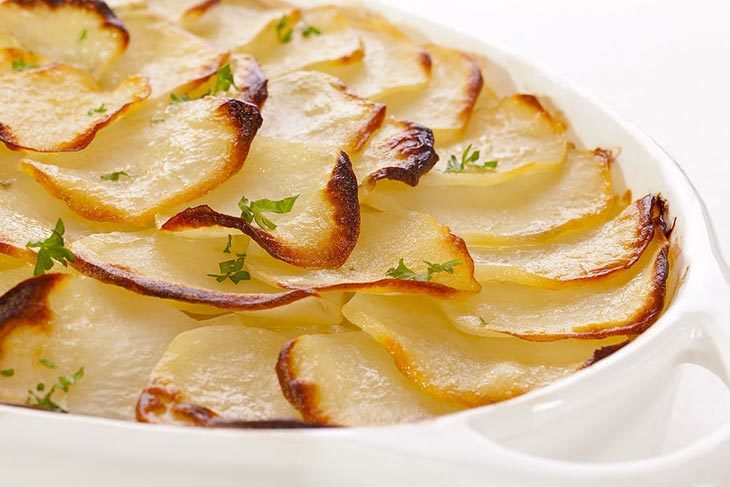 If roasted veggies are your go-to side dishes, you will surely fall in love with boulangere potatoes.
In Particular, boulangere potatoes are one of the perfect side dishes for garlic chicken! The meat will feel lighter yet richer with this combo!
Prepare these ingredients:
One and a half kilograms of Desirée potatoes
Two onions
A few sprigs of fresh sage
400 milliliters of organic vegetable stock
50 grams of Parmesan cheese
One knob of unsalted butter (about one teaspoon)
Be patient with the onions and potatoes since you will need them extra thin to cook evenly among one another. Line them alternatively on a baking dish, and give a general splash of stock on top before roasting for one hour. After that, your dish is done!
11. Sautéed Mushrooms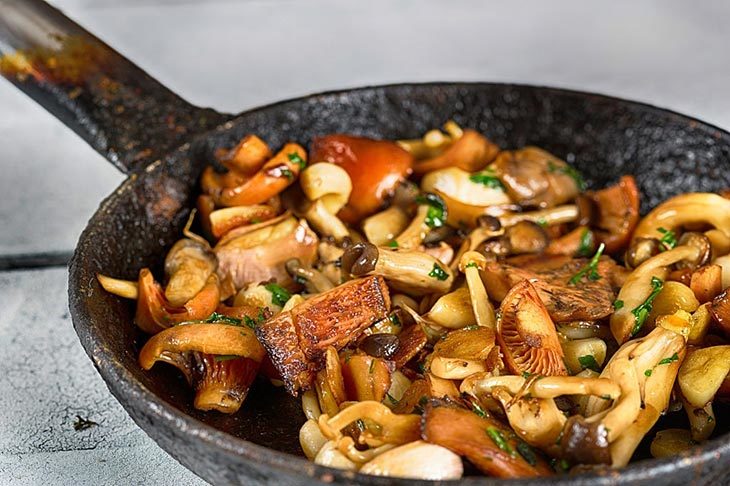 Looking for roast chicken side dishes? – Sauteed Mushrooms!
Sauteed mushrooms can be cooked in a plethora of different ways, as the dish is present in nearly every culture. Typically, people would use a common sauce like oyster sauce with some herbs like green onions on top, but if your homeland's recipe begs to differ, feel free to stray from the original!
The mushrooms' delightful texture should balance even the softest meat!
Related article: 9 Excellent Mushroom Substitutes That You Can't Ignored
12. Collard Greens Gratin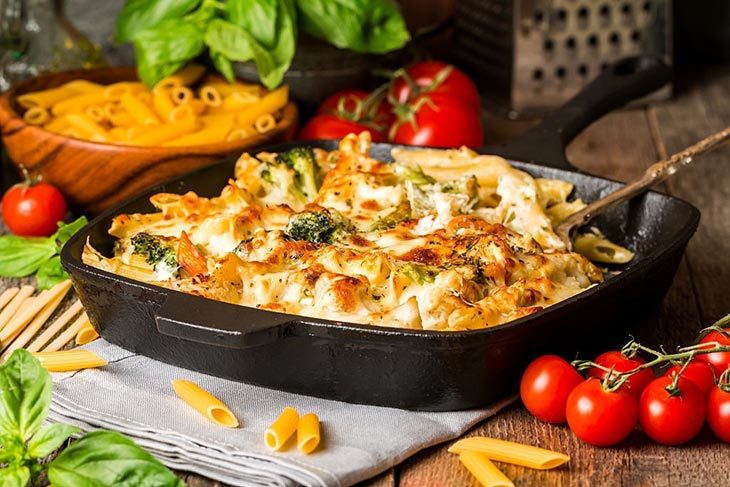 Gather these ingredients and start cooking:
4 ounces of country ham or prosciutto
One cup of breadcrumbs
Four tablespoons of olive oil
One teaspoon of fresh thyme
One cup of grated parmesan cheese
A pinch of salt and pepper
Two bunches of collard greens
One large onion
Two garlic cloves
Two tablespoons of unsalted butter
Two tablespoons of all-purpose flour
Two cups of whole milk
A quarter teaspoon of grated nutmeg
The recipe is more complicated than most of the recipes on this list, as it requires you to prepare in separate stations.
Next, you bake the ham, cook the collard greens and toast the breadcrumbs. Then you add the milk, flour, butter and cheese, bake some more and then transfer the mixture to the stove top. After that, you will get a full answer to the question, "What goes with baked chicken for great dinners?"
Good luck because as good the dish is, if done right, you may end up with a burnt mess if you mess up!
13. Tabbouleh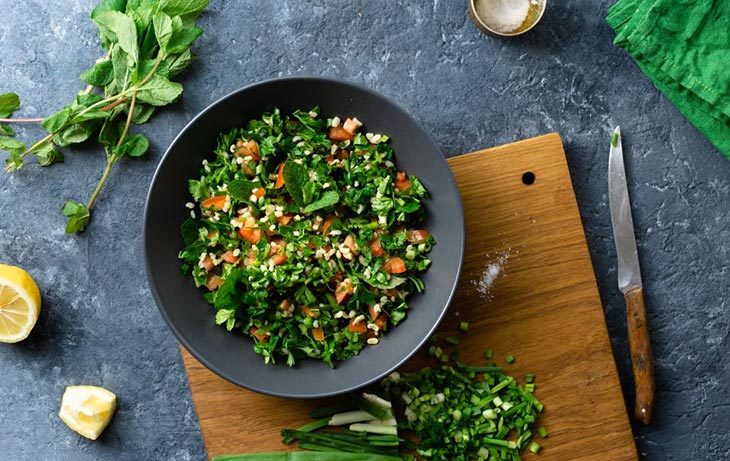 Tabbouleh is among tone of the tastiest sides for chicken legs or any chicken cut in general.
All you have to do is sprinkle salt on the tomato and cucumber, chop up your parsley and season the bunch with lemon juice and more salt. You will end up with a salad that knocks everybody's socks off, especially in summer!
14. Cold Lemon Noodles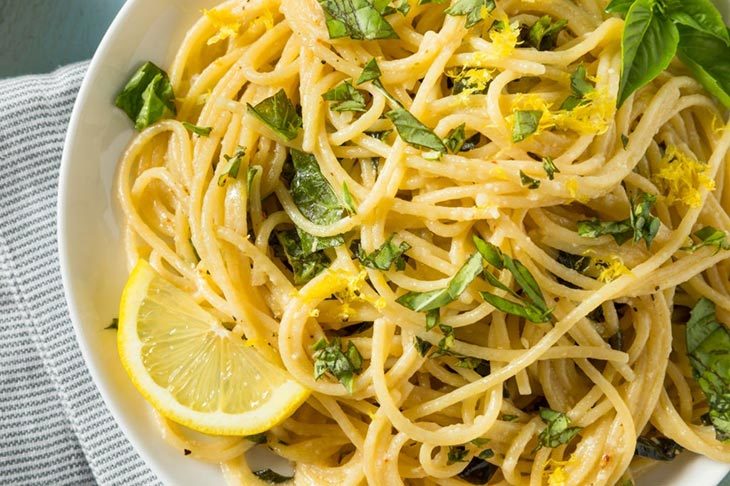 The lemon noodles are unpopular yet amazing chicken accompaniments. You are going to need:
12 ounces of soba noodles
Half a teaspoon of sesame oil
Two cups of fresh microgreens
Two tablespoons of lemon olive oil
One tablespoon of sesame oil
One tablespoon of lemon juice
Three tablespoons of rice vinegar
One tablespoon of soy sauce or Tamari
One tablespoon of maple syrup
Two tablespoons ginger
For this dish, you cook the noodles thoroughly and toss them in with the sauce, with an additional drizzle of lemon-ginger sauce for taste. Enjoy!
15. Slow-Cooker Toasted Herb Rice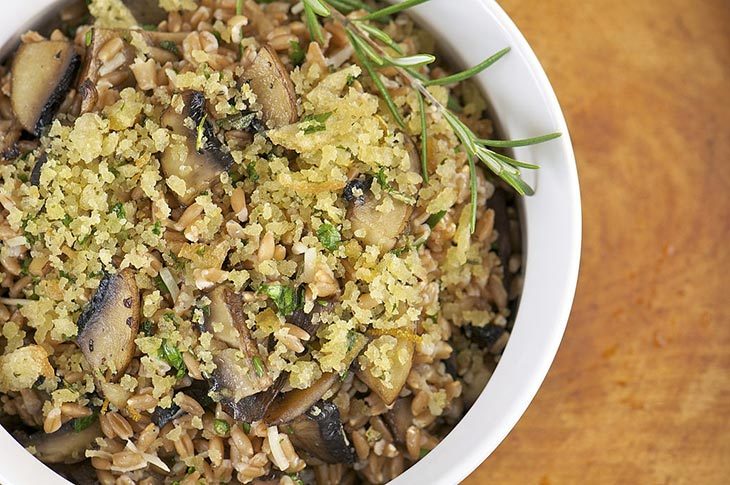 Have these ingredients ready on your cooking counter:
Three tablespoons of butter
One and three-quarter cups of long-grained rice
Three and a half cups of chicken broth
A quarter teaspoon of salt
Six medium green onions
One teaspoon of basil leaves
One-third cup of pine nuts
Be sure to have some cooking spray and emulsifying butter in the slow-cooker before you proceed. Cook your rice as usual, and add everything except pine nuts into the rice-water mixture. The pine nuts shall join the rice last.
16. Corn Pudding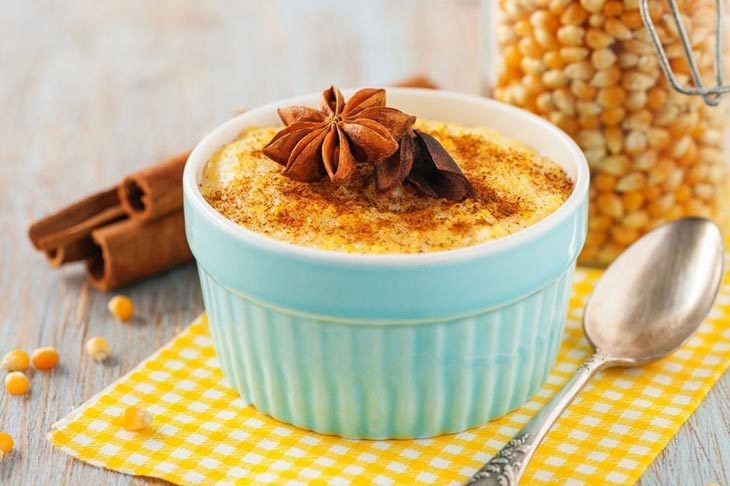 The last recipe on this list calls for:
Half a cup of butter
Half a cup of sugar
Two large eggs
One cup of sour cream
One package of cornbread/muffin mix
Half a cup of 2% milk
One can of whole-kernel corn
One can of cream-style corn
From there, you only have to add everything into a bowl and beat them until they are soft and foldable. The oven should be preheated to 325 °F, then you bake the mixture for right under an hour.
Common Questions about Chicken Side Dishes
What Vegetables Go Well With Chicken?
Chicken goes well with a variety of vegetables, including broccoli, carrots, green beans, asparagus, mushrooms, sweet potatoes, and spinach. These vegetables not only add flavor and texture to your meal but also provide essential nutrients such as vitamins, fiber, and minerals. Try different combinations to find your favorite pairing.