How To Make Pizza Dough at Home (Recipe)
My husband is an avid home cook and also a huge pizza fan. He's tried making Pizza multiple times at home with limited luck until he realized the secret of it – Perfect Pizza Dough. With a bit of practice, it's actually surprisingly easy to make pizza dough that rivals that of a pizzeria.
Scroll on down to learn how to make pizza dough at home, (our favorite!) and I can promise you will never look back at store bought pizza dough again.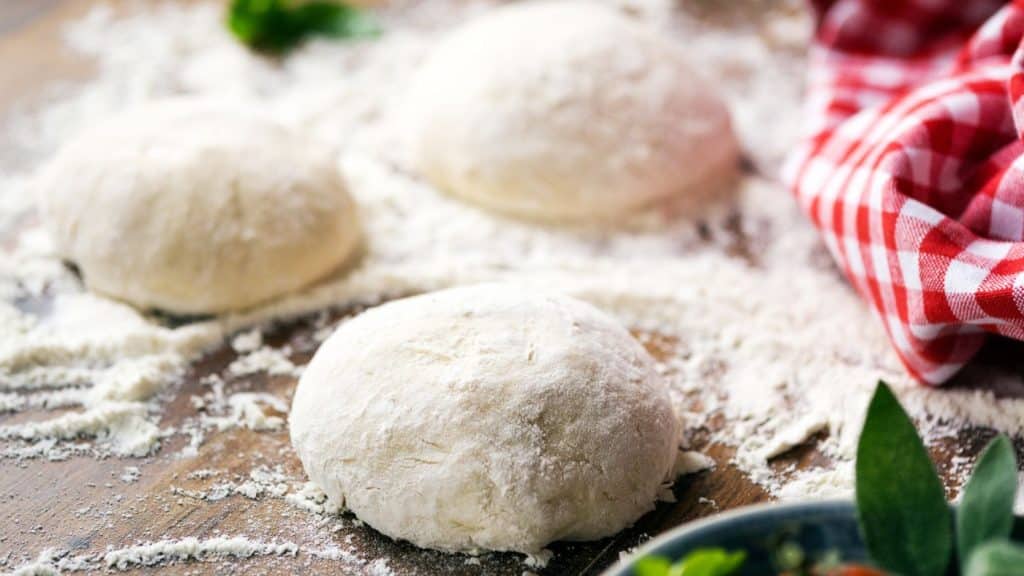 3 Things you need to make a Perfect Pizza at Home
Most of us that have tried making pizza at home have wondered why homemade pizzas don't taste like those made by the professionals. After so many trials and failures, he's finally figured it out.
To make the perfect pizza at home, you need three things:
Quality Toppings
Extreme Heat
The Perfect Dough
The dough decides what style of crust you'll get after baking it. The heat determines how crispy and bubbly you can get it, and the quality toppings (cheese, sauce, and pepperoni) finish it off.
Scroll on down to learn how to make quick homemade pizza dough with our taste – tested and family approved (we all love it!) pizza dough recipe.
Ingredients For A Pizza Dough Recipe
The key ingredients for pizza dough include high-protein bread flour, yeast, olive oil, and salt. Some pizza makers may come up with other ingredients to add new flavor to the dough, but he prefers to keep it simple.
You need to keep your dough simple and original. The flavors will come from what you put on top.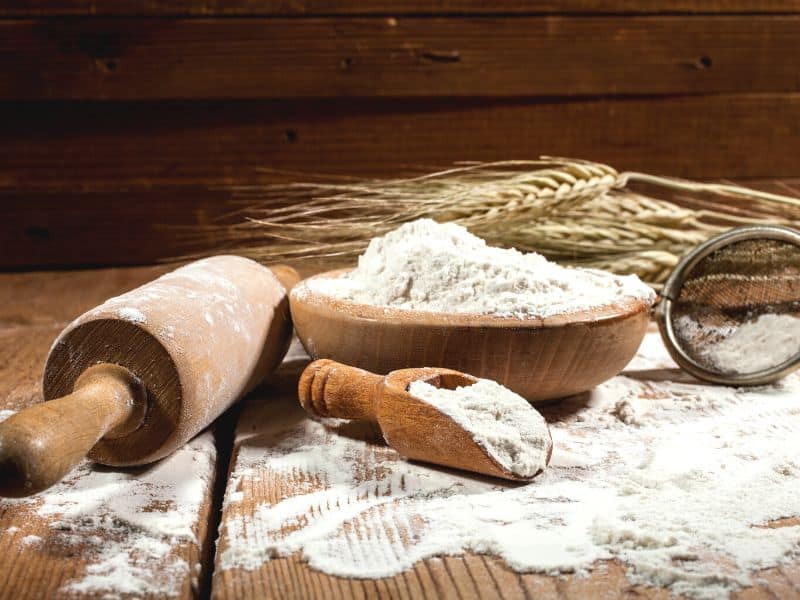 Flour
When it comes to making pizza dough, the first thing that comes to mind is certainly flour. However, getting the right kind makes all the difference.
However, each kind of the flour brings different crusts, which is caused by the different amount of gluten the different kinds of flour contain. Gluten is a protein that creates elasticity in your dough when it becomes wet and kneaded. To form this elasticity, the dough must be kneaded until the proteins link up with each other strongly. The more gluten that is contained in your flour determines how chewy your crust will ultimately be.
There are three types of flour that are regularly used in making pizza dough.
Type "00" Flour
Protein Content: 11-12.5%
Italian "00" flour is the holy grail of flour used in pizza dough. Most pizzerias will use this exclusively in their dough recipes, but it has two major disadvantages: it's expensive, and hard to find locally. (Of course, you could buy just about anything from Amazon.)
Type "00" Flour is tailored to high-temperature ovens specific for pizza making and stretches out for a thinner crust. "00" wheat flour is very finely ground, which helps produce a flavorful pizza crust that is chewy on the inside and crispy on the outside.
Bread Flour
Protein Content: 12-14%
Bread flour is much easier to find, as it will be stocked in just about any supermarket. The brand King Arthur is best known for its bread flour, and this is what I try to buy when I find it.
Bread flour is not as finely ground as "00" flour, but it usually has a slightly higher protein content percentage. I make a lot of pizza at home inside my home oven, and I use 100% bread flour in my recipes.
All Purpose Flour (AP Flour)
Protein Content: 10-12%
All-purpose flour has about 10-12% protein content, making it the flour with the least amount of all the acceptable flour types. It will be a little difficult to get a perfect chew with a pizza dough made with 100% AP flour, so this should be your last choice.
All-purpose flour can be ideal for Sicilian and deep-dish pizza crusts that are on the thicker side and aren't typically super chewy. It could work, but not well in a thin crust Neapolitan-style or New York style pizza.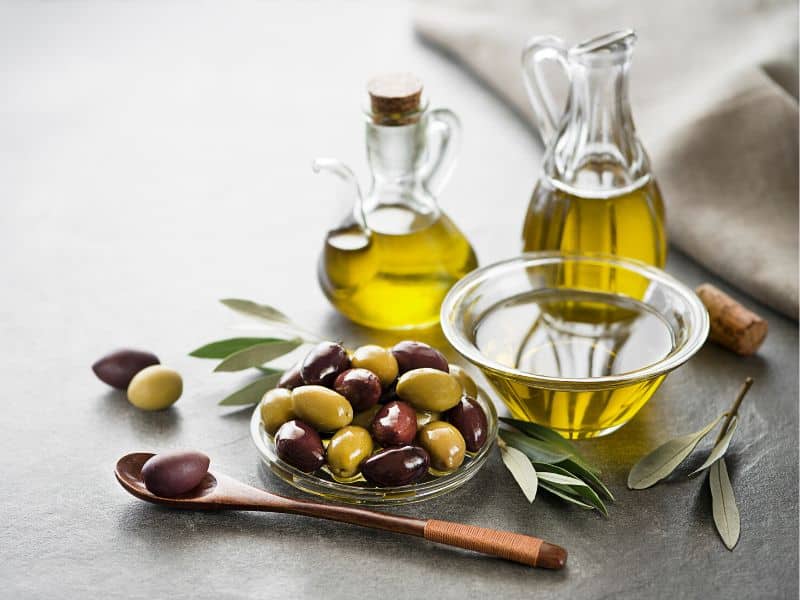 Olive Oil
Another important ingredient for a perfect pizza dough recipe is olive oil. Olive oil provides a wonderful smoothness to the dough as well as light flavoring.
Olive oil improves the texture and crispiness of the finished pizza crust by making the pizza dough softer and adding flavor.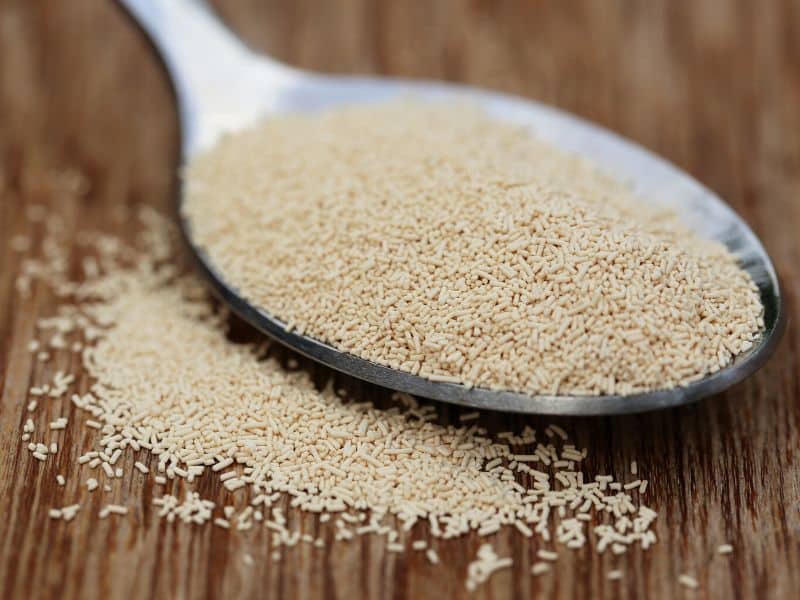 Yeast
Obviously, bread yeast is indispensable for making pizza dough since it is the key ingredient for fermentation and dough rise.
There are two popular type of yeast for making pizza dough: active yeast and instant yeast. While instant yeast could be added directly into your flour, active yeast needs proofing before being added into flour. Proofing means you have to dissolve the active yeast in warm water and set it aside until they "wake up" and are activated.
However, regardless of the type of yeast you use, the final dough and crust will virtually be indistinguishable. Because of this, you don't need to take what kind of yeast to use into account – just use the type of yeast you can find.
Salt & Sugar
Besides the 3 main ingredients, you also need some sugar and salt to finish off your perfect pizza dough.
A little bit of sugar is sometimes used to help wake up active yeast, and the salt is needed to add flavor, strengthen your dough, and regulate the yeast's activity.
Salt helps strengthen the dough by tightening the gluten structure. Salt also helps regulate the yeast. The more salt you use in your recipe, the less active the yeast will be, and the weaker your dough will turn out.
Common Mistakes In Making Pizza Dough
You strictly follow the directions, but your pizza dough turns out not to be what you expect. You may make small mistakes that ruin your pizza dough. Let's check the following mistakes. Perhaps you may find something to work out your problem.
#1. You Used The Wrong Flour
Many people think that using bread flour, pastry flour, and all-purpose flour doesn't make any differences in pizza dough. In fact, each type of flour has a different level of protein; and therefore, brings you a different style of crust.
For example, for a crispy yet chewy crust, bread or "00" flour is certainly what you need thanks to the significant amount of gluten-forming protein they have. Meanwhile, a thicker and softer crust would do better with the low level of protein in all-purpose flour.
#2. Poor Proofing
Another reason your pizza dough may not have worked out is that your proofing schedule wasn't long enough. I like to proof my pizza dough sitting on my counter for at least 4 hours. I will typically stretch and fold the dough 2-3 times within that timeframe.
Another problem with proofing is the temperature at which the dough is rising. My house is usually 70 °F (21 °C), and the dough will sit at that temperature for at least 4 hours on the counter. Subsequently, if I intend to use it much later than that, I will then transfer it to the fridge. You cannot proof your pizza dough in the fridge from the beginning. It needs to be warm enough to get that yeast going strong.
#3. Dough Too Cold
When it comes to finally making your pizza, don't use dough right from the refrigerator. Give it time to come up to room temperature, and you'll have a much easier time stretching it, and it will give you a better crust as well.
#4. Holes in the Dough
When the gluten in the dough hasn't developed enough, it causes dough that rips when you try to stretch it. When you can't stretch out your dough naturally, possibly it hasn't had enough time to proof. If you find your dough ripping as you stretch it out, let it rest where it is at for 10-15 minutes. The added time should allow the dough to ferment and strengthen a bit more.
#5. It's Stuck
If you get into the trouble of your pizza sticking to whatever surface it's on, maybe you didn't use enough dusting flour. Always flour your working surface before turning the pizza dough onto it. Moreover, sprinkle the dough top with more flour so that it doesn't stick to your hands. You can always brush off the surplus before putting it on the peel, so do be afraid to over-flour your dough when working it on the counter.
When it comes time to making this easy homemade pizza dough recipe, we as a family prefer to use finely ground corn meal on our pans. This takes the place of the extra flour on the counter, but only really works if you are baking your pizza on a stone or baking sheet.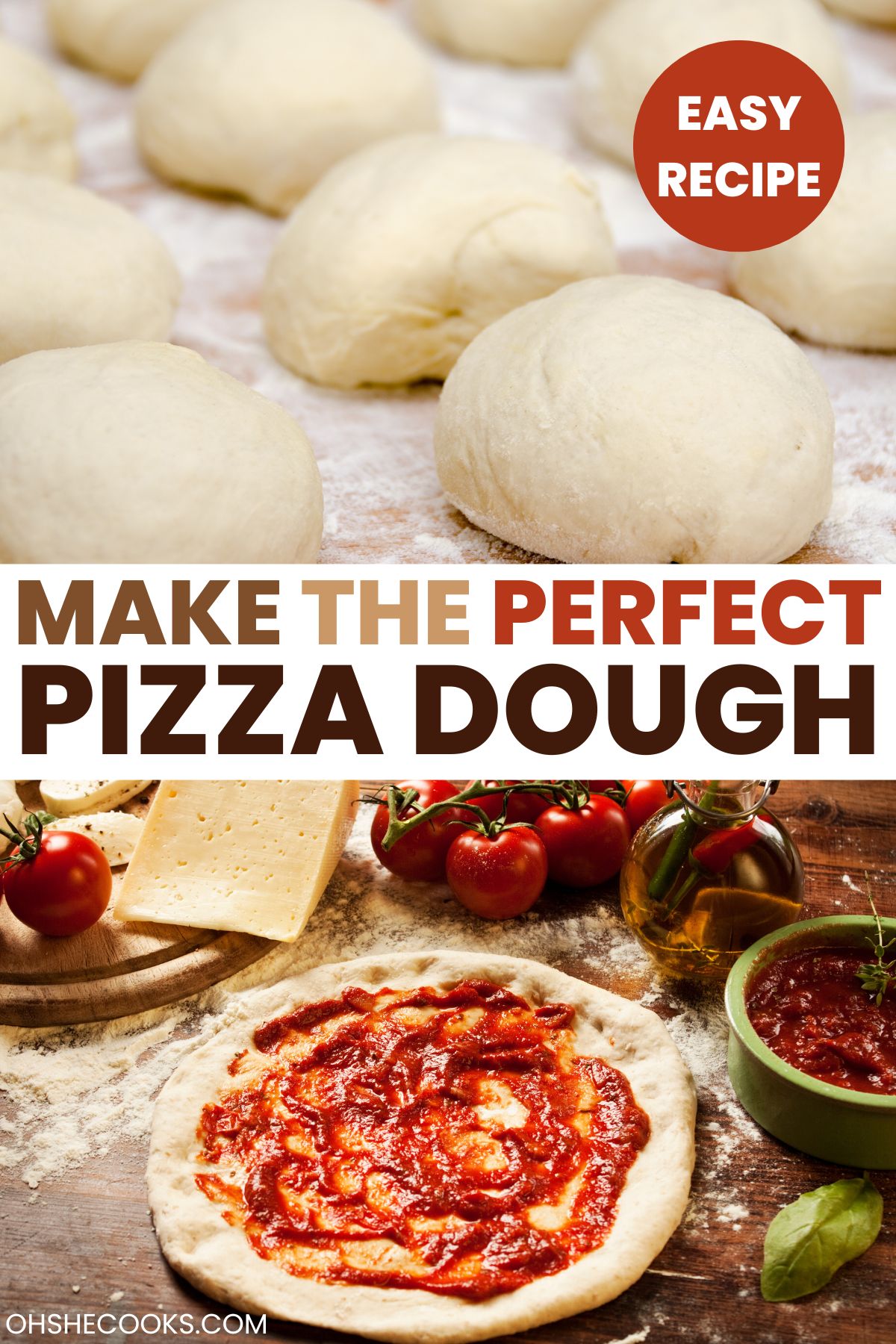 Common Questions About Homemade Pizza Dough
When you are first learning how to make pizza dough, you may have a few questions. This is the most common one that is asked.
How do you Freeze Homemade Pizza Dough?
The best way to freeze homemade pizza dough is to place in a freezer bag and squeeze out most of the air.
Easy Pizza Dough Recipe
This is the recipe our family uses most when making homemade pizza dough. It's easy to do, and if you're lucky enough to own a stand mixer, it becomes even easier. Enjoy!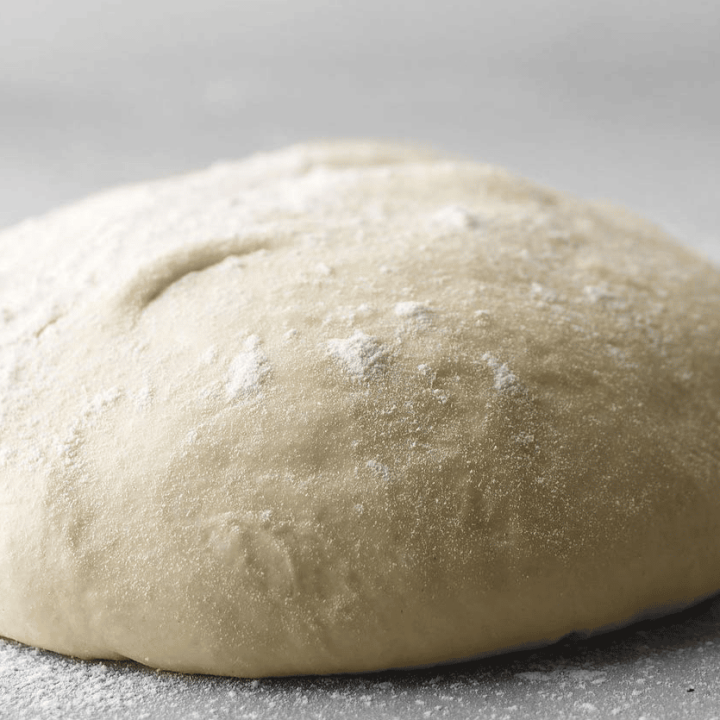 Easy Homemade Pizza Dough
Total Time:
4 hours
10 minutes
Ingredients
4 cups bread flour
1.5 cups of warm water
2.5 tbsp olive oil
1.5 tsp instant yeast
2.5 tsp sugar
2.5 tsp salt
Instructions
Into the bowl of a stand mixer with a dough hook, measure water, olive oil, yeast, sugar, and salt. Mix on low 3 minutes. Increase speed to medium-high and continue mixing 4 more minutes until dough clears the sides of the bowl.
Transfer the dough to an oiled bowl, cover it, and let it proof at room temperature for 45 minutes.
After the initial proofing, dump it out on to a floured work surface, and punch it down. Perform as many stretch and folds as possible (usually between 4-7). This requires you to flatten out the dough ball a bit, then take each "corner" of the flattened dough and fold it into and across itself. Do this for every corner (and side if possible).
Place the dough back into the oiled bowl, cover, and let it rise on the counter for up to 4 hours.
If your dough won't be used at that point, place the whole bowl into the fridge for up to 24 hours.
If your dough is coming from the fridge, let it rest on the counter (out of the fridge) for at least 30 minutes to come up to room temperature.
Notes
This dough makes two large pizzas. Divide it in half during step 6.