Chocolate Krispies Treat Recipe With Fluff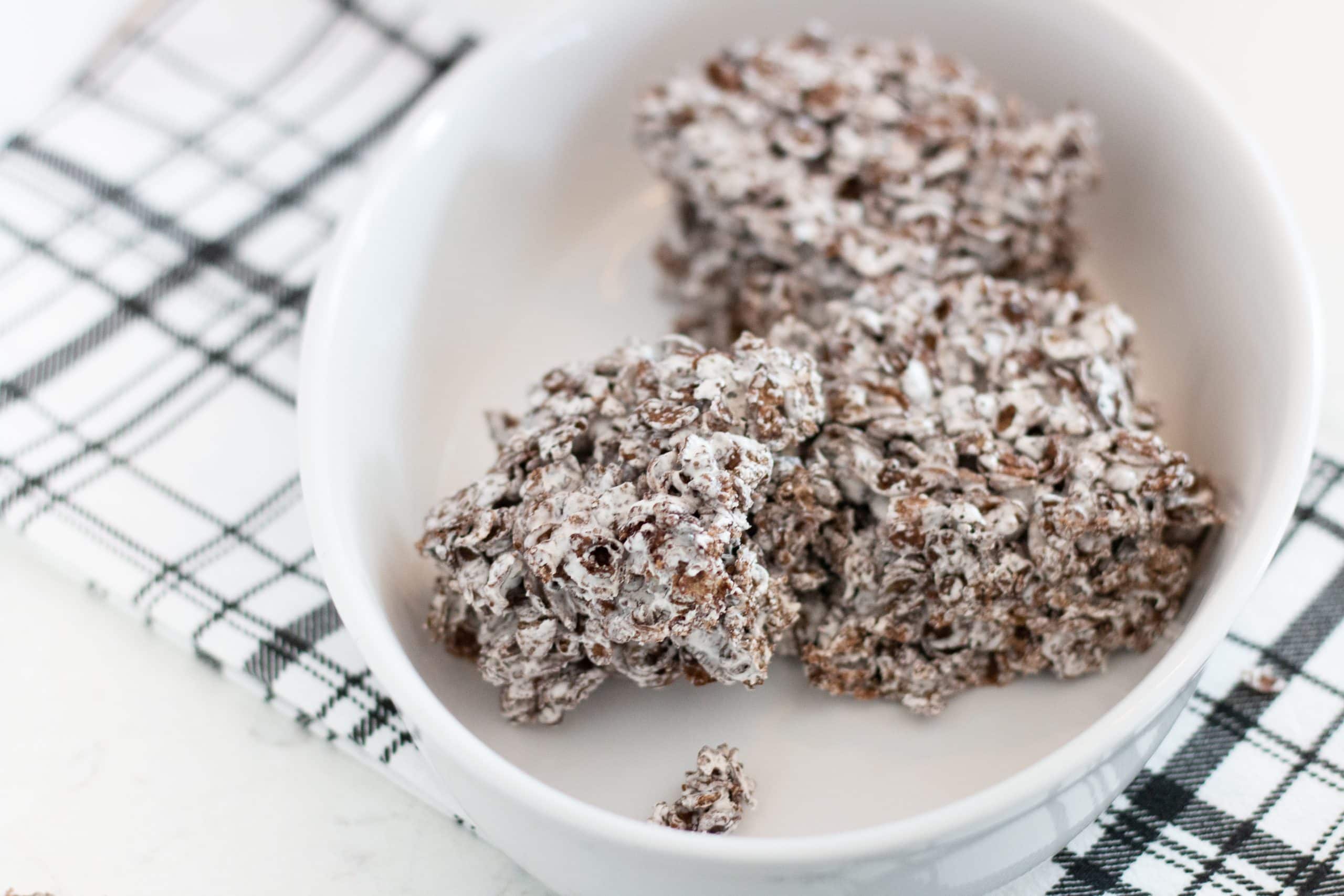 Are you looking for a quick and easy snack to make? Or maybe have some leftover Rice Krispie cereal to use up?
This simple recipe for chocolate rice crispy treats will be a quick way to make an easy dessert fast!
If you love sweet rice treats, then scroll on down to learn how to make these chocolaty rice krispie snacks with our easy-to-follow recipe.
Rice Krispie Chocolate Treat Ingredients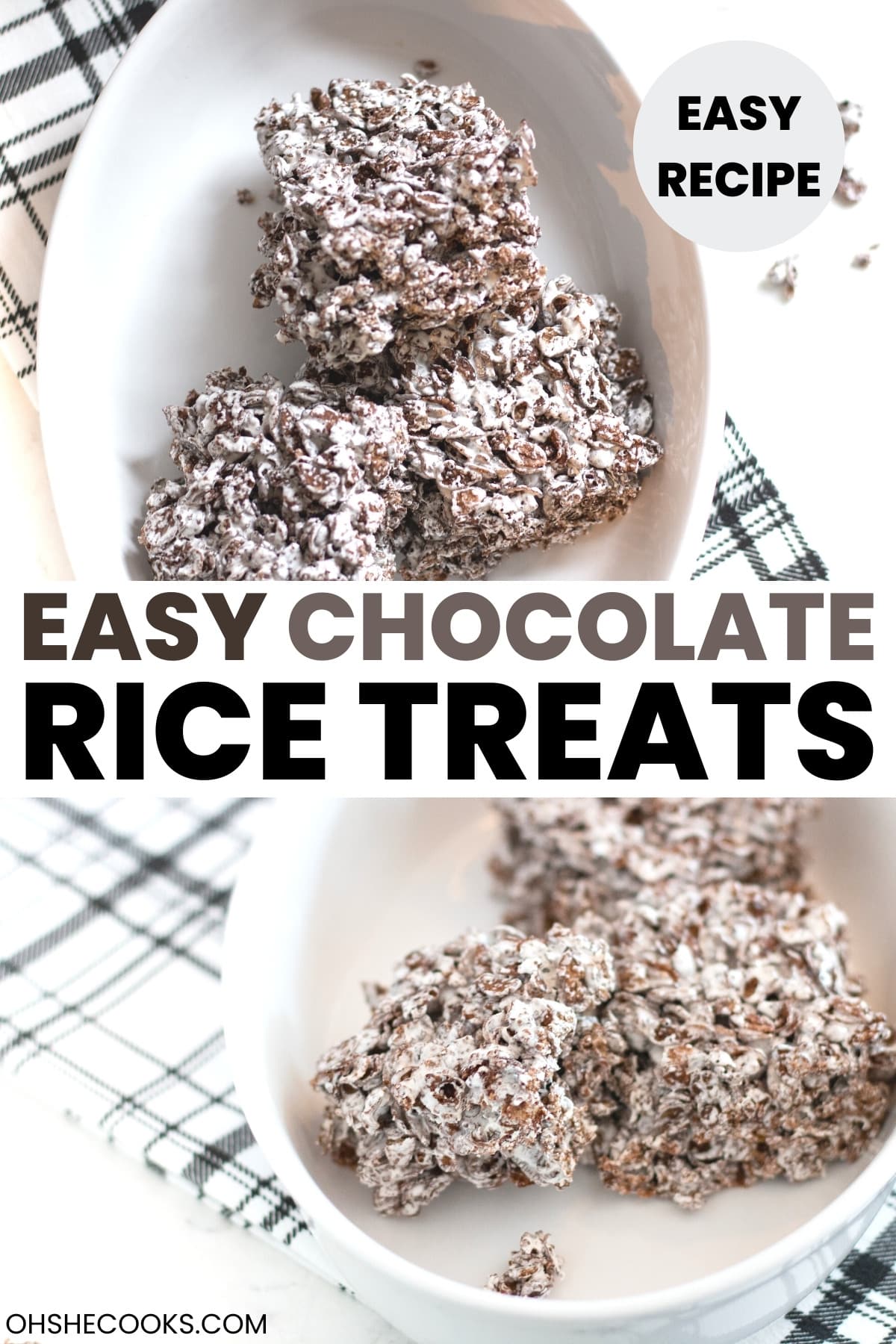 You'll only need three ingredients to make these chocolate rice treats and about 10 minutes, which is always a good thing when time is of the essence.
To make these treats, you will need just three simple ingredients, which are very similar to the traditional rice krispies recipe you are probably familiar with.
Chocolate Rice Cereal
Any brand of chocolate rice cereal will work. I used Cocoa Krispies which is the chocolate version of the favorite Rice Krispies cereal.
You could also use Cocoa Pebbles, Mom's Best Chocolate Rice cereal too or any brand of crispy rice cereal if you wish.
Looking for Gluten-Free Options?
Keep in mind not all of these are crisp rice cereals above are gluten-free, but if you'd like to use ones that are, I recommend a few.
Aldi Crispy Rice Cereal
Cocoa Pebbles
Marshmallow Fluff
I used a 7.5 oz size of marshmallow fluff. You could also use4.5 cups of mini marshmallows instead. I like to add a bit of extra marshmallows to mine if using mini ones, but it is up to you!
Salted Butter
You will need about 4 tablespoons of salted butter for these krispie treats to turn out perfectly.
Extra Items Needed
You will also want to have a medium to large saucepan, mixing bowl, spatula, a 9-inch baking dish (or square baking pan) on hand as well as nonstick cooking spray.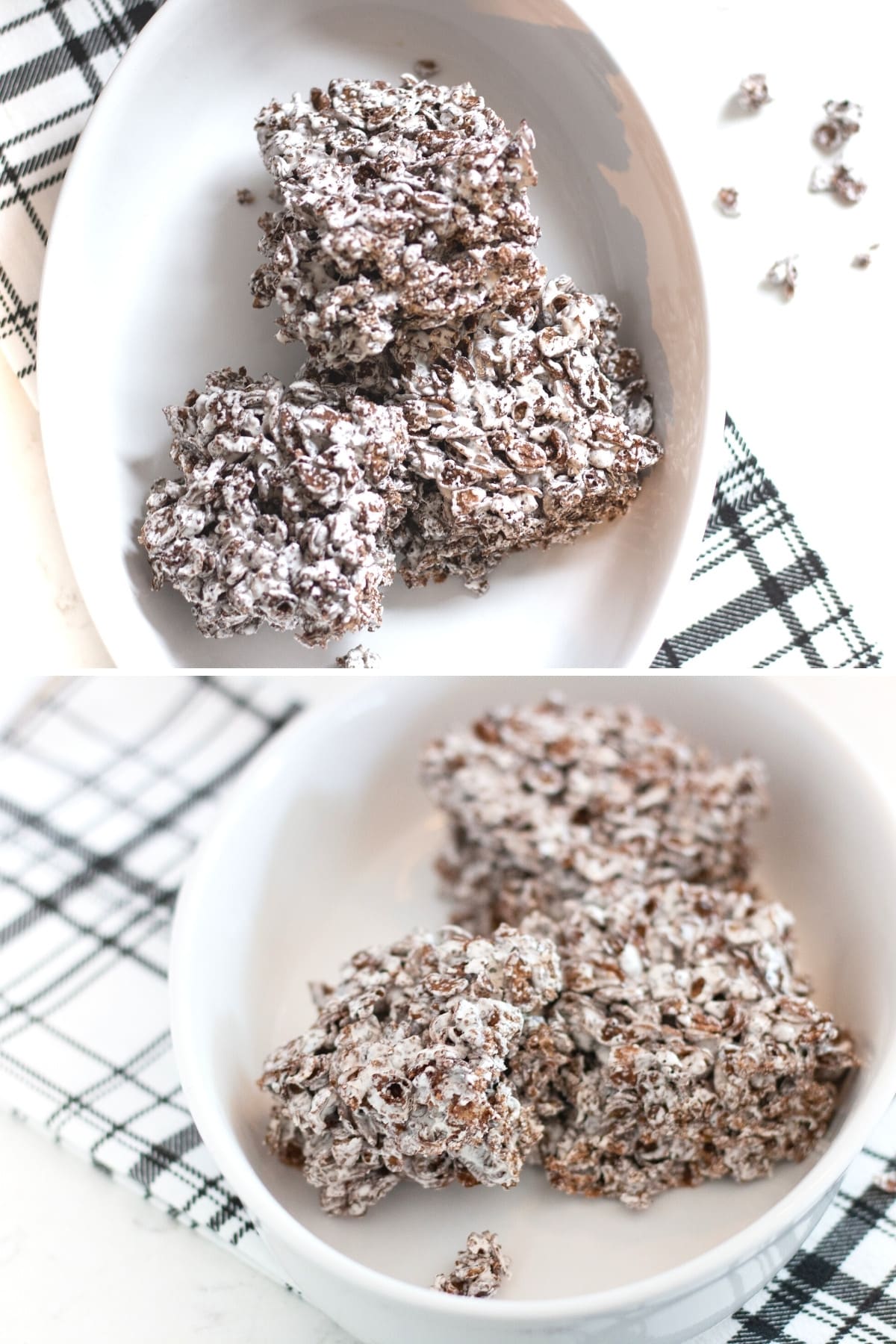 How to Make Chocolate Rice Krispie Treats
Follow these easy steps to make tasty chocolate krispie treats.
First, cut up the butter into slices and melt butter in a sauce pan. Next, mix in fluff (or miniature marshmallows) in pan until marshmallow mixture is melted, pour over bowl of cereal in mixing bowl, thoroughly mix and then spread cereal mixture into prepared pan.
Sounds simple enough, right?
This krispie treat recipe is basic to follow, but the most important step to follow is to use cooking spray. You will need it to coat the mixing bowl, spatula (or spoon) and baking pan with. If you skip this step, you will have a sticky mess that will be difficult to work with.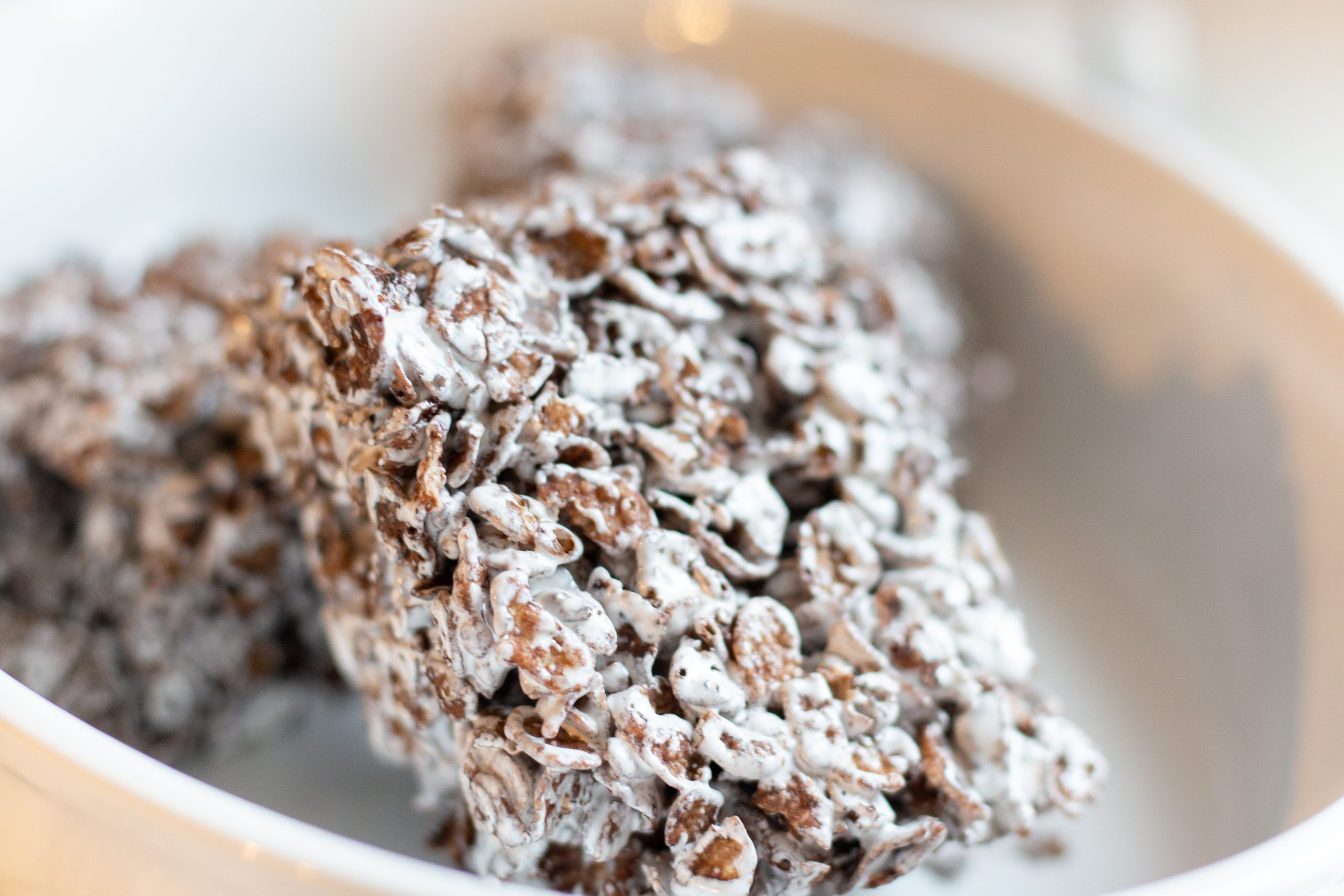 Common Questions About Rice Cereal Treats
How Do I Store Rice Krispie Treats?
Store crispy treats in an airtight container or cover with plastic wrap for up to 5 days for freshness at room temperature. Use parchment paper if required between the layers of the rice krispie squares.
What is a good substitute for Marshmallows in rice Krispie Treats?
Marshmallow Fluff can be used in place of Marshmallows in most recipes, such as classic rice krispies treats. See the chocolate rice krispies treats recipe above.
Are Rice Krispies Gluten-Free?
No, they are not. Rice Crispies are made with malt syrup, which is made from barley, so it contains gluten. For people with Celiac disease, it's not safe to eat. Always check the package or cereal treat packaging to be sure.
How do I Make Double Chocolate Rice Krispie Treats?
To make an extreme chocolate flavor in your treats, you can use our chocolate rice treats recipe above, but also add in some semi-sweet chocolate chips or chopped chocolate bits with the cereal mixture. This will give your rice treats that right about of chocolate you are looking for.
What Are Other Ingredients I Can add to Rice Krispies Treats?
To add flavor to this crispy treats, you can mix in a variety of different ingredients for a fun twist
Peanut butter
Dark Chocolate
Sprinkles (these can be any color to match a party theme)
Drizzle caramel on top with sea salt
The Recipe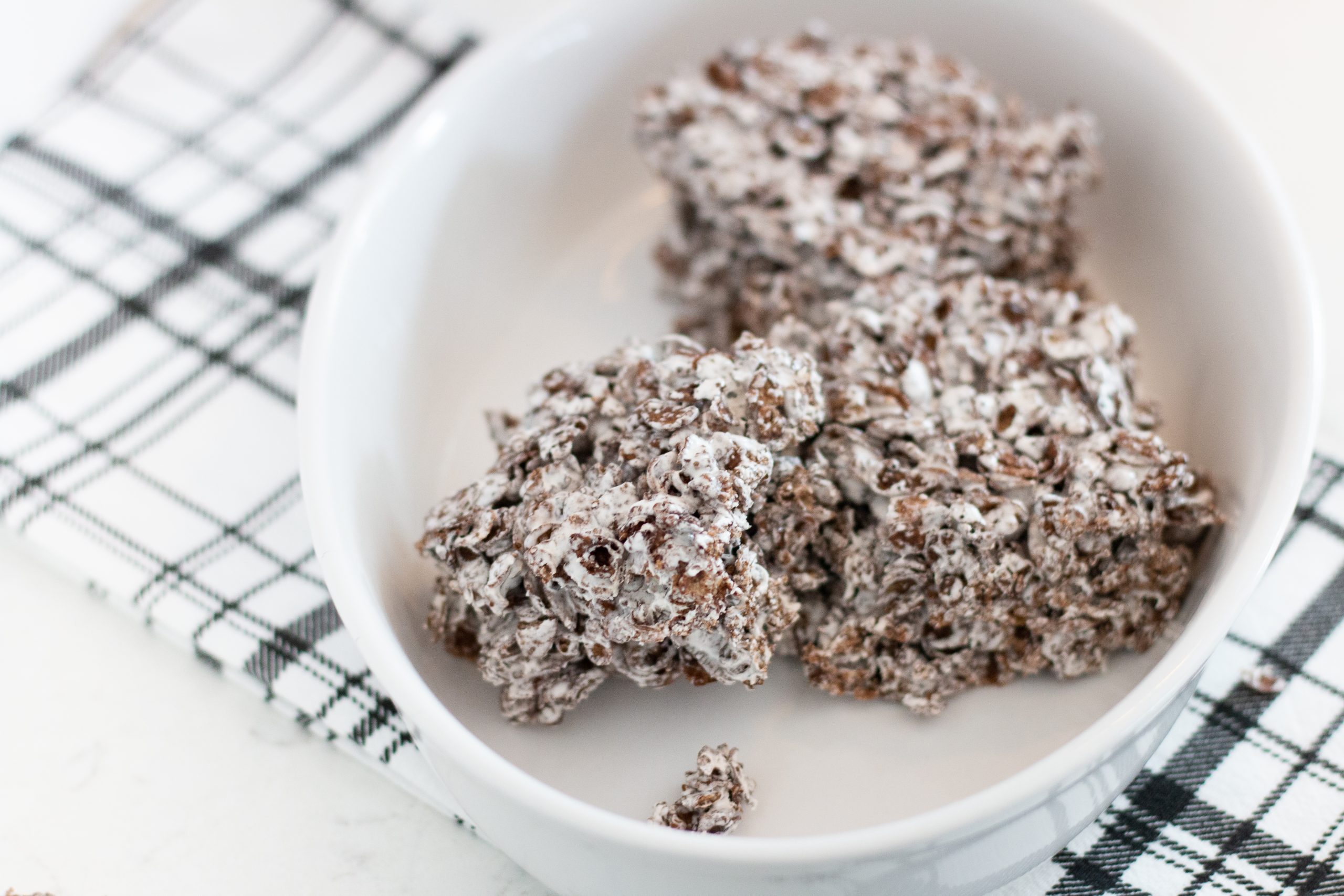 Now that you know the basics of how to make rice chocolate treats, scroll on down to find the easy recipe!
Happy Treat Making!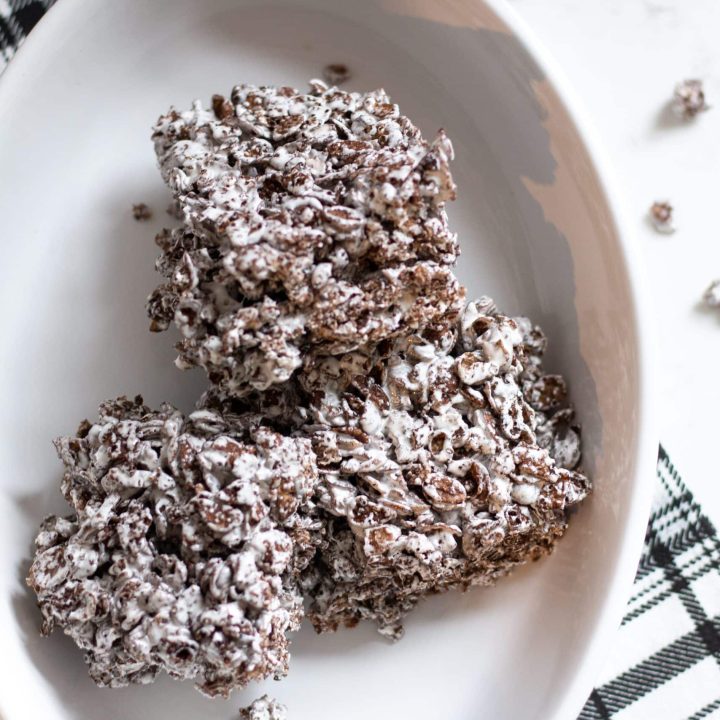 Chocolate Rice Krispie Treats With Fluff
Total Time:
2 hours
10 minutes
Make this simple chocolate rice treat snack that everyone will love!
Ingredients
4 Tablespoons Butter (sliced)
5 Cups of Chocolate Rice Cereal
1 Jar of Marshmallow Fluff 7.5 oz (or 4.5 cups of mini marshmallows)
Cooking Spray (to coat spatula, mixing bowl and baking pan)
Also Needed
Spatula
9 x 9 Baking Pan
Medium Sauce Pan
Mixing Bowl
Instructions
Using a medium saucepan, melt sliced butter on medium-low heat.
Once the butter is melted mix in the jar of fluff 7 ½ oz stirring until thoroughly mixed and melted.
Transfer and pour the mixture into a mixing bowl containing the 5 cups of cereal. Mix until cereal is well coated.
Press into 9 inch x 9 inch pan evenly
Let cool for 2 hours
Cover tightly until ready to cut and serve
Notes
Thoroughly coat the mixing bowl, spatula, and baking pain with cooking spray, so the treats do not stick.
Recommended Products
As an Amazon Associate and member of other affiliate programs, I earn from qualifying purchases.
I hope you enjoyed this chocolate rice krispie treats with marshmallow crème recipe and found a new favorite to dessert!