Looking for a delicious and easy pasta dish to make for dinner tonight? Look no further than this collection of the best rigatoni recipes!
Whether you're in the mood for a classic rigatoni dish or something a little more unique, these recipes will have you dining on a delicious and satisfying pasta dish in no time at all.
What is a Rigatoni Noodle?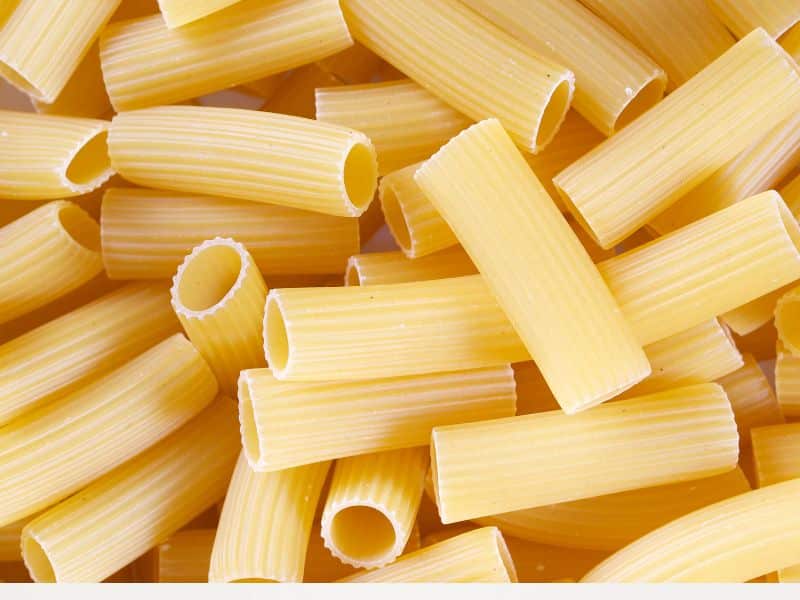 Rigatoni noodles are a type of pasta that are made from wheat flour and water.
Rigatoni is a short, wide tube of pasta with ridges on the outside, but which are smooth on the inside. The word "rigatoni" comes from the word "rigato," which means "ridged." or having lines. Rigatoni are great for thicker sauces because their ridges and wide center help hold the sauce.
This type of pasta is commonly found in many pasta dishes because of their chewy texture and mild flavor.
What is the Difference Between Rigatoni and Penne?
Rigatoni is a type of pasta that is wider than penne and has a ridged appearance. Penne, on the other hand, is a type of pasta that is narrower than rigatoni and has a smooth appearance with a pointed diagonal shape. Rigatoni also tends to be heavier than penne.
Simply put, Penne is cut diagonally, giving it a pointed shape and Rigatoni has a cylindrical shape, since it is cut straight.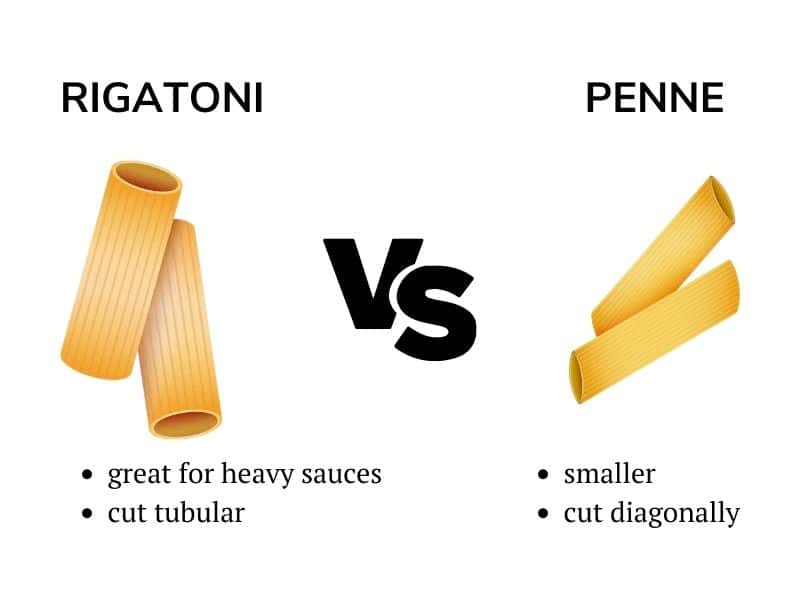 Is Rigatoni Better Than Penne?
It depends on the dish you are using the pasta in. Rigatoni is a big, thick pasta that holds a lot of sauce, and rigatoni is a good choice if you are working with more watery sauces. Extra sauce can be soaked up by the ridges.
If you're faced with substituting one shape for another, either ziti or penne pasta can usually be used in place of the other and if you really need to for rigatoni as well.
The Top Rigatoni Recipes
Whatever your preferred flavor profile may be, you're sure to find a delicious and satisfying dish in one of these rigatoni recipes below. I also have a collection of one pot rigatoni recipes you may like as well.
Here are our top rigatoni recipes to get you started:
Baked Rigatoni with Spinach and Ricotta
This rigatoni dish is a perfect example of how simple but delicious a rigatoni can be. It is filled with fresh spinach and rich ricotta cheese, and is baked until the cheese has melted into the pasta and become bubbly and creamy. Get Recipe
Easy Rigatoni with Bacon and Tomato Sauce
This dish is perfect for busy weeknights. It's easy to make, requiring just a few ingredients and minimal time in the kitchen, and it features a rich, bacon-y tomato sauce that will have you longing for seconds. Get Recipe
Rigatoni with Garlic and Cannellini Beans
This rigatoni dish is hearty and flavorful, and features cannellini beans for a hearty and filling texture. The garlicky taste is one that will have you coming back for seconds! Get Recipe
Rigatoni with Sausage and Tomato Sauce
This sausage and tomato sauce rigatoni dish is hearty and delicious, and will be sure to please your taste buds. Get Recipe
Rigatoni with Roasted Red Pepper and Cream Sauce
This dish is beautiful and delicious, and is sure to tantalize your taste buds. The creamy red pepper sauce just adds to the deliciousness of this meal. Get Recipe
Rigatoni with Broccoli and Ricotta Cheese
This broccoli, lemon, and ricotta cheese rigatoni recipe is a healthy and delicious option, perfect for a quick and easy meal. Get Recipe
Rigatoni with Chicken and Mushroom Sauce
This chicken and mushroom sauce rigatoni dish is delicious and hearty, perfect for a quick and easy meal. Get Recipe
Easy Rigatoni with Tomato and Mozzarella Sauce
This easy rigatoni recipe is perfect for those who want a simple and straightforward pasta dish that is sure to please. The tomato and mozzarella sauce is deliciously rich and flavorful, and the rigatoni noodles are cooked to perfection. Get Recipe
Garlic and Herb Rigatoni with Pesto Sauce
This garlic and herb rigatoni recipe is a delicious and easy way to add some flavor and excitement to your usual rigatoni dish. The pesto sauce is a delicious and flavorful addition, and the rigatoni noodles are cooked to perfection. Get Recipe
More Dinner Ideas