Big List of 27 Rainbow Dessert Recipes
If you are looking for recipes for cheerful and bright rainbow desserts, then this curated collection of colorful, fun and easy to make dessert recipes featuring rainbows are for you!
Below you'll find rainbow cakes, rainbow pops, rainbow cupcakes, rainbow recipes and even sugar cookie dough with simple rainbow sprinkles that will add a bit of color to your party or get together.
Enjoy!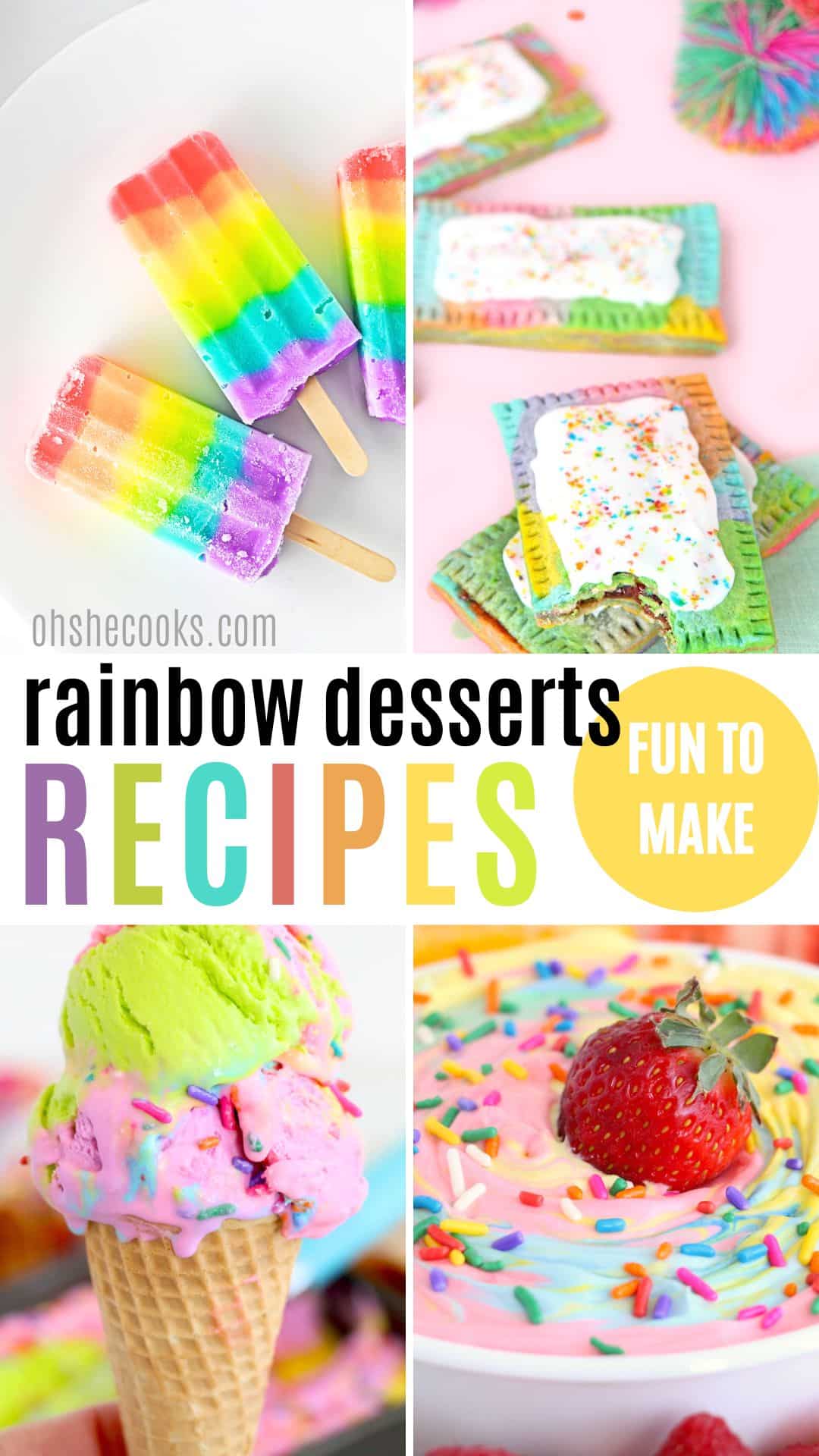 What You Can Use Rainbow Recipes For
Rainbow desserts can be used for a wide variety of events and occasions, such as…
Birthday Parties: Rainbow cakes with rainbow sprinkles or cupcakes are a popular choice and pretty easy desserts for a birthday party, especially for children. A tray of fresh fruit in rainbow colors is perfect as well!
Pride Celebrations: Rainbow desserts are often used to celebrate LGBTQ+ pride events, pride month or as a way to show support for the community.
Baby Showers: Rainbow-themed desserts can be a fun and colorful addition to a baby shower, especially if the gender of the baby is unknown.
Weddings: Rainbow cakes, cupcakes, cookies, rice krispies and more can be a playful addition to a wedding reception, particularly for couples who want to add some fun and whimsy to their big day.
Graduation Parties: Rainbow-colored desserts can be a great way to celebrate a recent graduate's achievements and add some festivity to the occasion.
School Events: Rainbow treats like rainbow sprinkles on vanilla frosting cupcakes can be a fun addition to school events such as school carnivals or fundraisers.
Holidays: Rainbow-colored desserts like jell o or cakes can be a festive addition to many holidays, such as Easter or St. Patrick's Day.
Useful Tips & Information
Here are a few more things you might want to know about rainbow desserts that may help you before you pick one to make, below.
Food Coloring
Gel coloring is often used with vanilla frosting to create the vibrant rainbow colors in these desserts. However, it's important to use gel coloring in moderation, as some people may be sensitive to it or have allergies to certain types. It's also worth noting that natural coloring alternatives are available, such as beetroot powder or turmeric for red and yellow colors respectively.
Presentation
You'll find these desserts are all about the presentation. Whether it's a layered cake with whipped cream or a colorful popsicle, the key is to make sure the colors are arranged in a visually appealing way. A rainbow pattern is a popular choice, but there are also creative ways to arrange the colors, like with rainbow sprinkles, to make a unique and eye-catching dessert.
Flavor
These colorful desserts can be made with a variety of flavors, from classic vanilla to fruity flavors like strawberry or lemon. Make sure the flavors complement each other and don't clash. It's also worth considering the texture of the dessert, as some flavors work better with certain textures than others.
Ingredients
As with any dessert, it's also important to use quality ingredients when making rainbow treats. Using fresh fruit or high-quality chocolate, for example, can make a big difference in the overall taste and quality of the dessert.
Creativity
Colorful desserts offer a lot of room for creativity and experimentation. Don't be afraid to try new things to add even more color and come up with your own unique spin on the classic rainbow treat. With a little creativity and imagination, the possibilities are endless, especially with all the colors of the rainbows!
Easy Rainbow Desserts to Make
Take a look below at some of my favorite desserts that all feature rainbows!
All of these rainbow dessert recipes are perfect for Birthdays, get together and any special event that you would like to make bright and cheerful. Whether you want to enjoy a slice of rainbow cake, or a cool refreshing rainbow pudding pop, there is something on this list for everyone!
More Desserts You May Enjoy
Take a look at these other super easy to make desserts that you may enjoy making as well, all of which are delicious.